Following the path of other professional sports shouldn't be the goal.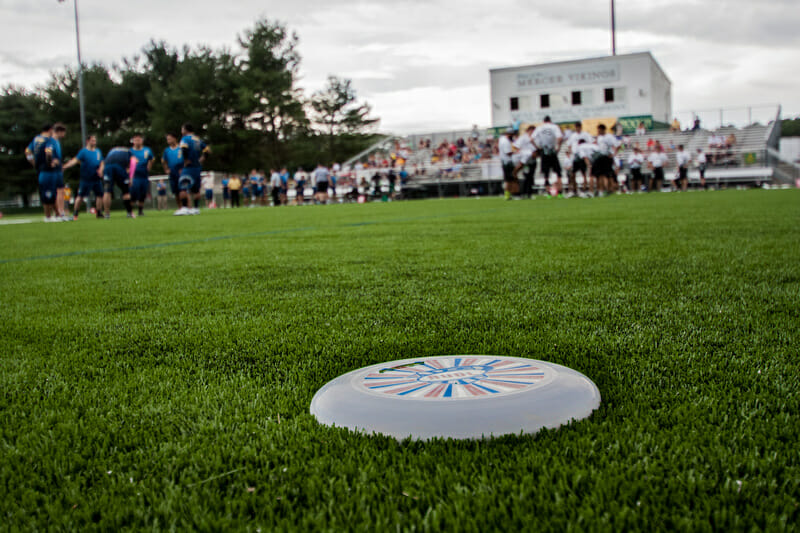 This is the second article in a series about what ultimate could look like in the next 15+ years.
Mainstream professional sports are a big part of our lives, so it makes sense that many in the ultimate community wish to celebrate our sport in the same way. These last few years have given us two semi-pro experiments, each with their own strengths and weaknesses. If professional ultimate is going to stick around for the long term, I believe it is important we understand how it may affect our sport as a whole. Looking outside of our ultimate bubble might help us to understand the factors that lead to the unfortunate corrupt business culture, player misconduct, and declining youth participation that plague so many other sports. We need to thoroughly ask: Why are we pursuing professional ultimate? To make money for a few, or to grow the sport? At what point does the former disrupt the latter?
Sports like football, basketball, baseball, soccer, hockey, and lacrosse have been around for more than 100 years. At the young age of 47, our sport is coming of age in a completely different world, one that has allowed — or even encouraged — ultimate to develop with modernized ideas, values, culture, and technology. While Joel Silver and his high school buddies ran by a simple honors system, the concept gained depth as the game grew while mainstream sports were showing signs of corruption. If we imagine sports as one big family, we are a younger sibling. While we watched the big siblings cheating, lying, hiding, and becoming more greedy, we instead tried to be the good little sport with the free spirit of the '70s. Of course we were going to get picked on for that. Of course we were going to be initially rejected by those already enamored with our elder sports. But this rejection allowed us to find internal value in our sport and the hint that we might be on to something bigger. Something we might even be able to share with and teach our older siblings if they ever find themselves looking for a new direction.
It's not too hard to get a sense of what's happening behind the curtain of traditional professional sports or what effects it has on us. While each league has its own problems, the NFL has been the most criticized over the last decade.
While sometimes not as dramatically and sometimes not as publicly, many other sports have suffered from their own forms of corruption, scandals, and ethical controversies.
When I originally went down this research rabbit hole a few years ago to better understand sports culture, I thought these problems were momentary setbacks that didn't matter too much in the grand scheme of sports. That might be the case in some areas, but many in the sports industry can't help but notice that they have coincided with a widespread drop in youth sport participation:
Maybe some of this isn't alarming to you, but we need to consider why ultimate is growing as an alternative, trending in the positive direction, even before the pro leagues started. Why is the decline in participation happening to other sports? There are three leading theories being discussed in the sports community:
– Industrialization: When industrialization of sports carries down into the collegiate and youth levels, it puts focus on competition, not enjoyment of the game or developing healthy lifestyles. Kids want to have fun, yet commitments, costs, adults and systems aren't letting them. It's hard for parents and coaches to imagine pointless play these days.
– Spectator Culture: The spectator-model has flipped the script of how people participate in sports or even define them. Parents sometimes make youth sideline culture aggressive against opposing players, referees, coaches, or other parents. Kids decide to drop out when they realize they can't be the best to meet perceived standards. The tension in the air can make them drop out even sooner.
– Lack of Role Models: With all the pressures and risks professional athletes have endured coming up through a cutthroat system, it is perhaps unsurprising that the professional sports environment is at times characterized by artificial performance enhancement and overt aggression. Kids don't have many well-behaved role models in professional sports and instead are introduced to an athletic culture that allows for misconduct and seeing opponents as enemies. Without role models and community strength, there's very little incentive to seek friendships across teams to feel part of something bigger.
These challenges should be considered at the forefront when developing our own professional leagues. Yet currently there seems to be more concentration on creating something traditional-looking so we can earn "legitimacy." With how much ultimate has already innovated with things like self-officiation, Spirit of the Game, gender equity, and tournament environments, surely we can continue to be thoughtful in designing a system that does not simply mirror the methods of our big sport siblings but celebrates the unique elements of our sport and its culture.
If these pro leagues want to springboard from the growth and potential of our sport, are they obliged to respect the history and reflect the values that brought the sport this far? Should we expect and encourage them to focus on proper business culture and ethical solutions before greed gets out of hand? Are they going to put in any substantial effort towards 50/50 gender representation? Or with two leagues competing from the get-go, has that already pressured more competitive decision-making that is potentially short-sighted or not aligned with our shared values?
As we all know, the highest levels of ultimate can be very entertaining, but the specific way they are set up can have a big impact on the way culture and ideas develop within the sport. Right now, I see three paths we can take for how we care for ultimate's professional development, each with vastly different outcomes by 2030:
Submissive Community – 0% effort
We allow those with the resources and power to define the future of professional ultimate, likely leading to a similar culture established by other sports leagues. Professional players don't create a union/council to represent their interests and continue to see their influence on the sport diminish; they continue to make due with minimum compensation and operate in an environment where those who disagree or speak out for differing viewpoints are easily replaced. Player misconduct — either on or off the field — is of secondary concern to on-field performance as different competitive leagues attempt to win favor of the same player pool. League control remains in the hands of a few, while even other team owners are kept in the dark about key decisions, don't get equal representation, are blocked from publically fundraising while paying league fees, and don't have access to league accounting reports. Even the smallest compromises now may create the platform for big-business to take it a step further and seek profits more aggressively with community disregard. Decisions are made "for business reasons", while we're the boiling frog. We begin to see the same greed and player-funnel model emerge by 2030 once ultimate participation is large enough after its Olympic debut.
Reactive Community – 50% effort
Whatever happens, happens. We complain when bad things occur, but don't actively push the leagues when there are positive things we would like them to be doing. Players realize that the leagues are no longer in a start-up phase, and they have the right to seek representation and transparency. Team owners seek answers for actions, but are unphased by conflicts-of-interest. We continue to see the expansion of the role of referees or other third-party officiation of the sport at the highest levels. When they appear to work for the pro leagues (perhaps in large part because existing players are more well-behaved from growing up with self-officiation in the club division), we see their influence trickle down as some traditional sports parents make a move towards referees for youth and college ultimate. Over time, this provides an avenue to blame someone else for their kids' and their own misconduct, and a vicious sideline culture emerges for our sport as well. We will continue to see a widening split of the ultimate community by 2030, one side that wants ultimate to operate exactly as other traditional sports do and one side that sees a more ethical version they could be become. Even with reactive effort, we may not be one big happy ulti-family anymore.
Proactive Community – 100% effort
We immediately start to seek transparency and pressure policy changes from the pro leagues because we are collectively aware of how business decisions are likely to affect the rest of our sport. We start to analyze the missteps of other sports and make better choices before reaching their scale. A players union becomes a no-brainer. We don't just talk about starting a women's or mixed pro league; we try it or create other models that can highlight female athletes as role models. We showcase mixed-gender, self-officiated ultimate in the 2024 Olympics and prepare teams specifically with additional sportsmanship training. By 2030, we've put so much energy into doing things a better way for the benefit of people, not profit. Other sports begin to experiment with or even adopt self-officiation (no matter how painful or imperfect games may become) and reform a lot of the industry-caused problems in youth, collegiate, and professional sports.
***
While these scenarios perhaps represent some dramatic outcomes, do they sound impossibly farfetched? Consider this: Not thinking there could be problems or corruption is exactly what it will take to allow them to happen. Should we not want any pro-leagues, industrialization, spectacles, and showcases? No, it looks like we are already headed down that road. Yet if we want those things for ultimate, we really need to think outside the box and constantly put our progress into question. Remember, these are optimization problems.
Right now I believe we're at a 25%-40% effort level, although maybe a 100% effort level would cut the leagues short from a sustainability point. Perhaps somewhere between 50% to 90% effort towards ensuring ethical conduct can strike a balance that allows us to showcase the sport at the highest level without losing aspects of the culture that we collectively care about. But it starts with one question first and foremost: Why are we pursuing professional ultimate? To make money for a few, to grow the sport, or to enjoy a temporary novelty? If we want the sport to be both popular and exemplary, we should think long and hard about a double bottom line. It certainly appears we have the time for it since we're not scaling to mainstream overnight.
Here's a list of ideas we might consider working on if we want to move towards being a more proactive community in regard to the pro leagues:
Discuss the steps towards creating a players union to seek representation and transparency
Identify and address any conflicts of interest across ownership, boards, teams, outsourcing, or charities
Form women's councils within the leagues and dedicate some serious time to women's and mixed showcases
Recommend additional policies to preserve the values in our sport while seeking additional accountability of large organizations
Consider investing in other areas of the sport outside of entertainment ventures
Next up in Ultimate 2030: Does the way we officiate the sport affect behavior and culture on a systematic level? What do referee, observer, and self-officiation models lead to over the long term? A complicated answer may lead to our best solution when deciding which models to use.
Thoughts from the Expert Panel
"Opportunities to play on supported teams are increasing overall, but opportunities to master the game in focused, motivated, deliberate practice are decreasing. I understand that this is a smaller concern than is increasing youth access, but I do think about how well the game is being played. The best ultimate ever played is being played right now, but the rate of improvement and innovation is declining. With so many games, and so few practices, styles are homogenizing and players are becoming more interchangeable. How does a team develop roles and new tricks? Pre-"pro", this would have been done in long months of focused practice on new ways to beat innovative opponents who were lurking out there just waiting for the next tournament. Now, there is a game next weekend and teams might practice during the week (but then again, maybe not). Line 'em up and try not to get broken! You can see the innovation continuing in Women's ultimate, but the game isn't improving as much in Men's in this new environment." – Ben Wiggins
"I am not concerned with how the elite game handles the ever evolving process of third party involvement in/to the game. What does concern me is ensuring the future integrity of the basic self-officiated game now that our players association has evolved into a national governing body working under influence/directives of/from the IOC. As progress continues to be made in the sport there is the need for a "player-focused organization". It should maintain and perpetuate foundational practices that allow future generations to enjoy the sport." – Tom Kennedy