NC State and Ultiworld will be offering free livestreaming and video-on-demand subscription access with the JinxCam.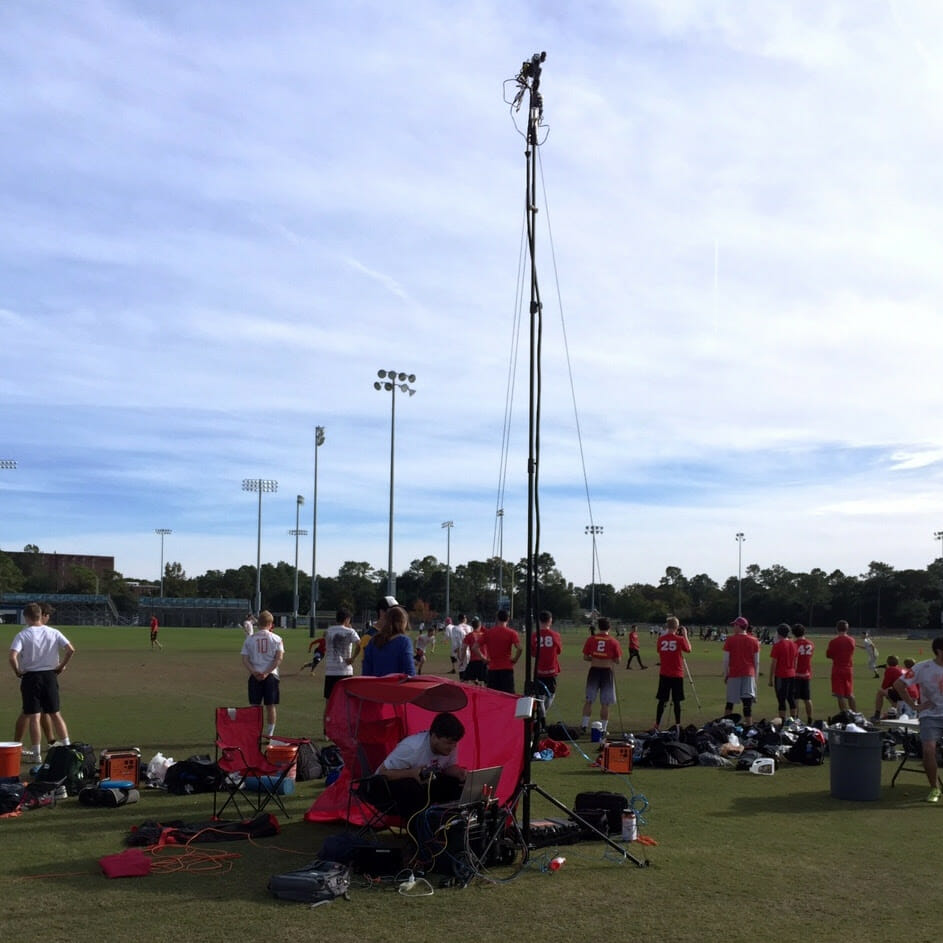 The Men's Ultimate Club at NC State and Ultiworld team today announce a partnership to assist in the filming and livestreaming of select college ultimate tournaments through use of the JinxCam.
The JinxCam, an ongoing project being developed by NC State and the players on its ultimate team, is a 25' high elevated camera that uses a motorized system to allow for game filming from an elevated angle. Typically positioned at mid-field, the JinxCam's height allows it to film games unobstructed by crowds while getting a field of vision that gives viewers an ideal vantage point of the action.
The JinxCam will both document the NC State team's season as it attempts to qualify for the 2016 USA Ultimate National tournament (Memorial Weekend in Raleigh, NC) while promoting ultimate in North Carolina and the Atlantic Coast Region.
The JinxCam can be utilized in a number of configurations, but fully configured it supports live streaming, scoreboard graphics, instant replay, and slow motion. Check out JinxCam footage on the NC State YouTube channel.
JinxCam games that are streamed will be available live at no charge. After the live broadcast, games will be available on-demand through Ultiworld's comprehensive video subscription service.
The first tournament scheduled to be covered by the JinxCam will be the Carolina Kickoff this weekend in Holly Springs, NC. The tournament features Atlantic Coast teams NC State, UNC, UNC-W, VCU, along with Pittsburgh, Florida, UCF, and Auburn. In addition to NC State games, a series of select showcase games along with a semifinal and the tournament final will be broadcast.
Due to UConn and Notre Dame's withdrawal from the tournament due to the impending winter storm on the east coast, the full livestreaming schedule is still to be determined.
A series of additional tournaments will be covered by the JinxCam, including (pending USA Ultimate approval) the North Carolina Conference Championships and Atlantic Coast Regional tournament.
 Select tournaments from the mid-Atlantic area may have both JinxCam coverage along with traditional coverage from Ultiworld, giving us the ability to film additional men's and women's games from those tournaments.
Through a special arrangement with Ultiworld, all JinxCam showcase games, along with final round elimination games, will be made available to a limited number of high school students on-demand at no charge. Additional details on how high school students can sign up for this service will be made available over the next few weeks.
For more information about JinxCam, contact NC State coach Charles Kerr by email.