We check in on the state of the 2016 POTY & ROTY races.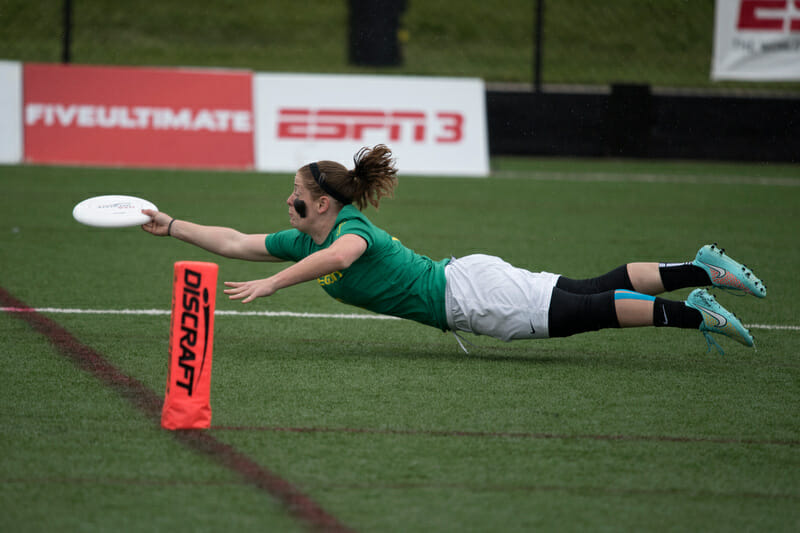 See the 2015 Ultiworld College Awards for the Men's and Women's Divisions.
With the 2016 college regular season now well underway, Ultiworld analyzes the early favorites for Player of the Year & Rookie of the Year in both the Men's and Women's Divisions. These players have distinguished themselves over the course of the 2016 fall season and early tournaments this spring.
We encourage discussion and debate in the comments.
Women's
Player of the Year
Jesse Shofner (Oregon) has grown by leaps and bounds in front of our very eyes. At this point, she is nigh unstoppable on offense and dictates game pace better than anyone in college ultimate, full stop. A fierce defender and leader, Shofner has come to embody Fugue ultimate with her play style, attitude, and effectiveness.
Mira Donaldson (British Columbia) offers skill, vision, and athleticism to create a versatile and dangerous offensive weapon. Former Offensive Player of the Year, Donaldson has also become a more complete defender, able to use her size and game IQ to read offenses. But she'll be known for her ability to launch precise deep throws under pressure.
Beth Kaylor (Oregon) was a runner up for POTY last year and been one of the most well-rounded players in college ultimate for a few years. Kaylor's a shut down defender and shows incredible understanding of the game after the turn. She's as likely to display incredible athleticism with a massive layout block as she is to dismantle an offense with cerebral high-paced play.
Kristen Pojunis (UCLA) has earned her way onto the list with a ceaseless motor and rapidly evolving disc skills. Pojunis now fills virtually any role UCLA requires, guarding opponents' best offender regardless of position, and then dominating in deep lanes or putting up hucks and breaks of her own. She shoulders a hefty responsibility, but sets a tone with her refusal to give anything less than her best.
Carolyn Normile (Pittsburgh) clearly benefited from her summer with Team USA U23 and All Star Ultimate. She does a little bit of everything for Pitt, winning battles in the lanes and doing a lot of work from behind the disc. When the going gets tough, they turn to the hard-nosed Normile to win her matchup, which she usually does.
Watchlist: Claire Revere (Whitman), Han Chen (UCLA), Sarah Anciaux (Minnesota), Monisha White (Stanford), Angela Zhu (Dartmouth), Anna Hrovat-Staedter (Wisconsin)
Rookie of the Year
Hallie Dunham (Stanford) maybe flew under the radar with Jaclyn Verzuh in the same class, but few players come so ready made to impact college ultimate. Dunham has elite club and WJUC experience and offers advanced abilities as a thrower and reset. While she will take over the Superfly mantle from Monisha White in a couple of years, she has already proven a valuable asset for one of the country's top teams.
Jaclyn Verzuh (Dartmouth) has not played yet, but we all are waiting with bated breath. Verzuh may be one of the best players in the country, regardless of college experience, and comes into the college game with a wealth of competitive experience. Add that onto her size, athleticism, and natural ability, and she is expected to dominate from the start.
Anna Wysen (California) is a Seattle product out of Roosevelt who brings plus size and speed and strong throwing ability. She's slotted in to handle for Cal, but can gain yards and break marks with her physical tools. Likely a future star in the game.
Frances Gellert (Colorado College) was a known commodity as WJUC alumna, but has stepped in to a large offensive role with Strata. After star Chloe Rowse, Gellert is likely second on the team in touches and is key to their offensive attack with her deep throws and breaks.
Samiya Ismail (Western Washington) provides another skilled weapon for the Chaos offense. Ismail has the size to make an impact on defense, especially in zones, and is an aggressive thrower with a lot of range. On a team with a good veteran presence but that could use another handler, she's been an excellent addition in the early goings.
Watchlist: Sophia Johansen (Washington), Ellie Wood (Virginia), Kayla Blanek (Minnesota)
Men's
Player of the Year
Jeff Babbitt (Massachusetts) has had few opportunities this season to show off his potential as UMass rolled everyone before finally coming up short against UNC Wilmington at Queen City Tune Up. But the 2015 Defensive Player of the Year continues to have more gravitational pull than any other player on the field. On D, he baits you and then does this. On O, he is a two-way threat as one of the game's most dominant deeps as well as a powerful thrower. At one point against Wisconsin-Milwaukee, Babbitt got the disc and a player on the sideline yelled, "Not a thrower!" He bombed a 65 yard flick huck for the score.
Ben Jagt (Minnesota) was already making a stir last season as Minnesota won the North Central region and continued on to a solid performance at Nationals. But if you haven't bought your Jagt Club membership yet, get in before prices skyrocket. He was the most impressive player at Florida Warm Up, showing off not only his established skill as a deep but also a much-improved throwing skill set.
Jack Williams (UNC Wilmington) is perhaps best described through a short anecdote. Against UMass, he comes underneath on an in cut, makes a tough catch at full speed as he gets blown up by Jeff Babbitt laying out through his back. After getting up and getting his bearings, he rips a perfect crossfield hammer — sideline to sideline — to the endzone. Williams is not just a speedy deep cutter anymore: he is a do-it-all player with a strong competitive fire.
Xavier Maxstadt (UNC Wilmington) is the perfect complement to Williams: a gifted thrower with one of the strongest arms in college. Maxstadt was moved to defense to start the year, giving him some more leeway to take the risky shots he is known to take. But, late in the weekend, they needed his skills on offense. Against UMass in the QCTU final, he played almost every point down the stretch, shredding the zone on O and taking a tough matchup on D. Don't be surprised if we see him playing both ways most of the year.
Adam Rees (Oregon) has been the focal point of perhaps the best offense in the country. He initiates the Ego offense, carves up defenses with his throws, and contributes big time on defense with blocks. The 2015 breakout player of the year, Rees is stepping up comfortably into an even bigger role with the departure of Dylan Freechild.
Bobby Ley (Florida) continues to be the pulse of the Florida offense. With blistering hucks from both sides and a 'give me the rock' mentality, he leads the team's attack and keeps the defense on the field. Of course, he plays a heck of a lot of defense as well in the Florida system and is a savvy player, good for a few heads-up blocks a game.
Dalton Smith (Texas A&M) is poised to be the most dominant handler in the country. Texas A&M's offense lives and dies via his dizzying array of break throws and unconventional looks. He makes it look like he has no mark. He is the quintessential college MVP: a guy who plays every O point and every major D point and wants to get the disc in his hands on every other throw. There are some reasonable concerns about his work rate on defense: he is a gifted defender, but has sometimes not given his best effort this season.
Watchlist: Khalif El-Salaam (Washington), Trent Dillon (Pittsburgh), Mark Rauls (Colorado), Conor Kline (UMass), Max Thorne (Pittsburgh), John Stubbs (Harvard), Peter Yu (UBC)
Rookie of the Year
Tannor Johnson (UMass) could become the second straight rookie of the year out of UMass after Brett Gramann took home the award last season. Johnson is the clear frontrunner right now; he is already featured heavily in the UMass offense, initiating their pull play and distributing and cutting like a grizzled veteran. His combination of size and speed is a challenge for any defense. You'd never know he was a rookie just by watching him play.
Nick Hirning (Stanford) has been a revelation for the Stanford defense. A product of the Seattle scene, Hirning was not only Stanford's most effective deep defender at the Santa Barbara Invite, he also ran the D-line offense after the turn. That's a lot of responsibility for a freshman. Like Johnson, you would absolutely never guess he was a rookie.
Joe Freund (Virginia Tech) was a big part of VT's surprise run to the bracket at Warm Up. Freund is one of the most experienced college rookies this year, having played real minutes for Truck Stop in the 2015 season and clearly shining as the best male player in the Mixed Division at YCC 2015.
Mac Hecht (Brown) was exceptional at the handler position for Brown at the Easterns Qualifier as the team came up just short of earning a bid to Easterns. Hecht was a big part of the Boston YCC team's championship last summer in Minnesota and has transitioned seamlessly into the college game.
Watchlist: Mike Ing (Pittsburgh), Will Lohre (Oregon), Leandro Marx (Oregon), Jake Marrapode (Colorado State)
***
An earlier version of this article inadvertently left off Khalif El-Salaam from the POTY Watchlist due to an editing error. It has been corrected.