A midwest test.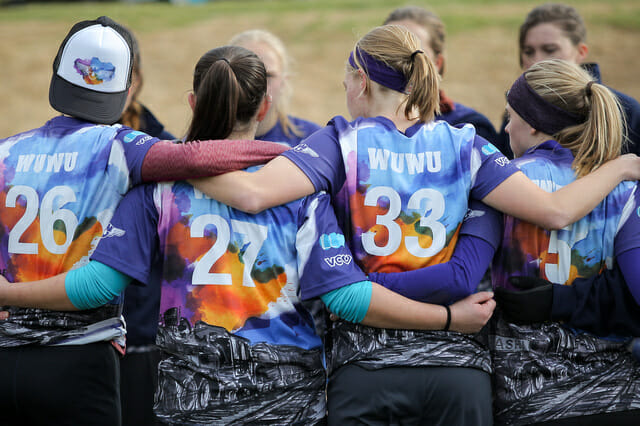 Regions are redrawn, and rules change. Teams rise and fall, stars come and go, and the weather storms.
No matter what, Michelle builds Midwest Throwdown, and teams get in line.
This year's Throwdown features several recurring guests – Kansas, Iowa State, Iowa, Northwestern – but a few teams are noticeably missing from the lineup: Notre Dame and University of Texas were two of 2015's MWTD semifinalists, but you won't see them this weekend in St. Louis. Minnesota also had a breakout performance last season, but they aren't making the trip this year.
Midwest Throwdown doesn't have the bid clout that Centex or NW Challenge does, and many regional teams know each other well. Spoiler: Iowa and Iowa State have seen each other play before. But the tournament remains popular because teams get to flex their wings, warm up throws, and test different defensive looks. And, for the first time in years, the three core regions (NC, GL, SC) have a handful of strength bids to toss around.
| Pool A | Pool B |
| --- | --- |
| Wisconsin | Kansas |
| Nebraska | Iowa State |
| Iowa | Northwestern |
| Illinois | Washington University |
| Texas State | Truman State |
Wisconsin Bella Donna (UW #18)
If college ultimate were chess, Bella Donna has been playing the long game, and it could all pay off this season. The North Central region could get two bids if the season ended today, and Bella Donna is angling to claim their spot.
This season their roster combines high ultimate IQ players with young athletic girls who can grind. Their core has been playing and growing together since this season's stars were wide-eyed freshmen, and now they're ready to battle.
Anna "Robot" Hrovat-Staedter (2015 WU23X, Heist) and Lo Guerin return to captain and lead the charge, followed by a small army of rookies. Bella had 14 rookies this Fall on their 25-woman roster, including several Wisconsin varsity athletes and experienced freshmen like Carly Siewert and Jackie Welsch.
Kansas Betty's Uphill Climb
Kansas isn't too happy sitting outside the top 25 power rankings: their uneven performance at Queen City Tune-Up put unexpected pressure on the rest of their season. They have to win a lot more games to put their names back in the hat.
They've proven time and again that they can win when the pressure is on, but wouldn't a blowout or two be a nice break? Betty still has heavy hitters Caitlin Fitzgerald and Clare Frantz running the Good Ship Betty, and they're abetted downfield by strong cutters like Kelsey Akin and Grace Roth.
Kansas, like UCF, knows and loves their style, and they're not going to change any time soon. They have great handlers who can will the disc downfield no matter the defense they're facing.
Kansas built themselves an uphill climb. But in a competitive South Central region, they don't have to be faster than the bear; they just have to be faster than their regional friends.
All Hail The Cuddle Raptors
The Nebraska Cuddle Raptors will always be winners because, objectively, they have the best name in women's ultimate.
They're also just the normal kind of winners: last year as a Tier II team they blew through Iowa to reach quarters and nearly semis. They have a stifling zone and a fast-paced offense, and it's paying off: this year they're not only in Tier I, they're seeded 4th overall.
While they no longer have the powerhouse Emily Lander, they did pick up former Kansas star Nadine Rowen for her 5th year. Nadine was a versatile part of Betty's handling core, and she's already been a boon for the Cuddle Raptors. If she doesn't hit Liz Diffey in the end zone at least 10 times this weekend, it will be a tragedy. I'm on this hype train.
A Younger Woman Scorned
It's been awhile since we heard from this North Central team, but being headquartered in Ames, Iowa, will do that to you. Yet Iowa State left the outdoors on a high note, taking 3rd place at Missouri Loves Company by besting Notre Dame 10-6. They've played in several indoor round robins and tournaments since then and proven to be scrappy as hell.
Woman Scorned suffered one of the North Central's biggest personnel losses by graduating Cami Nelson, but in her stead the team has doubled down on training up their rookies and developing a strong core. Their game is no longer running through the same 2-3 players; instead they have women contributing throughout their roster. They're living in a much deeper North Central region this year, and they're short on big game experience…but give them time.
Saucy Nancy Doubles Down
Iowa Saucy Nancy has been busy this season: in the Fall they traveled to Elephantitis, No Wisconsequences, Ames to Please, and Missouri Loves Company. This year they've already flown south for Florida Winter Classic, and they hosted Iowa City Indoor. They've also invested in new coaches after spending several seasons flying solo. Iowa is doubling down this year.
Captains Liz Gronert (Heist) and Nicole Havel will take the reins for Saucy this weekend: Havel is a tireless and smart cutter while Gronert has back-breaking throws and great field sense. If Midwest Throwdown behaves, these full-field hucks could be Iowa's free ride into the bracket.
Northwestern Ramping Up
Northwestern showed early promise with a stack of upsets at Missouri Loves Company, including wins over Kansas, Purdue, and Colorado College. Despite adding a lot of red to their record in North Carolina, Gungho played a tight game against Dartmouth and upset Carleton 9-5.
Gungho still plays a handler-driven game, but this season their biggest playmakers are downfield: Phoebe Evans and Jen Evans are both versatile players who aren't afraid to grab and launch the disc. Alex Hu (Nemesis) is Gungho's standout defender, and she has the capacity to inflict her will on a point.
Illinois Hungry for Upsets
Illinois has been quietly building an impressive portfolio of games: at Missouri Loves Company they beat Colorado College and lost one-point games to Iowa and Kansas, and at Iowa Indoor last week they took down Iowa State 9-7. While they graduated their two biggest throwers – Jean Huang and Ariel Choi (both All-Region) – Vivian Chu has stepped into the central role quickly.
Menace has always had strong handlers who could move the disc, but their downfield depth will make or break their tournament. Sophomores Kelsey Thompson and Cora Wessman had breakout freshman seasons, and they've been frequent fliers in the Menace endzone so far this season. If Menace can set the pace of their games against Nebraska and Iowa, they have a real chance of shuffling their pool's deck.
The Darkhorse Texas State
If you're just counting the pretty green and red colors, Texas State Trainwreck has the best record in Tier I with two tournament wins so far in 2016. While most of their wins were against local teams, two wins over Rice and one win over Truman State is nothing to sniff at. They have real potential to surprise Illinois or Iowa and shake up the pool.