Who knows what to expect in New England, North Central, and Southwest.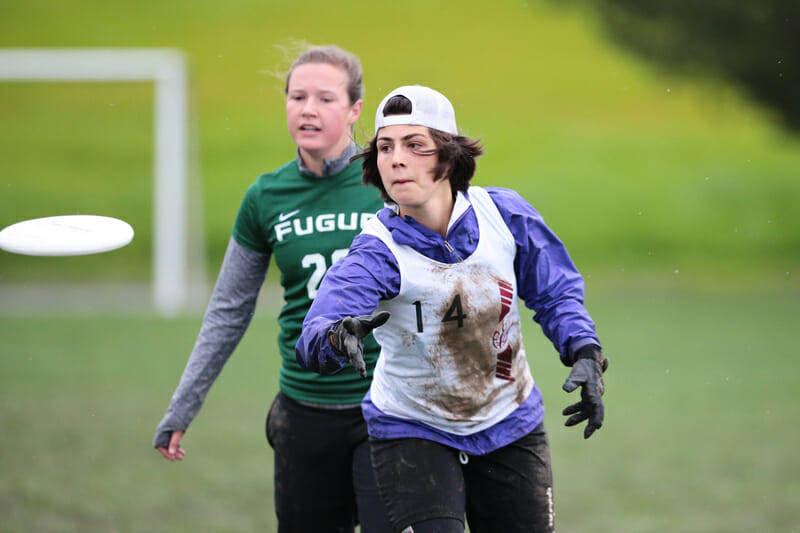 Betters beware! In the collection of this year's College Women's D-I Regionals, three tournaments look like real toss-ups. These are the tournaments that have left us guessing and gotten us hyped. Super Sunday is days away!
New England
Tournament Profile
Location: Amherst, MA
Bids Available: 1
Top 25 Teams: 4
After putting on one of the most exciting shows in the Regionals landscape last year, New England is once again a northeast piñata — filled with sweet surprises. While the 2016 tournament will send only a single team to the College Championships, the ratio of candidates to available positions is the toughest of any region and that makes for the best tournament. There's a colorful cast of characters for you to root for, against, or just watch.
The Favorite: Dartmouth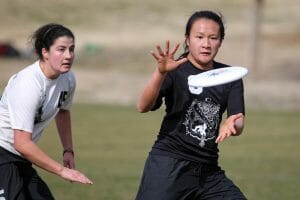 The hype train for Princess Layout was full steam going into this season. It was practically a runaway — until it went off the rails at Queen City Tune-Up and never really recovered. But with a more complete roster heading into Regionals, maybe the reigning New England champion is back on track.
They'll be the odds-on favorite, based less on performance and more on a star studded roster. Angela Zhu, Julianna Werffeli, and Jaclyn Verzuh make for a high-powered core of top talents. And that group extends about 8-10 deep of many of the best players in the region. They have a wealth of experience, including a quarterfinals appearance with most of the same personnel at last year's Nationals. And they have basically faced only strong teams in their two tournaments — QCTU and Northwest Challenge — this season.
And yet, they couldn't win the Greater New England Conference. The final — which was tightly contested throughout — went to Vermont, who broke Dartmouth's offense to win on double game point. Even with talent and healthier bodies, there is still work to do for Princess Layout. A loss next time could mean their season is over.
Top Challenger: Vermont
No one would blame you for not predicting that Vermont would be #1 seed at New England Regionals. They finished 8th in 2014 and 7th in 2015 after coming in as the 9th seed last year. Over the past few years, they haven't even sniffed a game-to-go, let alone threatened the established powers of the region.
But this year's Vermont is not those Vermonts. They enter the weekend with a strong resume and Conference championship around their neck. They have some skins from top teams after going to Centex — Colorado College, and more importantly, top-seeded Northeastern — and that gives them experience and confidence to build on after defeating Dartmouth in a dramatic conference final.
In Contention: Northeastern, Tufts, Harvard, Middlebury
While everyone was talking about Dartmouth in the beginning of the year, Tufts made some strong impressions at Queen City Tune Up, and Vermont late in the season, Northeastern just went about their business. They managed to impress at President's Day despite going 2-5, not backing down against high quality opponents. Make what you will of Windtex, although losses to Tufts and Vermont are a little less rosy.
After the dust settled, it's the Valkyries who are the #2 seed for the weekend after winning the Metro Boston Conference. Even though they took a 10-5 loss to Tufts in pool play, Northeastern has done what they needed to do to be in a strong position. A lot of new players dot their roster, but at the top, you still have the seemingly-timeless force that is Mei Bruist, along with Sam Gray, Hannah Walter, and Nicole Canning. Missing out on Nationals again would be a tough close for the veterans after a very solid season.
The story of the 2015 New England Regionals was the fall of Tufts. Even with one of the best players in the country in Qxhna Titcomb, they tumbled away from either of the two bids up for grabs. What is that they say about the preferred serving style of revenge?
The center beams of the Tufts structure are Jojo Emerson and Laura Fradin, a duo of handlers that have been names to know in the region nearly their whole careers. Ewo rely on Emily Eibl, Rachel Kramer, and Winny Zhang to do the legwork. When it all clicks, the combined skill of the that group makes them difficult to disrupt. But when it doesn't, bigger, stronger, faster opponents can run away with the game. Results for Ewo have been mixed this year, but they have the potential to take down the tournament.
Both Harvard and Middlebury upended Tufts in pool play last season, before Harvard unceremoniously closed the curtains on Ewo's Nationals hopes before even the game-to-go. Middlebury, for their part, claimed the bid to Nationals, where they continued the trend of outperforming expectations.
Quasar has shown some flashes this season, most notably an 11-9 win over Notre Dame in the Mash-Up final. They've also got close losses to Northeastern and Tufts, with wins over Florida and other regionally solid teams. Middlebury hasn't turned in much of the way of big Ws, but that has never stopped them before.
With the way the format shakes out, opportunities will be plentiful. In pool play, a win against a higher seed could line up a date between two top seeds in the elimination quarterfinals. A quarterfinal shocker could send someone home early.
North Central
Tournament Profile
Location: Cedar Falls, IA
Bids Available: 1
Top 25 Teams: 1
They had an extra bid for so long. Of course this would be the season they lost it. Three strong teams — Minnesota, Wisconsin, and Carleton — with respectable records. Groundbreaking? Maybe not. But deserving of a strength bid? Yes.
A windy Centex denied the North Central that luxury. So instead, a deep region will cleat up in Cedar Falls, IA and only one team will emerge victorious on Super Sunday.
The Favorite: Minnesota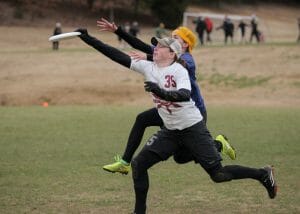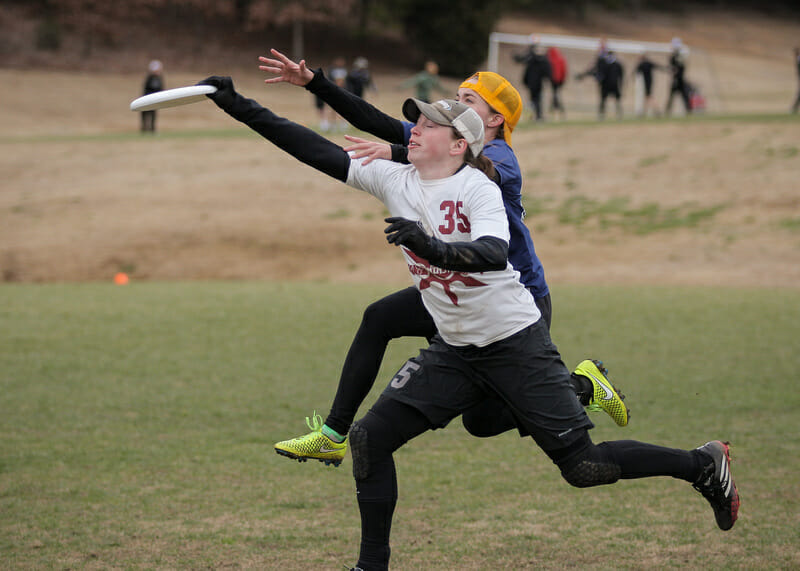 The Minnesota Ninjas appear ready to grab hold of the reins in the region. Their regular season struggled to match their hype — they only attended two tournaments this spring — but they're walking into Regionals with only four losses to their name. Their victories tell a more persuasive story: two wins over Wisconsin, perhaps their biggest threat in the North Central. They beat them at QCTU 7-5 and at Centex 11-8. These wins can be qualified — Wisconsin had a depleted squad at QCTU and there were 40 mph winds at Centex — but the Ninjas still hold a power position. For the first time since 2012, the Ninjas could represent their region at the College Championships.
Minnesota's success this season came from the top and the bottom: senior Sarah Anciaux — a selection to the WUGC US Womens National Team — has been a playmaker since she started at Minnesota. But this season's deluge of freshman talent allowed Anciaux to shift her efforts downfield, where she's even more deadly.
And she's not alone: freshman Kayla Blanek has already put her height (5'11") and experience (Edina Ultimate) to work in the deep space for the Ninjas. Put these two deep in a zone, and they'll punish everyone.
Top Challenger: Carleton
For the first time in years, Carleton College is not the heavy favorite to take the title. They lost 11-14 to Minnesota at Conference Championships, and they went 1-1 against Iowa State. They are a young team, and while the skills and structure are there, this year's squad will struggle to lock out the games they need to win. The nuances of team chemistry are still developing for their top line, the little details that make the best teams flow. The program has been defined by their pipeline, but the past few seasons have offered new challenges: development, and being the underdog.
Katie Ciaglo and Caroline Sheffield are the masterminds of their offense, and when these two are on, Syzygy's pace picks up. This season, Syzygy will have to bring that fire and more to every point of their games if they want to reach Nationals again. If they don't, it will be the first time since 2012. Before 2012, they had gone every year since 2003.
This season, the dynasty may end.
In Contention: Wisconsin, Iowa State
This region's rise, glory, and disappointment can be traced through Wisconsin Bella Donna's season. They were a preseason Ultiworld pick — until their exhausted team struggled through QCTU, short on manpower and shorter on statement wins. They shone at Midwest Throwdown, but lost in the final to Kansas. Then Centex literally stormed through, and Bella Donna lost two games on the flip to Tufts and Northwestern.
This roller coaster season has to be frustrating for Wisconsin because they're good this year. From the starting line to the bench contributors, Bella is quick and gutsy. Lo Guerin, Lauren Roach, and Anna Hrovat-Staedter are a true joy to watch play together. Their rookies trust the system, and they contribute in the big games.
The lost strength bid probably hurts Wisconsin the most, but that doesn't mean their season is over. Coach Robyn Wiseman is nothing if not determined and crafty, and you can count on this team doing everything in their power to be the last woman standing on Sunday.
It says a lot about the region that a team like Iowa State gets fourth billing. They earned 2nd place at Conferences behind Minnesota, tucking away wins over Iowa and Carleton in the process. Iowa State has become a different team.
Before, they had a legend, which also meant they had a safety net who they could count on to make the game-saving play. Without Cami Nelson, they rely on each other to be the hero. Brittnee Grimshaw, Sara Stuedemann, Blair Holck, and freshman Megan Halverson are each impressive players in their own right, but Halverson has had a breakout year for Woman Scorned. It's scary that she's only a freshman.
Southwest
Tournament Profile
Location: San Luis Obispo, CA
Bids Available: 4
Top 25 Teams: 5
The Favorites: Stanford, UCLA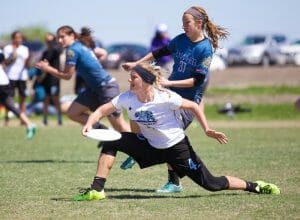 The two heavy-hitters of the Southwest region, Stanford Superfly and UCLA BLU, both have tournament titles in the 2016 regular season. Coincidentally, they have also both suffered odd streaks of struggles this season, looking "just okay" at some points, and even bad at others.
Stanford has been running a shorter roster this season — only 18 players for Regionals– in a similar fashion to Central Florida's Sirens, whose roster of 10 or so players has won multiple tournaments this season. This small collection of players has run into some troubles when the weather misbehaves, losing in their first tournament final against UCLA in high winds, and losing almost every game on the first day of the Stanford Invite in the breeze and rain, just a couple weeks after their undefeated President's Day tournament victory.
Despite one or two odd streaks of poor play, the roster includes one of the scariest downfield threats in Courtney Gegg — much improved after last season's Nationals final appearance — a shot-taker and veteran handler presence in Monisha White, and favored Rookie of the Year candidate Hallie Dunham. Pepper in Anne Rempel, who has been playing inspired ultimate so far this season, and other big contributors across the limited roster, and this is a team with enough talent to overcome almost any other group, if they can stay healthy and rested through a long weekend. A likely regional champion, and a likely semi-finalist at Nationals.
UCLA, while rostering more players overall, is a little more shallow at the top end, although their two stars have playmaking abilities unlike almost any other duo in the division. Callahan nominee Kristen Pojunis and Han Chen, who has emerged as one of the best players in college, are both tall athletes that can beat you behind the disc or down the field. The duo has led a well structured offense that at times has looked unstoppable. After back-to-back tournament finals appearances early in the season, beating Stanford in the first and losing to them in the second, the team sort-of fell off the radar. A 2-5 performance at the Stanford Invite and a 4-3 record against a lesser field at Centex — featuring no big wins over quality teams — has allowed BLU to saunter into Conference — where they won every game — and Regionals without too much pressure or hype. That is, until #PojunGOD released her Callahan video.
RELATED: UCLA's Kristen Pojunis for Callahan
Top Challengers: California, UC-Davis
Two other teams have had a similarly dominant regular season among the non-elite crowd: California's Pie Queens and California-Davis' Rogue. The Pie Queens have had the better big-time wins against teams like Central Florida, Ohio State, and two wins in one weekend against UC-Davis to take 2nd in the conference1. They also have several one-point losses to elite-level teams Stanford, UCLA, and Texas.
UC-Davis has the better overall record this season, primarily as a result of winning out at the Stanford Open and beating up on weaker teams in the second-tier women's pools at the Northwest Challenge. Unlike the Pie Queens, Rogue don't have any big-time tournament showings to hang their hats on this season, though they have defeated Nationals hopefuls #14 Western Washington and #12 Ohio State, as well as two regular season wins against California.
Between the two squads, one of them should be able to lock down the 3rd Nationals spot. California looks to have the best chance at actually challenging for a 2nd place finish against juggernauts Stanford and UCLA. But if either team stumbles, they have enough challengers and flaws to wind up missing out altogether.
In Contention: Southern California, UC San Diego, UC-Irvine
The two best bets to ruffle some feathers are Southern California Hellions of Troy — USAU ranked #30 with high quality wins over #6 Washington and #13 Colorado this season — and #25 UC-San Diego, who garnered a fourth bid for the region and is 2-1 against USC.
The Hellions have a handler driven game with scrappy play downfield. Julia Johnson and Linda Venema anchor their offense in the backfield with a vast array of break throws and sneaky cuts. Connie Chan's speed generates blocks and breaks on defense.
UCSD relies on their size and depth to overwhelm teams. Julianna Jordan is the centerpiece of their offense and Dena Elimiech sparks the defense. They are assisted — often literally — by freshman handler Leanne Go.
The Grass Ninjas of California-Irvine put together a 12-3 regular season against mid-level competition. In a region with this many bids, a sleeper making a surprise round would be the most Southwest thing of all.
---
Stanford Superfly would beat California 12-8 to win the conference. ↩