Northwest Regionals likely produced three of the top four seeds at Nationals and featured five teams gunning for quarterfinals and beyond. Here's what we learned about the slew of contenders.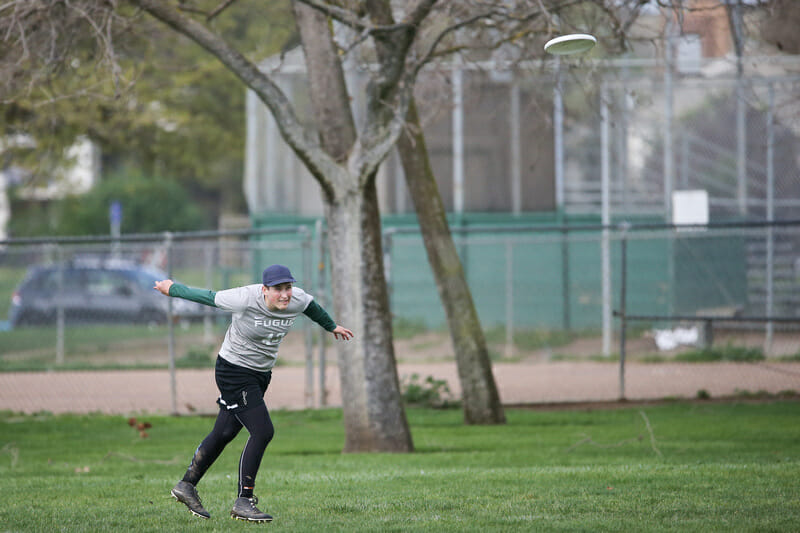 While upsets or interesting results were few and far between this weekend in Walla Walla, the intricacies of the games played gave us more insight into the Nationals contenders' state-of-play.
Qualifying Teams (Regionals Record):
Oregon Fugue (6-0)
UBC Thunderbirds (6-1)
Whitman Lady Sweets (4-3)
Washington Element (4-3)
Western Washington Chaos (3-4)
Oregon Fugue Solidifies #1 Seed
In simplest terms, Oregon was the most consistent, sharpest team at Regionals. Their play-style was pretty vanilla, and they didn't seem to show anything noticeably new or different. They just played better than everyone else. After starting the season losing clutch games at the end of tournaments, Fugue have won every game at their last three tournaments against impressive Northwest competition. They managed to avoid UBC at Regionals, but Oregon have defeated the Thunderbirds three times in four chances this season. The #1 seed in Raleigh is all but theirs.
On offense, Olivia Bartuff scored in bunches like she's been doing for years. Some teams found partial answers in their matchups against her, but Bartruff remains virtually unstoppable, especially in small spaces — like an opponents' endzone. Jesse Shofner played remarkably clean ultimate while maintaining her blazing tempo. Fugue loves to isolate Shofner in their pull plays, and while the continue huck to Bartruff was sometimes defended, Shofner got the disc every time. If she continues this efficiency, which her game has lacked before, there might be no stopping the Oregon offense.
On defense, Oregon struggled to contain huck looks, but if the opposition found themselves near the goal line, Fugue was relentless. In two games against Whitman — one to win the pool, the other to win the region — Fugue must have had eight or more goal-line stands, refusing to allow cutters to break into open space, and eventually jumping a passing lane to snag a block before racing down the field in transition. While throwing a couple zone looks against Washington in semis, Oregon played mostly person defense, trusting their personnel to win match-ups, which they did well.
British Columbia's Sloppy Showing
Something weird is going on with the 2016 Thunderbirds; despite the deep talent on the roster, this team is currently struggling to perform up to their standards at the start of games. They got to warm-ups late on both days of the tournament. In two of their first games on Saturday against Western Washington Chaos and Washington Element, they got down early, and they trailed for at least half of the game before surging back to avoid upsets, winning by just one and two points respectively. The same thing happened at the Northwest Challenge against Washington. While the wins do show a level of composure and crunch-time abilities facing game-point situations, it is just hard to believe in a team that can't start games quickly.
UBC never saw Fugue this weekend, but they played Whitman twice, the one other team that can, has, and will challenge them at the top this season. In the first game, the semifinals, UBC managed a nice start with a hold on offense followed by a break on defense, earning a 2-0 lead. Whitman fought back and played better to end the first half and start the second, eventually leading UBC 10-7. The Thunderbirds again attempted to surge back and win, getting within one point before Whitman held on offense through a bidding Alex Hardesty to close the door.
UBC played Whitman again later on Sunday in the 2nd place game, seconds after Whitman fell to Fugue for the regional title. This was UBC's one impressive win on the weekend, 15-11, but it was against a tired Sweets team that had already qualified for Nationals.
The 2015 Thunderbirds managed to overcome late season adversity after Mira Donaldson injured her shoulder, so maybe UBC can do it again this season. Even while playing well below their best, they claimed second in the toughest region in the nation. British Columbia will likely be the #2 seed at Nationals. But right now, however, their play doesn't inspire much confidence that they can avoid falling into a hole they can't climb out of.
Whitman's Depth a Strength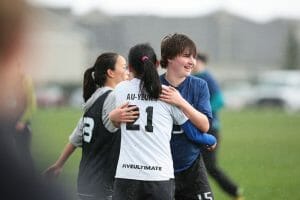 Whitman was the second best team in the region this weekend, despite going home in third place. While Oregon and UBC often run plays for one or two players, the Sweets worked through three or four or five. The handling duo of Hardesty and Nina Finley logged a ton of points every game, supporting Margo Heffron on the offense or leading the defense in explosive transition plays, often hucking to a frequently uncovered Marlena Sloss. The team looked focused and well practiced.
Their one downfall was their inability to overcome Oregon's endzone defense. Fugue deserves much of the credit for the Sweets' woes, but Whitman needs to find a better way to run their red zone offense — or run a different one — if they want to avoid similar troubles at Nationals. Chances are they will land a spot atop Pool C or D.
Washington Close to a Breakthrough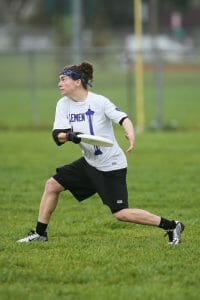 All of Element's games went to chalk, but Washington was able to challenge UBC in their pool play game, falling by just two points. This is still a team that has the roster and the varying play styles to charge at top ranked teams and steal wins against higher-seeded opponents, but they didn't do it this weekend. They beat the team they needed to, Western Washington Chaos, pretty handily in 15-7 and 14-9 games, the second of which qualified them for Nationals.
Nora Landri and Grace Noah led the team in typical fashion, carrying the load while the team was without critical backfield presences Cami Canter and Sophia Johansen. Accompanied by Sarah Edwards and Ellen Goldberg downfield, who had great weekends, Washington is a threat to make semifinals if they can overcome the small gap between them and the elite teams. As a likely pool two seed, they have a few weeks to figure it out.
Western Washington Controls Last Spot
Western Washington, while lacking the same depth of talent that other teams had, played really well at Regionals. They looked well coached and cohesive, and played within themselves. They nearly upset UBC in the first game of the weekend, losing on universe point.
Tiffany Phan, Maddie Gilbert, and Abbie Abramovich all stood out against the elite competition, and in the right time and place, could lead this Chaos team to some surprise wins at Nationals. Quarterfinals is certainly within reach for a team that will be seeded in the top 12 at Nationals.