You will still have to earn your roster spot, but make sure you get to stick around long enough to showcase your full skills and value.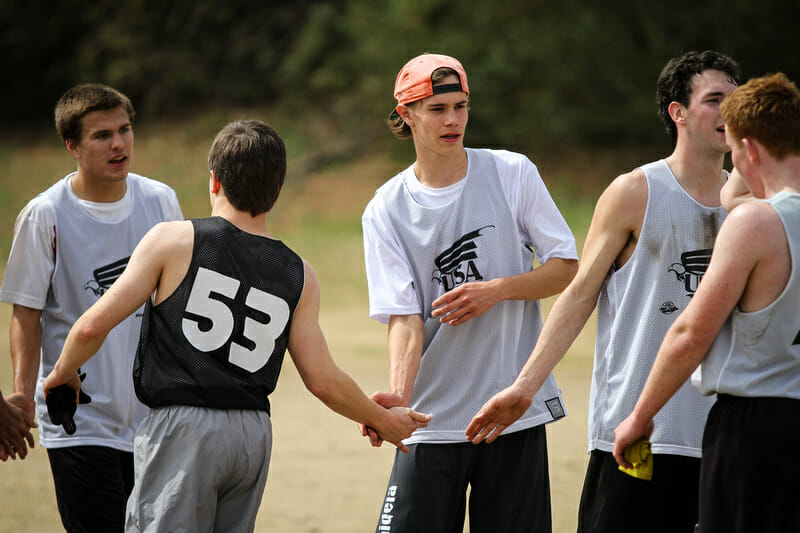 This article is presented by Spin Ultimate; all opinions are those of the author. Please support the brands that make Ultiworld possible and shop at Spin Ultimate!
It's tryout season, and the greatest challenge is also the first one: to stand out.
For some, gifted and talented, their names and superstar status proceed them, allowing them to truly showcase their abilities with all eyes fixed on their rising star. For the rest of us mortals, the field is crowded. There are dozens, if not hundreds in line, each trying to claw tooth-and-nail to the upper echelon, simply to earn a chance to be seen, to be noticed, to demonstrate their very best for the eyes of the very best.
Sadly, many don't get that chance and get cut in the early or middle rounds; lost in a crowded field of a giant combine or open tryout, their talent isn't recognized or appreciated by well-meaning team leaders who simply can't evaluate everyone fully.
The reality is that every captain or coach cannot know or get a good look at every single player. If you're on the bubble, you don't want to be the person cut before the final round because you didn't get noticed. These are not tips on how to make a team — these are tips on how to stand out, especially early, to be noticed for the right reasons, and to get invited into the later stages of tryouts where your full and true value can be judged for good or ill.
1. Submit A Thoughtful Resume
Most tryouts — and therefore most evaluations — start even before a single player sets foot on the field. In the age of mass data collection, nearly every club or college team has a form or system of registration. Generally, the basics are the primary things getting collected: name, age, attendance, contact info, fee paid, etc. However, most digital forms will include some questions, even if they are brief, about ultimate history and ability.
Treat this as any job interview: you have to sell yourself. Entering short or generic answers is almost asking to be ignored. Highlight your experience, point out successes, and play up your abilities as far as reasonably allowed. If you don't have a lot of experience, don't lie — but don't just type one quick sentence and call it a day. Take the time to explain where you started and your progression. Showcase your youth if you have it by hinting at potential that is waiting to be unlocked.
2. Introduce Yourself Before Tryouts
Whether you have the option to provide an ultimate resume or not, the next step is essential for any unknown player.
Reach out to the captains, coaches, or leaders of the team you are trying out for. Their email addresses are often listed on the team's website or USAU score reporter profile; if they aren't, ask around and find players who play on the team or know others who do. Don't hesitate to email (though not cold call) and introduce yourself. Team leaders won't mind. In fact, they'll probably be appreciative, as it makes their job easier in assessing talent.
Keep the email short (this is not the time to list long tales of your glory) and stick to the following.
A brief ultimate resume (which teams you've played for, what you've done)
Your skills and strengths as a player
A question of what they're looking for
Asking questions is essential. Just like any job interview, you want to fit their mold. See what kind of player they need and do your best to be that player.
3. Engage Friends
Ultimate is not a huge community in the grand scheme of things, and, as mentioned before, it is fairly easy to find connections to any team you are hoping to play for. Find friends or coaches of yours who have connections to the team — or at very least have acquaintances who do — and try to get an introduction or reference from them.
Again, this needs to be short and sweet. Overselling can be annoying; no captain wants three or four long emails about one player. However, one or two short emails leading up to or during the tryout process will definitely put you on the radar; it'll ensure people want to see you in action. Then you can go to work.
One caveat here: make sure your acquaintance is someone respected by the team. A former player for that team is best, while a disgruntled on-the-bubble player who got cut is unlikely to improve your chances.
4. Reintroduce Yourself At The Field
Once you've bridged the digital gap, it is time to put a face to a name. Arrive at the combine or tryout early1 and introduce yourself again.
This is the time to be very, very low-key. You've already made your push over email, hopefully you've had a respected friend talk you up, and now it's time for your play to do more work than voice. Besides, the captains are probably quite busy organizing if it is the day of. Say hello, answer any questions, and go on your way.
5. Throw Smart
Believe it or not, the pre-start warm-up throws do matter. Captains or coaches are busy, but players are always watching the competition and hopefuls2. Most of the time, those making lots of mistakes are noticed the most.
Don't put pressure on yourself unnecessarily, and don't think this is the time to showcase your huck bombs or hammers. Instead, focus on offensive fluidity. Warm up all throws, with fakes, pivots, and step-outs. And keep the distance reasonable, focusing on easy tosses to the chest and clap catches. Completions matter more than anything else. This will put you in the right frame of mind, while also ensuring you are ready to go.
6. Be Present During Drills
If you've done your job up to this point, people know your name going in to the first tryout. It is up to you to make sure you stay in the thoughts.
Warm-up time and early drills are mostly designed to loosen up, practice fundamentals, and demonstrate basic execution. However, this cannot be a time to slack off or vanish from view. If eyes are on you, prove that you excel at the little things. Make every throw simple and clean, run hard on every cut — even the easy ones — and be positive and friendly.
Those who are lazy, goofy, or overly competitive are often noticed for the wrong reasons here. Those who blend in by going throw the motions with average effort won't get noticed at all. You want your presence to lift up your small group and you want people to see your hustle; those are critical to a successful tryout. Keep your spirits and intensity high and it will help push you to give 100% effort throughout.
7. Actively Participate From The Sidelines
As you progress through drills, fitness tests, and into scrimmage or game situations, be known as a positive and loud voice on the sideline.
People are often nervous during tryouts, focusing on themselves and consequently staying quiet. However, getting too focused internally can backfire. Being a supportive presence not only gives you the feel of a skilled player (or leader), but automatically draws a little attention to you.
Keep in mind, everything is in moderation. Being overly cocky, prescriptive, or annoying can hurt your cause. Instead of giving advice or direction, give information. Try to learn names of fellow tryouts and send out encouragement or praise for something good. No leader is ever going to be mad at you for yelling where the disc is, making "Up" calls, or telling another player they made a sick play.
8. Play Quietly Aggressive Offense
Offense is the time to be smart and quiet. Unless you are a very skilled handler, most of the time it won't be your throwing abilities that get you on the team. The goal is to be clean and efficient. Move the disc quickly, play unselfishly, and avoid turnovers at all costs. When in doubt, play smart, reset the disc, and make moves with your legs.
That being said, you have to push the envelope a little, and being aggressive is another good way to raise eyebrows. Break throws are highly desirable. Hucks are good, and leaders dig the long ball, but there are a lot more factors when throwing downfield over twenty yards (wind, defense, the skills of your receiver, etc). You might make a great (or pretty darn good) deep throw, but a turnover won't get you remembered in the right way.
On the other hand, break throws are easy to catch, very valuable for the offense, and just as important in a good thrower. Be aggressive with breaking the mark (especially if you're better than your defender), and otherwise play a conservative and smart game. Again, strive for zero turnovers.
9. Play Loudly Aggressive Defense
Defense is where you can always shine. There is nothing to stop you here from making plays, being aggressive, taking shots, and getting blocks. Even a big layout attempt (provided you don't poach or get gratuitous) will help you stand out, even when you miss.
Stay on your man, unless you are absolutely certain you can get a help D or a poach block. But be aggressive. Shutdown defense is great, but can get lost in a point. Most leaders follow the disc with their eyes and might miss what you've accomplished. Therefore, push your luck more often than not. Roll the dice with an aggressive mark, give a cushion if you think you can bait a block, and use your athleticism.
Obviously, you have to play to your own personal strengths, but one option is to play a hard shut-down under mark, giving up some cushion away to make plays on longer throws. Locking down an under cut going near the disc gains you attention, and then you put yourself in a better situation for 50/50 shots in deep space. Just make sure you stay close — getting burned deep often will garner exactly the wrong kind of attention.
10. Be Yourself And Make Plays
In the end, this advice is only as good as you are. No matter how much a team knows your name, roster decisions come down to what you can accomplish on the field.
You don't want to be that middling player who was on the bubble and is probably good enough to advance to the next round of tryout, but just didn't get noticed. But you also don't want to be that player that missed your chance. Leave it all out on the field, play as often as you can (even when you think you're doing well, you don't want to rest on laurels), and have some swagger. Confidence is key in all things in life, and having it here will give you your best chance to win your match up and show what you can do.
---
Or better yet, try to casually meet a leader beforehand for a face-to-face conversation. ↩

Don't lie, we all do it ↩