Is there a surprise lurking in Pool C?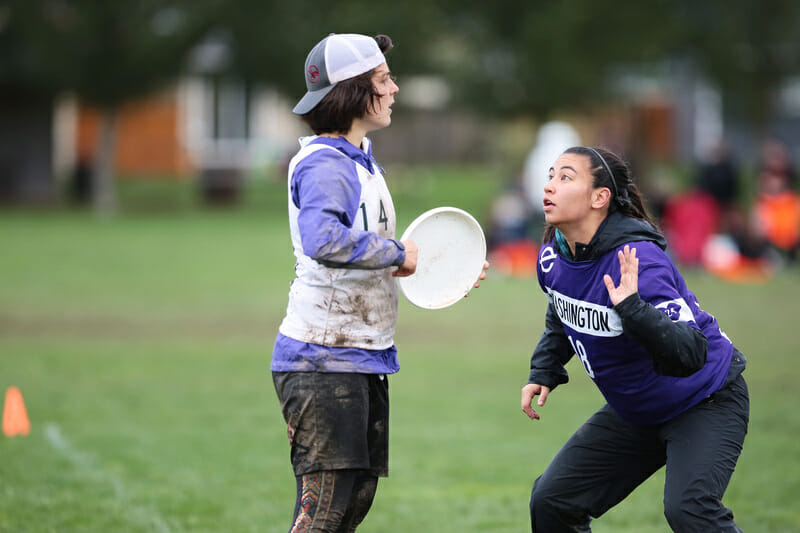 This article is presented by Spin Ultimate; all opinions are those of the author. Please support the brands that make Ultiworld possible and shop at Spin Ultimate!
At first glance, Pool C looks like the least exciting pool at the College Championships. The top seed, Stanford Superfly, has already beaten three of the other four teams, including beating Washington, the second seed in the pool, three times. Doesn't sound thrilling, does it?
Fortunately, the College Championships and Pool C have a history of surprises. Since 2011, Pool C has been won by the two seeds more times than the one seeds (3 v. 2). Last year's top seed, UCLA, didn't even make prequarters, after getting upset by fifth seeded Texas. That's the first time that's ever happened. Don't look now, but the pool's fifth team already has a win over the second team.
After Stanford, any of these teams look like potential prequarters squads. And while Washington is 0-3 against Stanford, they've come very close to taking two of those games. We're past the first glance here. Let's take a longer look.
Stanford Superfly
Seeding: C1, Overall #3
Overall Record: 32-6
Against the Nationals field: 14-6
Against the pool: 3-0 vs. Washington, 1-0 vs. Ohio State, 1-0 vs. Southern California
Key matchup: Washington, 2:30 PM Friday
It's no surprise to see Stanford back in the top row of the College Championship pools. Looking back across their program's history, you'll find a record-setting 20 appearances at Nationals and a trove of finals appearances and championships. Their recent history shines pretty bright – 8 straight trips to the Championships, Southwest Regional Championships in three of the past four years, another appearance in the national title game last year.
2016 was the type of strong showing Superfly fans are also accustomed to. They won the President's Day Invite and missed out on winning the Santa Barbara Invite by a single point. Stanford racked up a 32-6 record overall and 14-6 against future Nationals attendees. A competitive Southwest region fell before them, and they emerged with a second straight Southwest title with nary a scratch. Aside from a poor showing on a gusty Saturday at Stanford Invite, Superfly has shown resilience and been in a good form from the beginning to the end.
Last year's team capitalized in excellent role players surrounding some of the game's most dominant stars. This team shares some of those qualities.
"Last year, we had more defined roles because we had a core of very experienced players and a bunch of athletic rookies still learning the game," said coach Jenny Wang. "This year, we have a lot of players who are thriving in bigger roles and surprising everyone with how much they improve from tournament to tournament."
Their backfield, commanded by Anne Rempel, Monisha White, and Hallie Dunham, is balanced and effective, brazen when necessary but just as likely to outwit a defense. Veronica Cruz, Caitlin Go, and Amanda Somvilay provide strong play up the middle. Courtney Gegg is one of the division's most difficult matchups with her size and speed, and she's flanked by Deanna Abrams and Natasha Field-Marsham. Shayla Harris, Cruz, Rempel, Anne Gordon and Gegg anchor their best person defense lines. They get contributions up and down the roster.
It is easy to surmise that the forecast for Superfly in Raleigh is beautiful. They have already faced three of the four teams they will see in Pool C and are 5-0 against them, by an average of four goals. Nothing is guaranteed – just ask Stanford's 2014 team – and they won't be able to walk through Pool C, but they are a heavy favorite. After that, that's where projections become more challenging. Stanford is 0-1 against each of the other teams in the top four seeds, with additional losses to the 5, 7, and 8 seeds. Likely foes in the bracket have already bested Superfly, the lone real blemish on their chances of returning the final.
"Offensively, that means looking early to the break side and having cutters working on anticipation and timing," added Wang, going back to the basic skills that makes Stanford so successful. "Defensively, we need to prioritize against the biggest threats, especially in our man defense and keep grinding away even if the other team makes some good plays."
That gameplan has worked for them before and will likely work for them again.
Washington Element
Seeding: C2, Overall #6
Overall Record: 19-16
Against the Nationals field: 12-16
Against the pool: 0-3 vs. Stanford, 0-1 vs. Southern California
Key matchup: Stanford, 2:30 PM Friday
Quick, name some of Washington's big wins from this season. How about their key tournament placements? Element very quietly assembled the resume of a 6-seed at Nationals by delivering consistently. Aside from their first two games of the season back in early February at President's Day Invite, UW has lost just a single game to a team seeded below them. Unfortunately, they've won just a single game against teams seeded above them.
That isn't for lack of opportunity. Washington has certainly spent the year learning at the school of hard knocks. Few teams will enter the College Championships with so much elite experience. 28 of their 35 games this season were against teams headed to Raleigh; they won all seven of those remaining ones. But they also are just 1-13 against teams seeded above them, a brutal set of results that paint them as the dividing line between teams that could win a title and those that couldn't.
"Over the course of this season we have had our fair share of close games with the best teams in the country," said Washington captain Nicole Cramer. "We have had many close losses to Oregon, UBC, and Stanford that were decided by fewer than three points in very gritty games."
Another reason Washington might not have made a big splash is because they lack starpower. And that isn't because their roster doesn't have experience and talent – they have quite a bit – but because they don't put the game in an individual's hands very often.
"We are very proud of our depth, how much everyone has grown this season, and the contribution that every person brings to Element," adds Cramer. "Our depth allows us to push the pace and play the game we want to play."
Element pushes deep into the bench to help them remain fresh. Handlers Grace Noah, Nora Landri, Cami Canter, and freshman Sophie Johansen anchor their fast-paced offense, which attacks up the line relentlessly and feels comfortable in small windows. Landri, the team's Callahan nominee, and senior cutter Sarah Edwards are standout defenders capable of making big plays on both sides of the disc. Grad student Ellen Goldberg has stepped up with Cramer to fill cutting roles vacated by graduation.
But Washington relies on their system to guide them to success, and ask their players to be disciplined and execute.
"We like to throw a variety of defensive looks at our opponents and rely on our adaptability and team chemistry to generate turns. All of our defensive looks are aggressive and we like to make our opponents work for every completion," said Cramer. "Ultimately, our system is reliant on communication and grit and we look to capitalize on every opportunity we generate for ourselves."
They've had all season to hone their system and their ability to execute it against the best teams and the exact type of competition they'll face in Pool C and beyond. Close in Raleigh won't cut it. It's exam time.
Michigan Flywheel
Seeding: C3, Overall #10
Overall Record: 32-6
Against the Nationals field: 8-4
Against the pool: 2-0 vs. Ohio State
Key matchup: Southern California, 10:30 AM Friday
There's a lot to like about Michigan Flywheel's chances at the College Championships. They are tied for the third most wins in the women's D-I field, with 32 victories to just 6 losses. They are 8-4 against the field. Flywheel has never finished lower than third at a tournament, has never lost more than two games in the same event, and is undefeated in postseason play.
Michigan's also adopted a bit of a signature style of play. They boast a potential All-American backfield with Tracey Lo and Hannah Henkin. The pair paces the Michigan offense, and sets the tone for a skilled roster. Centex was the Great Lakes champion's best tournament of the season, and while that weekend has seemed like something of a write-off for many teams due to intense winds and break-free games won on the flip, that isn't the case for Flywheel. They demonstrated the throwing ability to notch crucial upwind breaks with greater frequency than nearly any other team, and only fell in a wild final with Texas by a goal. They left the state of Texas with four wins over teams seeded above them at Nationals.
"We feel proud that we were able to step up and perform well in the toughest tests we've seen this season," said Michigan coach Ben Murphy, "and we feel like the particular success going upwind was a result of a squad that loves throwing and works hard to throw every day."
Attacking with skill and depth, Flywheel prefers to grind teams out over the long haul. It's a stark contrast to the west coast style of fast paced handler play Michigan is likely to face against Stanford, Washington, and USC in pool play. Their best sagging zone looks, which put Henkin and Lo in high traffic positions where they can create blocks, will be trying to slow down the game. Murphy's playbook is varied and UM's defenders are versatile. On offense, Talia Barth1 has been excellent in the handler role, while Leah Baron Simmons initiates downfield and Grace Denney ends points in the endzone.
"This is the deepest Flywheel squad in recent memory, with a very capable top end and many players beyond even the top 14 that will make great plays when given the chance," said Murphy.
The Michigan program is steeped in a history of strong showings at Nationals and top players. This is the program's 11th trip to the College Championships, and they've seen quarterfinals, semifinals, and the final itself. If they can force the west coast teams they are unfamiliar to play their game, and defeat an Ohio State squad they've bested twice already this season, they can add more accolades to that decorated trophy case.
Ohio State Fever
Seeding: C4, Overall #15
Overall Record: 22-15
Against the Nationals field: 5-13
Against the pool: 0-1 vs. Stanford, 0-2 vs. Michigan
Key matchup: Every game (except Stanford)
Ohio State is not a great team on paper. Their measurables aren't intimidating: a near .500 record, a handful of good wins, and a bevy of blowout losses to elite competition. A semifinal showing at Queen City Tune Up is one of the best parts of their resume. The core of last year's roster returns, but that outfit registered just a single win at Nationals, over the fifth seeded team in their pool.
Fortunately for Fever, they play the games on the field. That's where a smart and scrappy team like Ohio State can find more success. The coaching staff that masterminded OSU's 2014 National Championship is still in place. Stevie Miller and Katie Backus are the only key contributors from that team still remain, but they've brought in some new blood, namely Sadie Jezierski. The sophomore is one of the women's games more explosive individuals and will be tasked with a lot for Ohio State. Alaine Wetli has also risen among the Ohio Valley's best cutters.
The question will be what their depth can do. Mary Turner, Anat Gross, Corinn Pruitt, and others have shown flashes. But they'll need to deliver consistently against a tough slate of opponents that won't relent. OSU doesn't have complex schemes or creative defenses to fall back on when talent or delivery is failing them. The identity of this team has been playing fundamentally sound ultimate, the hard hat and lunch pail approach that lacks pop but can be difficult to combat when done well.
"This team understands that it has the power; it just needs to continue working together to use that power to find clean and controlled play that is consistent," said coach DeAnna Ball.
Let's be honest: there aren't a lot of expectations for Fever to break out at Nationals. There's a sense that we know who they are. Winning in Raleigh will require showing everyone that they are not to be underestimated through playing their best ultimate of the season in its final four days.
Southern California Hellions of Troy
Seeding: C5, Overall #19
Overall Record: 16-15
Against the Nationals field: 3-11
Against the pool: 0-1 vs. Stanford, 1-0 vs. Washington
Key matchup: Every game (except Stanford)
The journey to Nationals for USC might be the most thrilling in the women's division. They entered Southwest Regionals as the sixth seed in a four bid region. In the second round of Championship bracket play, they dropped a close 10-8 game to California in hard cap. Two games later, they scored three straight for a comeback double game point win over UC Santa Barbara. The script nearly flipped on them in their next game against UC San Diego, but they fought off UCSD after giving up a three point run to win 8-7 in hard cap. Then the Hellions held onto an early lead to beat California 8-7 to earn their spot in Raleigh.
It's the first Nationals berth for Southern Cal since 2010.
"It was a pretty incredible feeling for the entire team. Everyone just exploded with celebration after that last point, it didn't feel real," said captain Avalon Agawa. "Making it to Nationals this year wasn't just for us, but for that team [that lost two games to go in 2014], and last year's team, and all the Hellions teams before that put in the time and love to make this program what it is."
The team had shown potential to make the Championships during the regular season. President's Day Invite wins over Washington and Colorado (along with the aforementioned Regionals victory over Cal) account for all of their wins over Nationals qualifiers, making for a 3-11 record versus the field. But both Washington and Colorado, whom the Hellions beat by a goal a piece, are top 8 seeds in Raleigh and USC made it out of one of the toughest regions in the country.
You may be noticing a theme: very close games. Almost half of Southern California's 31 games this season have been decided by one or two points; they are 8-6 in such contests.
"A lot of our games that ended up close started with us in a substantial deficit," explained Agawa. "We've become a team that doesn't give up easily, and quite a few games that started with us in a substantial deficit, ended up close."
That's a double-edged sword. Games at Nationals drain the legs quickly, especially on some of the teams that rely on a few veterans to carry the water. Their lefty handler duo of Linda Venema and Julia Johnson soak up a lot of touches, and captain Connie Chan is asked to take the lead as both a cutter and a defender; they'll want to have some legs later in the weekend. However, being emboldened instead of timid in the final points of a barnburner could prove valuable.
"Playing in close games, wins or losses, have been learning experiences for our very young team and developing a strong mental game as a team," adds Chan. "Whether it's building and maintaining a lead or getting multiple breaks or up winds to come back and win a game."
Expectations for USC won't be incredibly high – they are the 19th seed out of 20 teams, after all – but the possibilities are. Prequarters is doable in a pool with teams they know well, have beaten, or have played inconsistently enough for the Hellions of Troy to capitalize on. And after that, they must be a close game away from a shocking run.
---
Once a part of the UC Santa Barbara team Michigan upset in prequarters in their last trip to Nationals ↩