A rainy weekend in Pittsburgh saw the top-seeded Hurricanes walk away with a sweep in the final High School Northeasterns.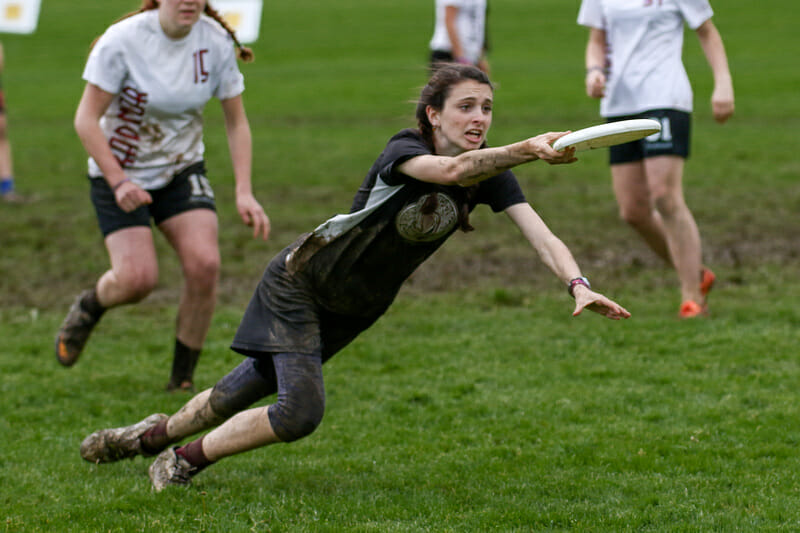 The article is presented by CUT Camps; all opinions are those of the author. Please support the brands that make Ultiworld possible and participate in CUT Camp!
This article was written by guest author Juliana Landis.
Saturday
Boys' Pools A and B Follow Script
As expected, top-seeded Amherst Regional High School barely blinked on Saturday, winning their first day's games quickly and never allowing their opponents more than four points. Even in such dominant wins, Amherst (MA) highlighted their impressive depth by subbing full lines of players. Over the course of the weekend, sixteen of Amherst's twenty-one player squad had scored.
Similarly, Pool B was dominated by Pennsbury (PA). In their first game of the day, what started as a closely fought match between Pennsbury and Pine-Richland (PA) quickly revealed itself otherwise; an impressive string of d's from Pennsbury turned the tide, allowing the highly ranked Philly team to pull away for a 10-5 win at hard cap. The combined defensive force of freshman Matt Labar and senior Grant Shapiro made Pennsbury a brutal opponent all weekend.
Boys' Pools C and D Shaken Up by Universe Points 
Whereas Pools A and B went strictly to seed, Pools C and D brought the drama from the outset. The first round on Saturday morning saw the top seeds in both pools locked in exciting battles that were each tied at 11s when the hard cap horn sounded.
In Pool C, #3 seed Lexington (MA) was trying to hold off the upstart Radnor Raiders from outside Philadelphia. Radnor had done well moving the disc quickly to start the game, but ran into trouble as the game wore on thanks to great defensive plays by Lexington's Chris Padilla. Both sidelines were electrified during double game point, though it dragged on thanks to drops from both teams. After a strategic time out, a settled Radnor threw it deep to Neal Chan for the game-winning score. The result portended more disappointment to come for the Fooligans, who slumped to a record of 1-2 and landed in third place for the pool.
Where Lexington struggled on Saturday, Columbia (NJ) made an impressive start to the tournament. Definitely the loudest team of the morning play, Columbia's intensity on and off the field led to a sweeping victory of pool C. Columbia came into the weekend seeded sixth, but had shown greater potential earlier in the season, earning a victory over highly ranked Pennsbury at this year's Amherst Invitational.
Needham (MA) and Westfield (NJ) teams had both traveled far to get to Northeasterns, and started their game with admirable spirit not seen much elsewhere Saturday. Their opening game in Pool D was fairly evenly matched, but Westfield pulled ahead for an 8-5 halftime lead thanks to awesome handling by Patrick Chirachella. Needham came back with a tightened cup which forced several risky hammers followed by dropped discs. The zone allowed Needham to creep back into the game — and even take a one-point lead — until the hard cap forced another 11-all double game point. Westfield scored a quick, uncontested point, catalyzed by a huge block by Jack Leibling, a player who hadn't seen much action earlier in the game. The loss crushed Needham, both the team and the band of parents on the sideline, who would go on to watch their boys lose all three games of pool play.
Underdog Montpelier Prevails
Saturday's near constant rain and chilly mid-50s temperatures were expected, but what no one saw coming was Montpelier. Seeded last in the tournament, Montpelier (VT) was a relatively unknown team who had gone winless at last year's Northeasterns. Despite low expectations, Montpelier came out with fire on Saturday and earned a pool victory in a three-way tie atop pool D.
Montpelier began their day against fifth-seeded Franklin Regional, letting the Pittsburgh squad know early that it wasn't going to be an easily won game by scoring a quick point to start the game. Franklin Regional had trouble stopping Montpelier's dynamic Elijah Coolidge. Coolidge's fast play and great chemistry with teammates Reed Browning and Silvan Avery-Padberg together staked Montpelier to a 6-3 lead. The trio of Montpelier boys would prove to be the core threat for the team throughout the weekend. Franklin Regional recovered for the win thanks to a tough cup defense led by Adam Schwab and great movement by handlers Jason Dick and Robbie Davis, but the underdog from Vermont wouldn't lose another Saturday game.
Montpelier's ultimate program has grown from "a scrappy coed [group]" at a small school to an impressive program fielding a girls team as well as boys varsity and JV teams — one in ten members of the high school's student body is now involved with the sport.
Anne Watson, Montpelier's coach of seven years, credited her team's excellent Saturday to their aggressive defense. "We're a team that plays hard on [defense]," she said. "We're gonna bid to get those D's all the time. Forcing turns — that's a big strength of ours." Watson noted that her team would need to focus on not double-cutting and making chilly endzone plays to continue their winning streak into Sunday's bracket in a very competitive Northeasterns field. "We've got some really great competition. I'm just so thankful to be playing against teams who are pushing us." 
Just as important to the team was competing for the tournament's spirit award. While the team prides themselves on their spirit, Watson admitted the the boys were given permission to spike the disc since they were playing out of state. "There were a couple spikes. It was universe point, they were super excited, I was like whatever, it's fine," said Watson with a laugh. 
Most Exciting Game of Saturday Goes to the Girls
Perhaps the most exciting game of Saturday came in the girls Pool C, between #3 seed Lexington and #4 seed Fox Chapel. Both teams had cruised through the first two games on the day, with Lexington even managing a perfect first half in their 12-4 defeat of Radnor on Saturday morning. Fox Chapel came into the weekend on the back of a big win at the Pittsburgh PHUL championships against Allderdice, but were missing their deep-cutting all-star Michelle Wolf, who has been sidelined repeatedly throughout the season due to a knee injury.
Unfortunately for the girls, as the pool's final game started, so did the afternoon's rain.
Unable to rely on long, many-throw possessions because of the conditions, from the get-go it was clear that each team would be relying on their key players. The Lexington Fooligals were led by Tess Johnson, who would prove to be a hugely important cutter and handler, always managing to find open space and throwing it deep to another Gals great, Mira Anderberg. Countering Johnson was Fox Chapel's Darra Reppermund; even with hucks to rival the best of the boys division, Reppermund's most vital contribution to the game was her unrelenting defense on Johnson. While they were amazingly well matched challenges for each other, Johnson had a significant height advantage which allowed Anderberg to find her in the end zone multiple times. Still, once it became clear that Johnson was a threat, Reppermund showed great field awareness, generating twelve (!) Ds over the course of the game, including several foot blocks on Lexington's star player.
Perhaps unsurprisingly, a majority of the game's points came from deep hucks, as the hard rain made any attempts to work the disc up the field a challenge for both teams. While trying to swing between handlers, Fox Chapel's Theresa Hiedenreich dropped a slippery disc at the end zone giving Lexington the opportunity to tie the game at five. With the game neck-and-neck amidst some of the worst playing conditions of the day, Hiedenreich redeemed herself with an outstanding D that helped give the lead back to the Foxes, just seconds before hard cap was called. While it seemed as though Fox Chapel had wrested all the momentum in this hard-fought match, Lexington's spirits were not dampened. Firing themselves up with a cheer, the Gals got more great play from the dynamic duo of Johnson and Anderberg, who led Lexington to a 9-8 comeback victory. While the game could have gone either way, both teams should be commended on their awesome playing and overall competitiveness.
Sunday
Watchung Hills Puts in Work
Similar to their boys team, Amherst Girls Varsity team put together an easy 4-0 record on Saturday. As the Canes turned their attention to Sunday's bracket, it was clear that they had their sights trained on one opponent in particular: Watchung Hills.
The Lady Warriors from Warren, NJ were one of the few girls teams at the tournament that did not rely primarily on deep hucks and their talented handlers — including Joy Rizzoli and Kathryn Stoll — worked it up the field with amazing continuity throughout their Sunday morning quarterfinal matchup against fellow New Jersey team West Windsor-Plainsboro. When they got to the end zone, Watchung Hills stayed chilly against the Wind Dragons' tough person defense. The first three goals of the game were scored by dint of Rizzoli's ability to see the field and awesome isolated cuts in the end zone from Alyssa D'Costa. The team's depth led them to a 13-1 victory, though head coach Terrence Chen was quick to point out that the score was not reflective of how hard West Windsor played; as frequent opponents in New Jersey, he commended the Wind Dragons on "getting better every single time we see them."
The Watchung Hills girls played with more finesse and confidence than many other teams present at Northeasterns, but were also not afraid to grind — their rallying cheers spelling out "W-O-R-K" reflected their full commitment to effort. That commitment extends beyond the playing field, as Chen boasted,  "We like to brag that we have the highest GPA of any school team…and that's a point of pride for us."
The Lady Warriors would continue their journey at Northeasterns with a semifinals matchup against Pittsburgh's Allderdice, just one win away from the final that the Amherst girls expected and craved.
Allderdice Makes an Impressive Run
The girls of Allderdice were unafraid going up against high seeded Lexington to start their bracket play on Sunday, despite their small 12-girl roster being even more shorthanded without a key handler, Miranda Kosowsky. Kosowsky had contributed six assists on the first day of the tournament as well as leadership and key handler movement, but was unable to play on Sunday due to a potential concussion. Still, the Ninja Samurai took an impressive lead on Lexington, taking half while only allowing their opponent to score twice.
The small roster started taking a toll later in the game, as key players needed to rest. With Allderdice's energy fading, Lexington star Tess Johnson would lead her team on a three-point run late in the game to try to spark a comeback rally; the stretch showcased impressive work by Lexington's cutters, as nearly every player would touch the disc before a score. Though they were able to score quickly, shrinking the deficit to only three points, time was not on the Gals' side.
In the end, the Allderdice duo of Sophie Kosowsky and Sophia Vidic Vidic kept Lexington at bay. The sister of Miranda, Kosowsky did an excellent job of guarding a much taller Johnson, and showed what a dynamic player she is by operating as a key handler and offensive threat. Vidic Vidic had scores late in the game to halt Lexington's comeback. As the hard cap approached, Allderdice also utilized their timeouts to bleed the clock and hold on for the 12-8 win. The victory was particularly sweet for the Ninja Samurai, as Lexington had just beaten their Pittsburgh rival Fox Chapel in Saturday's pool play.
Allderdice's short roster caught up with them in the semifinal round, coming up short against Watchung Hills to end their Northeasterns run.
Pennsbury Fights Hard to Make Finals
After sweeping up Boys Pool B with ease on Saturday, Pennsbury faced a tough road to finals Sunday morning, perhaps underestimating their quarterfinal opponent, Franklin Regional. Coming out flat, Pennsbury's defense struggled to stop a Franklin Regional squad who was missing their top scorer, Josh Hill. With great in cuts by Franklin cutter Joseph Merante and equally impressive handler movement between Pennsbury's Mac Rushing and Christian Pilla, these two teams from opposite ends of Pennsylvania were fairly well matched. In a hard-fought point to take half, Franklin came up short on several offensive possessions — including a dropped disc in the endzone by sophomore Peter Drew — and made a series of defensive mistakes, allowing Pennsbury to go into half with the 7-6 lead.
Both teams upped their intensity in the second half. While Franklin Regional senior Victor Mao left it all on the field, the team's lack of depth and Pennsbury's newly energized defense gave the boys from Yardley the game, 13-7. As the lead grew, the last points were filled with messy fouls, strip calls, and hostility all around. These two teams may face off again this coming weekend at Pennsylvania's state competition.
Pennsbury's next game against Columbia proved to be an even bigger challenge. Within the first few minutes of playing, Columbia lost one of their strongest handlers, Ethan Smith, who suffered an ankle injury. With this setback, Columbia tended to look quickly for deep cuts instead of working the disc up the field — a strategy that worked mainly thanks to the ultra fast Russel Moy. Pennsbury were playing a similar huck-happy game, meaning scores were quick and responses quicker, keeping the score close throughout the first half.
Columbia gained momentum thanks to defensive spark Alex Rafkin to take a 9-6 lead after the break. Pennsbury battled right back through the team's core handler Tim Clarke. Clarke threw it long to Grant Shapiro who made a miraculous catch in the endzone while being roughly covered by two Columbia defenders. Rafkin then took a cleat to the hand and was forced to sit, which allowed the Pennsbury boys to catch up again with two quick scores; one long throw to Shapiro and a second to Matt LaBar. With the score tied at nine, this next point was the longest of the game. Both teams were working the disc with significantly more continuity than before, but impressive defensive plays by Columbia's Rafkin and Moy prevented Pennsbury from gaining any more momentum. Columbia regained their lead, scoring two points while sticking hard to Pennsbury deep cutter Shapiro.
Once again Columbia allowed Pennsbury to fight their way back into the game. An unexpected deep cut by Pennsbury handler Rushing cut Columbia's lead in half. Then a key defensive block from Pilla led to a quick score to tie the game at 11s with only five minutes remaining. Pennsbury's handlers worked the disc up the sideline, but were halted as Nick Argenti was injured just feet from the endzone. With the hard cap going off during the ensuing injury timeout, both teams were energized on the sidelines. After all of his assists, Tim Clarke's first goal of the game would also be the game's final goal, and Pennsbury moved on.
After their second big win of the day, Pennsbury's head coach Rob Labar said that his team badly wanted this win as redemption for a loss to Columbia on universe point at the Amherst Invitational earlier this spring, a game that was "fresh in our mind… definitely tough." Looking forward to the final game against Amherst, Labar recognized that his boys had fought through two very difficult games and hoped they "had enough gas in the tank to pull it off." Labar seemed particularly proud of his senior players who had given up their final prom to attend their last Northeasterns.
Boys Final Leaves Little Doubt About the Best Team
The boys final game pitted the top two seeds in the tournament. Amherst had lived up to the hype as the "team to beat," as their point differential coming into the final game was +42 through five games. They had a vastly deep line with their top five scorers all having scoring more than five goals, led by standout Luke Webb with a whopping 18 goals over the two days of play.
Amherst had time to relax after finishing off their semifinal game against Montpellier, but the brutal Columbia vs. Pennsbury battle lasted right up to the start of the final and the tired out Philly team had their work cut out for them to not fall flat against what seemed to be an unstoppable Amherst.
Pennsbury came out with fire scoring a quick first point and it appeared that they may be able to harness their hyped up energy from their win against rival Columbia. But the lead would not last. After two early turns by Amherst, the Hurricanes regained their composure and were able to move the disc effortlessly. Amherst took the lead quickly with a combination of fluidity between handlers and in-cutters as well as the occasional big throw by Canes' Oliver Fay. There was no shortage of open throws thanks to the worn-out Pennsbury defense compromising positioning. Almost every Canes player touched the disc before scoring the bulk of Amherst's points. While Pennsbury player Grant Shapiro had gotten many key Ds in the prior games of bracket play, he and other Pennsbury defenders struggled against the running show of Amherst's Webb and Ben Goldman. On the other side of the disc, a great footblock by Amherst's Caleb Seamon ultimately persuaded Pennsbury handlers to look for somewhat desperate deep hucks instead of working the disc up the field.
Coming back after half, Pennsbury handler Tim Clarke had a magnificent huck to to Shapiro to bring the score to 7-3, but this would be one of Pennsbury's final big plays of the game. Amherst's defense was stronger than ever, with especially great field awareness coming from Noah Zobel and Ryan Dinger. As the rain began to fall and both teams started playing much of their bench, Amherst ended the game 13-4 and took home the tournament title with an undefeated weekend.
Amherst coach Joe Costello felt that their success at Northeasterns could be attributed to his team's attitude and love for the game. "The ultimate and playing together… we enjoy it so much that we don't really feel the challenges as much when we're in a tournament playing together," he said. He continued, discussing the how Amherst's main challenges came from within: "It's fatigue — mental fatigue — being there to support your teammates. It can be really hard to do those things so we practice as much just making sure we can be the best we can be." With a well-developed program that starts as early as middle school and fields multiple JV teams, Amherst has plenty of experience in successfully achieving their potential. Eight of the team's seniors have been on the Varsity team since their sophomore year, and even more have been playing ultimate together for six or seven years; it meant a lot to Costello to send that class off with a win in the final Northeasterns tournament.
Amherst Girls Take Lighting-Shortened Final
The girls final proved to be a much more even match. Neither Amherst nor Watchung Hills had experienced any close games over the course of the weekend up to that point — their biggest competition was definitely each other. As the intensity ratcheted up for the final, the teams' equally massive sidelines cheered loudly as the game began.
Watchung Hills seemingly scored the opening point of the game, but their goal was called back on a pick. With the Lady Warriors unable to convert on the second attempt, Amherst scored the real first point of the game thanks to a great grab in the endzone by Elende Conner.
As the game progressed it was clear that Amherst's trio of starting handlers had unbeatable chemistry. The fast give-and-gos between Shira Yeskel-Mednick and Josephine Coppinger let the two girls work the disc up the field without needing to rely on cutters who were often times well covered by Watchung Hills energetic person defense, who had many talented players of their own. Kathryn Stoll made a standout D early on, attacking the disc to prevent Amherst's Mia Hartl from scoring, but then forced a poor huck that gave possession right back to the Hurricanes. 
At times spacing seemed to be a problem for Watchung Hills, as handlers were clogging space and unable to find each other; Junior Nationals Team member Jessie Sun often found Rachel Tigol on strike cuts to provide some essential movement to get the Warriors moving. What Watchung Hills did do well was find their players deep. Sun hucked it long to Stoll to tie the game at 3-3. The flow between Sun and Tigol continued to work well for Watchung Hills. Catching on to the Canes' give-and-go power plays, Tigol played hard defense on Coppinger which made handler movement much more difficult. To counter this, Amherst began relying more on in-cutters Fernanda Brenna and Katherine King. With tons of great back-and-forth, the points were long and hard fought. Both teams took their time setting up each offensive possession and could have greatly benefited from some quick pushes after turns to gain yards.
Watchung Hills found Chelsea Semper in the endzone to gain a one point lead, but Amherst dug back. A great D by Amherst's Yeskel-Mednick stopped the Warriors' flow and allowed the Canes to once again work the disc up the field. Yeske-Mednick found Coppinger to tie the score and then the pair connected again on the next point to the give Amherst the lead. Under extremely tough defensive pressure, the Canes lost the disc at their end zone, giving Watchung Hills a short-field opportunity to score that they couldn't capitalize on. Amherst star Coppinger dominated the next few plays of the game; first, she ended an exceedingly long point and gave the Canes a two point lead with a fantastically timed strike cut. After pulling it long, the Canes regained possession after a quick D and Coppinger beat her girl to the end zone where she dropped the disc on an uncontested foul. After tapping it in, Coppinger immediately found Brenna to score and take half with a three point lead.
By now, the momentum of Amherst could not be stopped and their constant motion resulted in a quick score out of half. As rain began to fall, many attempts at one-handed grabs led to turns from both teams. With Watchung Hills in-cutters and handlers struggling to get free under Amherst's pressure, Sun threw a huge crossfield huck that was reeled in by Allison Huresky in a great grab to score. Following that, Katherine King scored for Amherst while being closely guarded by Chelsea Semper.
With ten minutes left before hard cap, thunder and lightening ended this exciting match prematurely, with Amherst winning 9-5 and showing that the dynamic handlers and movement between cutters was enough to beat Watchung Hills' intense defense and deep hucks.
Editor's note: A previous version of this story mistakenly attributed quotes from Pennsbury's Rob Labar to Michael Gordon. We apologize for the error.