Oregon misses their first final in five years.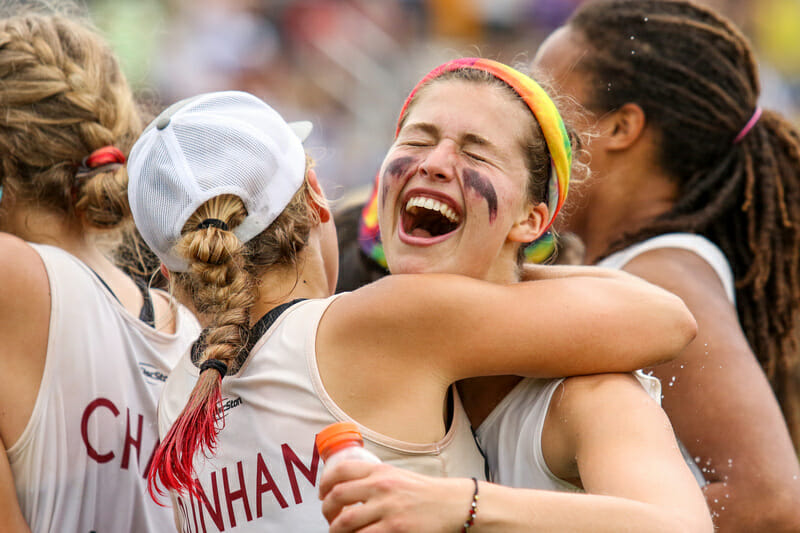 This article is presented by Spin Ultimate; all opinions are those of the author. Please support the brands that make Ultiworld possible and shop at Spin Ultimate!
For the second year in a row, Stanford Superfly and Oregon Fugue — two of the most decorated programs in the history of the women's division — met late in the elimination rounds of the College Championships. This time, the rivals battled it out in the semifinals instead of the title game. This time, it went Stanford's way, 15-13.
Oregon had owned the match up in recent years, defeating Superfly every time they've met since 2012, including their 12-9 win this year at the Northwest Challenge and last year's 13-11 win in a windy national championship game. This year the teams met in essentially calm conditions, happily avoiding a repeat last year's gusting finals and this morning's downpour.
The game started off with a sloppy half, where both teams clearly felt the nerves of a rivalry game on a big stage — surprising given the veterans on the field. Numerous turns — on hucks, on easy dumps, on unders — characterized a long first point but Morgan Caldwell finally pulled down a Beth Kaylor huck and flipped it in for the break to open the scoring.
Superfly's offense received again and got the flow of their offense rolling, this time holding for 1-1 in the face of a Fugue defense focused on shutting down open side under cuts. Stanford's defense then stepped on the field for the first time and proceeded to turn an Oregon overthrow into a break with a beautiful outside-in flick.
In the early stages, Oregon's attack looked its strongest when they could free up Beth Kaylor, Alex Ode, or Jesse Shofner to shoot a huck down field to Oregon's athletic receiving corps. They also saw great success with technically challenging upline and open side away throws to space. In contrast, Superfly did their best work when attacking down both sides of their vertical stack, riding under cut flow for yards and punishing over-pursuing defenders with cross-field around throws. Their worst moments came when the flow stalled and the were forced to run pressured dump sets, and when they got too jumpy on their trigger finger for hucks.
At 4-4, the negative tendencies of Superfly's offense started to surface more frequently, amplified in volume by Oregon's clam defense which poached the break and under lanes that Stanford had been attacking to great effect. Superfly cutters struggled to solve the poachy look, and eventually gave Fugue enough turns to let them run off two breaks and put them on the verge of taking half at 7-5.
Superfly called a timeout to try to talk through a solution to the clam look, and it came together for them for a critical hold. Instead of using long vertical stack cuts to move the clam poachers and exploiting the newly created space, Superfly opted for a more popper-centric approach, using short passes to beat the front wall.
The Stanford defense took the field looking to put the game back on serve for half, and that they did. Superfly's defenders shut down the Fugue cutters and forced Oregon into a dumpset turn, cashing in for a break running through Shayla Harris.
On the point for half, it was a quick repetition of the same formula for Superfly, this time with Harris tallying a run-through block on Shofner and continuing on to catch an Anne Rempel huck in the endzone for half, the lead, and the momentum.
Superfly pulled out of half and Oregon responded with a hold. Both defenses were consistently earning turns — Superfly in person and Oregon continuing with clam. Eventually the confusion of the clam paid off as Fugue forced a short field turn and put the game back on serve at 10-10 with a break. Stanford didn't let it get further than that, responding with a hold and getting their defense back on to the field.
More smothering defense helped Stanford break twice to re-establish a lead. At 13-10, Oregon's big name players began playing more points than usual, with Alex Ode and Olivia Bartruff crossing over. The stacked lines got one break back for Fugue, leading to a nerve-wracking point for the Stanford O-line, receiving at 14-13. Oregon's defense was all person, and they were playing with high intensity. Cut after cut came under pressure, but Stanford maintained their possession.
The game ended on an incredible play when Caitlin Go fired an inside break slightly behind a streaking Veronica Cruz in the endzone; both Cruz and Bartuff left their feet, but it was Cruz who came up with the amazing catch, reaching beyond Bartruff and landing her feet in just inside the goal line. Game, Superfly. Rivalry conquered.
The top performers for Superfly on the big stage were numerous, but Rempel, Go, and Harris shined the brightest. Rempel's smooth reset cutting and powerful hucks gave Stanford its biggest offensive gainers. Caitlin Go consistently slipped free late in the count to keep possessions alive, and added a dynamic edge to the offense by attacking across the field. Finally, Harris was a tireless cutter on and defender all game. She took the Shofner matchup and neutralized her impact as well as anyone has, and on offense her quick cutting and devastating break throws were critical to the attacking flow.
Oregon fifth-year Bethany Kaylor was huge for Fugue, particularly as a thrower, driving the team on both lines. Defensively, Ella Hansen took the Monisha White matchup and made her life difficult all game. Olivia Bartuff and Alex Ode also turned in the strong performances we have come to expect. Jesse Shofner and Hayley Wahlroos did not seem to exert as much influence on the game as they have in past Stanford matches, which surely left a void of big plays that Fugue are used to getting.