The 2015 National semifinalists are back in semis at the US Open.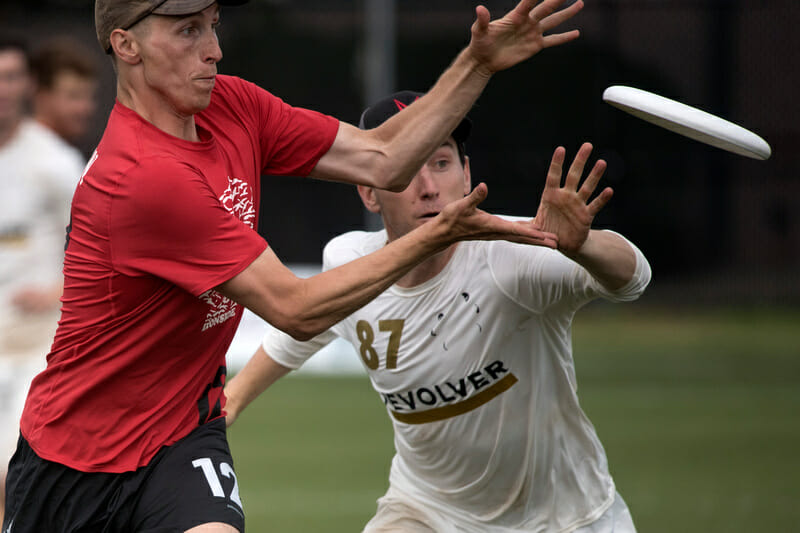 This post is presented by Disc Store. All opinions are those of the author; please support the brands that make Ultiworld possible and shop at Disc Store!
PROVIDENCE — The men's field for the semifinals at the US Open on Sunday may seem familiar, as these four teams all reached the semis at Nationals last fall in Frisco. The pairings have changed, however, as West Coast rivals Seattle Sockeye and San Francisco Revolver will tangle in the afternoon game while Boston Ironside and Chicago Machine will face off in the night cap. After two days of play that built early season chemistry and confidence, these teams should be ready to put on a show.
San Francisco Revolver vs. Seattle Sockeye
Sockeye recovered from a first round loss to Madison Club to win Pool B, and their reward is a date with Revolver and a rematch of the National Championship game from last year. Whether it's in July, October, or January, there is always something on the line when Seattle and San Francisco share the field.
While this matchup conjures memories of exquisite ultimate played at the highest level, both of these historically dominant teams have been unconvincing thus far, at least by the lofty standards they set for themselves.
Sockeye hasn't shown us their top gear yet, as they were sloppy against Madison Club in their loss early Friday morning, and weren't consistently sharp in their wins over Machine, Florida United, and the rest of Pool B. While the defense has looked good in spots, the team has been unfocused at times, with their usually rock steady O-line lapsing and struggling through multi-turnover points.
Outside of their loss to Madison Club, Sockeye's profligacy hasn't cost them, as they were able to easily overpower Machine and Florida United on Saturday. Defensively they've been able to make big plays, with both Trent Dillon and Husayn Carnegie showing their value to Seattle's D-line, getting blocks and looking to push the pace off the turn with aggressive deep shots.
In general, Seattle has been attacking the deep space all weekend, but more as a product of stagnant cutting and high stall release valves than as a concerted strategy, which could be indicative that their chemistry isn't totally clicking early in the season. Hopefully for Sockeye, getting a crack at their biggest rivals will snap them back to attention and we'll get to see the crisp, quick offense this program is known for.
Revolver gave easily their worst performance of the weekend thus far against Ironside on Friday afternoon, seemingly suffering from kryptonite poisoning en route to a 15-11 defeat that wasn't as close as the score line indicated. Revolver struggled in virtually every phase of the game against their rivals from Boston, but it was a different story on Saturday. They calmly dispatched every opponent they faced, showing the patience and prowess we have come to expect from the defending champs.
It wasn't so much the score line or the opponent, but rather the eye test that marked the difference for Revolver on Saturday. While on Friday the offense looked downright disjointed, on Saturday they were in sync, patiently moving the disc from side to side then striking for easy and open scores.
With no Beau Kittredge, Cassidy Rasmussen, or Ashlin Joye, this game against Sockeye is a great opportunity for some of Revolver's less heralded players to get big minutes against an elite opponent under the bright lights of ESPN. Eli Kerns has been a burgeoning star in the Bay Area for the past few seasons, and has been a focal point of Revolver's offensive line this weekend. A big performance against Sockeye could herald his arrival as an elite player on the club level.
Without all of their offensive firepower, Revolver's defense may need more breaks than normal to get the job done against Seattle. Fortunately for them, they have added a key piece to their defense in the form of All-Everything player George Stubbs. Stubbs and Lucas Dallmann have been the lynchpins for Revolver's defense, and will be looking to jump on any opportunities Seattle's offense gives them.
Revolver v. Sockeye will be livestreamed on ESPN3 at 12:30 PM Eastern.
Boston Ironside vs. Chicago Machine
The second semifinal pits Boston Ironside against Chicago Machine in a matchup of the two semifinal losers from 2015 Nationals.
Machine finished second in Pool B to clinch a spot in the semis after beating Madison Club in a win-or-go-home game on Saturday afternoon. Machine's hard defense ground down Madison over the course of the game, and the offense did just enough to seal the deal.
It was a disappointing finish to the weekend for Madison, who had high expectations after upsetting Sockeye in the first round on Friday. With several of their players missing, Madison played Colin Camp, Brian Hart, and a few key players virtually every important point this weekend. Their short roster eventually wore down in the July heat and couldn't keep up with Machine by the end of a second day of grueling games, which resulted in Chicago pulling away for the comfortable 14-8 win.
Ironside swept through the competition in Pool A, highlighted by their win over top-seeded Revolver. The Boston crew has been the best team in the division through the first two days, with their offense showing the most polish and their defense playing with an intensity a level above their opponents. After a sputtering start against Guerrilla, Ironside ripped off an 11-1 run to close out that contest, and hit their stride from there.
It's been on the defensive side of the disc that Ironside has really thrived, with a returning core of Christian Foster, Jack Hatchett, and John Stubbs spurring the team on long break runs. It's a scary thought that this core could add Kurt Gibson when he returns to action later in the year if the Boston brain trust puts him in his usual position on the D-line.
Boston won't have Gibson on Sunday night against Chicago, though, and they could have their hands full if Machine's offense is hitting on all cylinders. Chicago brings some huge bodies to bear on the O-line, which will be a slightly different challenge for a Boston defense that doesn't have many prototypical huge defensive players. Ironside often relies on speed, positioning, and intensity to get the job done on the defensive end.
Machine's offense hasn't been immaculate this weekend, but it has been effective, as the team got the wins it needed to advance to the championship bracket. Brett Matzuka has been the main catalyst, thriving in the windy conditions and totally unafraid to launch tricky upside throws and ludicrous breaks against man and zone defenses alike. Against Ironside on Sunday night he and the rest of Machine will likely encounter hardnosed man-to-man D, a Boston staple. It will be a treat seeing Matzuka attempt to throw players open against such a fierce defense. Matzuka will have an increased burden on his shoulders as Bob Liu suffered a wrist injury that is forcing him to play left-handed for the rest of the weekend.
There will be plenty of star power on display when these two teams meet with five players from team USA suiting up on Sunday night. We could be in for an early fireworks display that will set the tone for the holiday celebrations to come.
Ironside v. Machine will be livestreamed by ESPN3 at 6 PM Eastern.