The youngest sibling in one of ultimate's most famous families discusses college, club, international, and All-Star Tour experiences with a young fan she has inspired.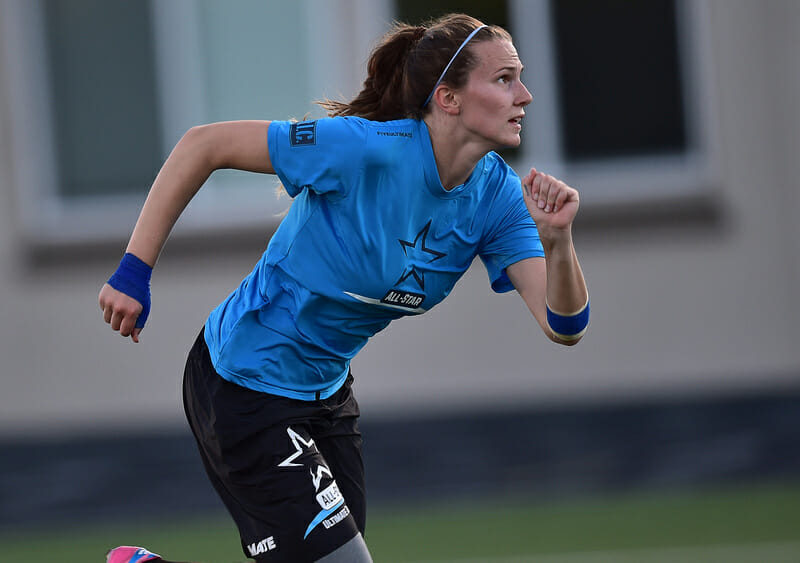 Earlier this year, I was offered the wonderful opportunity to interview Qxhna Titcomb. I said, "YES, OF COURSE! It's Qxhna Titcomb!" Before I spoke with her, I really only knew her as a face on highlight reels. But that was enough for me to be amped about this interview.
Qxhna had always been an inspiration to me on the field; her grit as well as her fluidity was so captivating — she made the game look so easy and simple. But it wasn't until after sitting down and talking with her that I realized how inspiring she is off the field as well.
Qxhna Titcomb is not only an incredible athlete and ultimate frisbee player, she's also an influential ambassador of the growing female ultimate community. Last summer, she dreamed up, fundraised and recruited for, then executed the All-Star Ultimate Tour — focused specifically on showcasing high level women's ultimate and encouraging young girls to explore their curiosity in the sport. Qxhna did all of this while also captaining Tufts during her final college season and then playing club for Seattle Riot.
With the All-Star Tour starting up again this Friday, I wanted to revisit this interview and give everyone the opportunity to get to know a little more about Qxhna and exactly why she is such an inspiration to so many, myself included.
—
Kaia Roast: What was the biggest challenge you faced in ultimate in 2015?
Qxhna Titcomb: I think that the biggest challenge that I faced last year was an injury that came up specifically twice. The first time was like a month before [Beach] Worlds, where I most likely tore my meniscus and I didn't know if I was going to be able to compete. I ended up pushing through it and it ended up being ok; sand is easier on the knees and everything. Then right before the U.S. Open — and therefore right before U23 Worlds and the All-Star Tour — I hurt my hip flexor.
Both of those injuries turned me into a player who was more focused on myself and a player who didn't spend as much time focusing on my teammates, which I believe is the true representation of me. So it was hard to overcome that — the physical challenge, and also the mental challenges where you are trying to take care of yourself and also be a good teammate.
KR: So you think that it made you more self aware — like aware of yourself and your body on the field?
QT: Yeah. Instead of taking time between points or during halftime or between games to spend time with my teammates, I'd be stretching or icing or rolling and making sure that I had food and taken ibuprofen and that kind of stuff. When I'm not injured, I'm not like that — I have a lot more time to support my teammates. So that was really challenging.
It was especially hard when I was captaining Tufts and had to captain from the sideline at such an early stage in the season. In college, it really helps younger players to see how things are done — because everything is so new — so that was really hard to have to use my voice from the sideline instead of lead by example.
KR: What do you think has been the most helpful thing that you have learned this past year?
QT: [I've learned] that ultimate can be more related to real life than I initially thought. That was especially true during the All-Star Tour, just realizing that what I was focusing on and creating is something that is true in all sports — gender inequality is something that is true in all sports, not just ultimate, and that is something that I can connect with anyone in the world on. It's like taking ultimate and looking at it from a bigger perspective, that it's more than just sports and it's really relatable.
KR: So with the All-Star Tour, was your initial purpose to promote gender equity?
QT: I mean, my purpose was to promote women's ultimate and that was the mission of the Tour. It guided every decision that we made. So yeah!
KR: Did the All-Star Tour end up anything close to how you had pictured it or did it become something totally different?
QT: I don't know. I think it's morphed into its own thing because it's much larger than me. I wasn't the only person playing on the field and I think everyone in the vans and on the Tour created with me this certain experience. So in that regard, it definitely wasn't what I was expecting because I didn't really have any expectations. And to be honest, I was just so busy trying to make things work that I didn't really have time to set an expectation. Going into the first game, I hadn't really thought about what would happen if we didn't do well on this Tour. It would have been pretty bad if we just didn't win any games.
KR: What was your most proudest moment in 2015 — like something that you take a step back from and say, "Wow, that was pretty cool."?
QT: I don't know, there's so many! I would think that the All-Star Tour would be the first thing to come to mind, but really the first thing that came to mind was when we won the game on universe at Beach Worlds. It was a crazy game — emotion-packed and crazy plays. We won the game and then at the medal ceremony later, they were presenting us with our medals and they said, "And the Spirit Award goes to the US." I couldn't believe it. I had been nominated to be our spirit captain at Beach Worlds and sort of set the tone for how we were going to approach spirit, so seeing all of the time and attention that we put into it pay off was really cool to see being recognized.
It also helped me shape concepts that I would bring to the All-Star Tour — things that I feel strongly about and that are important to me. The real award was the realization that I came to about spirit and how important it is to ultimate.
KR: If you had to describe your final college season, your Riot season, and the All-Star Tour each with one word, what would that word be?
QT: All-Star Tour, it's gotta be "fire." For Riot, "intention." College, "grind."
KR: When you picked each of these words, was there a specific moment that popped into your head that made you decide on that word?
QT: For the All-Star Tour, we had a saying that was "Spit fiya" and that's kinda what it was. It was high-intensity, high-stress, and high skill-level all in one.
Then for Riot, we think a lot about process and intention, making sure that everything that you do on the team and for the team has an intention.
And then college it was just… playing a lot. Sometimes, it's not gonna be pretty. Sometimes, it's the team that can grind it out the most that is going to succeed. And I'm not saying succeed in terms of wins and losses; I'm saying succeed in terms of coming together as a team and having fun and achieving team goals.
KR: I've noticed that Riot uses a lot of the word "process." What is your personal definition of "process" on Riot? What does that mean to you?
QT: Process means every player getting heard and every player playing a role in the success of the team. And again, success is defined however we choose to define it.
KR: What advice would you give to up-and-coming youth players that have their sights set on a college and/or club career in ultimate?
QT: Learn how to throw an around throw. Especially in club, the windows are smaller on the inside and it's important to be able to break the mark around. Young players that do have that skill are game-changing.
KR: What are you looking forward to for this year?
QT: I'm looking forward to developing my role on Riot and getting a chance to invest more time in the team. I think a lot of last season was spent away from the team so getting a chance to be part of the entire season and building throughout the entire season will be really good for my development as a player.
KR: What changes would you like to see in ultimate in the future?
QT: More young girls playing ultimate. Right now, the sport is growing at the youth level quite a bit, but it's really clear that it's growing a lot faster on the boys side than on the girls side. I would like to continue to see growth in girls participation because I think ultimate is a great avenue for female players to grow up in and be a part of.
—
The All-Star Ultimate Tour started out as an idea of Qxhna's. It could have been easy for Qxhna to just leave it at that stage of development — just an idea. But she didn't. After some long-term planning and an unprecedented amount of hard work from her All-Star crew, the idea was brought to life.
Not only was the All-Star Tour entertaining and fun, but it was also inspiring. The players and their breathtaking athleticism and skill is inspiring of course, but what is more inspirational is how it all started with an idea. Anyone can have an idea or a dream for the future. I do. I'm a 16-year-old girl from Seattle who plays ultimate and I have ideas and dreams for the future of ultimate. I was always told as a kid that if I could dream it, then I could do it. But as I got the older, those words seemed more like false encouragement — or even a lie. What Qxhna did with the All-Star Ultimate Tour last summer brought those words back to life. And for me, that is a what was truly the most inspiring aspect of the Tour.