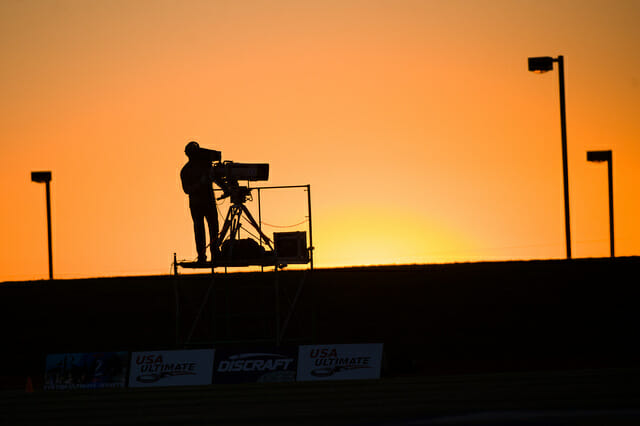 USA Ultimate CEO Tom Crawford said in an interview this week that he believes there is a chance that USA Ultimate will be able to broadcast games live on a television network as a part of the next media deal for the organization.
The ESPN contract, which began in 2013, expires after this year. USA Ultimate is already working on a new deal that is expected to begin in time for the College Championships in 2017.
When asked if USA Ultimate has a chance to "get games onto live TV beyond a web portal like ESPN3," Crawford was clear: "Yes. I think so."
While noting that the sport has developed a positive reputation and looks good on air, he also acknowledged that there are "challenges in viewership." It is difficult to make deals for live cable TV coverage when the audience simply isn't big enough to generate revenue through advertising.
Notably, there is more competition than ever in the sports television landscape. Fox Sports has pushed to challenge ESPN's supremacy with the launch of channels FS1 and FS2, but the nascent networks still have little in the way of live sports programming, opting more for studio shows and talking heads. That could be a possible in for a niche sport like ultimate.
See Crawford's full remarks below.
***
Charlie Eisenhood: This is the final year of the ESPN3 deal that will run through the National Championships this October. What are USA Ultimate's biggest priorities, looking ahead to the next media deal, whether that is a renegotiation and extended contract with ESPN or something different altogether? Are there things that you've learned throughout the last few years with the ESPN3 deal? How do you approach this upcoming 2017 year with a media deal in mind?

Tom Crawford: We just want to do everything with Ultiworld.
CE: [Laughs] Good answer! Perfect.
TC: [Laughs] I thought that's the answer you wanted.
[…]
Going forward, I think we're exploring a variety of options. I'm not going to go into a ton of detail about what those are, other than to say that there is interest, for sure, from the broadcasting community on our sport. I think we've got some challenges in viewership. You would know this better than anybody. But we don't get a ton of people watching. And, even though we've got a ton of people — supposedly, according to SFIA — playing the sport, the viewership could be better.
Any of the groups that we talk to, part of what we're going to be talking about is — in addition to providing high quality production and coverage so we can continue to show the sport off to all the people who have never heard about it before. We also want to try to get a little bit better promotion of it, so that more people will watch and the viewership numbers can begin to be driven up a little bit. And I think that's going to be an interesting part of the conversations.
CE: I know you don't want to talk too much about this, but I will ask: obviously this is a challenge with the numbers. You're absolutely right: the live-viewing numbers are just not enough to really move the needle from a big television network standpoint. But is there a chance that you're going to be able to get games onto live TV beyond a web portal like ESPN3?
TC: Yes, I think so.
CE: Any particular reasons why? Are you going to be able to negotiate that? Or is there a belief that if you build it, they will come?
TC: These first four years were really, really important to establish legitimacy, a reputation.
I'll give you an example coming out of the US Open in Rhode Island. At the end of it, we do some debriefing — actually, we do it every day. And one of the things that happened this year that was really interesting for us, because, you know, we don't get a lot of this feedback, is that a blend, sort of a combo, of the University of Rhode Island. You know, they've got some pretty big time sports there. Their basketball program is — I'd be very surprised if they aren't the Big Dance this year. They've got a really good team, good coach. They do pretty high quality sports production there.
A couple of those folks were standing there with us and the ESPN folks. And, basically, in front of the ESPN folks, said, you know we want to compliment you guys. You guys do a much better job than many of the other sports that we work with, including our own athletic department, in the way that you put your sport out there, the way that you produce it and present it. And it was really fun to work with you.
And this is all informal, but informally, the ESPN guys said, 'Yea, we agree. We agree that it's fun to work with you guys because we love the way you work closely with us and we really feel like you guys are a partner and we don't always feel that way with the other groups that we work with.'
So, all of those groups talk to each other. So we've worked hard to develop a really strong, positive reputation as a good group to work with, as a good sport to work with. And that we do our part — and work our tails off to make sure that — when it goes up on somebody's network, it looks really good and they are happy to have it on the network. And that's going to help us in our next negotiations that we enter into.