Six teams met in Monroe this past weekend for a mid-season preview of Washington mixed sectionals, with perennial powerhouse Mixtape coming out on top.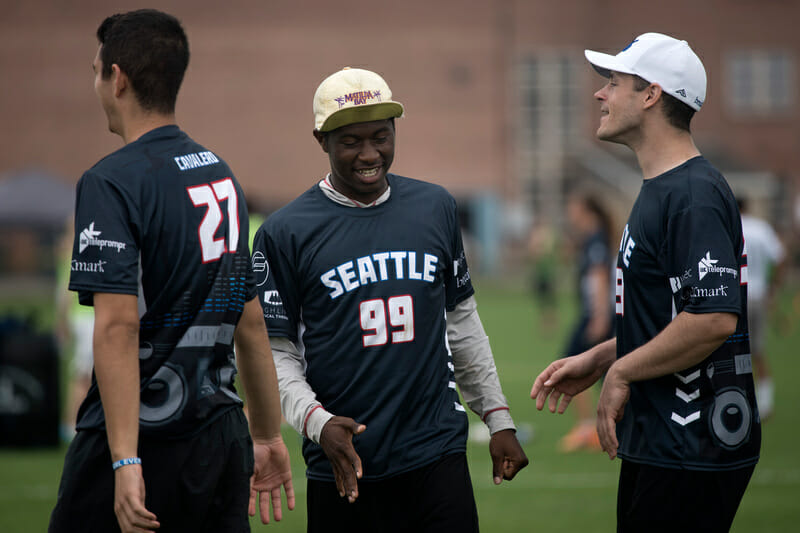 This article was written by guest author Colin Clauset, a practice player for Seattle Freeze.
MONROE, WA – In its third year of existence, the Northwest Mixed Cup brought some excellent competition and more than few surprises to the field this past weekend. The teams ran the gamut of experience this season — from a squad that competed in the finals of the US Open to half the teams playing in their first sanctioned tournament of the season — but the competition was strong and provided an exciting chance to see how the region could shape up for the rest of the season.
Still somewhat early in the year, teams played a bit erratically, but most showed signs of improvement over the course of the day-long tournament. The biggest shock came near the top, as relative newcomer Pegasus asserted themselves into the conversation of Nationals contenders with a win over last year's Frisco qualifier, Birdfruit. The results are sure to make for an exciting region to watch as the bid picture stabilizes.
Here's a rundown of the teams in order of results:
Seattle Mixtape Takes 3rd Straight Mixed Cup Title
The region's reigning kings played strong, consistent ultimate, showing few signs of slowing down following their second-place performance at the US Open. Despite missing Claire Revere as she travels the country on the All-Star Ultimate Tour, they didn't miss a beat, with Drew Johnson returning to the field in her first sanctioned tournament of the year after a season off. Mixtape showed off their trademark athleticism throughout the day, with big plays from Johnson, Khalif El-Salaam, and Evan Klein on full display.
Coach Charlie Mercer emphasized that Mixtape's goal for the weekend was to work more on gender equitable play and getting players reps in unfamiliar roles. There were many points throughout the weekend where Mixtape ran a three-woman handler dominator, and the emphasis on getting players more involved and playing outside their comfort zone produced some exciting ultimate.
Mixtape got contributions from the entire roster on the day and, despite a close shave against an athletic and energetic Pegasus squad, claimed another Mixed Cup championship. As they continue to search for ways to squeeze the most out of their talent, they look poised for another deep run at Nationals — especially when they can get their full roster in place.
Pegasus Flies High Above Expectations
The big story out of the Northwest Mixed Cup must be the performance of Pegasus, a second-year team from the Seattle area. They showed an incredible mix of athleticism and mental toughness throughout the course of the day, fighting back from halftime deficits against both Birdfruit and Seattle Freeze to pull out wins.
According to Pegasus' leadership, they came into the tournament looking to get some statement wins against other teams in the section, and prove that they could run with Seattle Mixtape. They showed their potential all day, dropping only their game against Mixtape in a de-facto finals 13-11, giving the two-time national runners up their toughest game of the day. John Quandt was impossible to miss on the field, making huge plays in the air all day long. The relentless cutting of captain Ari Aldebot opened space all around the field for the team to attack.
In their tight game against Birdfruit, Pegasus fought through many extended points in the second half to rattle off a string of breaks to put the game out of reach by the time hard cap arrived. This was a statement tournament for a team looking to put itself on the map, and they look to be a very dangerous team once the Series rolls around.
Birdfruit Focuses Inward
Coming off a strong sixth place finish at the Elite-Select Challenge earlier this month in Columbus, Birdfruit kept the focus on their own game. Speaking with Birdfruit player Clay Dewey-Valentine, he mentioned that the team was taking this tournament as an opportunity to work on individual goals within their "flocks." That self-focus allowed Birdfruit to come out looking fast and loose, with plenty of confidence.
With Lindsay Lang available again after missing the Elite-Select Challenge, they came out firing on all cylinders. Lang was a rock in their handler set, allowing players like Dewey-Valentine and Ky Lewis to attack upfield and use their quick movement to get easy scores on offense. That same quick movement allowed them to create lots of confusion on D against opposing handler sets. There were hiccups in the second half of their game against Pegasus, as multiple long offensive points were derailed by errant throws and strong defensive pressure. These errors carried into the first half of their game against Mixtape, digging Birdfruit a hole from which they could not recover. They were able to bounce back with a last round win over Bulleit Train to secure third place on the day.
Birdfruit will be looking to get back to full strength going into the series and, despite the disappointing results this weekend, is certainly still in the Nationals conversation.
Seattle Freeze Looks to Continue Growth
Like Birdfruit, Seattle Freeze was also in Columbus for the Elite-Select Challenge, where their 3-3 record was good enough for 13th place. They came into the Northwest Mixed Cup looking to further work the kinks out of their offensive systems.
Freeze were integrating multiple pieces into their handler set who were not available in Ohio, and the relative lack of familiarity showed up at various points in the weekend. After taking half on Pegasus in the first game of the day, strong reset pressure forced Freeze into several turnovers near their own goal-line, and eventually fell too far behind to recover. Those woes continued in their game against Birdfruit, before beginning to work themselves out against Mixtape. Freeze finally found their game against Bulleit Train, buoyed by strong downfield cutting from Erica Conrad and Tom Crawford, and excellent work on both sides of the disc from Stephen Burkot.
Freeze leadership emphasized growth as a team and running their system as the goals for the weekend. Still missing a few key pieces, Freeze will be looking to continue their growth at Kleinman Eruption in Corvallis before the Series, where they aim to be at full strength. This is a team that can make some noise in the region if they can recapture the form that lifted them to a strong finish at the Elite-Select Challenge.
Flying Circus Disc Club Coming Together
The second-year team out of Portland was bringing in many new faces, and with the Northwest Mixed Cup being their first sanctioned tournament of the year with a set roster, their focus was on building chemistry and getting the core playing well together.
A close win over Bulleit Train and some strong stretches in their other games point to their potential, and they had a strong deep game in place, with several deep shots off the sideline landing in the hands of Dave Lindberg. Their handlers kept their cool despite strong pressure in the backfield from their opponents, and when their deep game is clicking, they can make things interesting against regional competition. We'll see if they are able to add in more consistency and variety when they compete in Kleinman back in Oregon next month.
Bulleit Train Gets On Track
Coming into the weekend seeded last, Bulleit Train focused on playing hard, and trying to win one "game to three" in each game they played. Keeping the goals modest and achievable seemed to pay dividends, as a team they maintained a positive attitude in the face of some tough competition while trying a few different offensive and defensive sets.
Strong handling work by Rebecca Leong opened the field for them on offense, and the dual cutting and hucking threat provided by Erik Schmidt made for some exciting ultimate to watch. In just their second year — having gone by the name All Aboard last season — this is a team that has made some great progress and looks to be a great addition to the Northwest Mixed scene.
Looking Forward
The Northwest Mixed Cup was a great preview for the Washington section and provided a good early season checkpoint for the teams competing. Many of the teams used the tournament as a workshop for their trying new strategies and getting more reps for their players. Pegasus made a big statement with a win over Birdfruit — in so doing earned an Ultiworld Top 25 nod — while Seattle Mixtape looked as strong as ever in winning their third straight Northwest Mixed Cup.
With BFG's win at Revolution down in San Francisco this past weekend, the Northwest Region is shaping up to be highly competitive this season. As ever, take early season results with more than a few grains of salt, but there were enough flashes of potential to be excited about the region's prospects for the Series.