With several key player absences, the Rush face long odds against a fully loaded Roughnecks squad.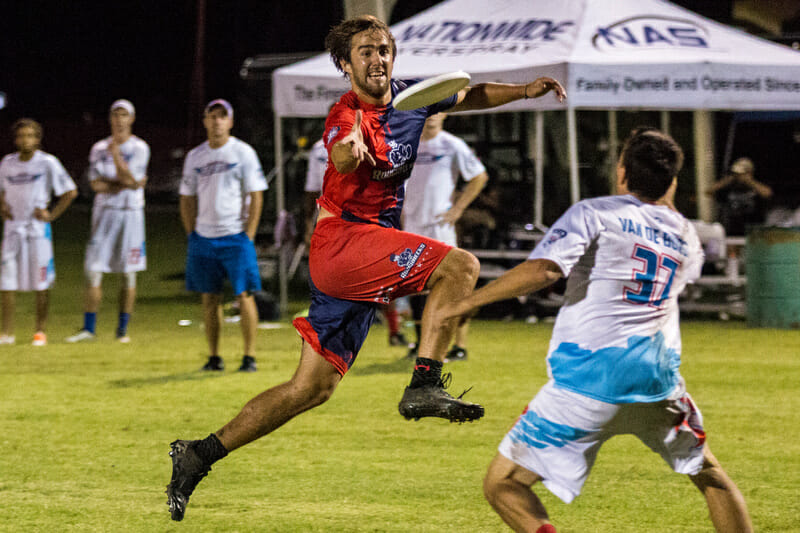 When Toronto and Dallas face off in the first semifinal of championship weekend in Madison on Saturday, it will be a clash of team styles, even if the brand of ultimate the two teams play is fairly similar.
Toronto is entering its fourth consecutive AUDL Final Four, having reached the final weekend of the season every year of its existence. After winning the title in their inaugural season, the Rush have fallen to San Jose the past two years — in the Championship game in 2014 and in the semis last year. The Rush are one of the pillars of consistency in the league, with a similar roster year-in, year-out and a record of having never lost more than two games during a regular season.
The Roughnecks are an expansion franchise that made a lot of noise in the offseason by bringing in renowned out-of-town superstars like Beau Kittredge, Cassidy Rasmussen, Dylan Freechild, and Jimmy Mickle. It's difficult to know what the Roughnecks will look like three years down the road, but it's hard to imagine that they'll be the model of consistency that the Rush have become over the years.
Though they have disparate histories, the way that these two teams play ultimate is fairly similar. Both teams pride themselves on their one-on-one man defense, seldom opting for the kind of junk sets or switch-heavy man that Madison or Seattle are more accustomed to running.
For Dallas that means relying on athletes like Matt Jackson, Dillon Larberg, Dan Emmons, and Jacob Anderson. Those four had at least 17 Ds apiece during the regular season; Minnesota was the only other team in the league this year to have four or more players with at least 17 Ds each. With players like Dylan Freechild or Matt Bennett frequently quarterbacking the D-line after a turn, the Roughnecks are not one of those teams that generates a lot of turnovers but struggles to convert them into scores. The Dallas defense is certainly less renowned than the Roughnecks' offense, but is just as key to its success.
The Toronto defense has been tormenting the rest of the East Division for the past four seasons, but has struggled to translate that success to their games against San Jose during Championship Weekend the past couple seasons. In those games, while the Rush defense generated plenty of turnovers, Toronto struggled to consistently convert those chances into scores. This season has at times been a very different story. Alex Simmons, Rusty Ingold-Smith, Will Neff, and Justin Foord joined the Rush this season primarily to bolster the efficiency of the D-line; Simmons in particular had been a big difference maker for Toronto's D-line offense, averaging 1.1 completions per point despite playing the vast majority of his points on defense. But of those four, only Foord will be in Madison this weekend. Also absent is long-time Rush D-line player Geoff Powell, who is serving a one-game suspension for a reckless bid against DC in their divisional playoff game.
So who's left for that Toronto defense? In addition to the late season addition Foord, players like Remi Ojo, Jacky Hau, Andrew Carroll, and Toly Vasilyev will be key. Hau led the team with 26 blocks during the regular season, Carroll was on the AUDL All-Defense team last year, and — despite playing in just five games — Foord had 14 Ds this season. Make no mistake, the Toronto defense can be a thorn in the side of a great offense like Dallas. The question is whether or not it can get the job done after the turnover. If Toronto converts a couple breaks early in the game, it will go a long ways towards giving that line the kind of confidence it will need against Dallas if the game is tight later on.
The key to slowing down the Dallas offense also happens to be the key to slowing down the Toronto offense. Disrupt their first look, doing what you can to prevent them from scoring in just a few throws. When these two offenses get in a rhythm, they can be extremely difficult to stop.
Brandon Malecek has been a staple of the Roughnecks offense this year, leading the team in completions and finishing second in assists. "When our offense is able to get into high gear and quickly put the D line back onto the field, that is when the team really gets rolling," said Malecek. Conversely, he recognizes the importance of the flip side of that coin. "[We] need to limit Toronto's pull play effectiveness and make them grind to earn points."
In their divisional playoff game, the Roughnecks struggled at first going up against some junky looks from Atlanta, falling behind at the end of the first quarter. "We missed on a couple of aggressive shots on offense and Atlanta was able to punch in breaks to keep the game close," according to Malecek.
The Dallas offense will be in full force in Madison, with Jimmy Mickle, Beau Kittredge, Cassidy Rasmussen, Chris Mazur, Brandon Malecek, Kurt Gibson, and Kai Marshall all active this weekend. There's only so much that can be said about a lineup like that. Despite only playing in nine regular season games, Mickle had MVP-calibur numbers. Gibson has thrived in whatever role he has needed to play for Dallas, as has Mazur, a big midseason pickup for the team.
The question is not whether or not the Roughnecks will continue to take aggressive shots on offense, they almost certainly will. Those looks have been fairly high percentage for them throughout most of the season, and it's difficult to see them switching up their game plan after winning 15 games in a row. It's just a matter of how many don't connect and what Toronto does with those break opportunities. Scott Hastie, the Toronto Rush head coach, knows that it's coming: "I am pretty sure they will jack it a ton on both lines. It should be exciting."
Of course, to even give its defense a chance to be the difference-maker in this game, the Toronto offense needs to play well. The Rush offense didn't play up to its usual standard against the DC Breeze in the Eastern final, converting just under half of their opportunities into scores. That was certainly a sloppy way to qualify for Championship Weekend, and Hastie knows the Rush need to perform better to take down Dallas.
"Our offense will have to be stingier with the disc. If our squad is able to reduce these unforced errors, we are in for an exciting game," Hastie said.
Toronto's offense is driven by players like Adrian Yearwood, Jeff Lindquist, and Isaiah Masek-Kelly. Those three players combined for 12 turnovers in the game against the Breeze. Turnovers are inevitable, but that volume from some of their best players is a recipe for disaster against Dallas.
One player to watch for on the Rush is Cameron Harris. Harris has long been one of Toronto's best players, representing Team Canada and GOAT, in addition to the AUDL squad. He is asked to do a lot in the Toronto offense and if he's playing well early and making the most of his touches, it's a good sign for Toronto. He didn't have a particularly good game against DC, compiling zero goals, just two assists, and 14 completions, with two throwaways. If he gets going against Dallas, we could be headed for a close game.
There's no doubt that Toronto is a significant underdog in this game. Dallas hasn't lost all season and the Rush didn't exactly look crisp in their last appearance. But if the Toronto defense can make Dallas play some long points in the early going and convert a couple breaks before halftime, there is a path to victory for the Rush. It's just not a very clear one.
The game will be livestreamed on ESPN3 (USA) and AUDL.tv (Int'l).