Seattle reassert their regional dominance and Vancouver earn a return to the Club Championships over a disappointed but forward-looking Portland Rhino.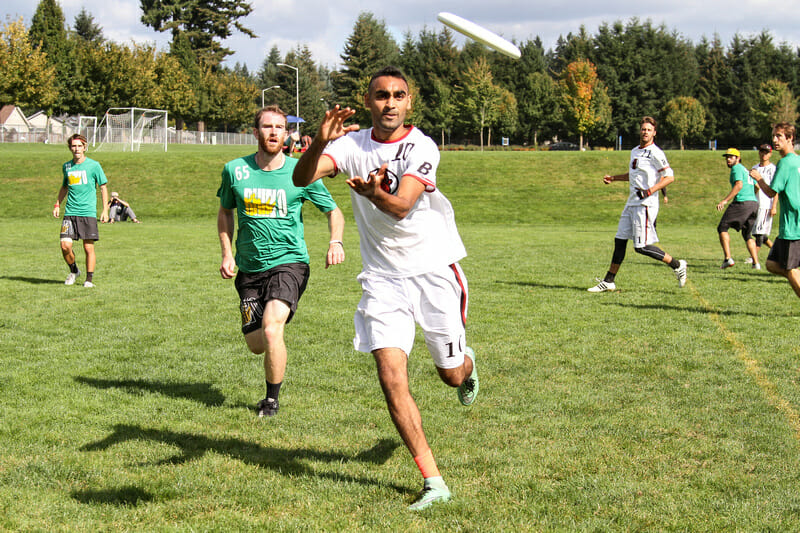 Disclosure: the author is a practice player for Seattle Ghost Train.
SEATTLE, WA – In the shadow of Mt. Rainier and in warm, mild conditions, Seattle Sockeye reasserted themselves as the top team in the Pacific Northwest this past weekend. They claimed the first of two bids to the 2016 Club Championships in Rockford, IL, keeping all opponents at a minimum distance of three points.
Vancouver Furious George, regrouping after a busy season full of semi-professional and international commitments, secured the region's second bid after putting away Portland Rhino twice in bracket play. 2016 marks a return to the national stage for Vancouver after missing out last year, while Portland received their first mid-September conclusion to the season since 2013.
Sockeye Recovers From Late-Season Doubts To Swim Away With Northwest Title
The version of Seattle Sockeye that put on a commanding performance in Lacey, WA felt like it had undergone a full makeover since their tumultuous and questionable appearance at the Pro Flight Finale in mid-August. The zits and split-ends of dropped passes and defensive miscues were scrubbed clean or removed. There was no apparent frustration on the sidelines during gameplay, no emotional breakouts. But these improvements were hardly an overnight miracle cleanse.
"We got a pretty rude wake-up call on Saturday [of Pro Flight Finale] that where we were as a team mentally was not the right place to be if we want to be able to truly contend. I'm not sure if it was a feeling of entitlement or maybe we just assumed that our success earlier in the year would continue to just happen as soon as we took the field," Sockeye captain Reid Koss told Ultiworld before the weekend started.
Koss observed a rise in intensity and focus at practices before Regionals, a direct result of the message captains had delivered before consolation play at Pro Flight Finale.
"For Sunday, we went back to a lot of basics. Defensively, we put a pretty big focus on things like getting down on the pull hard and just winning your matchup, and on offense it was really as simple as catch the disc with two hands. A lot of stuff that was kind of humbling to have to be told, but needed to be said," Koss explained.
With that message in mind, Seattle executed a 180-degree mental turn and walloped the competition in Lacey without flinching.
It helped that well-known deep threat and captain Matt Rehder was healthy back in the lineup along with handler Mario O'Brien. Both presences were release valves for Sockeye's offense. Where Simon Montague had been launching high-stall, standstill hucks into coverage in August, O'Brien gave Montague and Karlinsky an extra-reliable reset and upline threat. Rehder proved valuable in his customary deep space along with gaining yards on unders. Husayn Carnegie, who is a major addition to the D-line along with Trent Dillon this season, kept the division buzzing during the weekend with some truly athletic blocks.
Sockeye found almost no resistance from any opponent other than Furious George, who themselves lacked the defensive talent to limit Seattle's fast-paced offense, and may have focused their own sights on the second bid to Rockford instead of the first. On top of their stellar play, Sockeye avoided seeing perennial rival Rhino (who has a knack for unseating Seattle), thanks to a semifinal upset that Furious secured early Sunday morning.
The Fish secured their bid with a second win over Furious in the final, 15-10.
Rhino's Fate Crosses With Dark Star
Portland Rhino's weekend ended in a shower of cheap champagne under a beautiful blue sky, with jerseys strewn about their sideline and an abundance of smiles. Imagine what it would have been like had they earned the second bid that their regular season work brought to the region.
Furious George got the better of the speedy Rhino squad twice in bracket play. Portland — even with the best person defense on display in the division — had trouble all Sunday converting turns into breaks. Their offense, which was often both run by captain Dylan Freechild and inspired by his effortless give-and-go motion, was largely clean on the weekend. Efficient work from Furious' defense simply punished the few mistakes that Rhino made, ending the game-to-go with a five-point margin.
Even making the game-to-go wasn't a sure bet for Portland, who were seeded second at the tournament and held that seed until it's closing moments. A curious turn of events in the round before the qualifying game led Rhino to their second shot at Rockford.
They first met Furious Sunday morning in a front door semifinal game that featured many lead changes, just up the hill from the other semifinal where Sockeye pounded Salt Lake City Powder Hogs 15-6. Though Rhino had no trouble getting blocks and pressuring bad throws, their inability to clear space and move the disc in the red zone sent saw them drop the game 15-13 and relegated them to the back door bracket.
After comfortably dispatching Seattle Voodoo in their first game in the second place bracket, Portland took the field against Eugene Dark Star, a team full of past and present Oregon Ego players. The teams are closely related, and in 2016, Dark Star featured Cody Bjorklund, Mario Bundy, Will Watkins, Adam Rees, and other well known Oregon names.
Eugene hadn't expected to face Rhino in an elimination game, and they certainly didn't expect it to be close. As the tournament's sixth seed, their 15-13 win over Powder Hogs in the previous round had been a pleasant surprise, something of a testament to the team's heckle-heavy and relaxed approach to club play. Down four points at half to Rhino, the team continued to joke about having at least scored a point.
Then, in the second half, a loose and relaxed Dark Star team stole breaks from Rhino, whose lines were somewhat relaxed. As Eugene made up ground, they watched lines tighten for Portland, until the two teams were suddenly tied at 14-14, with more than 20 minutes left before the hard cap. Portland pulled and broke to retake the lead, then gathered themselves to try to close out the game and earn a second shot at Vancouver.
At 15-14, Dark Star had taken stock of their performance and their season. The pull came in, and the Eugene O-line knew what to do. They turfed the disc and all seven players dove to the ground, giving Rhino an easy turn and possession in the red zone, staring at the winning break. Bjorklund remembered staring up from the grass at the Rhino D-line, confused and surprised at the antics. Even so, Portland picked up the disc and put in the final score.
"This was unexpected and disappointing for us, as we wanted to earn it ourselves," Freechild told Ultiworld earlier this week. "Sunday was a tough day for Rhino, things felt just a touch off all day and at this point of the season you get punished if you aren't at your very best. We suspect Darkstar did this for many reasons, the biggest one being they didn't want to play in the next game had they come back and beaten us."
As the public learned of the ending, sometime between the game's finish and Monday afternoon, speculation and judgment spun a wild web in a thread on /r/ultimate. Some scolded Dark Star for giving Rhino a free pass, while others wondered if the teams had colluded. Many observed that pushing into the game-to-go guaranteed entry into the Triple Crown Tour's Top Select status, which would've required Eugene to attend certain tournaments in 2017 far beyond the Pacific Northwest, or face a one-year ban, per TCT rules.
In reality, Dark Star's choice to hand the game to Rhino had nothing to do with the ties of friendship or rule-minded foresight. The team was reached for a statement Tuesday afternoon:
"We threw the game against Rhino because Darkstar had more than fulfilled its goals for the weekend, and because we felt Rhino had a better shot at both the bid and competing for a national title," wrote the Dark Star team leadership. "A trip across the country (for Nationals or any other tournament) is out of the question for the majority of our roster. We go to Regionals each year for the chance to challenge teams like Sockeye and Rhino because we have no other opportunities to do so."
Regardless of whether the implications of making Top Select were discussed1, it gifted Rhino another shot at Rockford, and saved Eugene from potentially having to disband.2 There was no guarantee that most of Dark Star's roster would return in 2017 — in fact it'd be easy to imagine some of their top players joining or returning to Rhino.
Rhino's gifted final break that led to the game-to-go was a more competitive version of the route the Furious George took to the qualifying game in 2015. Furious, also in the back door bracket that season, received a forfeit win from Seattle pick-up team Anger Management that amounted to a bye before facing Sockeye for the final bid.
Perhaps Rhino reaching that final game on Sunday was some sort of cosmic balancing act after last year. But just like the good fortune of a bye didn't benefit Furious in 2015 against Sockeye, a bunch of Dark Star players lying smiling in the grass wasn't enough to send Portland to the Club Championships.
Standing amongst similarly shirtless friends and teammates and bottles of Cooke's, Freechild looked back on the season with a smile. "I thought we were more committed this year, I felt like we paid attention to the Xs and Os, I felt like through all 27 players, more players attended workouts consistently and wanted to be there," he explained.
"I think we achieved our goal to try and keep what has made Rhino so great and keep our spot in this community, and just try to give a separate path that leads towards taking ourselves a little more seriously and taking a little more pride in the craft that we all partake in, and I thought we did that. It sucks to not be able to show that on a national stage. But that is definitely what we focused on, more so than any other year that I've captained this team."
With the speed and the youth of this Rhino team likely to return next year, perhaps with some new and old rookies from Dark Star, there's no reason they won't be back in the spotlight in 2017.
Furious George Improves Steadily To Return To Club Championships
Furious George will return to the national stage after a year just a step outside the normal spotlight that shines on their now decades-old program. Smart defensive schemes, solid fundamentals, and some bold plays in the deep space combined for a winning solution that saw them only lose to Sockeye, the eventual regional champion, on the weekend — albeit twice, and both time by solid margins.
As his teammates eagerly shook up some green, foil-wrapped bottles passed on by their opponents and friend across the field Sunday afternoon, eight-year veteran captain Kevin Underhill was pleased with the improvements his team made over the course of a month to take a 15-10 win over Rhino and the second bid to Rockford. He and his teammates were feeling good.
"It's awesome," he said cheerily of the win and second bid while dodging foamy spray nearby. "When I was younger and had just joined the team, it felt like a foregone conclusion that Nationals was happening and we were going to go. And then we went through some years where that was definitely not the case…sometimes we got it, sometimes we didn't. After a year hiatus…it's the most difficult and most fun tournament in the world, and I've been to a lot of tournaments. We're very excited, to say the least."
Since semi-professional ultimate arrived in Vancouver — where both the MLU and AUDL maintain franchises — the smaller, tight-knit community has watched its male talent become split between the two scenes, facing many of the challenges that other clubs divided between the leagues negotiate across the continent. Underhill said that trainings for various version of the team had overlapped for months, but they'd only recently been able to practice without other ultimate obligations.
"We've only practiced for about two or three weeks, total," he noted. "A lot of the same guys overlap with a bunch of the training we've done, of course, but with actually Furious George, on this field, it's only been a month essentially of training together. So it's really kind of a weird feeling because again, when I started playing club, it was like you finish college and then it's club from May to October and that's all you had to worry about."
Furious George in 2016 is young — a dozen or more players are 23 years-old or younger. Leadership from Underhill, Brendon Wong, and Morgan Hibbert will be key in what little time they have now to prepare before Rockford. While the regular season was less than successful, the leadership watched over the course of Sectionals and Regionals as their gameplans and schemes started to take hold with the young team. Both O and D-lines found the break side easily when they possessed the disc, and they took advantage of young talents from University of Victoria Malcolm Bryson and Benjamin Burrelle. It was Bryson, not quite fully recovered from an injury that sidelined him for much the college season but still speedy, that leapt into the end zone to secure the winning break that sent Vancouver back to the Club Championships.
There's a lot of talent still to be corralled for Furious, though their games against anyone other than Sockeye or Rhino showed a team that is already in solid postseason form. They crushed their other three opponents by five or more points on Saturday, purely outplaying the competition in all facets of the game.
Underhill thinks that the limited season will be a plus as the team continues to gel and push towards another athletic peak. Only peripherally aware of other upsets occurring in last weekend's postseason action, he saw his team's steady improvement over the course of a month as an indication that they'd be able to continue to do well.
"I think now that we've qualified, our shortened season is going to be a benefit to us in the sense that we've only really had a month to gel, and we've already seen how far we can come. I think the message is, if we continue to work hard for the next month, we can really do it. We can really be a team that's not just a rollover late-seed entry into Nationals," he said.
Furious George knows that success in two weeks will require increased focused and more hard work. Underhill allowed that coach Marc Seraglia had only one thing to say in the postgame huddle after securing the bid:
"Tuesday's practice is going to be savage."
Quick Hits
Salt Lake City Powder Hogs fell one seed down after getting blown away by Sockeye and losing to the surging Dark Star, finishing the tournament in fifth with a win over Seattle Voodoo. Both programs have built strong regional cores from surrounding college programs — particularly Voodoo, who matched some of the top current talent from the Washington Sundodgers with Zack Smith and Ben Snell. Powder Hogs lacked the depth of talent to hang in the first place bracket, while Voodoo lacked some experience and didn't match up consistently in the air.
Seattle Ghost Train hammered, sang, and stripped their way into breaking seed by two for seventh place after snagging upset wins over Orem Killjoys and Boise Warchild. The team, who has staked their reputation on fun and spirited play, wore their customary jeggings throughout Sunday play to secure the exact same finish — 7th place, after arriving seeded 9th — as in 2015.
The fields at Lacey's Regional Athletic Complex and Olympia's Rainier Vista were the best this reporter has seen on the club circuit. Crash was well-watered, perfectly mowed, and clearly-lined. The 10-minute commute between field sites was less-than desirable, but teams did not have to change sites mid-day, so kudos are in order for the Regional Directors, Cody Bjorklund (men's), Charlie Mercer (women's), and Natalie Jamerson (mixed).
Shoutouts to the very small observer crew on hand for the weekend. All of the elimination games-to-go were observed, including the two double-game point finishes in the mixed and women's divisions.
---
Members of the team contend that that discussion did not happen in the heat of the moment. ↩

Other teams have recently fallen victim to being unable to commit to the requirements of the Triple Crown Tour, most notably North Carolina Raleighwood after their successful 2015 season. ↩