Mixtape faces a trio of relatively untested teams in Mischief, shame., and G-Unit. All of these teams will be playing each other for the first time this year.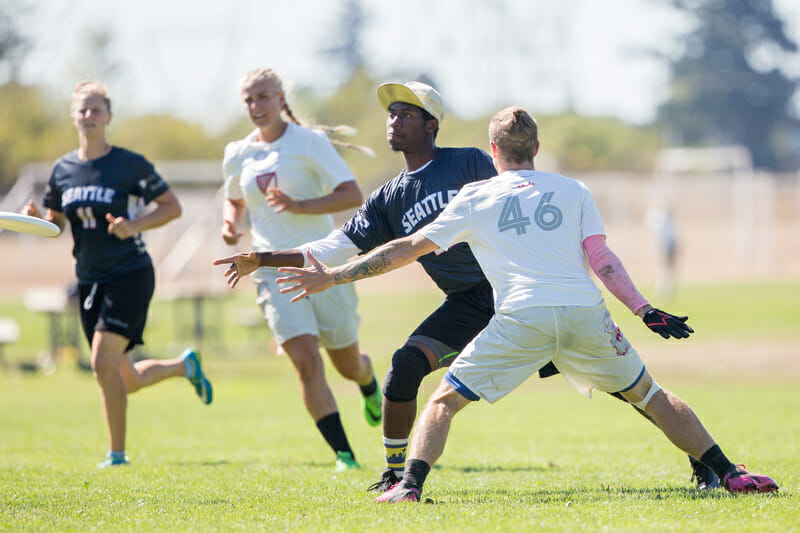 Ultiworld's coverage of the 2016 Club Championships is presented by Spin Ultimate; all opinions are those of the authors. Please support the brands that make Ultiworld possible and shop at Spin Ultimate!
None of the four teams in Pool D have matched up against each other yet in 2016. Perennial contender Seattle Mixtape will look to continue to build on their impressive resume while relatively untested Mischief, shame., and G-Unit all look to make statement wins and prove that they're the real deal.   It will be a real dogfight for who can come out on top and avoid a crossover with a scary pool A.
Seattle Mixtape [Pool #1, Overall #4]
Mixtape came into this season focused on creating a culture of gender equity and utilizing the talent of their entire roster. As a result, they've gone 22-3 with their three losses only at the hands of top 10 teams and wins against Drag'n Thrust, Slow White, and Metro North. In addition to keystone players Khalif El-salaam and Claire Revere, Mixtape defensive stud, Henry Phan will look to continue to play shut down handler D. Seattle has shown tremendous defensive prowess this season, preventing any team from running away with a game.
Mixtape hasn't played any of the other three teams in their pool thus far in 2016, which could make things interesting. Mixtape's first game of pool play versus Nationals newbie shame. will stream on Thursday. Both teams rely on deep looks and athleticism, setting the stage for an exciting shoot-out in the first round.
Likely Ceiling: National Championship
Likely Floor: Semifinals
San Francisco Mischief [Pool #2, Overall #5]
Mischief is a familiar face on the Nationals stage. While they haven't played any of the other teams in their pool, they are certainly riding high after a universe point victory over Polar Bears to win the Southwest region outright.
Mischief runs a horizontal stack through their female handlers and rely on the downfield playmaking abilities of standouts Gina Schumacher, Jenny Wang, and Brett Peterson. Defensive stud, Ari Weitzman, is sure to make things difficult for any of their opponents. They won't have an easy road as they'll face G-Unit first, followed by shame. – two teams with little information in the way of scouting reports. Mischief will see Mixtape in their last matchup of pool play which will likely be their toughest matchup.
Likely Ceiling: Quarterfinals
Likely Floor: Prequarters
Fort Collins shame. [Pool #3, Overall #9]
If shame. hasn't already quieted the haters, they'll have their shot on one of ultimate's largest stages. After taking care of business and winning the South Central region outright, shame. will plan to keep their high-powered offensive firing on all cylinder heading into pool play. shame. has only played teams in the South Central region but boasts an impressive 23-1 record – their only loss came from Love Tractor at the first tournament of the season. On offense, shame. capitalizes on their speed and athleticism in the deep game. Jade McLaughin and Marilyn Reich are both serious deep threats. Nick Snuszka is their top defender, typically matching up with the other team's top O line player. It'll be an awesome opportunity for shame. to show their skill and athleticism during their game versus Mixtape, which will be streamed on Ultiworld. Look for shame. to make some noise throughout their time in Rockford.
Likely Ceiling: Quarterfinals
Likely Floor: Prequarters
Gainesville G-Unit [Pool #4, Overall #16]
G-Unit is a first-year team whose players come from across Florida. G-Unit is 23-8 on the season, but got their work done late in the season, earning the only bid out of the Southeast. The only top-20 team they've lined up against in their inaugural season is Atlanta Bucket, who dealt them two losses on two separate meetings. G-Unit will head to Rockford excited for the challenge of matching up with some of the game's best. Behind the impressive all-around play of Adam Carr, the offensive threats of Jake Dummeldinger and Eric Sievers, and the defensive presence of Tori Taylor, G-Unit will hope to learn from their time in Rockford to continue to grow their new program.
Likely Ceiling: Prequarters
Likely Floor: Done on Day One