A tale as old as time: Fury versus Riot.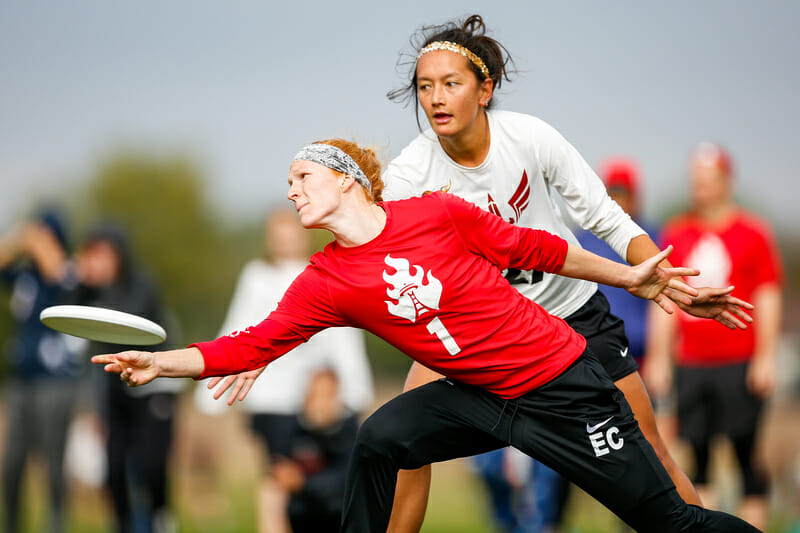 Ultiworld's coverage of the 2016 Club Championships is presented by Spin Ultimate; all opinions are those of the authors. Please support the brands that make Ultiworld possible and shop at Spin Ultimate!
It wouldn't be club Nationals if Riot and Fury didn't play each other in an elimination game. The matchup was a reality we were all moving toward, as inevitable as wind in Rockford. Coaches Matty Tsang and Andy Lovseth jokingly apologized because the semifinal would be boring, after all these years. We've seen these two before. Yet after all these years, we don't know what will happen.
Riot has been the best team in the division this year. They are 2-0 against Fury, with both wins coming in the Pro Flight Finale. Coming into this tournament, Riot was the heavy favorite to win the whole thing. But Riot has simply not looked as great this weekend.
They won all of their games in Rockford, sure, but they have only played at an elite level in three of the eight halves they've played thus far.
The biggest issue for Riot has been their ability to execute in Rockford's windy conditions. Riot has had good runs in all of their games, but even in those they were not always crisp and against Heist and Nightlock, that lack of sharpness prevented them from putting away their opponents.
Riot has become embroiled in long, arduous points too many times and no team, no matter how talented, is going to win every single point that features more than a handful of turns. Some of their biggest stars have also struggled to impose themselves as such at times. The wind has been a neutralizer across the division and few teams have felt that as much as Riot has.
By contrast, Fury cruised through pool play like they were running drills in the comfortable conditions of the bay. They've only allowed 25 points in 5 games, and only 6 breaks. Alex Snyder, Anna Nazarov, and Carolyn Finney are regimented in their execution behind the disc, and their patient offense rarely gives opponents free chances to convert. The wind became a non-factor for Fury while it destroyed other teams' best attempts.
"We have some talented throwers," agreed Fury coach Matty Tsang. "Because we focus on going to the break side so often, we get into the wind and we're using to throwing to the high side and then attacking."
Fury didn't have an easy path to the semifinals; they carved one for themselves.
That said, Riot could easily argue that the tests they have faced give them an advantage over Fury. Seattle has been tested throughout the weekend and come out victorious each time, which could give them an advantage in what should be a close game. Against Fury, they will need to play better than they have, but they also know that they can win the mental battles of a tight game, and thus the game's biggest points.
As the number one seed, Riot has also had a target on their back all weekend and have gotten teams' best performances. Riot has still passed all of those tests and that is all that truly matters. A team wins a tournament by playing its best ultimate at the end – a lesson Riot has learned the hard way many times over – and with an impressive second half in their quarterfinal, Riot does appear to be trending in the right direction.
Perhaps the best news of all for Riot is that the wind is expected to subside a bit for semifinals. If Riot is able to play in more ultimate-friendly conditions then they have a chance to play closer to the level that they did during the regular season. Riot firing on all cylinders is bad news for Fury as well as whoever they would potentially play in the final.
Wind or no, Fury has a secret weapon up their sleeves and on their sidelines. Longtime and legendary Fury coach Matty Tsang retired in 2012, but he's been spotted this summer helping out on Fury's sidelines at tournaments.
This weekend, he's in charge once more. Tsang said he bought a plane ticket eight days ago, and his name is already in the program as head coach. His tutelage helped Fury toward seven straight titles, and he's prepared to help them earn another one this weekend.
Despite years of coaching against Seattle, Tsang gets to face a new challenge today. Riot has been using a new vertical stack this season that proved effective twice against Fury at Pro Flight Finale.
"Riot has a different offense that's been working really well, and that'll be a challenge for us," Tsang said. "We play different styles and different offenses. It's a challenge when you don't play that offense at practice."
Riot's vertical stack often sets without a dump, which favors Seattle's notorious inside breaks. They can sneak an inside to the top of the stack and initiate movement from there. This weekend Rohre Titcomb and Alyssa Weatherford have thrived in the vert stack, punishing the inside lanes with slicing forehands.
Every year these teams meet on this stage. The legends – Riot's Rohre Titcomb and Fury's Alex Snyder – have danced this dance before. But the teams' most promising newcomers, some of the division's best players, have the chance to test their mettle, too. Riot's Piage Soper, Cassie Swafford, and Alex Ode versus Fury's Magon Liu, Katie Ryan, and Sharon Lin. The semifinal is the same, but it will be far from boring. It may the same song, but everybody loves a classic.