Riot and Fury turned in another classic, this one marked by momentous plays.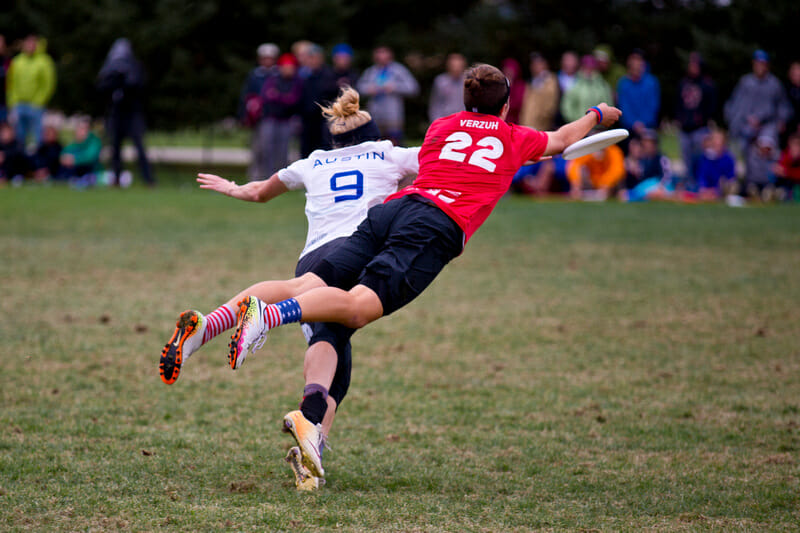 Ultiworld's coverage of the 2016 Club Championships is presented by Spin Ultimate; all opinions are those of the authors. Please support the brands that make Ultiworld possible and shop at Spin Ultimate!
Seattle Riot and San Francisco Fury are two amazing ultimate teams composed of many of the world's best players. The story of their rivalry is perhaps unmatched in all of our sport. And the semifinal they played Saturday afternoon was a classic people will talk about years from now. But despite not being either team's most efficient performance, it was inspiring ultimate. It's a testament to the willpower of both Riot and Fury that they made the game beautiful through force of will.
When Fury jumped out to a 4-1 lead, it wasn't behind a bevy of blocks. Rather, they put Riot in tough spots and capitalized on their mistakes. They made their defensive moves at key moments.
Alex Ode threw an open side backhand behind a cutter and Fury's offense worked patiently for a break. On the next point, there were four turns before Sharon Lin launched herself underneath an upline cut to get a block and Fury converted the red zone opportunity. San Francisco's third break was preceded by an off-target Angelica Boyden huck, although earlier there was a heads up block by Maggie Ruden on a swing.
When Riot responded with a run to bring the game back, the story was fairly similar. Throwaways from Kaela Jorgenson, Anna Nazarov, and Alex Snyder, as well as a drop from Lisa Couper, helped Riot pull even and break to take half. But in order to score, Riot needed a giant layout from Shira Stern and a sizable one from Jaclyn Verzuh. And as Seattle seemingly pulled away in the second half, it was powered by miscues by Fury: poorly angled hucks, uncaught pancakes, and frustrating overthrows.
With each team's season on the line, however, execution was replaced by spectacular playmaking. Nazarov turned in one of the plays of the weekend with a layout block on an under cut that was promptly followed by a layout grab from Lakshmi Narayan to get Fury a break. Bailey Zahniser skied for a Riot block on Claire Desmond that almost defied belief. Katie Ryan added two Fury goals on high pressure catches in Traffic. Charlie Eide put her defender on a poster with a skying score for Seattle that gave them a three goal lead. Desmond had a pair of layout saves and an athletic layout deflection that was caught by a Riot offender.
It was a series of incredible moments that strung together to overpower the unforced miscues and overthrown deep shots. Seattle Riot created just one or two more of those moments. That was the difference between earning a shot at a championship and bringing it together for one last tear-filled huddle.
"Throughout their roster, there were just amazing plays coming out of everywhere," said Narayan after the game. "Shira [Stern]'s grab, Charlie [Eide]'s grab…they could have been turns, but there were so many instances across the board where people on their team were perfect."
"The thing that really makes Riot incredible is we have so many players who can step up," said Riot's Charlie Mercer after her team advanced to the final.
For most of the game's dramatic crescendo stretch, the sidelines became crowded by spectators. The men's semifinal next door had concluded, leaving everyone's full attention on the women's game rather than divided across the pair. And without bleachers and USAU signboards, the fans were allowed to press in. Their presence amplified the energy, careening cheers and tension alike around, echoing across the back field nestled between the tree line and the stadium bleachers.
The game's final point, however, was a Riot clinic: a single possession in which they executed their vertical stack offense to a T. Their constant disc movement and intelligent cutting freed up red zone options and allowed Weatherford to tag Dominique Fontenette in the end zone for the game-winning score. It was as if Riot wanted to say "Hey, we can play that game, too. We have it all."
Most games get two or three plays worthy of being encoded into ultimate's oral history or getting the click of a social media share. This semifinal was swelling with them. When the dust settled, it was Riot who made just a few more. Ultimate never looked more like a game of inches. That was all that separated the victors from the losers. Riot's willingness and ability to make the tough plays garnered them the spoils.
Watch Riot v. Fury with an Ultiworld video subscription.