Another seven stellar men's division performers round out our 2016 Club Awards.
Ultiworld's 2016 Club Awards are presented by BE Ultimate; all opinions are those of the authors. Please support the brands that make Ultiworld possible and shop at BE Ultimate!
With Nationals over and the winners crowned, it is time to take a moment to recognize the top performers in the Men's Division this season. While the talent of the division reaches far beyond short lists, the All-Club teams are meant to honor those players who put together the best seasons in the Men's game this year.
While we consider both regular season and postseason performance, because of the nature of the club division, we weight success in the Series and at Nationals above all else. The All-Club teams are selected based on input from Ultiworld reporters, contributors, and editors.
Christian Foster (Boston Ironside)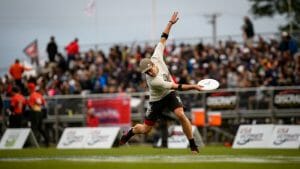 Let anyone brave enough to argue that pulling isn't important bear witness to Christian Foster, the defensive setup man for champions Boston Ironside.
Foster continues his ascent through the ultimate ranks, having made his mark in the club division as a fierce D-line stalwart for Boston. Beyond his known set of excellent on-field defensive skills, in 2016 Foster was instrumental in generating turns for his club with his monstrous pulls, backing opposing offenses into end zone corners and allowing his teammates to challenge the first throw.
Foster's performance in the semifinals against Johnny Bravo was one for the ages. He consistently forced Denver to start their offense from the back of their endzone, with Boston defenders already in position and locked down on their marks. The absurd effort earned Ironside several short field break opportunities and even forced Bravo into a stall-eight, coffin-corner timeout before having thrown a single pass.
When he isn't pinning opponents with his pulls, Foster is more than capable of generating turns elsewhere on the field with his pressure D. After the turn, he's even more dangerous, as evidenced by his perfectly calibrated full field bomb to Jay Clark that brought Ironside to within a point of their semifinal victory. Few players work as hard as Foster to give his team a chance to win games. In 2016, his efforts were rewarded.
Jay Froude (Kansas City Prairie Fire)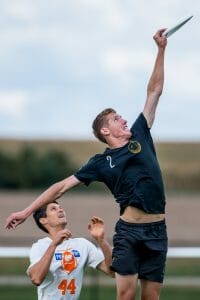 For years, Prairie Fire has been a clear-cut example of the stereotypical "Faceless Army." They might not have the big names and distinct superstars of Sockeye, Revolver, or Ironside, but are instead chock full of players who are asked to simply be cogs in the machinery of team success. And while there are still plenty of players who embody this on Prairie Fire, no longer are they faceless: they have Jay Froude.
Over the past few seasons, Froude has slowly built up a reputation for incredible consistency and explosive athleticism. Since winning gold with the 2012 U23 Worlds team, Froude's star has only shone brighter, leading the Missouri MUtants to national prominence, dominating the statsheet for the Madison Radicals, and slowly working his way up the Prairie Fire totem pole, from D-line cutter to O-line star. His excellence was apparent to anyone that saw him play, but until his Callahan video, that number was criminally low.
In 2016, Froude rose to new heights. He, along with Abe Coffin and Matt Jackson, formed a three-headed hydra of quick disc movement, dime hucks, and sublime smarts. His 16 goals and 11 assists at Nationals put him in the top 16 in both categories, the only player to do so. His poise and flat (lefty) throws proved pivotal in a windy Regional game-to-go versus Sub Zero, and almost helped Prairie Fire upset eventual champion Ironside in pool play of Nationals. But perhaps most telling in his incredible 2016 is that now when the average ultimate fan thinks of Prairie Fire, they think of Froude. Expect him to only get better in 2017.
Noah Saul (Raleigh Ring of Fire)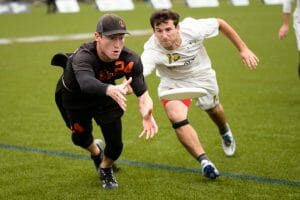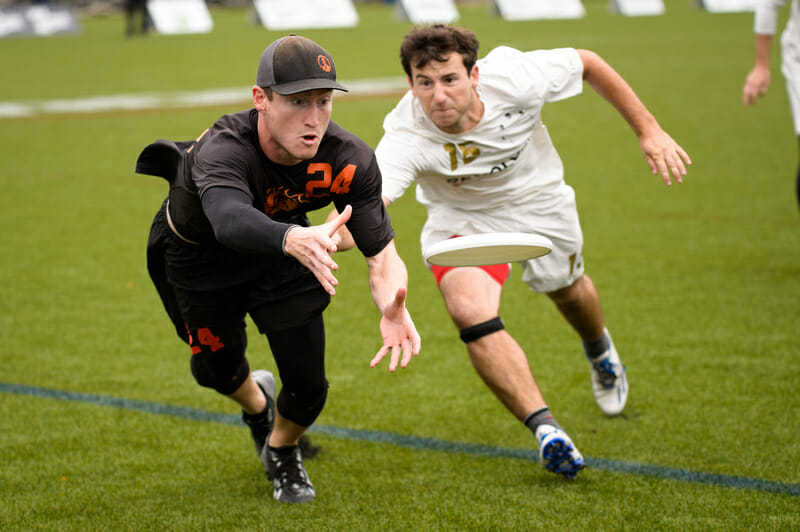 Earlier this year, Noah Saul was labeled as one of the most underrated players in ultimate. Now almost exactly six months later, it's unimaginable to think of Ring of Fire getting back to semis without him. Noah's shift onto Ring's O-line was a game changer. It took weight off of Jon Nethercutt and gave Raleigh a steady handler with the consistency to get their offense over the hump in Atlanta and Rockford.
Alongside head coach Mike DeNardis, Saul was the consistent voice on and off the field telling Ring how good they could be. Saul's veteran experience and constant trust in his teammates demonstrated a will and desire to put the 13th seed at Nationals back on the title contender radar. He consistently pushed players (particularly on the D line) to demand more from themselves while buying in completely to the growth mindset that the Ring of Fire brain trust preached all season long. He embraced his role as a leader in a complete manner and backed up his words with smart and athletic playmaking throughout the course of the tournament.
While you can't say Saul carried Ring of Fire to the semis, it's hard to imagine Ring getting close without him. In the semifinal against Revolver alone, Saul finished the game with the most combined goals and assists of any player on the field, registering four goals and one assist. Saul drew up similar stat lines in many of the big games he played in this season, yet his performance at Nationals gives only a tiny glimpse of the contributions he made to Ring of Fire this year. Noah may not have walked away with a long awaited finals appearance, but he certainly made quite an impact in 2016 for a resurgent team that fed off of his on- and off-field leadership.
Brett Matzuka (Chicago Machine)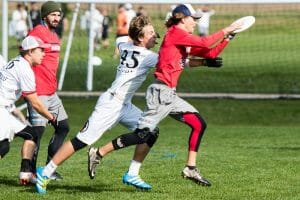 There are few, if any, people in the world that can do with a disc what Brett Matzuka can. In his hands, it's rarely a question of IF he'll make a difficult throw — more often than not, it's HOW. Will he throw a low air-bounce break? Maybe a high scoober over the mark? Perhaps he'll just forego all those clever short throws and unleash a pinpoint hammer huck. Whatever he elects to do, the attempted mark can often only gawk in astonishment.
It's telling that when Matzuka is hot, Machine is hot. Think of Machine's offense as, fittingly, a car. There's a lot of parts to making a car go, like the axle (Goose), tires (AJ Nelson), and flux capacitor (Bob Liu). But Matzuka, if you haven't guessed yet, is the engine in this metaphor, and without him the rest of the car is much less likely to go 70 down the freeway. Just look to their disappointing prequarters exit: Matzuka had, by his standards, a forgettable game, and Machine's offense looked a shell of what it was at the US Open. When Matzuka is slicing through defenses with the precision of Robin Hood and the confidence of… well… Robin Hood, Machine is difficult to beat.
Throughout 2016, Matzuka showed that precision and confidence at every turn. After winning gold with Team USA Mixed, few could have blamed Matzuka for sitting out the US Open. He didn't. Instead, he led them to upsets over Ironside in semis and Sockeye in finals, winning the tournament. He was Machine's best player, the player they counted on to make big things happen. While Machine's postseason didn't go to plan, the fact remains that Matzuka is one of the best handlers, throwers, and playmakers on the planet. He showed it in 2016.
Simon Higgins (San Francisco Revolver)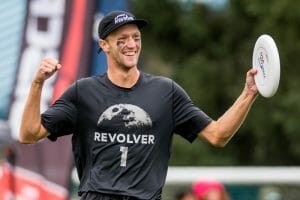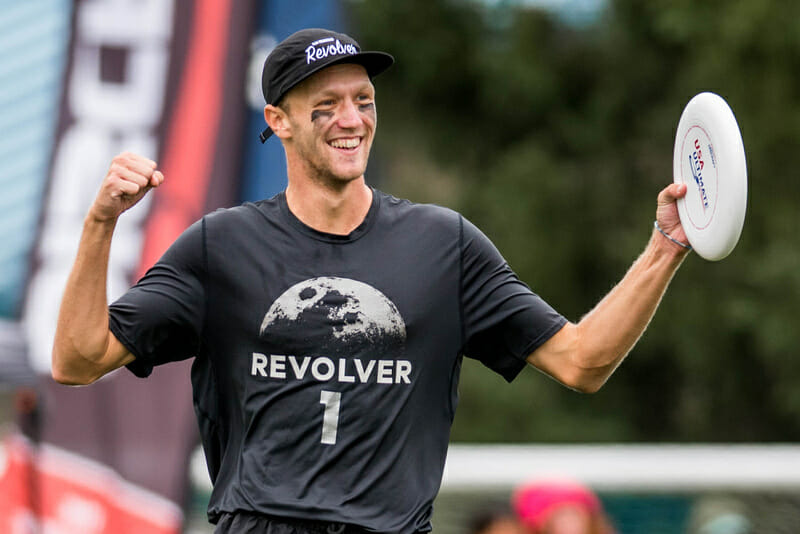 Being a thrower for Revolver's offense in 2016 must have felt like having a personal chef on call. Looking for comfort food? Grant Lindsley was always open underneath, serving up heaping platefuls of yards. Feeling like dessert first? Beau Kittredge was largely still his unstoppable self, able to sprint down and catch hucks that were only in his reach.
Simon Higgins brought the best of both worlds to his O-line. While Lindsley was more of a focal point underneath during the regular season, Higgins roared into focus into the postseason, especially in the final, where he accounted for four goals and two assists by inserting himself into the point wherever necessary. When Revolver was tempted into iffy looks, he was excellent in the air. When other cutters got looked off or were smothered, Higgins used his speed and length to open up the field for throwers.
He's growing into the role of the O-line's big man, as Kittredge continues to fight off defenders, injuries, and age — and that's one weak point for the 2016 runners up. Higgins continued to to develop his throws and shot selection this season, giving up only one turnover during Revolver's run to the Men's final, and none at their previous elite competition, the Pro Flight Finale.
While much of what makes San Francisco's offense is the ability to slot nearly anyone into any role on the field, Higgins continued to set himself apart, winning match-ups in coverage regardless of position. He's only 23, he's 6'4", and he delivered whatever of the offense needed from him in 2016.
Ben Lohre (Denver Johnny Bravo)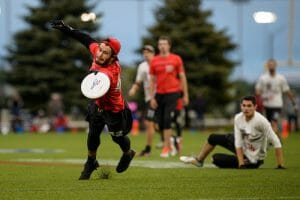 When Jimmy Mickle sent his flick hucks searching into the deep space, Ben Lohre was Denver Johnny Bravo's answer to life, the universe, and everything. Or at least, he was their top goal scorer and led the entire division in early October with 21 catches in a Rockford end zone.
The oldest of the three Lohre siblings in Denver had a huge impact in his second season, filling in gaps in the deep space for an offense that has lost almost all of the top offensive options from the team that won the 2014 title. It helps that Mickle was throwing to him, sure, but Lohre used his six foot frame masterfully, finding both open space and chemistry with his throwers.
If his goal tally isn't evident enough of his effectiveness for the Bravo offense, #42 also notched nine assists at Club Championships. That stat only improves the case for Lohre as one of the division's best receivers — when Mickle's throws came up shy of pay dirt, Lohre finished the job reliably. That number was good enough for second on Bravo behind his POTY teammate's whopping 25.
The team has already spoken highly of Lohre, not just of his performance this season, but of their expectations. At 26, he's just coming into his prime as a club athlete, and has already shown that he can control open space on the field against the division's best, on some of the biggest stages. His first appearance on the All-Club teams likely won't be his last.
Jeff Babbitt (Boston Dig)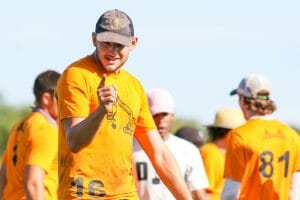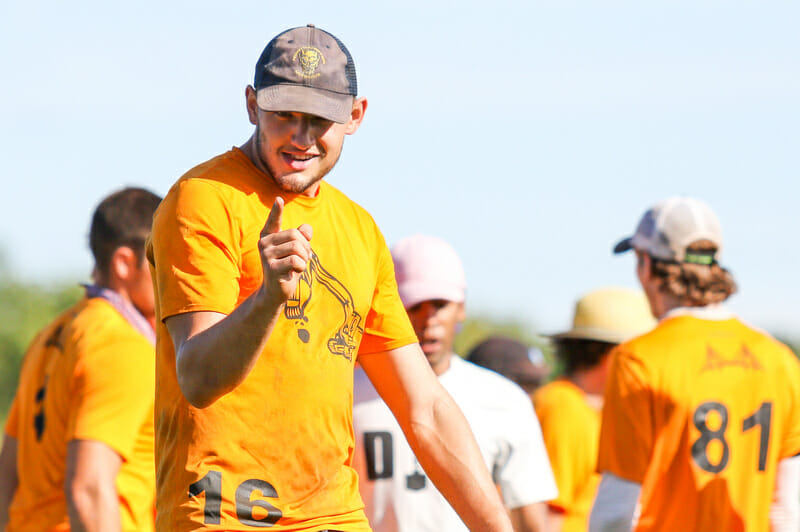 What more can be said about the most exciting product out of UMass ZooDisc in at least a decade, especially when a colleague has already shouted himself breathless with an impressive cache of hyperbole tailored to the phenomenal young cutter?
Well plenty, actually.
Jeff Babbitt bulldozed his way onto the 2nd team, having previously earned himself an honorable mention for his rookie appearance on Boston Ironside in 2014.1 He reeled in 20 goals in Rockford, good enough for second best in the division, doing it all for Boston Dig — a team that went 1-5 overall.
While Dig made their mark on the history books with an upset win over Michigan High Five in pool play, Babbitt made his mark in the following round, a prequarters double-game point loss to Seattle Sockeye. Dig lead most of the game, in large part due to the seven goals and one assist that the two-time Ultiworld College Defensive Player of the Year notched. On double-game point, he wowed the crowded sidelines with multiple blocks, including a shoulder-high layout block on Sockeye's Nick Stuart.2 It was a virtuoso performance from the 22 year-old.
Babbitt brought his chemistry with UMass teammates Ben "Londish" Sadok and Ben Tseytlin3 to Dig, along with a host of other Northeast talents who have floated around the scene for years searching for an appearance on the national stage. With Sadok pulling the trigger early and often, Babbitt barreled into catches and goals, prowled the hammer spot in the Dig zone, and generally asserted his all-around dominance to spur his team above and beyond expectations.
---
Last year, Babbitt played with Amherst Dark/Light, a team that does not practice. ↩

One of the players Babbitt ultimately beat out for a spot on this list. ↩

All three captained UMass this past spring. ↩