Cold Front and Craze establish themselves as early season New England regional favorites in the women's and men's DIII divisions respectively.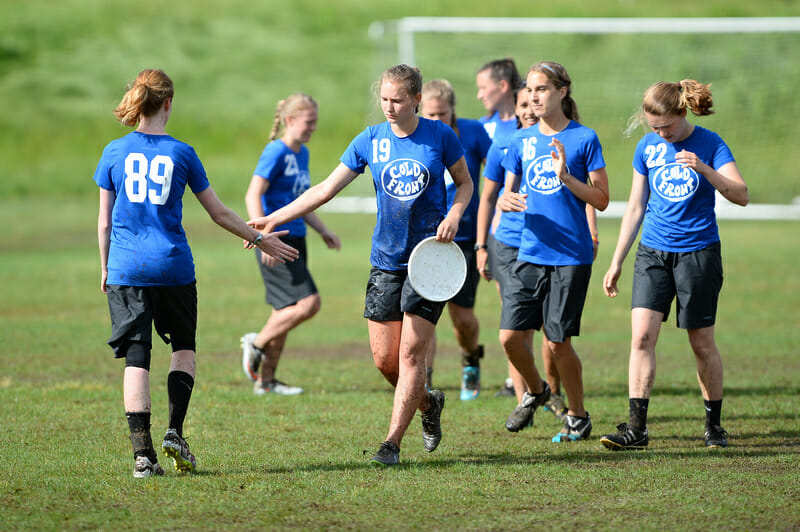 This article was written by guest author Holden Cookson.
The Lobster Pot tournament held in Portland, Maine is quickly becoming an annual fall tradition for D-III college teams in the Northeast. For organizers Maine Ultimate, it's an opportunity to help enrich the local ultimate community. For the teams that participate, it's an opportunity to bring their new players up to speed and help upcoming veterans learn their leadership roles. It is not uncommon for teams to field players who have never before attended an ultimate tournament — and Lobster Pot is a perfect introduction to the sport.
Though teammates and opponents may be willing to help and support new players, the fall New England weather can be unforgiving. This year's edition was no exception, as inexorable weather was a theme of the weekend. There was a light mist and periodic rain throughout the day on Saturday that made for lots of drops, throwaways, and players slipping. The forecast for Sunday was high winds.
The conditions highlighted the clear "talent stratification," as described perfectly by Bates College's Josie Gillett. Teams who cherished the disc, exemplified patience, and were proficient in fundamental skills excelled in the bracket; those who could not cope with the conditions fell into lower brackets.
Cold Front Survive Weather
The top-seeded women of Bates College Cold Front, coming off a 7th place finish at last spring's DIII College Championships, faced the environmental elements with a grin and came out on top of their division.
After breezing through pool play without giving up more than eight points to any opponent, Cold Front knocked off a combination UMF/Keene State team in the quarters. Bates then survived a tough New Hampshire squad in an intense semifinal, beating the Sisters of Oriza, 9-8 on universe point in the wet, windy conditions. Bate's Gillett and UNH's Breanna Bozzuto went head-to-head in a powerhouse matchup producing a number of highlight blocks and just missed layouts. It was an absolutely crazy game that in many ways surpassed the excitement of the finals.
In the finals, Cold Front would face off against Mt. Holyoke Daisy Chain, another qualifier for last season's College Championships. The audience that had gathered to watch the final waited in anticipation for what seemed like an eternity for the first point to be scored, as both teams tested each other while the winds amplified errors all over the field. The long point would come to a close with a deep huck from Gillett to Olivia Gomez in the back of the endzone. The very next point, Bates would break, scoring the first and only up-wind point of the game to solidify their lead. After Cold Front converted their down-winder to jump out to a 3-0 lead, the teams traded downwind holds the rest of the way.
With the 9-5 victory over Daisy Chain, Bates claimed their first tournament win of the season and demonstrated that they should be considered among the favorites in the New England region this year.
Craze Defends Lobster Pot Crown
In the Men's Division, Bryant University Craze also cruised through an undefeated Saturday before being challenged to uphold their title of Lobster Pot Champions from 2015 by the Middlebury Pranksters in the tournament finals.
On the sidelines before the game, spectators buzzed about how excited they were to watch two particular players face off against each other. Jake Brady and Cameron Jack, two phenomenal local talents that had previously played together on Portland's Rising Tide club team years before, were now squaring off against each other in their college years. It was hometown reunion the spectators did not want to miss.
Unfortunately, it would prove to be a one-sided match-up. Right from the gates, Bryant had fire in their eyes and never let off of the gas. Despite massive plays by both teams — huge blocks and layout catches — Bryant continued to pull away and it became apparent that Middlebury had just about conceded. Craze thoroughly outplayed the Prankters throughout, claiming an easy 15-6 win and their second straight Lobster Pot title.
Other Tournament Notes
Teams that focused more on developing new players struggled in the high winds when encountering teams that had more veterans players within their ranks. Despite the skill disparities, Spirit of the Game showed through in all match-ups.
As always, Lobster Pot was very well organized. All of the fields were well marked, tourney central didn't blow away in the wind, and water jugs were never empty. The tournament directors Mohdis Delijani and Neil Franklin barely had time to take a breath, as they ensured that they met their own expectations of flawlessness. None of this would have been possible without them and Maine Ultimate.
The Girls Ultimate Movement, "a community-wide outreach program designed to increase girls' participation in the sport of ultimate," put on a clinic mid-day Sunday on the finals field. More than thirty girls were in attendance to learn about ultimate and 15+ female leaders from all across the state attended to help facilitate. Maine Ultimate is heavily committed to the empowerment of young girls and women in the sport of ultimate, the turn out and outcome of the GUM clinic was truly a testament to that. To learn more about the initiative, check out http://gum.usaultimate.org/.