Northeast powerhouse programs head south to clash with Ohio State, southeast regional foes.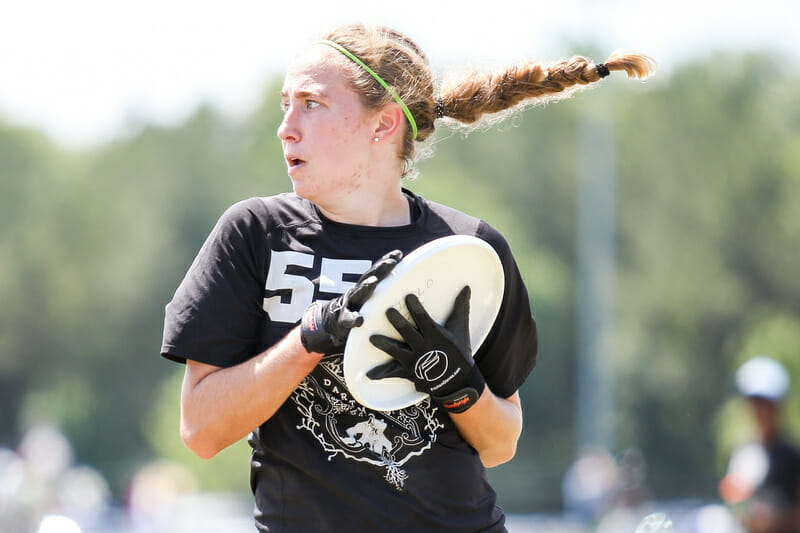 Ultiworld's reporting on the 2017 Florida Winter Classic is presented by VC Ultimate as part of their season-long support of our women's coverage; all opinions are those of the author. Please support the brands that make Ultiworld possible and shop at VC Ultimate!
Check the mics, fire up the fighter jet flyover, prime the fireworks, dim the lights, turn the volume up to 11, and raise the curtain. The college season is finally here. And as always, it starts at Florida Winter Classic in Apopka, FL. This year's edition features a fun blend of teams of various skill levels, including some Nationals regulars, a national title hopeful, and a few teams who hope to be in the big conversations come May.
Here is your preview for the season's first tournament of the year:
Pool A
(1) #3 Dartmouth Princess Layout
Dartmouth heads to Apopka as the heavy favorite to win the tournament. They enter the spring as one of three big title favorites and will look to cement that status with a dominant showing at FWC.
Princess Layout's strength lies in its superstars: Jaclyn Verzuh, Angela Zhu, and Julianna Werffeli. Verzuh is a phenom for perennial club powerhouse Seattle Riot who arrived in Hanover last year as perhaps the most hyped women's college freshman ever; despite sustaining injuries that cost her most of the college season, she was back in time to lead Princess Layout to the national quarterfinals. Angela Zhu — Ultiworld's 2016 College Offensive POTY and Club Defensive POTY Runner-Up — is one of the most influential players on the field, not just for Dartmouth, but also for back-to-back defending club champions Boston Brute Squad. Julianna Werffeli, who also carved out a sizeable role for herself on Brute Squad's D line this past fall, completes Dartmouth's unfair-for-a-college-team Big Three.
But three superstars alone is not enough to make a championship team — no matter how good they are — and Dartmouth's role players will need to contribute if the team is going to truly compete at an elite level this season. Make no mistake, the rest of the roster isn't just a bunch of also-rans, either. Piper Curtis and Lily Eisner comprise a second tier of playmakers for Princess Layout, leading a more than dependable supporting cast.  If another team is going to knock off Dartmouth at FWC, it will take more than simply slowing down the Big Three.
A year ago, UCF steamrolled their way to an FWC victory and forcefully declared themselves one of the top teams in the country. Dartmouth already made that announcement with their quarterfinals run at Nationals last season. Their 2016 spring got off to a rocky and injury-filled start so it is possible they will be giving their stars a longer runway of rest after their club seasons this time around. But a dominant performance echoing the Sirens' a year ago could be forthcoming as Dartmouth prepares to start their championship run.
(4) Florida State Seminole Ladies
Florida State is a young team and will also be low on numbers this weekend. The Seminole Ladies don't feature an overly-deep roster on an ordinary weekend, but in Apopka they will likely have just seven subs at their disposal. That will put an extra onus on the team's few veterans and heap pressure on their still-growing young stars. At the very least, low numbers now provides a nice growing opportunity for later into the season.
Grad student Connie Borroso is a well-rounded player and probably the best on the team overall, while senior Julia Gregory is the team's best downfield threat, exhibiting good size and speed. With sophomores Lindsi Allman and Natalie Dix as well as freshmen Natalie Wilson and Courtney Read showing promising flashes in the fall, the future looks bright for the Seminole Ladies. But this weekend, the odds remain decidedly stacked against them making a deep run in the bracket.
(5) Northeastern Valkyries
Northeastern faces similar challenges. The team is fairly young and, per head coach Jason Adams, the Valkyries will be using this weekend to find out "who [they] are going to be [this year.]" Two of the team's three captains were studying abroad in the fall, and this weekend will be the first time they will play together as a full roster.
The Valkyries will rely on all three captains — Sam Gray, Tracey Lum, and Juli Kloza — on both sides of the disc, with Gray and Lum pacing the offense as primary handlers and Kloza as the primary downfield option. Two important players emerged for Northeastern during Lum's and Kloza's fall absences: sophomore Katharine Gilbert and freshmen Ari Nelson. These women will add steady throws to the handler corps this season.
FWC will be Northeastern's first opportunity to play outdoors since November and should be a chance for the team to develop after they lost key players from the team that finished second at Northeast Regionals a season ago. This weekend, it would be a surprise to see them pose a real threat to the top teams.
Pool B
(2) #13 Ohio State Fever
The top seed in Pool B represents a far less clear picture than its Tier One counterpart in Pool A. Ohio State brings plenty of name recognition, but they are simply not at the same level as Dartmouth in terms of top-flight talent this year.
Stevie Miller, who will be out due to an undisclosed injury this weekend, is one of the biggest names in the division — and she may not even be the best player on her own team. Sadie Jezierski is extremely dangerous both as an athlete and as a thrower, while players like Alaine Wetli and Mary Turner lead the rest of a solid roster; the return of Caitlin Duffner also provides a nice boost. But the team had a rough time at Nationals last year and they graduated a couple of key contributors from that team, including Callahan nominee Katie Backus.
Still, Fever is just about always in the Nationals conversation out of the Ohio Valley region and this year should be no exception. Two of the top coaches in the division, Nick Hamilton and Deanna Ball, lead the program, and they have plenty of talented younger players who ready to step up alongside the team's veterans. Ohio State enters the weekend as the clear number two team in Apopka.
(3) #23 Vermont Ruckus
Unlike in Pool A, Ohio State has real competition in their pool. Overall three seed Vermont is the only other team ranked inside the top 25 at the tournament and they could affirm their status as Nationals contenders with an upset over their blue blood poolmates.
Last spring, Vermont entered Northeast Regionals as the one seed but lost in the semifinals, watching Dartmouth take the region's lone bid to Raleigh. This year, their goal is to grab a strength bid for the region. Upsetting Ohio State and playing well overall at FWC would go a long way to starting that run for a bid.
Ruckus is led by captains Olivia Benjamin, Becca Stormberg, and Kyle Weatherhogg, but the trio is supported by a deep cast of role players. Madi Westfall is perhaps the team's best defender, and Megan Tammaro is a versatile weapon on the offensive side. The team also has a pair of freshmen who will look to make an instant impact in Tina Fahndrich, who hails from Seattle, and in Ashley Brogan.
Vermont would have liked its chances at an upset against a full strength Ohio State team, but with Miller out for Fever, Ruckus will have an even better shot at logging an important win over a ranked opponent on Saturday.
(6) Florida FUEL
Florida rounds out Pool B and they represent a very tough six seed. Perhaps the fourth best team in the top tier on paper, Florida will feel hard done by being drawn into a pool with the two and three seeds. But the team should also have a reasonable chance at springing an upset and breaking seed.
FUEL played well at Classic City Classic this past fall, in spite of the team working through growing pains that come with a new coaching staff. That performance will be bolstered at FWC by the return of Tori Taylor, who instantly becomes the most talented player on the squad. FUEL is far from a one-person show though, and the team features a host of athletic veterans like Danielle Cordes, Courtney Testa, and Lucy Berman.
Florida is still perhaps lacking in veteran throwers so Kelsea LeBeau will bear a heavy burden, but they definitely have the athletes to hang with Fever and Ruckus — if not pull off the upsets. A strong showing this weekend would put the open Southeast region on notice.
The Field
Beyond the top six teams at FWC this year, there is an expanded Tier Two. This year's tournament features 12 teams in the second division of the field and a number of them will fancy their chances at leaping into the top six by the end of Sunday.
Chief among that group should be Georgia Dawgma, Kennesaw State Strix, and Kansas Betty.
Dawgma finished ahead of both Florida State and Florida at CCC in the Fall — as did Kennesaw State, for that matter — and will look to prove that their performance back in November was no fluke. Georgia will be without important cutter Brie Radl this weekend, but Erin Chun and MV Hahn are two of the best players in the southeast and lead a team that looks poised to compete for a Southeast title a bit sooner than previously expected.
Kennesaw State will have an even bigger gripe than Georgia with their seeding, as the budding program took second place at CCC. Head coach Sam Stovall has her team on the upswing and with players like Samantha Daugherty, Rachel Mez, and Grace Clough, Strix could very well be poised to win their pool, which features Central Florida, Cincinnati, and North Georgia. KSU blitzed all these teams at CCC except Cincinnati, and that's only because they didn't attend.
While Kansas may not reach the same heights they did a few years ago, they still feature a number of strong players headlined by Clare Frantz. Frantz will be one of the best players in the field this weekend, but the team will need high energy performances from some of her supporting cast if they are to reel off a couple of upsets. Grace Roth sets the defensive tone for Betty, while Alexa Kaczor can be uncoverable downfield when she's on her game. Like the other teams in Tier Two, a run to the final is pretty unlikely for Betty. Instead a strong Saturday should be their focus, providing opportunities for an upset or two over some of the more flawed Tier One teams on Sunday.
—
For some of these teams, FWC will be a statement-making tournament. Teams at the top have a chance to show the country what they will be this season, while other teams are using the weekend to grow and fact-find. The beauty of it all, though, is that now the games count.
While everything is still yet to be written, there's a sense of urgency for the season ahead. Everyone's 2017 resume is about to start taking shape, and that's what makes this tournament exciting. For better or worse, it all starts at Florida Winter Classic.