Such an impossible choice.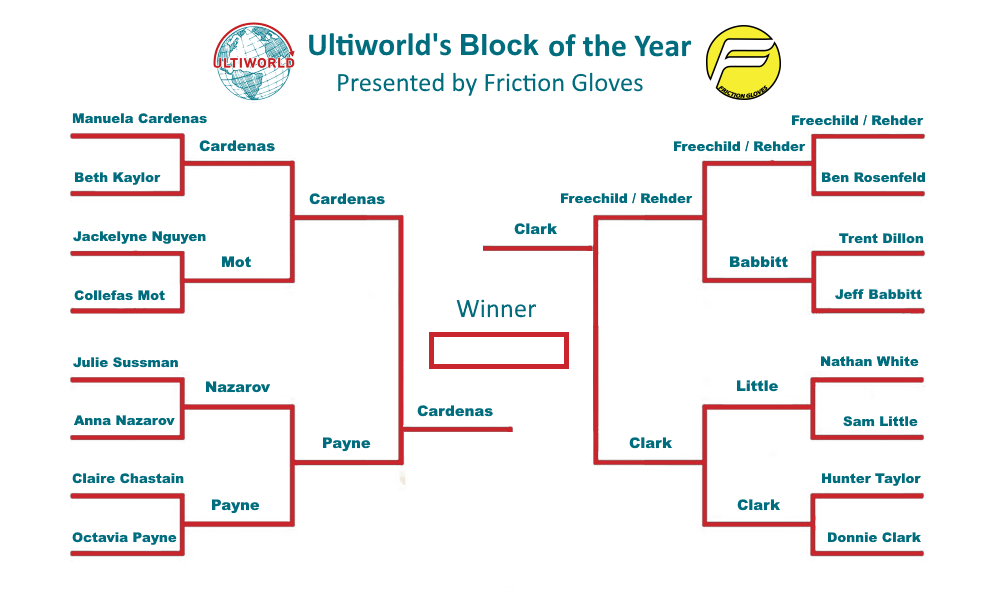 This article is presented by Friction Gloves; all opinions are those of the author. Please support the brands that make Ultiworld possible and shop at Friction!
Here we go, one more vote to determine our Block of the Year. Heavy early favorites from both the women's and men's sides of the bracket have emerged as finalists, both remaining candidates having knocked off a slew of ridiculously impressive nominees along their way. I can rest easy this weekend1 knowing that no matter which block ultimately pulls off the victory, it will be a clip worthy of the title.
Voting for the Friction Block of the Year champion will close Monday, January 23rd, at 5 PM Eastern.
Finals
C Is For Champion
Manuela Cardenas – Colombia (WJUC Girls)
The more I watch this clip, the more I'm aware of my own obsolescence in this game. The future of the sport is breathtakingly athletic and, as Nathan Kolakovic made beautifully visible this summer, that future is already upon us. I may never grow tired of watching this block, but I also can't wait for Cardenas — and the rest of the next generation of stars — to give us others to top it.
Donnie Clark – Seattle Cascades (AUDL)
By all accounts of those who were in Madison for AUDL Championship weekend, Donnie Clark's game-saving block in the semifinals against the Radicals was even more jaw-dropping in person than it is captured on film. Not only is it an incredible display of raw speed and power, given when in the game and season it happened, it also exudes the very essence of competitiveness. Everyone in the stadium could see Clark was clearly beaten — everyone save Clark himself. His superhuman effort kept his team's season alive and gave us one of the highlights of the year.
---
At Lei Out! ↩