Several west coast teams already look fairly sharp for January, but none were able to overcome undefeated Stanford.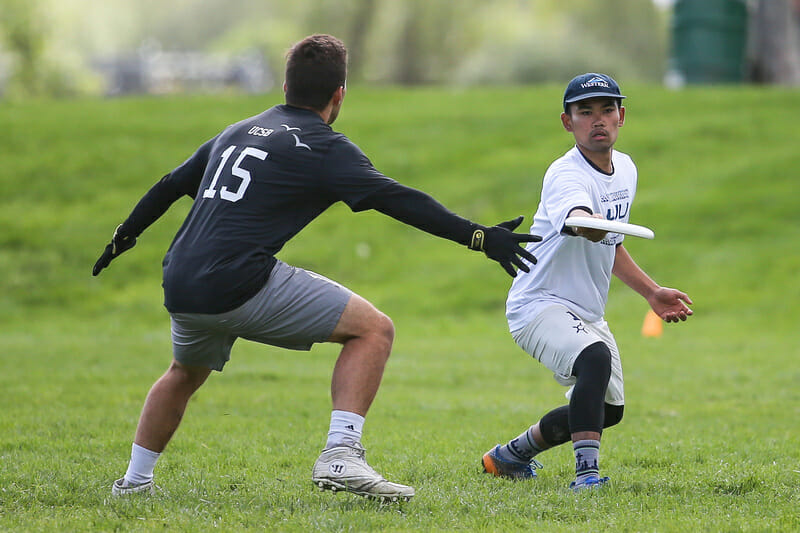 On a warm and wonderful southern California weekend, the 2017 Santa Barbara Invite went off without a hitch. Well, just one hitch. Stanford Bloodthirsty actually met their slated opponent in the final this year,1 but needed to push the round up and shorten a game against opponent Western Washington Dirt. Stanford took the final 9-6, capping the only undefeated record at a tournament where all four 1 seeds made the semis.
Is Stanford Just The Best At Being Good In The Early Season?
#14 Stanford Bloodthirsty took home their second consecutive SBI title this weekend, winning the title on the field this time instead of by flight-induced forfeit. While this year's 7-0 record was impressive, it was not the utter dominance they displayed last year where they played no game closer than 13-7. That said, the Bloodthirsty team we saw this weekend has the makings of a top 15 squad.
Stanford entered the tournament a bit hobbled by injuries and flush with ten rookies. Three returners began the the weekend on the DL, including 2016 Southwest FOTY Nick Hirning (lingering concussion), and by the end of Saturday, two more veterans had been shut down. Though this could have been potentially devastating, the Bloodthirsty team we saw in the fall did most of its work by keeping the disc in the hands of its top-shelf talent and leaning on its younger players for defensive depth.
While this weekend was not a replica of the 3-man-game approach of the fall, Stanford certainly relied heavily on their top-end players to carry the load on offense. The players in question, though, did so with aplomb. Handlers Elliott Chartock and Gabe Hernandez were outstanding for Bloodthirsty, patiently possessing the disc, attacking out of the reset cuts (both upline and to the break side) even in the face of tight coverage, and distributing the disc with impressive breaks and deep shots. Downfield, Nolan Walsh and Cyrus Ready-Campbell were dominant isolation cutters. Relying on Walsh and Ready-Campbell to make plays in the air, Stanford established their deep game, and leveraged that threat to generate big gainers. The development of Walsh and Ready-Campbell as throwers lent an even more dynamic edge to the offense, as they comfortably fed continue cutters deep shots of their own. With these four running Stanford's side stack offense, Bloodthirsty looked formidable.
Despite this success, Stanford was not without a weakness on offense, as illustrated in their closer-than-expected 13-11 win against Arizona State. In that contest, Chartock was baited into bad decision making, and the Stanford offense in general bled silly turnovers that they couldn't earn back on D, which allowed ASU to stick around. And, though we didn't see it this weekend, the deep ball can be a fickle mistress; if the Stanford receiving corps stops supplying big plays, the resulting turns could quickly transform into breaks.
Another storyline for Stanford coming out of the fall was their lack of defensive pressure. Similar to their offensive storyline, the general direction of the narrative remained, but there were marked improvements. They generated a few more blocks against quality competition than they had in the past, and the void of defensive pressure from the fall was replaced by smaller buffers that kept opposing offenses honest with their breaks and hucks. Stanford also used a flat, force-middle zone look to great effect as a change of pace, and deployed with great timing to nab breaks when they needed them most.
However, Bloodthirsty's person defense remains a question mark, particularly in contrast to the flashes of greatness shown by their offense. Two games in particular highlighted the questions they will have to answer going forward: their matchups against BYU and UBC. The Brigham Young game showed that the defense may struggle to get breaks against a smart, conservative O-line. That game was tied at 10-10 until Bloodthirsty finally broke twice to win 13-10. Perhaps the best example is their universe point win against British Columbia, where Stanford was down 11-8 before going on a run to win 13-12. Until Stanford changed up their look to poach the lanes, UBC repeatedly torched them deep. For a team that frequently forces under, that is a not an assuring pattern.
Stanford appears to have the talent to beat top-20 teams, and still has room to improve as the season continues. The reintegration of their five injured bodies will surely be a boost to their depth, and the continued improvement of the large rookie class should cut down on the number of turnovers resulting from inexperience. Their defense, too, appears to be headed in the right direction. Like last year, Stanford is a team capable of winning games at the College Championships, but a long road of work and big games lies between them and their eventual goal.
Western Washington Rides Weekend Of Close Wins To Success
Seven other teams this weekend spent at least one point chasing Western Washington's Dennis Casio all over the backfield, only to watch him sling in a flick for a goal. With a vertical stack offense that was showed impressive discipline for January, Casio and his fellow captains Adam Cho and Zhi Chen led the team to a seed-breaking appearance in the final against Stanford.
As much as their appearance in the final ahead of Washington and Cal Poly-SLO surprised other teams and followers of the division, it might have surprised Dirt the most. Shortly after Casio put the nail in UW with an assist on double-game point, the team was in a huddle staring down a travel conflict.
"We knew this was potentially an issue during the weekend but we didn't seriously think about it until we had actually won our game against UW," said WWU leadership via email. "If we had gotten to the finals, we knew that there was a strong possibility we couldn't play the game at 3:00, but we were optimistic that there were other solutions. We really focused on taking everything one game at a time."
The emotion of a big regional win over Washington in the semifinal, the fatigue of a long weekend, and the distraction of a looming flight all combined for an understandable drop in Dirt's level of play, as the suffered a 9-6 loss to Stanford in Sunday's culminating game.
"We feel like we didn't play our best game in the finals," said the team captains. "After having back-to-back universe point wins, a lot of our guys were physically and mentally drained."
Other than in the final and an early slip up on Saturday against Cincinnati, Dirt showed the focus they were preaching in Santa Barbara. The team ground out three one-point wins, one over a talented #25 Victoria offense in pool play, and two in bracket play over Oregon State and Washington. That last win — over a Washington team that arrived with injuries and illness and only took on more as the weekend wore on — was a study in discipline. Washington needed to go to the bench on defense and generated turnovers, but WWU stayed hot, earning the disc back on key points and doing just enough to set themselves up to receive on double-game point.
WWU's offense was a handful for just about everyone at the tournament. The stack adjusted well as play progressed downfield, staying home i the middle third and allowing Casio to go to work. Senior big man Josh Kent had an excellent weekend downfield, chewing up yards and completing confident continuation throws to keep the O-line flowing. Combined with their team speed and commitment to using the full width of the field, Dirt's attack was tough to stop.
The team also adjusted well on defense. This was best displayed in their decisive final win of pool play, a confident 13-9 dismantling of the scrappy hosts, UC Santa Barbara Black Tide, who were coming off three double-game point wins. Black Tide's top cutters found space consistently against all other opponents during pull plays, and Dirt smartly bracketed the iso-plays.2 They forced UCSB to rely on a slower approach and generated turns through one-on-one toughness later in the point.
Eleven players from the WWU team that made the trip to the 2015 College Championships in Milwaukee remain with the team this year and the chemistry of that group was clear this past weekend. If Dirt can push that group to improve in D-line efficiency — something the team acknowledged they needed to improve on — bring their younger players into the fold, and stay sharp on offense, they'll stay a top team in the Northwest.
Injuries And Rust Diminish Talented Washington And Cal-Poly SLO
When the #11 Washington Sundodgers were playing well this weekend, they looked highly competitive. Hucks from junior Steven Benaloh fell perfectly. Fifth year and captain Dongyang Chen led the D-line's offense with precision throwing and unmatched quickness, in both the backfield and out of the stack. More importantly, Washington's person defense looked like a vast improvement from the regular season last year.
"I think the biggest difference between this team and last year's team at this time is our defensive aggression," said Chen. "Everyone can apply that pressure that we need and that's just a luxury really for a team when you can send any seven out there and you know that they're going to put pressure on. You know the offense isn't going to score easily. We couldn't really say the same about last year's team. So that's just a testament to [our coaches] and the system that they've implemented, and us buying in."
The Sundodgers arrived in Santa Barbara knowing that star Khalif El-Salaam would be coaching from the sidelines, recovering from an early January injury, but the misfortune continued to roll in. They got a day of pool play out of deep receiver Cooper Schumacher, but he spent Sunday in sweatpants, pacing the sidelines in the California sunshine. Senior D-line handler Jonathan Shuster snagged a callahan score against USC in quarterfinals during a team comeback, but was then sidelined with an injury. Tomas Delgado was limited all weekend.
On Saturday, opponents could barely register a break on Washington's vertical offense, which used both the break side and the deep space well. The defense was well-positioned and tight throughout points, and the team kept its pace-changing zone in their back pocket for most of the weekend — as opposed to last season when they'd go to it more often to save energy and hide match-up weaknesses. Colorado State gave the Sundodgers their biggest Saturday test in an offensive shootout. Washington gave up a late break that closed the gap, but walked away with a 13-11 win.3
By Sunday's semifinal with Western Washington, the defensive pressure was still alive, but the offensive efficiency was quickly evaporating for the Sundodgers. Washington fell deeply in love with slashing cuts up the line that were too close to parallel against the sideline, forcing difficult throws and jamming their stack too close to the open side. Dirt took advantage of the turns to regain the lead late in the second half, and Dennis Casio made the Sundodgers pay on double-game point.
Use of the break side trickled away in the third place game against Cal Poly-SLO, and the team switched in a horizontal look late in the game that was messy, but at least eliminated throws going away from cutters in tight spaces.
"We expect more out of our offensive line," said Chen. "We expect cleaner possessions; we expect less clogging. There were a lot times today where I felt like people didn't know where to go, and we expect more from them."
Two one-point losses left Washington sitting in fourth place on the weekend, but take the injury-ridden results with a grain of salt. Their defensive fundamentals are vastly improved, and adding El-Salaam back in will turbo boost both the O-line and the D-line's offense. He should be healthy in time for the President's Day Invite, where last year Washington found their stride in a magnificent semifinal win over Colorado.
***
Swagger.
On the first Saturday of the regular season, #15 Cal Poly-SLO looked comfortable in their new role as a Nationals-qualifier. Per usual, positivity flowed easily across their sidelines in smiles and celebrations after goals, blocks, and other forced turnovers. That attitude, which gels with their quick-to-shoot offense and proven athletic defense, produced a 4-0 run through Pool B, even without star recruit Jeremy Dolezal-Ng, who was sidelined with an injury.
There were, however, hiccups along the way. SLOCORE wasn't impenetrable in the deep space and the offense missed their share of shots. They gave up some large leads to pool play opponents early and needed their fearless enthusiasm to power back into the lead.
One way of viewing this performance would suggest that, like everyone else, SLO needs time to gel and knock off the rust. Another way to view it: just the same as last year, the defending regional champs can go on relentless scoring runs in the face of anyone — they shouldn't be considered out of a game until the hard cap says so. That's the magical confidence that this team brings with them. It showed in the way they easily bounced the disc around on offense, patiently finding resets while cutters worked into open spaces. It came up again in layout blocks in person defense to convert into breaks or save possession. And of course, just like last year, it was most apparent in wild second and third effort catches, bailing out errant long shots from throwers.
Sunday, on the other hand, brought a gut-check loss for the passengers on the SLO hype train. After a narrow 13-12 quarterfinal win over a talented Colorado State Hibida, SLOCORE took it on the chin from regional rivals Stanford, losing 13-8 and dropping into a third place game with Washington.
"I think we had just come off a hard game against Colorado State and our team was in a little bit of a lull. By the time we were able to put it all together, we were in a hole, cap was coming up, just didn't have the time to pull it all together," said coach Peter Raines.
There's an occasional unwanted aftertaste that can accompany too much swagger. Add a dash of overconfidence mixed with a pinch of inflated expectations, and a team can end in unfamiliar territory, unable to recover. With the final well beyond reach, the last test for SLO was regaining their humility in a placement game. On the back of a flying callahan goal from Cameron Wariner for a late break and the lead, SLOCORE got what they needed and put away Washington in their second double-game point victory of the day, 11-10.
"I'm very happy with how we're starting off the season," said Raines. "We had a lot of questions coming into the weekend about how our top guys were going to match up against the top of the region; answered them all."
SLOCORE can take their third place finish, just a seed below their projection for the weekend, back to practice and hone in on another exciting performance at the President's Day Invite, just a few weekends away.
Colorado State Delivers Expected Improvements
#21 Colorado State found itself ranked in the Ultiworld Top 25 this preseason, a testament to the upward trend of the program in recent years. This weekend at SBI, they delivered on expectations. While the quarterfinal exit wasn't a headline-grabbing finish, CSU acquitted themselves nicely, going 6-2 on the weekend and losing tight games to top-25 teams Washington (13-11) and Cal Poly SLO (13-12) — good for a fifth place finish.
Hibida found success on the strength of well executed offensive and defensive schemes, a deep roster of athletes, and standout performances from handler Jacob Servaty and all-around star Cody Spicer. Coach Tim Kefalas, in addition to building a strong program over the last few years, has implemented a disciplined vertical stack on offense and poachy force middle look on defense that capitalizes on Hibida's pile of athletic defenders.
On the offensive side, CSU is at their best when they stay patient with the disc and work the handler motion and break side flow. They are clinically devoted to the pattern of following their open-side dumps upline for yards and power position, or exploiting the shift in the defense to break the mark to the top of the stack. Servanty in particular functions as the talisman of the handler-driven movement, shredding marks with his around backhand and burning his defender for upline passes. Hibida was able to stick with this grind-it-out approach to claw out holds against stiff defense from Cal Poly in their quarterfinal meeting. However, the offense stumbled when they forced deep looks into tightly covered windows, as well as when they struggled to restart offensive flow from the trap sideline.
Defensively, Hibida primarily deploys man defense, which is adequate given their relatively athletic and tall roster. But, as an additional weapon, Colorado State is one of the few teams in the college (or even club) division to throw a force middle look. Because the scheme appears so infrequently, it often serves as an effective wrinkle to throw off opposing offenses. They augment their FM by giving their handler guards the freedom to poach into the lanes, giving throwers an additional factor to adjust to.
The X-factor for Hibida is their star player, Cody Spicer (2nd-team All-Region 2016), who can do it all. Primarily featuring on defense, Spicer is a force to be reckoned with; he tallied multiple layout and deep blocks in their quarterfinal game again SLO, always taking a top matchup (often Cameron Wariner or Nate Pettyjohn). In addition, the 6'2'' Spicer is a threat in the cutting lanes, able to both strike deep and distribute the disc.
Don't let Colorado State's lack of a highlight finish fool you; they are a solid team, who we should continue to keep an eye on for the rest of the season. They have top-end talent, solid coaching and scheme, and a stable of athletes to give them depth. They'll next take the field at Pres Day, hoping to make a little more noise and to turn those close losses into a signature win or two.
Who Should Stop Coming To SBI?
It was another miserable weekend for the Northeast at the Santa Barbara Invite. Dartmouth finished the weekend in 14th place with a record of 1-5. Their lone win, a close 13-12 match in the consolation bracket with Washington University, wouldn't have even been an opportunity had BYU not stuck to their policy of leaving after Saturday play.
In 2016, Dartmouth, Boston College, and Williams all went 1-3 in pool play in Santa Barbara, which wasn't nearly good enough to find the bracket. Bad weather sent all three home early since grass fields were closed Sunday morning. Dartmouth was good enough to lose in prequarters in 2015, while Northeastern got bounced after a dreadful 0-4 on Saturday.
So why are teams still flying west for the Santa Barbara Invite?
It's probably counterintuitive to make a case to limit SBI's applicant pool. As a community we've done a few years' worth of arguing online about needing more connectivity to improve bid allotment and the accuracy of the USA Ultimate algorithm, but woof — this tournament has not been kind to New England.
Luckily, Colorado State's weekend serves a redemptive case for South Central teams after Kansas made prequarters in 2016, and then gave up a massive halftime lead to UBC in a rain storm and were sent packing. So that's something.
If we're being speculative, it might take the perennial big western fish, like Oregon Ego or Colorado Mamabird, confirming a bid at SBI to draw out a slumbering eastern giant. Until then, it's more likely that teams from the east will provide nice punching bags for warm weather squads that haven't missed practice yet.
At least this year, Dartmouth could enjoy the weather.
Quiet Early Season Success For OSU And USC
Oregon State inched up a spot this weekend, taking sixth place after arriving seeded seventh. The Beavers are fighting their way into view of the Power Rankings with good defensive variety and solid offensive play. They snagged a 13-11 win over UBC early Sunday morning, got bounced in an all-Northwest barnburner 13-12 by Western Washington, eked out an 11-10 consolation win over USC, and finally were rocked by Colorado State. For those keeping score at home, that puts OSU at 4-4 on the weekend. At least early on, they're proving a tougher out than last year. If they keep it up, it'll spell trouble for any of the top dogs in the Northwest looking for an easy run at Regionals.
Southern California Lockdown lived up to their name for more than a good portion of the weekend, employing a comprehensive zone look on defense that brought them the weekend's largest break in seeding. Coming in ranked 18th, they finished seventh. If anything, Lockdown's weekend is a testament to what having a coordinated zone defense early in the season can do against shaky offenses. Their O-line, on the other hand, was not as effective.
A Wild Saturday Does Not Make For A Substantive Sunday
UC Santa Barbara Black Tide pulled out three double game point wins on Saturday before finally meeting a Western Washington defense that was able to create enough distance in points and keep the volatile hometown team at bay. UCSB had the look of a team with practice — the timing and cutting on their pull plays was excellent, but they struggled mightily with accuracy on hucks.
The Black Tide attitude, however, was defined by their willingness to employ the F-word. They had a few opponents bristling at questionable plays and reactions to calls. What's definite is UCSB's mental drive to close out games. Give the Black Tide an inch, and they took away games.
All-Tournament Team 
Dennis Casio (Western Washington)
Elliott Chartock (Stanford)
DY Chen (Washington)
Gabe Hernandez (Stanford)
Cody Spicer (Colorado State)
Nolan Walsh (Stanford)
Cameron Wariner (Cal Poly-SLO)
Honorable Mention: Steven Benaloh (Washington), Adam Choi (Western Washington), Josh Kent (Western Washington), Jacob Servaty (Colorado State), Jacob Turner (Cincinnati)
Want to catch up on even more action from this weekend? Film from Santa Barbara is available via an Ultiworld Video Subscription! Purchase a team pack here.
---
Weather pushed rounds deep into the afternoon last year, and Washington was forced to forfeit in order to catch an evening flight. ↩

WWU took the same approach against Stanford, but couldn't generate enough pressure to get Chartock or Hernandez to throw turns. ↩

This game is available for video subscribers. ↩