Big time programs from the Northwest, Southwest, and South Central will clash in San Diego this weekend.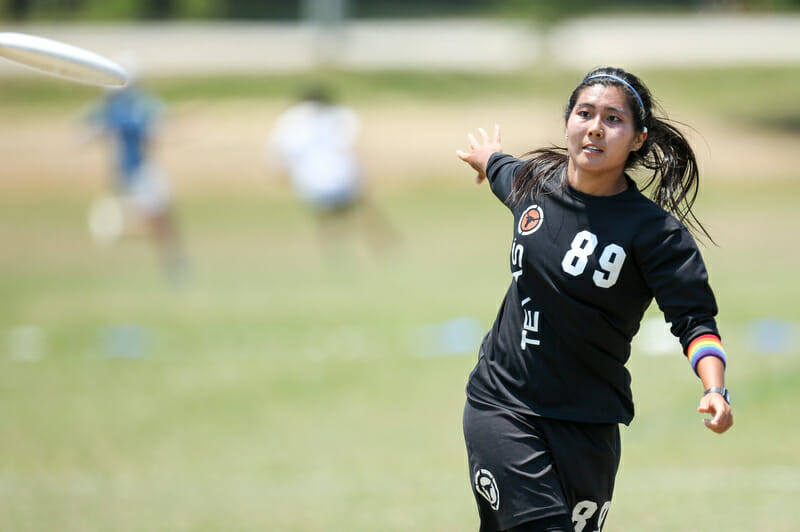 Ultiworld's reporting on Presidents' Day 2017 is presented by VC Ultimate as part of their season-long support of our women's coverage; all opinions are those of the author. Please support the brands that make Ultiworld possible and shop at VC Ultimate!
Neither tempestuous rains nor finicky sports facilities could stop this year's Presidents' Day tournament. Despite a change in field sites and a few format shifts, the same 18 women's teams will face off this weekend in San Diego: 11 of the top 25 women's teams in the country will be in San Diego this weekend, and six regions will be represented in total.
The weather has created a slight change in Saturday's format. Pool play games are adjusted so that Southwest teams don't play each other, and instead everyone gets out-of-region games. At the end of pool play, the nine Southwest teams and the nine out-of-region teams will be respectively ranked, and two power pools will be filled accordingly.
Tournament Profile
Date: February 18-20
Location: La Jolla, CA
Weather: Temperatures in the low to mid-60s through the weekend, with plenty of rain on Saturday
Top 25 teams: 11
Can Anyone Unseat Stanford?
If trends continue, this will be the question for every tournament through Nationals. So far, however, #1 Stanford Superfly haven't faced any competition who have even partially challenged them; most opponents have had to focus on not getting blanked. That likely changes on Saturday. Superfly gets to whet their whistle with Washington, and will only find more trials in reconstructed pools and bracket play.
Superfly's playbook is simple considering their elite pedigree, yet this simplicity makes them tougher to beat. There's no thermal exhaust port to discover that will crumple their offense; this is no high-wire act vulnerable to adverse conditions or losing any one key piece. This team is deep, talented, and capable of operating with near-perfect execution. Sophomore Hallie Dunham and senior Monisha White make very few mistakes with the disc, and drops from grad student Courtney Gegg or Caitlin Go are rare.
Teams that know Stanford well — like Oregon and Washington — stand a better chance at pushing Superfly out of their comfort zone, but it looks like will take more than a few breaks to dethrone the reigning champions this season.
First Test For The Northwest
Only in the Northwest do early season, in-region tournaments warrant national coverage. But competition from all over tuned in to watch what happened at the Bellingham Invite last month and the results hint at what we can expect this weekend from Oregon, Washington, and Western Washington.
#6 Oregon Fugue is the biggest question mark heading into Presidents' Day. Sure, it's a bit unfair to Oregon that early losses or close games are mushroomed into harbingers of failure, but hey, that's the price you pay after after being champions for so long. Fugue's one point loss to Western Washington and their bigger defeat to UBC in Bellingham make them tough to place at the moment. Should these results be swept under the rug of "January games" and forgotten, or do they signal a different path through the season than Fugue's typical scorched earth campaign?
What we do know is that this season's Fugue is fast, skilled, and smart. Oregon's talent load shifted into their backfield when Bethany Kaylor, Jesse Shofner, and Olivia Bartruff graduated. Hayley Wahlroos and Ella Hansen are old hand at managing the disc, but expect to see more responsibility laid at the feet of cutters like Lillian Weaver and Morgan Caldwell. How those two grow into their expanded roles could go a long way toward defining Fugue's success this weekend — and beyond.
#5 Western Washington Chaos is the debutante of the season so far. Their upsets at Bellingham Invite yanked them up in the Ultiworld Power Rankings, and they stand to shoot higher if they face Texas or Stanford on Sunday or Monday.
The young talent of Chaos' 2016 roster has grown into high-energy athleticism this year. Sophomore handler Samiya Ismail looks more polished behind the disc, and Maddie Gilbert is poised to play her way into awards conversations later in the season. Chaos will be focused on learning their new offense this weekend — they played a vert stack in Bellingham — and experimenting with different looks. But if they break deep into the bracket, they'll move from being Northwest little sisters to national threats.
#18 Washington Element graduated a handful of smart, skilled handlers last year, but a new crop is already stepping up. Sophmore Sophie Johansen is ready to own more of the backfield for Element, and downfield she can connect with tall receivers Nicole Cramer and Kate Dusenbury.
Element will be missing one of their notable season pickups, grad student Lily Moline (Florida), but their small roster is deep. Grad student Ellen Goldberg made an impact at Bellingham Invite, and Carla Marigmen transferred from WWU after the fall semester and will play the rest of the season with Element.
Element doesn't have an easy slate on Saturday, but if history has taught us anything about this team, we should know they always have a few tricks up their sleeve.
South Central Ready To Show Off
Last year, this tournament didn't treat South Central teams kindly. Colorado finished at the top of their pool but went 1-3 for the rest of the weekend with bad losses to lower ranked teams. Texas rallied on Monday after being upset in pool play, but they were blown out by Stanford in the semifinals. Both teams return this year with more experience and stronger rosters, ready for vengeance.
#8 Colorado Kali refuses to make the same mistakes as springs past. They won Missouri Loves Company this past Fall again, but this year they won't let it get to their heads: "[After winning MLC last season] we came into Presidents' Day flat, and the win certainly contributed to that — a feeling of complacency, and having expectations about the teams we were going to face," Kali Coach Claire Chastain said.
This season they're focusing on "forgetting the win" and keeping their energy high. Kali returns a solid core of women from last year, so they've jumped into their systems faster in the early season. Megan Ives, Kelsey Bennett, Nhi Nguyen, Megan Chavez, and Emma Capra are all cleating up once more for Colorado. Jean Russell, Sarah Ferraro, and Kristin Johnson are all returning from injuries, although it's unclear whether Johnson will play this weekend.
Odds are in Kali's favor this weekend. They just have to play their cards right this time.
A 14-12 win over #9 Virginia at Shootout in November was enough to push #4 Texas Melee high in the rankings, where they've been sitting pretty ever since. Melee also took care of talented teams like #17 Michigan and #11 Ohio State with ease, and they could do similar damage in La Jolla.
All of Texas' firepower is back for 2017, from big shooters like fifth year Shiru Liu to endzone targets like senior Julia Schmaltz and defensive stalwart Dre Esparza. A veteran roster with big throws and gritty defense means Texas has a high ceiling this weekend and this season.
Despite the pool reshuffling, Texas and UCLA still get to add another chapter to their budding rivalry. At the 2015 College Championships, Pool D's fourth team, Texas, beat the top team, UCLA, in one of the most surprising upsets of the tournament. Last spring, UCLA returned the favor at Presidents' Day by toppling Texas, who came in at the top of Pool D. We're all in for a good old fashioned shootout between these longball teams.
Colorado College Strata is also making the trip West again, albeit with a slightly depleted roster. They'll play without junior handler Erika Hiromitsu and junior cutter Audrey Mills, both of whom are abroad, as well as four other cutters. Look to the senior duo of Corey Baron and Robin Fassett-Carman to guide Strata through the weekend — but perhaps temper expectations.
The Southwest's Gauntlet
The Southwest teams reveled in their successes at Santa Barbara Invite, but Presidents' Day's new format will put them all to the real test: can they outlast the out-of-region teams enough to keep hold of strength bids? It's time for the Southwest to start cashing those hype checks.
#16 UCLA BLU played a deep and skilled game in Santa Barbara. Their run in the bracket was impeded by a few late breaks from California, but expect to see the same polished long balls and big brick house zone from BLU in La Jolla. Come for Han Chen's hucks and field awareness, but stay for Camille Wilson's handler defense and Kathleen Lo's resets.
The #7 USC Hellions of Troy return to familiar territory this weekend: they are, despite their lofty ranking, still underdogs in their games against Colorado and Western Washington. With both results and expectations trending up, USC relies on gutsy hucks and a big zone to command games.
When asked about their upset potential, the USC captains said, "Upsets would just keep telling us we're making moves in the right direction. Both Colorado and WWU are good out-of-region teams, and we're ready to come out strong and compete with them."
The #15 California Pie Queens may have the most to prove this weekend. They're eager to forget the 15-4 loss to Stanford in the Santa Barbara Invite final, but this Berkeley team is also ready to flex some elite muscles. When Cal's offense focuses, they hit the right spots and score quickly. Handlers Anna Wysen and Alison Griffith have a penchant for high release throws, while their cutters wait for the chance to break deep.
They're not likely to break past Oregon on Saturday, but they should be able to hold their own against Carleton in order to advance to the power pools on Sunday, where they can cut their teeth against more out-of-region talent.
Out Of Region Pioneers: North Central, New England, & Great Lakes
Three teams will be the lone representatives for their regions at Presidents' Day Invite: Carleton hails from the North Central, Brown will represent New England, and Northwestern will travel from the Great Lakes. All three regions failed to earn strength bids last season, and while these teams are attending to gain elite experience, an upset or two couldn't hurt their regions' post-season chances.
#23 Carleton Syzygy returns most of their best players from 2016, and a strong freshman class bodes well for their chances at reclaiming the North Central title. Katie Ciaglo and Claire Thallon were instrumental in Syzygy's comeback against Pitt at Queen City Tune-Up earlier this month, and their chemistry will define Carleton's games this weekend and this season. Freshman Maya Powell offers a wealth of playmaking potential to Syzygy, giving them some of the explosiveness they've lacked and size they are famous for.
This is the first time Northwestern Gungho has traveled West for a tournament in this alumna's memory. Gungho fought their way back to the regional final game last year against Michigan, and this season their slate of returners gives them a crucial leg up. Katie George and Jessica Hoffman are crafty and patient behind the disc, while Allegra Wilson and Kelsey Dennis contribute speed downfield. Gungho could easily outperform UC San Diego during pool play, particularly in rainy conditions.
Brown Disco Inferno failed to qualify for New England Regionals last year, and probably faces a tough road in San Diego. Teams traveling from the East Coast haven't traditionally fared well, including Brown, who went 0-6 at Prez Day in 2015. Harvard, Northeastern, and Florida went a combined 6-13 last year. If history is any indication, Brown's biggest benefits will be in the quality of their reps and not the impact they make in bid mathematics.
Filming Schedule
Just as it has hampered the tournament, the weather has thrown Ultiworld's filming schedule into question. At this point, we plan to film six men's games and two women's Saturday1, with more power pool games and bracket play games to be determined. Access will be available to subscribers or those with a Team Pack next week.
Saturday
Colorado vs. Southern California
Western Washington vs. UC Davis
Sunday
TBD
Monday

TBD
---
the tournament is now at two different field sites ↩