It's time for D-III players to have the opportunity for peer recognition on the national level.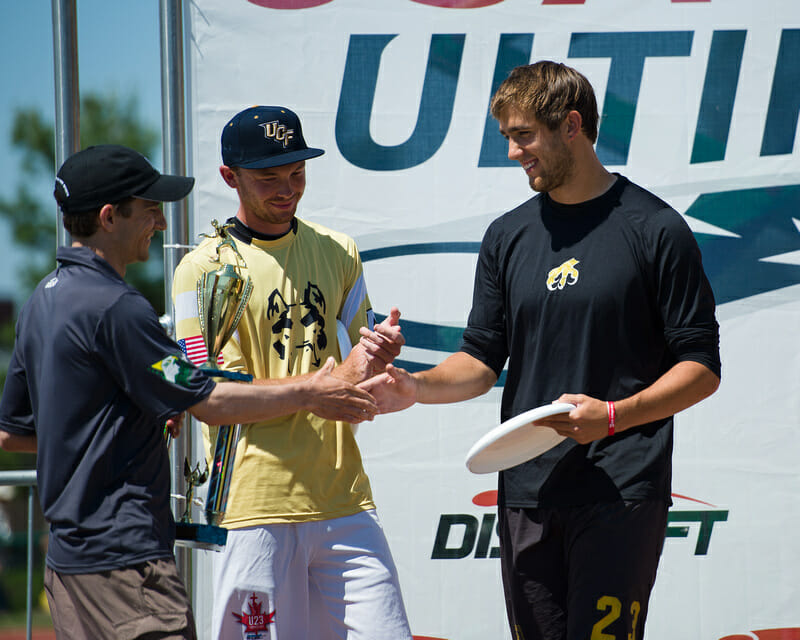 The Callahan award is the highest individual award a college ultimate player's peers can bestow upon him or her. The award is special not only for the criteria — which includes everything from on-field excellence to off-field impact — but for how it is selected. It's one thing to be acknowledged by media and fans as an exceptional player, but to be recognized by your peers and opponents provides a unique sense of fulfillment.
As it currently stands, Division III players are deprived of the opportunity for peer recognition on the national level. D-III ultimate is a separate division of the sport and should have its own Callahan-like award. I'm in my third year of playing D-III, matching up against incredibly talented, dedicated, and spirited athletes; I've seen first-hand the quality that's in the division. It's time for these players to be properly recognized.
***
D-III ultimate has grown rapidly since the division's inception and is now populated with competitive programs all over the country. The division is at the point where it not only can sustain a player-voted award, but deserves one.
The statistics support this claim. The first year the Callahan was awarded was 1996, when there were 56 women's teams and 138 men's teams across the country. In the 2016 season, there were 58 D-III women's teams and 120 D-III men's teams — a remarkably similar total. And it's not unrealistic to believe that in 20 years, D-III ultimate could be more populated than D-I. There are currently 451 schools in the US whose student bodies qualify them as being D-III — that's 100 more than schools that qualify as D-I!
When I've brought up having a separate award to people in the past, a common response I hear is that D-III players already have an opportunity to win the Callahan award as it currently stands. While technically true, it's hard to argue that D-III nominees are competing on a level playing field. Many people immediately discredit D-III candidates due to the level of competition they face. Just consider this comment from the Reddit post for UAH graduate Tom Radcliffe's Callahan video last year: "Looks like a great player. Would be nice if more of the highlights were against some more competitive players." And check out this comment from the Reddit post for Travis Carpenter's 2015 Callahan video. It's too easy to dismiss a D-III player compared to his or her D-I counterparts because of the competition they face. And that doesn't even begin to address the coverage inequities that stem from these different playing opportunities. Even the award presentation is set up to take place at the D-I College Championships!
No other sport forces its players to face this predicament. In college football, FBS players compete for the Heisman trophy while their FCS counterparts compete for the Harlon Hill trophy. Let's follow their lead and recognize that the divisions are different but both deserve recognition.
***
Having a Callahan-like award is a tremendous opportunity for D-III ultimate that brings with it so many benefits for the division.
A player-voted award provides another form of individual recognition for players to strive for. Individual recognition is important because it creates role models and stars; having these two things will only help to grow the division. More importantly, talent and hard work should be recognized no matter what division it's in and no player should be overlooked simply based on his or her choice of school.
It's important for programs to build a legacy, and elite players are an important part of a program's past. The history of a team's Callahan nominees contributes to their legacy, and D-III teams would benefit from having their own award so they can start building a legacy of their own. Rookies on D-III teams should be able to look at past nominees from their program and aim to one day play at their level.
One of the trickle down effects of this award should be an increase in media attention and video content for the division. It's difficult to find much quality coverage or footage of D-III ultimate right now; a large percentage of the division doesn't film their games, and there's no motivation for teams that do film their own games to make that footage public since that opens the door for teams to scout them. However, the need to make a video for their candidate will encourage more teams to record their games, and it's not unreasonable to suspect that teams will begin posting full game footage as well. They might not release this footage to the public until the season is done, but that would be progress! Every bit of footage is helpful to the growth of our division.
***
Ultiworld has come up with a plan to establish a player-voted D-III award this spring. Just as is the case with D-I, this will be a peer-voted award for a player who best represents the following criteria:
Demonstrates an exceptional level of skill and athleticism on the field.
Upholds Spirit of the Game in their own actions, as well as holding teammates accountable to do the same.
Is a leader off the field, both on their team and in the greater ultimate community.
We'll be releasing details on the nomination and voting process in due time, but for now, we wanted to announce our plan and encourage all D-III programs to begin considering who they will nominate for the award so they can begin gathering footage for their candidate.
We also need our readers' help with naming the award. We're looking for someone with strong ties to D-III ultimate that represents the epitome of the criteria listed above. If you have a nomination for someone this award should be named after, please send in your nomination as well as a roughly 100 word explanation for why your nominee is deserving.
We look forward to releasing more details soon. Please contact us at [email protected] with any comments or questions.