Adopting a seemingly silly practice habit to generate buy-in and improve team morale.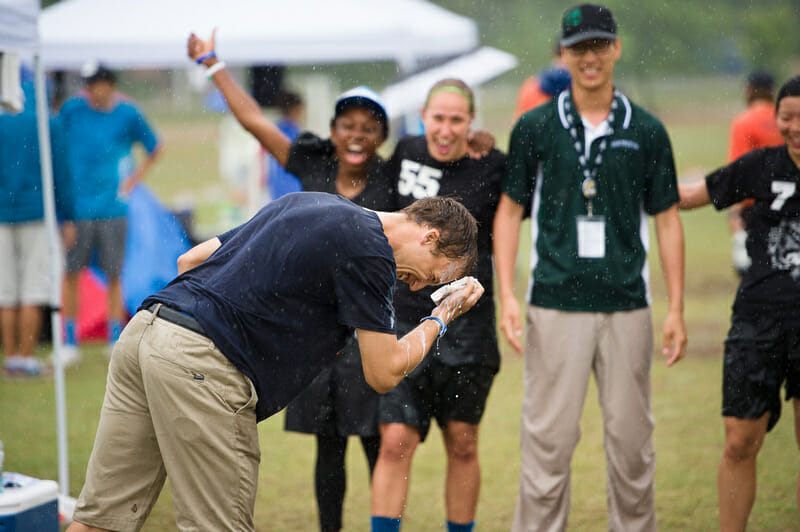 This article is presented by Spin Ultimate; all opinions are those of the author. Please support the brands that make Ultiworld possible and shop at Spin Ultimate!
This article was written by guest author Jamie Millage, coach of Durham Ontario's Junior Boys team, Stud.
***
This piece may not have any ultimate-specific tips for you, but I coach ultimate, I love this idea, and I want to share it with the community that I call home. My apologies to Terrance Ross and Jonny Lee, but I believe this is for the greater good.
Terrance Ross, for those who don't know, is a 26 year guard for the Orlando Magic of the NBA. He was recently traded away by the Raptors, after which he penned this thank you letter to the city of Toronto.1 It's a fantastic piece, and like many Player's Tribune works, it gives a glimpse inside the humanity of professional athletes.
The letter touches on Ross' experiences with the city and country, a young NBA career, playoffs, greatness, and teammates. And then, seemingly out of place, a solid 10% of the writing is dedicated to something called "The Game."
The Game, at its core, is just a gamified drill. It's a super-basic shooting drill that Ross would do with his (genius) weightlifting coach, Jonny Lee, during shootarounds. But The Game served as a fantastic way to motivate, build culture, provide levity, and engender humility — without ever needing to incorporate material value.
As Ross explains in his letter:
And yeah, before I move on, I've gotta shout out a game I'll miss the most. Actually, let's not even call it a game. Let's call it The Game. It was this thing between me and Jonny Lee, the Raptors weight coach, and we played it during every shootaround. The Game is basically three separate shooting games — one, then another, then another. And you keep track of who wins each of the three games. And here are the stakes: If you win two out of the three games, then you get the championship belt. And if you win all three games, then you get — wow, I shouldn't even be writing this down, this is valuable I.P., don't copy us — The Crown.

What's The Crown? Well, it's less an actual crown, than it is a state of mind.

Here's what The Crown means: If I have The Crown, then I can go up to Jonny, anytime I want — it doesn't matter when. He could be trying to sleep on the plane, or having an important conversation with his boss, or, listen: It could be the fourth quarter of a tight one, it just doesn't matter. The Crown supersedes all. And all I'd have to do is say, "The King is here." And then he'd have to blow trumpets.

Yeah, you heard right: blow trumpets. Those are the rules.

And that's The Game.

And I just wanted to give Jonny and The Game a special shout-out: First of all, because it's been so much fun, and I've loved beating him at it. But mostly, because it's such a good example of the bonds that I had on the Raptors. We took our mission as a franchise seriously. But we also knew that, the best way for us to have success in that mission, was to build these relationships across the board. To become a family.

All those guys, man, they're my guys. I'm going to miss 'em.
***
I have never heard a player give a better compliment to a specific action by a coach.
It has become common for sports teams to have "hard hats" or "championship belts" or other knick-knacks to award to an MVP, or to a hardest-worker for a game. Something tangible to pay tribute to effort and improvement.
What's different about "The Game" that Lee and Ross play? First of all, it's a constant motivator available every practice. Its reward also reaches off the court, letting the relationship extend its hilarious tentacles into everyday life. It lets the winner gloat, and puts the vanquished in a place where they can smile about the embarrassment that is about to befall them. The "loser" still gets to be in on an inside joke, and that's a huge step towards creating a sense of team and tight-knit culture.
That sort of culture will benefit any team, but it will pay particularly valuable dividends for teams who may have short rosters or who struggle with attendance at practice — in other words, a lot of ultimate teams.
Knowing that at every practice your athletes may have a shot at The Crown is the type of thing that draws people in. It gets people excited to show up, even when they've had a long day, or a bad day, or been dumped, or had a family fight. It's a repetitive, reliable game (drill), which athletes will always be excited about because of the personal value placed on the rewards and the means of obtaining them.
I imagine Ross is speaking the truth when he talks about winning The Game with frequency; I have no doubt that Jonny Lee had to blow his fair share of trumpets. I can also respect Ross' wish not to straight up copy The Game. But I highly advise that you think about what it is that makes The Game such a fundamental and memorable piece of Ross' six years in Toronto — and find a way to incorporate it into your team's culture.
Think about the fundamentals of ultimate (or whatever sport you coach) and come up with ways to turn that fundamental skill into a one-on-one game, then make it a regular part of practices or other team time and reward the winner with your version of The Crown. Not only will players build stronger bonds between each other and improve their individual skills with repeated practice, you just may have something that your players will still be talking about in 2023.
---
Which we're eating up, by the way — if there's one way to a Canadian's heart, it's to tell us how cool we are in a place where Americans can see it! ↩