Vermont fended off tough opponents to get their first tournament win of the season.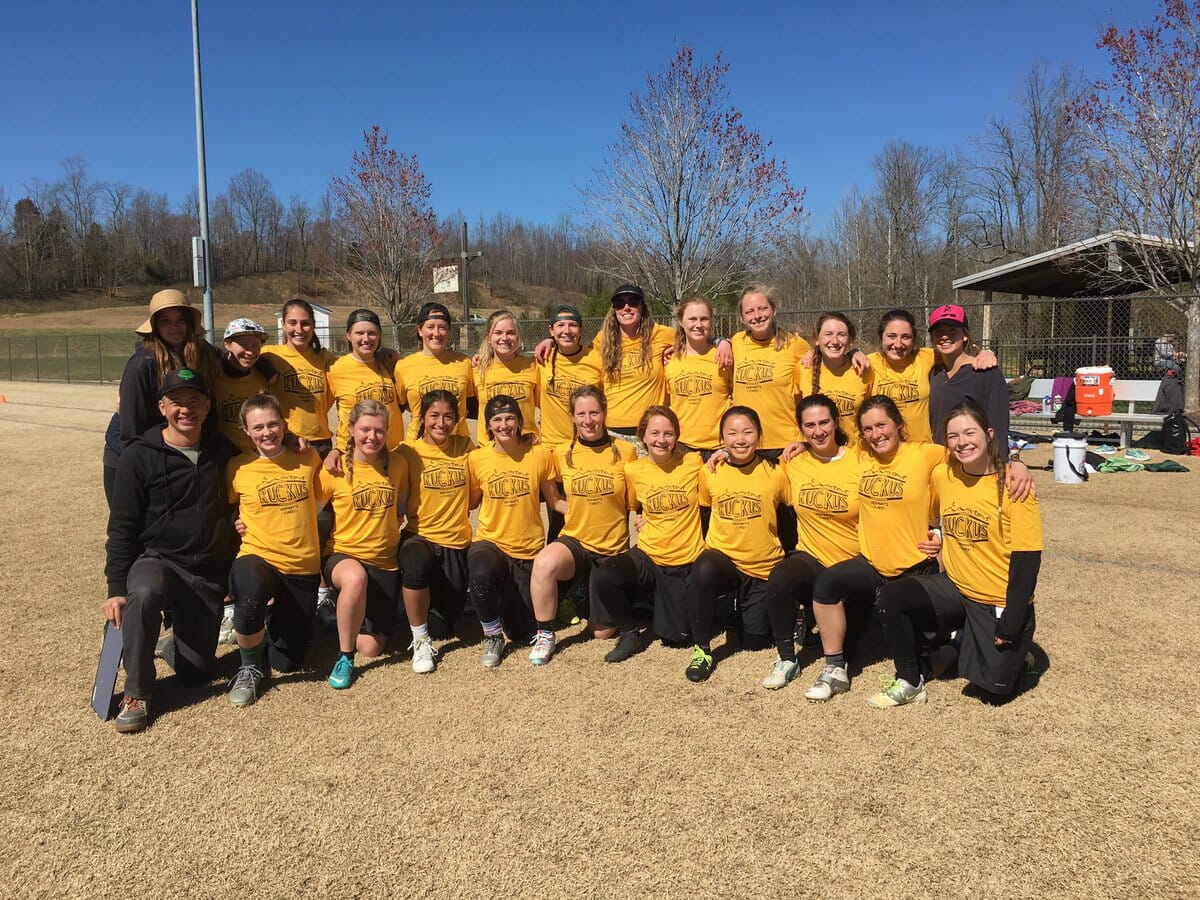 Ultiworld's reporting on Mash Up 2017 is presented by VC Ultimate as part of their season-long support of our women's coverage; all opinions are those of the author. Please support the brands that make Ultiworld possible and shop at VC Ultimate!
The Mash-Up is no longer in Music City, but the move from Tennessee to Virginia didn't deter the fourteen teams from the Atlantic Coast, Metro East, and New England regions who faced off last weekend. #23 Vermont Ruckus was the only Ultiworld Top 25 team in attendance. They entered the tournament as the 1-seed, and they left the victors after defeating Columbia Pandemic 12-9 in the final.
Saturday Play
Pool A and Pool C went to seed on Saturday with large win margins for the No. 1 seeds and eventual finalists, Vermont and Columbia. Vermont outscored their pool 52-12 on Saturday, and Columbia cleaned up 37-16 in their four team pool. The Indiana Calamity Janes, lead by senior Wini Henson, also put together a tidy Saturday but couldn't break past Ruckus in the last round of the day.
No. 2 seed Liberty Lady Flames was upset in Pool B by the Triangle Tourists in the day's closest game (8-7). Liberty was missing a lot of their key players for the weekend, and the youth North Carolina club team, lead by WJUC 2016 player Kate Lanier and the 5'9″ Beth Manturuk, edged them out to take the pool.
The Mash-Up Bracket
Most games were closer on Sunday as teams buckled down. Vermont advanced to the quarters 15-6 over their regional neighbor Massachusetts Lady Zoo, where they faced off against Liberty who had been bumped to their side of the bracket. Vermont took half 8-6 over Liberty, but the Lady Flames fought back in the second half to close the gap, and Vermont eked out a close 13-12 win in the semifinal.
"We had expected some fierce competition from Liberty and Columbia, both of whom brought their A game. I thought Liberty would present the biggest challenge, but in retrospect both teams pushed us very hard," said Vermont captain Becca Stormberg. "It was especially impressive that Liberty did so well with many of their players missing."1
Columbia had the Triangle Tourists to contend with on their side of the bracket, but they outlasted the North Carolina youngsters to advance to the final to face Vermont.
Brenda Hoang and Dana Miller helmed Vermont's offense throughout the weekend and the final. Columbia played smart, challenging defense, setting poaches in space that Vermont had to work through.
"Columbia ran us to the ground and contested every single point," said Stormberg of the final.
Sophie Hulbert was once more Columbia's playmaker and star throughout the weekend and the final. She was the toughest matchup for every team, and she played ferocious defense. She was supported by Steph Huang's throwing prowess in the backfield and Lyra Cooper's strong defense.
Yet Vermont persisted. They played the composed, focused offense necessary to secure the 12-9 win. Using their depth and efficiency, Vermont capitalized on Columbia's mistakes to put them away.
Columbia's captains, Hulbert and Huang, praised Vermont's ability to match them strategically, citing Ruckus' "variety of situational defenses including an impressive zone wall, brackets, and generally quick adjustments to our shifts in strategy" as a major factor in the final.
"This tournament win was definitely a nice boost for our confidence as well as our team chemistry going into NW Challenge next weekend," said Stormberg of the weekend. "…It set the bar high for what we can achieve."
Vermont improved their record to 11-3 on the season, with all of their losses coming to ranked, Nationals caliber opponents. If their region can hold onto the two bids it has now, Vermont could get their shot at Nationals at New England Regionals.
---
Even Liberty's full roster consists of only 15 women. ↩