Upsets are shaking things up as we near the postseason.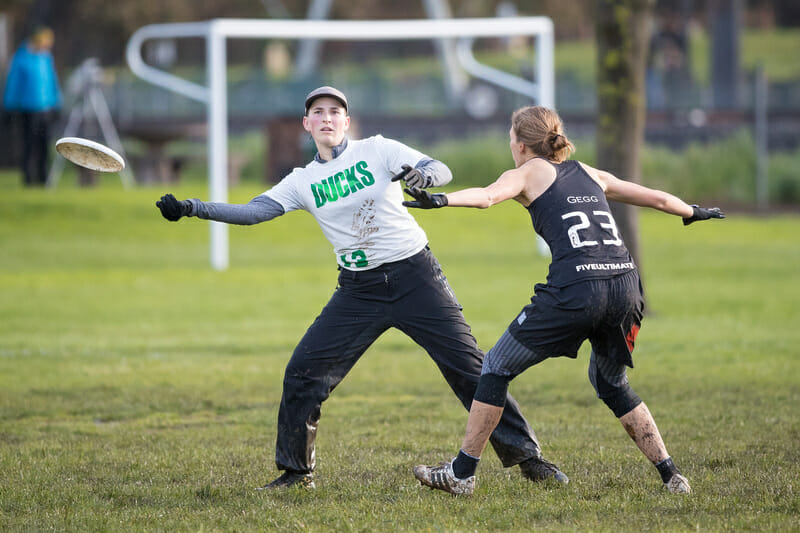 Ultiworld's reporting on the women's division of Northwest Challenge 2017 is presented by VC Ultimate as part of their season-long support of our women's coverage; all opinions are those of the author. Please support the brands that make Ultiworld possible and shop at VC Ultimate!
SEATTLE — Major upsets and steady rain set the tone for the first two days of the season's biggest women's tournament, which is combined with a men's field strong in Northwest competition and featuring a few visitors from outside the region.
Saturday morning's heavy precipitation soaked the main field site in Burlington, WA, forcing tournament staff to cancel nearly all of Saturday afternoon's schedule. While tournament directors work diligently to reschedule and relocate teams across three field sites separated by 90 miles, we'll take you through the storylines that caught our eye on Friday and Saturday.
Women's Tier 1
Notre Dame Destroys, Well, Everyone
16-seed Notre Dame obliterated Pool B on Friday and Saturday, racking up four statement wins in true Notre Dame fashion.
By a cruel twist of fate and formatting, all three of the teams they defeated were from the Northwest region. Notre Dame worked through Whitman 13-8 on Friday before stunning Oregon 15-8. Their game against UBC was closer on Saturday, but the Thunderbirds were outmatched in the air, and Notre Dame edged out the division's no. 6 team, 13-11.
Womb plays loose, positive, yet intense ultimate. They don't lose focus when they're down. They were broken at the start of three of their four games so far, and came back to win each of them. Most of the names on their stats sheet will sound familiar from their Nationals run two years ago — Julia Butterfield threw a majority of their assists, MK Anderson played physical defense, and Sarah Lipscomb found the endzone like a heat-seeking missile.
Notre Dame's wins will undeniably have bid implications, and it won't be good news for the Northwest. But Notre Dame's take-names play so far at NW Challenge could spell trouble for Michigan in the Great Lakes region, too. They showed they have the raw power and energy to take control of games — why not the region?
Dartmouth Sits Back, Rests Starters
Without context, Dartmouth's 2-2 record so far is confounding. This team beat Stanford and Texas earlier this season —how did they lose 15-9 to Michigan and 14-12 to Pitt? The answer is simple, if not frustrating for fans: Dartmouth doesn't need to win this weekend. They need to develop their bench.
Jaclyn Verzuh has only cleated up for one of their four games, and for the rest she's been acting as a sideline player-coach. In every point she's talking cutters through their positioning, strategy, and timing.
Angela Zhu, Julianna Werffeli, and Caitlyn Lee are playing more minutes as the anchors in the backfield while the team's second string cutters work on their chemistry, and the results aren't always pretty. But as the no. 1 ranked team in the country, Dartmouth has more breathing room to make strategic choices like this late in the season. Reps now will put Dartmouth in a stronger position come May, and that's ultimately their goal.
Southwest Teams Struggling In Conditions
The Southwest region collectively is 7-4 so far against out of region teams. Stanford took care of business in their games on Saturday against Vermont and Colorado, looking polished in the  rain. UC San Diego made their mark in their games, but they couldn't exert defensive pressure on Colorado, Virginia, or Vermont.
UCLA and California each defeated Georgia Tech and North Carolina, but their point differentials tell the real story: California went +22, while UCLA went +10. The Pie Queens were by far the strongest Southwest team competing today, while USC and UCLA both looked slower in the conditions and underperformed compared to past tournaments.
The mud and rain Saturday caused enough unforced errors to let opponents into games that these Southwest teams should have dominated. UCLA managed to win both their games, but their first half with Georgia Tech was ugly and they let UNC put up eight points, whereas Cal held them to five.
The Southwest's bumpier performances today shouldn't hurt their bid chances, but rain or shine, all five teams will have to tighten the screws tomorrow when they face other out of region teams.
Pittsburgh & Virginia Turn In Excellent Performances
Amid the upsets and drama that this tournament has already delivered, Pittsburgh Danger and Virginia Hydra emerge as two elite teams who know how to win.
Pittsburgh's offense earned them a big win on Friday over Dartmouth, in the only game that Verzuh has competed in so far. Pitt stars Carolyn Normile, Linda Morse, and Sarah Russek led their deep roster through fast-paced O points that Dartmouth couldn't slow down or steal. Their wins over Michigan and Washington gave them the pool, which should add an asterisk to their Carleton loss late in the day.
Virginia's efficiency and composure stood out in the inclement weather today. They beat UC San Diego handily, they took care of Colorado, and then they finished off Vermont for a 3-0 record. They played classic Hydra offense with composed passes across the breadth of the field and low risk shots, and their junk defense generated ample break opportunities.
While Virginia missed the bracket due to point differential vs Stanford—whom they didn't play because of the schedule changes—they'll compete tomorrow in a strong 5th place bracket.
What To Watch For On Sunday
1:00 PM: Notre Dame vs. Stanford
The narrative writes itself. The former division leaders will face off against a team that's upset every favorite they've played so far. Notre Dame loves to play aggressive, long ball offense, while Stanford has high IQ defenders in Monisha White, Courtney Gegg, and Michelle McGhee. This will be the highest ranked team Notre Dame has played in a long time, but they're ready.
10:00 AM: A Loaded 5th Place Bracket ft. UCLA, Michigan, Oregon, Virginia
At any other tournament, this could be the semifinals bracket. But at Northwest Challenge, these teams will be fighting for 5th place instead. Three out of four of these teams are in the top ten USAU rankings. The favorites—UCLA and Virginia—are expected to pull through to the 5th place final, but the strength of this bracket will make it just as exciting as the 1st place final.
2:00 PM: The 9th Place Bracket Features Three Top Ten Teams
As if the 1st place and 5th place brackets weren't stacked enough, check in at 2:00PM PST to enjoy the division's 1-seed (Dartmouth), the 6-seed (UBC), and the 9-seed (Colorado) competing in the 9th place bracket.
Men's Tier 1
BYU Is Points Away From First Tournament Win
BYU CHI closed out their 2017 season with a perfect weekend. They capped their 6-0 record with 15-4 dismantling of Victoria on Saturday afternoon —the last game to take place at the muddy Skagit River field complex in Burlington, WA. It was a bittersweet ending for a team that seemed to be peaking just as they arrived in Seattle.
Jason McKeen and Seokhee Burningham piloted BYU's strong offensive effort this weekend. McKeen was steady all weekend in the backfield, continuing his stellar season and playing just fine without injured O-line handler Bob "Dad Bod" Bodily. Burningham was open whenever and wherever he needed to be, often a continuation target and deadly with his backhand. Against flick forces and zones, Burningham opened his cuts up into swaths of space and was excellent throwing to away cuts in or near the end zone.
BYU is just a few points away from winning the tournament on strength of schedule. UBC has a chance to tie the 6-0 record with two wins on Sunday, after which a tiebreaker would take effect.
UBC Looks To Lock Up Bid For Northwest Region
UBC also finished Saturday undefeated, albeit with two fewer wins than BYU at 4-0. The Thunderbirds faced two close scrapes on Friday with Western Washington and Brown, but came out winning. Today, they easily dispatched Utah.
Sunday's test for UBC is to maintain their strong performance so far. Since they won't face BYU, they also have a chance to remain undefeated in the format. All it will take is a win over Washington in Sunday's final round. At #19 in the USAU rankings, a win over UW could help cement their position in earning a bid for the Northwest. Since BYU's bid —which they've more than earned— will be passed on per the new regular season rule, finishing out this weekend strong will effectively keep a third ticket to Cincinnati available for the region,
Injuries Hamper UW Performance
Minor injuries continued to cramp Washington's style this weekend. While Khalif El-Salaam and Tomás Delgado returned to the lineup1, Dongyang Chen suffered a heel injury during Friday night's showcase game, Xiao Dong Liu also hurt his foot, and Cooper Schumacher stayed in sweatpants both days with a hip injury.
These unfortunate events continued to highlight an upside for Washington so far in 2017: the growing strength of their underclassmen. On the backs of many younger players, the Sundodgers have to still forced blocks and turns, while veteran leaders continue to spur on the offense for goals.
Washington draws a marquee regional matchup with UBC today. Even if they walk away on the losing end, it should be an excellent test for their younger talent, and a nice primer for the postseason battle that will take place at Regionals in Walla Walla, WA, at the end of April.
What To Watch For On Sunday
Battle For The Tournament Title? Washington vs UBC: 1:00 PM
Barring other upsets, today's midday matchup highlights two of the Northwest's best. UBC could sniff out a de facto tournament title if they win this game with a strong enough point differential to overcome BYU in a tiebreak. UW's position in the USAU rankings shouldn't draw questioning, barring a blowout loss. 
---
Delgado with somewhat limited minutes ↩