Madison at the top, but who will join them in the playoffs?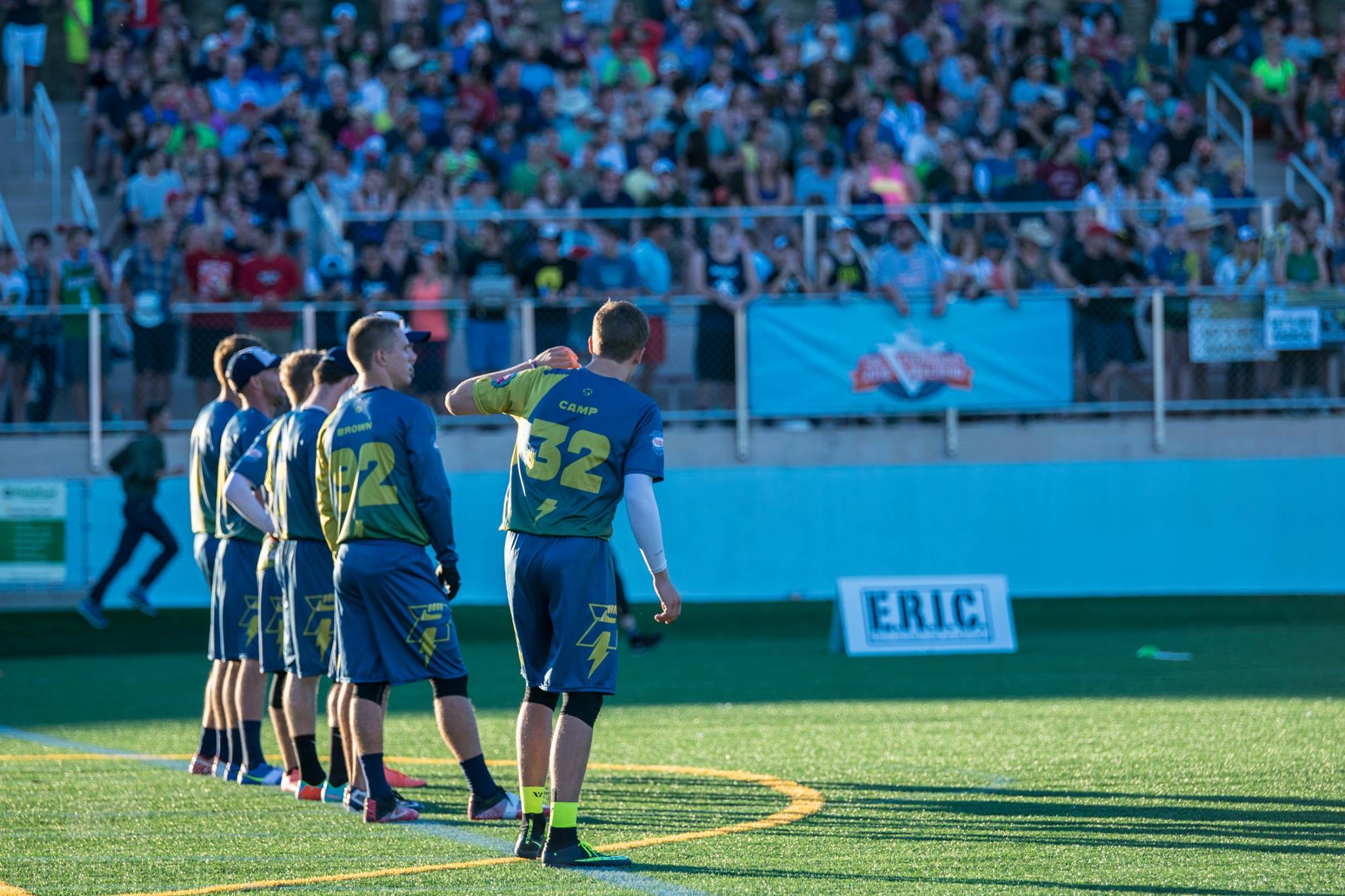 It's another year in the AUDL Midwest and another year in which the Madison Radicals are the heavy favorites. The Radicals have represented the Midwest at Championship each of the last four seasons. They've gone 52-6 over the last four years against their division during the regular season and 5-0 against it in the playoffs. Will this year be anything different?
The Championship Contender: Madison Radicals
The measuring stick for the Madison Radicals isn't the regular season. It's the playoffs. After winning the Midwest again last year, Madison hosted championship weekend. The Radicals led 20-13 midway through the third quarter of their semifinal against Seattle before eventually falling in heartbreaking fashion, 26-25. It was the fourth time the Radicals were eliminated in the playoffs in a loss by three points or fewer. But the Radicals have bounced back from those kind of losses before to go deep in the playoffs.
One thing that's certain is that the Radicals have a tremendous amount of buy-in from their players. This is a team that is used to playing together, with 23 players returning from last year and 13 playing their fifth consecutive season with the team. And, despite losing perhaps their best defensive player in Jay Froude, the Radicals have made some nice additions as well.
Ross Barker is joining the team this year after playing for the Wisconsin Hodags and Madison Club. Barker scored 15 goals at the College Championships last year, and 13 at Club Nationals. Another Hodag alum, Sterling Knoche, is joining the team and should be a valuable addition to the Radicals D-line. Perhaps most intriguingly, Marquis Mason is on the Radicals this year. Mason is a former Wisconsin Badgers wide receiver and has the kind of athleticism that could be very valuable to Madison. He's still learning, but he should be able to get some playing time to develop his game during the regular season.
The Radicals have long been one of the best teams in the league at using all 53 yards of field width on offense and making those yards seem like not quite so many on defense. But it's fair to question whether or not this team has hit its ceiling. If the Radicals can find another level, it will probably be due to their younger players. Last year, Brian Hart became even more integral to the Radicals offense, as did Kevin Brown when he was healthy.
Players like Tom Annen, Andrew Brown, Pat Shriwise, Colin Camp, and Dave Wiseman will always be important to the Madison offense, but Hart and Brown helped it reach higher last year when the Radicals were playing at their best. If the Radicals are going to take another step, they'll need those two and their new Hodag additions to play big roles this year.
The Playoff Favorites: Pittsburgh Thunderbirds & Minnesota Wind Chill
In 2016, the Pittsburgh Thunderbirds turned out to be something of a paper tiger. They made some big news in the offseason, bringing in a high profile crew of players from High Five to join their superstar Tyler DeGirolamo and the core of the team that went 12-2 in 2015. But Johnny Bansfield, James Highsmith, and Mitch Cihon only played a total of 12 games combined during the regular season, and DeGirolamo had to sit out the entire season with an injury. Pittsburgh went 0-2 against Madison and also lost the season series against Indianapolis, including losing one game by eight. The Thunderbirds still managed to go 10-4, but given the expectations coming into the season, it was something of a letdown.
This offseason, all those High Five players left, as have Tyler Kunsa, Aaron Watson, Alex Thorne, and Eddie Peters. The Thunderbirds are bringing back a (hopefully) healthy DeGirolamo and adding players like Max Thorne and Xavier Maxstadt.
Last year, there was no telling what Pittsburgh team would show up any given week. The goal this year is for that to change. Head coach David Hogan knows the offense needs work. "Our O-line players need to be more dynamic and multi-tiered threats, and they need to be able to generate turnovers on defense," he said. Mark Fedorenko is returning and became one of those multi-tiered threats last year; goal scorers extraordinaire David Vatz and Ethan Beardsley are back too.
On defense, the Thunderbirds have some nice pieces, but, at times, seriously struggled after generating turnovers last year. Even in their 20-18 playoff win over Minnesota, the game turned into a slog and the Thunderbirds defense gave the disc back enough times to keep Minnesota in the game. Anson Reppermund was named to the 2016 AUDL All-Defense team, finishing second in blocks in the league last year. Jon DeAmicis and University of Pittsburgh star Sam VanDusen played well too; adding VanDusen after the college season ends should provide a boon to the team.
The biggest question for this team is Degirolamo's health. Even in 2015, when he wasn't fully healthy, DeGirolamo was one of the best players in the league, leading Pittsburgh to a win over Madison and throwing 86 assists during the regular season. If he is really at 100%, Pittsburgh becomes much more difficult to plan for. If not, the Thunderbirds look like a team that has a lower ceiling than it has in the past couple seasons.
***
One team that is poised to take advantage of Pittsburgh possibly taking a step back is Minnesota. The Wind Chill have never beaten the Thunderbirds, but came closer than they ever have in that playoff loss last year. And under new management, this team looks like it should be better than ever.
While college standouts Ben Jagt and Conor Kline are no longer suiting up for the Wind Chill, those two only played in a combined five regular season games last year. And the new players Minnesota is adding more than make up for it. Last year, the Wind Chill offense often became very stagnant in close games. Minnesota has long needed a dynamic cutter that can distribute and huck as a cutter. Ryan Osgar fills that role very well.
Osgar isn't the only new player on the team either. Nick Simonelli is back and should play a big role. The team is adding more handler depth with players like Josh Klane and Tony Poletto. And after taking a year off, defensive standout Jay Drescher is back with the team for 2017. With long-time Carleton coach Phil Bowen taking the reins, this team could jump a level in 2017.
Even with all the new players largely from Sub Zero, this team is still returning 19 players from last year. And having some of those players provide depth on a weekend when the team might be missing some of its top stars, rather than have them starting on the O-line in the big games, is a big difference for a team that played down to its opponents often times last year.
The Wind Chill were close to Pittsburgh in 2016. This year they might be the favorite to finish second in the division.
On The Outside Looking in: Indianapolis Alleycats
The AlleyCats have been nothing if not resilient during their time in the AUDL. In 2013, after losing Brodie Smith and Jonathan "Goose" Helton, most assumed the AlleyCats would miss the playoffs. They didn't. The next year, Minnesota added a lot of Sub Zero players, but Indianapolis beat them twice to take the last playoff spot. It wasn't until 2015 that Indianapolis missed the playoffs for the first time. And last year, despite beating Pittsburgh twice, the AlleyCats missed the playoffs again due to a couple one-point losses to Minnesota.
It's fair to ask whether or not the AlleyCats have plateaued as a team. Sure, they can take advantage of a playoff team that's not on its game but they haven't proven to be able to advance past the first round of the playoffs. The AlleyCats are very much a known quantity at this point.
On offense, Keenan Plew and Cameron Brock are the biggest contributors. Brock has taken his game to a higher level the last couple season and has become a legitimate threat with his throws. Both players finished with at least 40 assists and 40 goals last year. There were only seven 40-40 players in the league last year, and Plew and Brock are the only teammates on the list.
On defense, Indianapolis relies on athletic, if not tall, players like Rick Gross, Nick Hutton, and Levi Jacobs to generate turnovers and provide offense after the turnover. But the AlleyCats are a team that relies on their O-line. Travis Carpenter, probably the best defensive player on the team, still spends most of his time playing on offense. The AlleyCats were 7-0 in games when they scored 27 or more points last year. They were 1-6 in games when they scored 26 or fewer.
Whether or not the AlleyCats make the playoffs will probably depend more on if Pittsburgh or Minnesota don't live up to their potential than the AlleyCats' own ceiling.
Maybe Next Year: Chicago Wildfire & Detroit Mechanix
How the once mighty have fallen. In 2013, Chicago went 14-2. Even in 2015, the Wildfire came ever so close to taking down Pittsburgh in the playoffs, losing by one point in overtime. Last year, the wheels came off, with Chicago finishing 4-10. It's tough to see this year playing out much differently.
Last year, the Widlfire were better than that 4-10 record indicated–a double overtime loss here, a terrible weather game loss there–but being better than a 4-10 record isn't a resounding endorsement. And while the Wildfire are adding former University of Colorado standout Pawel Janas, the rest of their offseason moves leave a lot to be inspired.
Their 2016 and franchise leader in goals scored, AJ Nelson, is not playing for the team this year. The team's other three top completions leaders–Adrian King, Tim Fergus, and Joe Young–are also departing. The Wildfire are returning 15 players, fewer than any other team in the division.
It's not all doom and gloom though. Having King come on as head coach could help an offense that was often times too conservative with the disc and didn't have players fill versatile roles last year. And of course, this is still Chicago and this team does have talent. Michael Pardo was second on the team in goals last year and could take on an even bigger role this year. Trent Kuhl will help take on some of the very available handler duties on the team. We could see returners like Jack Shey, Neal Phelps, and Von Alanguilan play big roles for the Wildfire. The hope is that despite some top players in the city not playing with the team, this edition of the Wildfire will be more ready and looking forward to the AUDL season.
But every year Chicago is discussed in the preseason as a team that should end up in the playoffs (or at least close to it) that could make some noise when they get there. And every year the buy-in from a lot of their players just isn't there. The only difference so far this year is that they don't look like a playoff team.
***
Detroit has for years in many ways been the inverse of Chicago. The team actually had quite a bit of buy-in, but so little talent. In 2014 and 2015, the Mechanix went 0-28. That changed last year. Detroit went 4-10, sweeping the season series with the now defunct Cincinnati Revolution and taking a game from Chicago. Even in their some of their losses, they showed promise: An overtime loss in Minnesota. Playing with 14 players in Madison and only trailing 16-20 to the Radicals midway through the third quarter before the game got away. They were not your 2015 Detroit Mechanix.
But there's a long road from doormat to playoff contender and the Mechanix are just not there yet. Offseason additions like Johnny Bansfield and Austin Engel along with a few more High Five and Smokestack players help, but the reality is this team went 1-10 against teams not named the Cincinnati Revolution last year. Dan Donovan is back for 2017 as is Nathan Champoux. Detroit is no longer a team that can be overlooked. This year they will probably be even more competitive even if their final win tally doesn't reflect it.
Outlook
The most exciting storylines in the Midwest this year are Minnesota and Pittsburgh. Just how good is this Wind Chill team? Can they at least be competitive with the Madison Radicals? In 2014, the Wind Chill won a game against Madison during the regular season. Last year they were 0-3 against the Radicals, losing by an average of 14.7 points. It wasn't pretty, but this is a new year and a new Wind Chill team.
And what level can we expect Pittsburgh's Tyler DeGirolamo to play at? If he's healthy and ready to play, you can't ever count Pittsburgh out of a given game. The Thunderbirds have played two seasons and still haven't lost a game to the Wind Chill. And if Pittsburgh or Minnesota aren't as strong as they look, the AlleyCats will be ready and able to steal a playoff spot.
Chicago and Detroit are not the kind of bottom teams that the Midwest has seen in the past either. Both are capable of scoring upsets, and no doubt will over the course of the season. And the one team that is looking to see if it can finish with another perfect regular season is Madison. Going 14-0 could help make their road to the championship game a little easier. For a team that has come close oh so many times, they're no doubt aware of what that could mean.