The AUDL starts this weekend.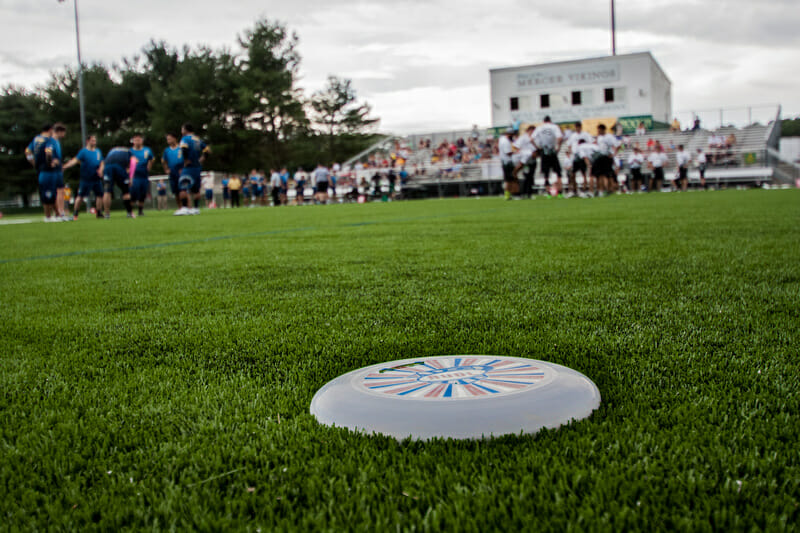 Another Monday, another Mailbag! It's 9:30 PM and I want to get this published so this intro is wack. Deal with it.
ASK ME QUESTIONS/SEND ME COMMENTS: Email ([email protected]) or Twitter.
***
Q: What's your take on Jesse Shofner making the Nightwatch roster?
– Claire M.
A: First of all, Nashville's gonna sell a crapload of Shofner jerseys. Seriously we should get on making Shofner fan gear. I bet it's the league's #1 seller this year.
On a more analytical note, I think she has the skill set to be an asset on offense. Nashville was awful last season; her disc skills and ultimate IQ are probably among the best on the roster. But here's the issue: she's 5'1″ tall. Defense was already going to be challenging but with the height deficit she becomes a serious liability. The Nightwatch will have to create switches and schemes designed to keep her playing defense in the handler set because it's just not going to be possible for her to cover cutters, especially in the toweringly tall South Division.
But plenty of teams have taken offensively talented players with major defensive downsides: just look at all the teams that have rostered Brodie Smith!
No matter what happens, everyone is going to tune in to watch, Nashville's going to fill the stands for their home opener, and Jesse Shofner's going to make history.
Q: What do you think of Rowan's new series of ultimate trick throws?
– Rowan
In case you haven't seen this already, east coast legend Rowan "Rowan" McDonnell posted a video of himself teaching you how to throw the 'Pizza Pie' and he looks well on his way to being the next Brodie Smith. He's now got a series going and people are loving it. Here's an amazing compilation video of what almost certainly has to be an exhaustive list of ways to throw a frisbee:
All The Ways To Throw A Frisbee
I'm a huge fan of finding new ways to throw and manipulate a frisbee. It makes you a better player. Seriously! Want to get better at throwing? Throw as many ways as you can, spin a disc on your finger, play real disc golf with golf discs.
Also, Rowan forced my hand and finally pushed me to edit this footage from the 2016 edition of Queen City Tune Up where our very own Keith Raynor taught us to throw a corker. Check it out!
Corker | Ultimate Frisbee Trick Throw
By the way, Rowan didn't actually ask this question; I just thought that was funny.
Q: I think the club regular season being meaningful is really something the players would have to decide. I mean, the Warriors got 73 wins because they cared about the regular season. If people decided to care about the Triple Crown, then it would be interesting to watch instead of it being practice. But that doesn't seem likely today.
– Sam T.
A: Here's the big problem. Regular season wins are totally meaningless in ultimate. Sure, you could argue the same thing about the NBA, but at least in the NBA, your regular season performance actually determines your postseason fate, at least to some extent.
Even years from now, people will talk about that 73-win Warriors team, even though they lost in the final. Would it even be interesting if an ultimate team went undefeated in the regular season? Literally, it's possible that Revolver has gone undefeated in a recent season; I couldn't tell you if it happened.
In ultimate, there are no stats, no MVPs given out, no playoff misses, no double-doubles. A National Championship is everything. (Even NBA players have figured out how little the regular season matters — they sit out games just to rest!)
Q: With the season starting this weekend, who are your AUDL playoff picks, semifinalists, and champion?
– Rob C.
A: The AUDL season is finally here! Can't deny that I'm actually excited this year. Every season there are fewer bad teams (seeya Cincinnati) and more star power. While, for the most part, the top teams still look like the top teams, there's no super team this year that's predestined to win the Championship.
So let's go Division by Division.
West Playoffs: #1 San Francisco FlameThrowers, #2 Vancouver Riptide, #3 San Diego Growlers
SF is significantly more talented than everyone else. They're a lock for semis.
Vancouver is low key getting better every year. With Seattle losing a bunch of talent this year, I like Vancouver to surge to the #2 spot in the West. Sleeper pick.
San Diego got better, Seattle got worse. San Diego cares more about the AUDL than Seattle. Growlers make the playoffs.
Midwest Playoffs: #1 Madison Radicals, #2 Pittsburgh Thunderbirds, #3 Minnesota Wind Chill
Going chalk in the Midwest. Madison is way better than everyone else. Welcome to another Championship Weekend, Radicals.
Tyler Degirolamo is going to have a sick bounceback year. Thunderbirds play better than expected.
Minnesota Wind Chill are clearly better and have a good shot at making the Regional final. Sorry Alleycats.
South Playoffs: #1 Raleigh Flyers, #2 Dallas Roughnecks, #3 Jacksonville Cannons
Incredibly exciting division this year. Dallas has taken a step back (plus they'll be without Kurt Gibson until probably June); I think Raleigh's got a pretty good shot at taking the #1 seed in the playoffs. With Dallas playing at Raleigh, coin flip for the semis. I'll take Dallas in a squeaker.
Raleigh knew they didn't have much of a shot last year. Things are different in 2017.
Jacksonville has gone full 'sign all of the 6'+ guys and crazy athletes.' It might work!
Austin will have a shot at the playoffs.
East Playoffs: #1 Toronto Rush, #2 New York Empire, #3 DC Breeze
New York is definitely better, but they can never find a way to beat Toronto in the regular season so Toronto cruises to the #1 seed again.
But this year things are different: New York has some serious young talent and some hardened veterans. This is their best shot in a while to upset Toronto in the postseason. I think they do it. I'm going full homer and picking New York to their first Championship Weekend since the expansion to four divisions.
DC is still really solid and will be a clear #3 seed.
To be honest, wouldn't be shocked to see these three teams in any configuration heading into the postseason. They are all very talented.
Semis: Madison Radicals v. San Francisco Flamethrowers, New York Empire v. Dallas Roughnecks
The Radicals get the shock upset over San Francisco, quelling some demons from last season with a brilliant defensive performance against a stacked San Francisco team. New York's luck runs out against the defending champions.
Finals: Madison Radicals v. Dallas Roughnecks
The matchup everyone wanted last season is here! The two teams had a great battle in Madison during the regular season and Madison got the home win. This time, on neutral ground with Jimmy Mickle and Kurt Gibson leading the way, Dallas shows that all the strategy in the world can't slow down the world's best players together on one roster. Dallas repeats.