Resident Ultiworld rankings expert Cody Mills took the results from today's College Division action and ran the USA Ultimate algorithm to give a snapshot of what the USAU rankings would be if the season ended today. Here's what he found.
Men's Division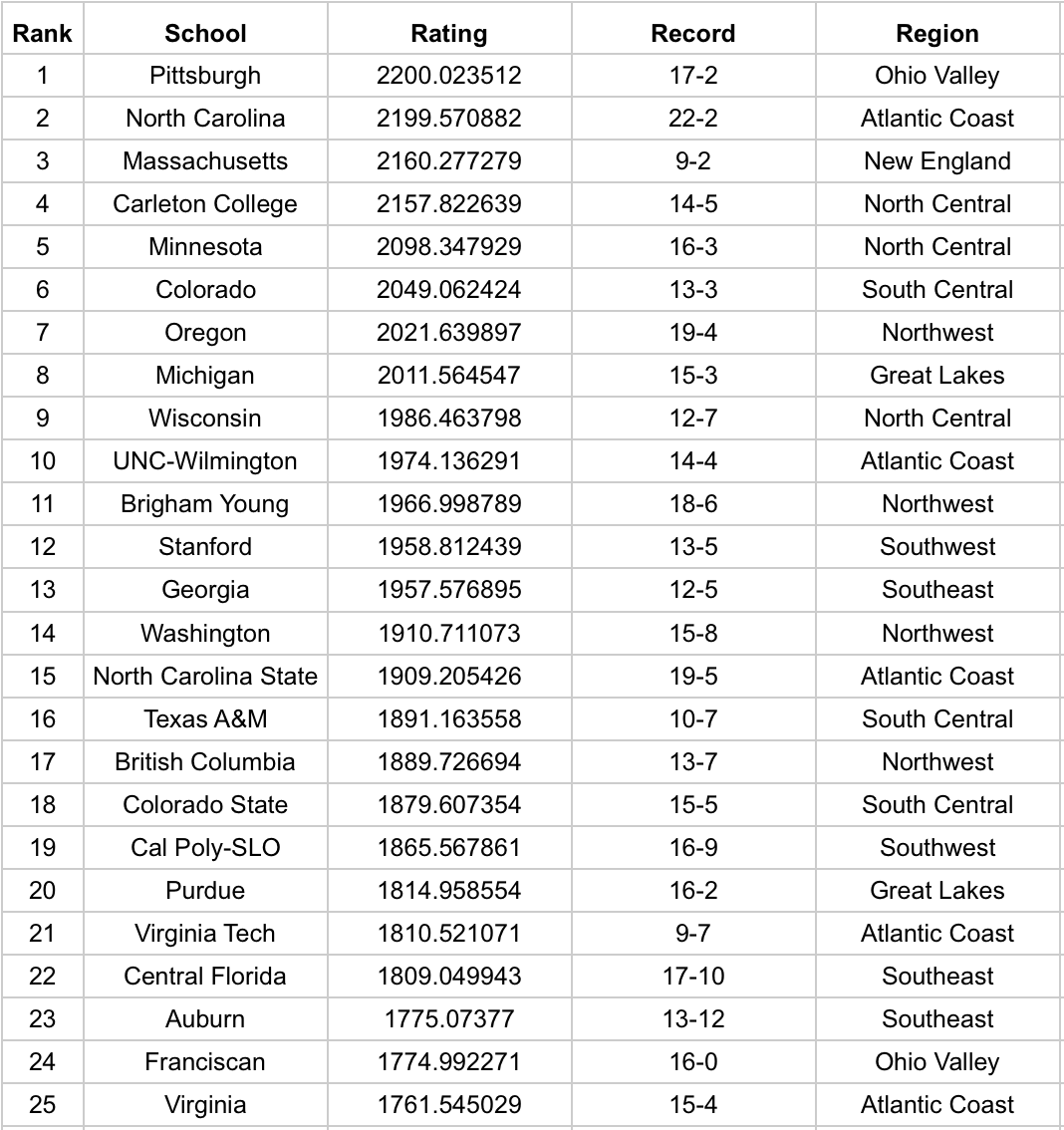 In
#16 NC State: NC State took care of business today and actually moved up a spot in the rankings to #15. With 24 games in hand and at most four more remaining tomorrow, about 15% of NC State's ranking is left to determine. They sit roughly 50 points above the current bid cutoff, meaning they'd have to somehow average 1500 a game to drop below it. A loss to Georgia Tech would really hurt, but if they can avoid that and getting max-point blown out by everybody else, they're in.
#17 UBC: The T-birds were idle and have held on to their #17 ranking. The two teams below them performed well enough to close the gap tiny little bit but UBC is still 30 points above the cutoff, and looks safe in terms of their bid, barring monumental runs by CSU, Cal Poly, UCF, and Virginia.
Looking Good
#18 Colorado State: Hibida handled themselves well in pool play at Huck Finn, doing exactly what they needed to stay on pace to hold their #18 rank. A sound win over Illinois and close wins versus Northwestern and Auburn saw them hold steady. They'll see Cincinnati again in the quarters and if they can repeat their pool play result and avoid a blowout against (presumably) Purdue in the semis they will be sitting pretty. If they make the final versus Minnesota, that should secure the bid for the South Central  regardless of result —but Hibida would do well to play it close to be safe. They control their destiny.
#19 Cal Poly: SLO held steady after a 2-2 Saturday, remaining the last team in. Their loss against NC State was offset by a max-point win over LSU, and they did what they needed to do against UMass. They need to keep winning tomorrow to stave off Virginia Tech and Purdue who are lurking close by, but they have a 50 point cushion. SLO can't afford to take any bad losses tomorrow. However, given VT's relatively malleable ranking, every goal will count.
Must Win Out
#20 Central Florida: UCF played it close with Colorado (good), but played a little too close with UConn, lost to Michigan, and lost to Harvard (bad). They slide from last-team-out down to #22. They can get themselves back into contention with a win over Carleton in the morning, but they're on their last legs. If they can dominate consolation they'll have a shot but even that might not be enough. Consolation is such a crap shoot in terms of effort that they might be able to collect points but the odds aren't in their favor.
#23 Purdue: Purdue has their work laid out for them, even after playing well today. Though they lost big to Minnesota, they got large-margin wins over Notre Dame, Cincinnati, and Tennessee to boost themselves to #20. However, they're still 50 points behind #19 Cal Poly. They'll need roughly 2200 a game to get there, which means they'll need a max-point win on Vermont (15-8 or better), a win over CSU, and, in all likelihood, a win over Minnesota to force their way in.
#24 Virginia Tech: Burn parlayed a 2-2 performance into a #21 ranking to put them close but still 50 points away from a bid. For the first 3 round things were looking perfect. Beating Stanford was great, a 13-9 win over Brown was solid, and a 13-9 game with UNC was close enough to make it work. The killer was their round four 11-9 loss to Florida State. That game cost them 32 points in the rankings. For perspective, they currently sit 55 points behind Cal Poly. They'll need to beat Georgia or play them very close and then hope to blast some teams in consolation. They still have 20% of their ranking to work with, so if they can average 2050 they'll have a chance. That pace implies a 1-point win over Georgia and likely winning out consolation (and potentially by good margins).
Out
#21 Virginia: Unfortunately for the AC, Virginia's 1-3 performance in pool play dropped them to #25. They're out.
#22 Northwestern: An 0-3 performance in pool play saw Northwestern slip all the way to #31. They're out.
#25 Florida: Idle Florida dropped one place to #26 and will not earn a bid for the SE.
#26 Case Western: Case couldn't win enough in pool play and fell to #28 in the rankings. They're done.
#27 LSU: Now #39 after taking three big losses and only managing a 1-point win over Georgia Tech, LSU is done.
#28 Auburn: Auburn hopped up to #23(!) on the back of some strong win and a 1-point loss to CSU, but they're still 90 off pace for a bid. They've got to blow out Chicago in their quarterfinal and get a win over Minnesota in the semi to even have a shot, so it looks like they're done.
Women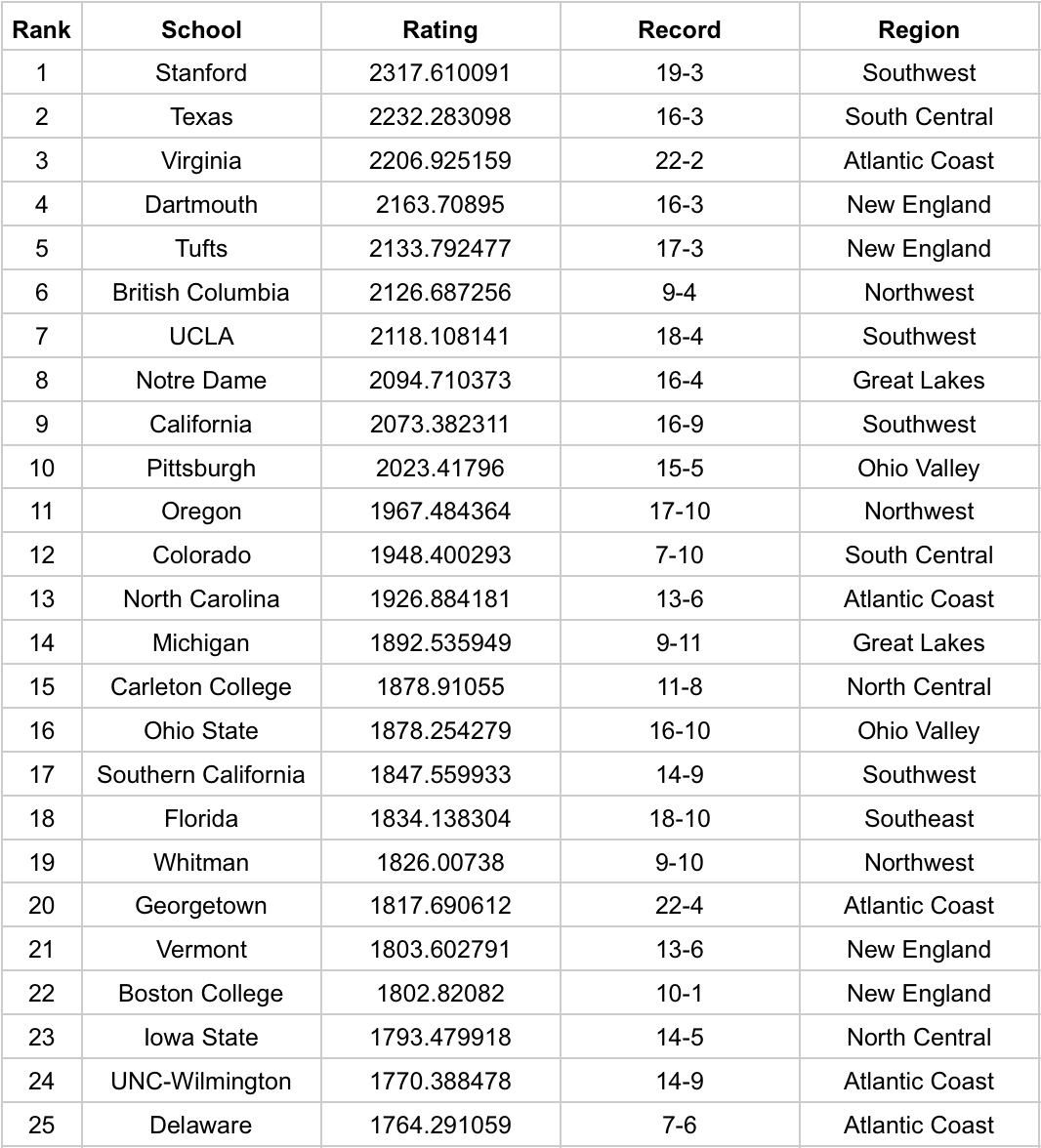 #20 Boston College: Despite max-point wins over all their opponents in pool play at Garden State (to the point that all their wins are blowouts under the "blowout rule"), BC fell two spots in the rankings to #22 and likely out of bid range for good. This is likely due to poor performances from their opponents in counted games. Because BC has so many blowout wins, only five of their games are being counted1, which magnifies the influence of variations in those team's rankings on BC's. For example, Princeton took a 4-10 lost to West Chester today, and their overall performance dropped their ranking by roughly 100 points. Their game vs Princeton currently makes up 20% of BC's ranking, so it drops them by roughly 20, enough to knock them out of any opportunity to pass Whitman.
#19 Whitman: The team that entered the weekend just inside the bid cutoff remains in a good position after today. The team is idle this weekend.
---
Currently Penn State, UPenn, Princeton, Columbia, and Towson. ↩