The first weekend of Regionals is here! We've got previews of the Northwest, Southwest, North Central, Metro East, and Ohio Valley Regional Championships.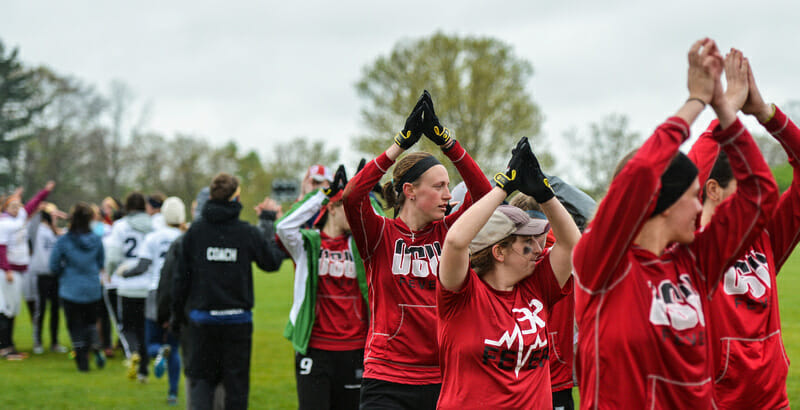 After a dramatic season loaded with surprises and upsets, the postseason is in full swing. Nationals is in sight and there's a sense that this year's title is up for grabs. That extends down to Regionals, where even the regions with serious favorites face some serious contenders. In what could be a historic wekeend, we've broken down the five Regional Championships and who to watch for.
Northwest
Tournament Profile
Remember last year, when the Northwest had five bids? We're living in a different era now. For the first time in over a decade, this powerhouse region will only have two bids to Nationals. Programs like Washington and Whitman that have grown accustomed to Nationals appearances will have to beat the weekend's favorites, and their fellow Nationals regular Western Washington won't be able to compete at all. So much has changed since back in January, when the entire Ultiworld staff predicted there'd be four or five of these teams competing in Cincinnati. 
No matter who walks away victors this weekend, Walla Walla will see a lot of broken hearts.
The Favorites: UBC Thunderbirds, Oregon Fugue
The #10 British Columbia Thunderbirds are the favorite for the Northwest region… by a hair. They're 2-1 versus Oregon Fugue so far this season, and they beat Fugue twice at Cascadia Conference Championships earlier this April.
UBC only played two regular season tournaments, but they're already peaking when it counts. They play with enough composure and disc skills to outlast Oregon's gunslinging, and with Ellen Au-Yeung, Victoria McCann, and Naomi Morcilla running the offense, the Thunderbirds should have an easy path to the regional final. Newomers Denise Su, Samantha Mew, and Kaitlyn Harper, along with grad student Laurel Oldershaw, have found a rhythm after being plugged in.
Yet nobody should ever underestimate #9 Oregon Fugue. This team is tough as nails, and they know how to dig their heels into the games that matter. Oregon has won seven straight Regional titles.1 Their roster features a healthy dose of talent, and they can play smart and nuanced defense that cripples offenses. Hayley Wahlroos has shifted between handling and cutting this season depending on where the team needs her, demonstrating she's more than just a flashy thrower. She's flanked by Ella Hansen, Lillian Weaver, and Sarafina Angstadt-Leto, all of whom are familiar with what success at Nationals tastes like. Rookie Maddy Boyle and grad transfer Alexa Romersa have added an energetic spark
Fugue still plays aggressive offense that creates both glory and turns, and it could get them in trouble if they end up in the backdoor bracket fighting for their lives. Their last game against Whitman went to double game point, and it could be a preview of the backdoor final. The idea of a Nationals with only two Northwest teams is surprising,2 but a Nationals without Oregon Fugue? Unimaginable.3
In Contention: Whitman Sweets
Last year, the #19 Whitman Sweets were in the National Championship final. This year, they're fighting to even earn a spot to Nationals at all.
Nobody predicted the rebuilding season that the Sweets have had, from a tough Stanford Invite to an even more difficult Northwest Challenge. But the post-Lozano era, coupled with a coaching transition, gave Whitman a lot to work on in 2017. None of their season's ups and downs will matter if they can edge past Oregon or UBC. Their best chance will be the 2nd place bracket on Sunday, where they can fight to the backdoor final and likely face one of these two teams after a tough failing attempt to win the region. With #25 Washington and Victoria as their potential foils – neither of whom has any major victories this season – it looks likely Whitman will get a chance to play for all of the marbles.
Southwest
Tournament Profile
The Southwest region is deep enough that their four bids to Nationals still doesn't feel like enough. The first three bids out of the region are locks, but once more, the fourth bid is easily within reach for three teams who have all played Nationals-caliber games this season. Once more, teams will have to play through a super bracket to qualify, and there won't be any easy games.
The Favorites: Stanford Superfly, UCLA BLU, California Pie Queens
There's no question that #2 Stanford Superfly is the heavy favorite for the Southwest region. We've made much of their mistakes this season, but the scoreboard is still in their favor: not only are they 9-0 against the field, but they've only lost three games all season. Courtney Gegg may still be playing limited minutes after injuring her foot late in the season, but Stanford has proved they don't need her in order to dominate.
Their only surprise may come in the semifinals, where, if all goes to seed, they would face #8 UCLA BLU. UCLA is the only SW contender that Stanford hasn't already played this season, but these teams are well matched and BLU knows how to challenge Superfly's composure.
The #7 California Pie Queens and UCLA BLU proved several times over this season that they are the clear no. 2 and 3 in the SW, despite both teams dropping games at their respective Conference Championships.4 The question this weekend is, who will rank higher? They're 1-1 so far this season with UCLA nabbing the more recent win at Stanford Invite 13-11. The Pie Queens looked stronger at Northwest Challenge, but UCLA was also missing their head coach Alex Korb for that weekend.
Last year, UCLA knocked California out in the semifinals of the 1st place bracket. This weekend they're on different sides of the bracket and are more likely to face off in the 2nd/3rd place bracket. Whenever they see each other, expect a adrenaline-soaked chess match.
In Contention: USC, UC Davis, UC San Diego
The #16 USC Hellions of Troy, #24 UC San Diego Psycho, and #23 UC Davis Rogue are the true sign of the Southwest region's depth. UC San Diego and UC Davis in particular have had impressive seasons as their depth and skill develops, particularly against out-of-region teams.
But development and depth aside, the fourth bid may have USC's name on it already. They played signature USC ultimate at SoCal Conference Championships in order to upset UCLA 10-9 in the final, bidding like crazy and attacking the deep space. They play hot and cold, so they're not a lock to take 2nd or 3rd; They are just as apt to explode past one of the favorites as they are to get upended. But with their season on the line, count on the Hellions of Troy to buckle down and grit out the needed wins. 
UC San Diego is not far behind. They lost to USC on double game point at Conferences, and they have consistently given top teams tough games this season. UC Davis faces a steeper path to the 4th place bracket final, but they're 1-1 with UC San Diego and could ride a hot streak into the 4th place final.
Ohio Valley
Tournament Profile
For a little while there it looked like the Ohio Valley might be a one bid region. That would have been a nightmare scenario for Pittsburgh or Ohio State, but a lot of fun for the drama lovers among us. But then Ohio State had a great weekend at Centex to shore up the second bid for the reason, which means that this weekend in Columbus, OH, will likely be a bit more straightforward. That said, Pitt finishing second in the Pittsburgh Conference Championships and thus finding themselves in the same pool as Ohio State on Saturday could make proceedings a little spicier than they otherwise would be.
The Favorite: Pittsburgh
In spite of that slip up to West Chester in the first place game in Conference Championship play, #5 Pittsburgh Danger still enters this weekend as the likeliest team to take home the Ohio Valley crown. They won this region a year ago by blasting Ohio State, dethroning the only champion the region had ever known. They now look to repeat that performance to cap off another strong regular season.
Third place finishes at Queen City Tune Up and Commonwealth Cup, and a second place finish at Northwest Challenge certainly indicate the strength of Danger's regular season. In those tournaments they've registered some big time wins, including defeats of Tufts, Virginia, Michigan (twice), Dartmouth, and Cal.
But they also haven't won a tournament this season, in spite of probably being the favorite at the Commonwealth Cup and definitely being the favorite at their Conference Championship. They are also 0-1 this season against the one team that should give them a real challenge this weekend: Ohio State.
Danger boasts a potent roster, bejeweled by some of the brightest stars of the 2017 season. Carolyn Normile and Linda Morse are two of the most dangerous (no pun intended) players in the division; Sarah Russek and Abigail Bomberger have had impressive enough seasons to garner U-24 tryout invitations; and Jessie Sun is leading the shortlist of Freshman of the Year candidates.
So the team has the pedigree and talent to warrant entering this weekend as the favorite, and they have the experience as well. Two-thirds of the Danger team that won the Region for the first time in team history is back again this season. Now they have a chance to do something that hasn't been done in the modern history of the program in any region they've played in: win back to back regional championships.5
Top Challenger: Ohio State
Pittsburgh's top and really only challenger for first place out of the Ohio Valley is #11 Ohio State Fever. OSU is the only other team to have ever won the region and they have done so five times, all in a row from the inception of the region in 2011 to 2015. As the hometown team, they have to like their chances of retaking the top spot of the region they dominated for half a decade.
Like Pitt, Ohio State has a strong roster. Sadie Jezierski and Stevie Miller are superstars; Corinn Pruitt has had a tremendous season6; Alaine Wetli, Mary Turner, and Alora Reiff are playmaking veterans; and budding stars Stephany Stumphauzer and Cara Sieber highlight the younger part of the roster.
Ohio State has a couple of wins over Florida and one over Tufts, but their win 12-9 victory over Pitt at Queen City is obviously their most pertinent result for this weekend. They'll likely have to play Danger twice more this weekend to win the region, so knowing that they have the ability to beat them could be an important factor. With each team lead by an elite duo, it may came down to which team has the best player on the field.
Whether Ohio State manages to top Pittsburgh for the regional title or not, they won't have much worry about missing Nationals. Beyond the top two, there's a drop off in program quality and any team other than Pitt or Ohio State making Nationals from the region would be stunning. Ohio State essentially locked up their Nationals spot when they earned the second bid for the region, now they can focus on regaining the Ohio Valley championship that had only ever been theirs before last season.
In Contention: West Chester
If there is a team that's going to upset the apple cart in Columbus, it has to be the team that already did just that during conference play. West Chester stunned Pittsburgh two weeks ago, and that is why they have the overall two seed. As a result, they manage to avoid both of the regional blue bloods in pool play and will have the easiest path to semis of anyone on paper.
Can West Chester do it again and steal a bid to Nationals? Honestly, it's very unlikely. Pitt and Ohio State will both know now not to sleep on the West Chester women, and with the stakes much higher than they were at the Pennsylvania Conference Championship, it would be truly shocking for them to pull off another upset here. But still, they've proven they have the ability to beat Pittsburgh, so if anyone is going to do it this time around, it's likely to be them.
Metro East
Tournament Profile
The Metro East and their auto-bid is a perennial source of debate. And to sing an old tune, the road to the College Championships in this region has perennially been one of the most hotly contested. With nine teams competing for one bid, it's bound to be a spicy and emotionally-charged weekend.
It's been a long time since we've seen a Metro East team make it into the bracket at Nationals. In fact, it hasn't happened since Ottawa made back-to-back runs to the quarterfinals in 2008 and 2009, and it's hard to anticipate any significant change to this trend. But, with the recent dismantling of the Northwest's #evilempire, suddenly everything in the women's division seems a lot less scary.
Almost every team has dealt a loss to another team at this tournament, and especially with inclement weather looming, the road to Cincinnati is essentially open.
The Favorite: Cornell
The Cornell Wild Roses have been busy this spring, hitting five tournaments to date–that's a whopping 27 games–and they can't complain about the results. With only two losses all season, both handily dealt by Tufts, Cornell is the easy favorite to earn their way to Mason.
They certainly have live game reps, but what's the legitimacy of all these games? Many of them were blowouts: most teams they've played have had a hard time scoring more than five points. Their best out-of-region victories are over Kennesaw State and Northeastern. Without facing much resistance, it's hard to say whether or not Cornell is prepared for Regionals.
Sitting at #32 in USAU's Power Rankings, they've done all they need to comfortably make it to the game-to-go. They have returning All-Region heavy-hitters like Lilly Mendoza and Kimberly Brown and they have a ton of chemistry built from their impressive winning schedule. They play fast and create big windows for their throwers to hit. With their four tournament titles this spring, including a 13-4 victory over Ottawa over a 14-8 win over UConn, Cornell will at least be walking into this weekend with some confidence.
Top Challenger: Ottawa
Perhaps the opposite of Cornell, Ottawa didn't play out their ten sanctioned games this season and are going into Regionals unranked and unknown. The scrappy Canadians will be looking to defend their regional title from 2016, and they're going to do it as a relatively unseen team.
The departures of scoreboard leaders Isabelle Bedard and Maude Carrier-LaForte will absolutely leave a hole in Ottawa's system, but the long-time leaders are survived by Isabelle's sister, Camille, who can be expected to shoulder a great deal of offensive movement. Paired with speedster Corrine Giorgetti, the two can be expected to dominate the lanes, particularly running down hucks from captain Anna Blinder. The GeeGees have the potential to rip through their Metro East opponents if they can get their momentum going.
In Contention: Columbia, UConn, Princeton
Columbia, Princeton, and Connecticut finished first through third at Eastern Metro East Conference Championships. Columbia bested UConn 12-6 in the final, but only after UConn had a narrow 11-9 win over Princeton in the semis. The latter two teams had to face each other again for the second place final, and this time Princeton came out with a decisive 14-9 win.
Columbia will follow Sophie Hulbert, and out of all of the ME teams, they might have had the most challenging regular season and the most practice taking on a higher level of competition. Hulbert, and center handler Steph Huang, will need help from their teammates this weekend. They're going to have both Ottawa and Connecticut chomping at their heels though in Pool B, and winning the pool will provide a vital Sunday advantage. Pool B's second place finisher will be sent to Cornell's side of the bracket, while the third place finisher will be tested by whoever finishes second in Pool A.
That team is likely Princeton. Remember that time Princeton overtook Notre Dame at the 2015 USAU College Championships? They still have Jane Urheim, who was already the leading her team in goals in assists two seasons ago in Milwaukee. She has the kind of skills on both sides of the disc that changes games, and every team in Simsbury will be looking to slow her down. After missing basically an entire season with injury, Urheim is back in play to make Princeton a contender.
UConn has a history of toppling Ottawa in the game-to-go, and like Cornell, have a ton of wins under their belt thus far. They've only four losses: three of them are from Cornell, Princeton, and Columbia. Their trio of Marissa Aldieri (the thrower), Montana Bertoli (the cutter), and Ariel Virgulto (the defender) gives them the tools to reverse their fortunes against their Metro East compatriots.
North Central
Tournament Profile
The Favorite: Carleton
Despite losing to Iowa State 13-11 in the Conference final, #17 Carleton Syzygy has the talent and focus needed to reclaim the North Central title this year. Last year's rough edges were polished into sharp tools this season, and their returning core stepped into more defined roles that play to their strengths, bolstered by a strong rookie class. Syzygy demolished the rest of their Conference outside Iowa State, and they're unlikely to hit obstacles en route to the final this weekend. They'll have Claire Thallon cleated up again after she missed Northwest Challenge with injuries, but they'll still be missing the downfield stalwart Caroline Sheffield. 
The ceiling on this Carleton team is certainly the highest in the region. They've got four top 10 victories – one over each of Notre Dame and Cal, plus two over Pittsburgh – while the rest of the region doesn't have any. They've also had odd blowout losses where they never get going, like their season opening loss to Tufts or their Northwest Challenge ending loss to Whitman.
Carleton missed Nationals last year after winning the region for three straight years. No doubt they're fired up by the opportunity to reclaim their title spot in the North Central.
Top Challenger: Iowa State
#21 Iowa State Woman Scorned upset Carleton to win the Western North Central Conference, but the win was far from a fluke. Iowa State quietly built an excellent 2017 season after several years of rebuilding. They won Old Capitol Open as well as Midwest Throwdown, and last season's young roster has become an athletic unit that crushes the deep space. Megan Halverson leads the charge for Woman Scorned as a composed and skilled handler, and she's been the missing piece for Iowa State's athletic downfield cutters to play off of. Veterans Linda Behrer and Britnee Grimshaw flank Halverson, and Caitlin Durston can grind out scrappy plays when the team needs them.
Woman Scorned will have their scopes aimed at Carleton again this weekend, but they cannot lose sight of the other teams. While Iowa State has gone 12-1 in-region this season, narrow wins over No. 3 and 4 seeds Wisconsin and Minnesota, and a one goal win over Iowa, demonstrate that underperfoming could end their chances at getting back to Nationals for the first time since 2013. They have blown out Minnesota and Iowa at other points this season, so when focused, they have the talent to dominate.
In Contention: Wisconsin, Minnesota
We came into the season expecting Wisconsin and Minnesota to hover around the back end of the top 25, and that has mostly come to fruition. Accordingly, they come into North Central Regionals as underdogs that need a lot to go right to get through the favorite. The only difference is that Iowa State has usurped their position.
For Wisconsin Bella Donna, the season started off strangely. They got their best win of the season in their first game, defeating Florida at Queen City Tune Up. A couple of rounds later, they were upset by Clemson, and lost three of their next four in the lower consolation bracket. They failed to record a winning record at any regular season event, and spent a lot of the regular season trying to secure roles and get people comfortable in them.
The bright side is that Wisconsin has steadily improved. They've increased their number of wins at each of the past two tournaments and went undefeated at their Conference Championships. If they've seen development from Sabrina Hoffman, Molly Berkholtz, Jackie Welsch, and Sarah Mondschein, they could prove a real threat to the top two seeds. Anneke Vermaak and Britney Kokinos, when healthy, are maybe the best top two in the region, but Wisconsin can't afford to lose the other matchups on the field.
The Minnesota Ninjas, like Iowa State, are looking to get back to Nationals for the first time since 2013.7 They sport an ugly 0-5 record against Carleton and Iowa State, but do have their QCTU victory over Wisconsin. There's depth to rely on here – they get steady contributions from at least eight players – but they've struggled to all play well in the same game and execute. Without any big wins this season, Minnesota will need to step up their play to a whole new level at Regionals to make a run.
---