Richmond fulfilled their potential with their run to a Division III title.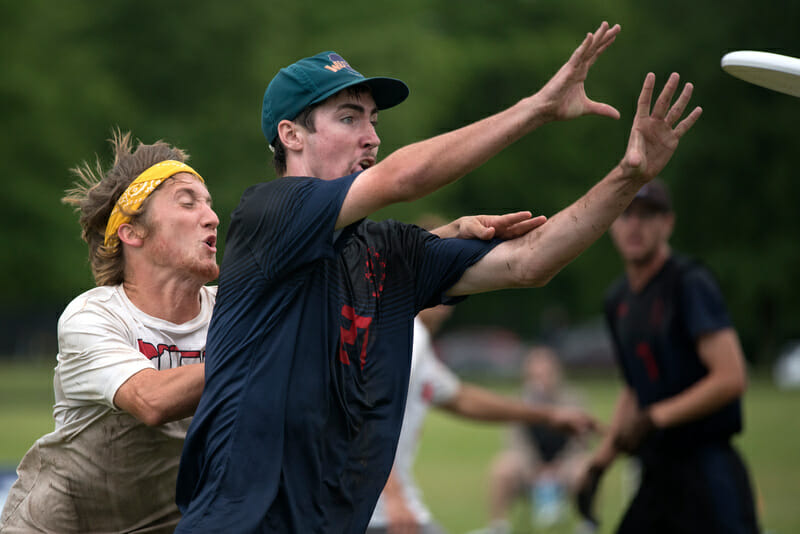 Ultiworld's reporting on the Men's division of the 2017 D-III College Championships is presented by Spin Ultimate; all opinions are those of the author. Please support the brands that make Ultiworld possible and shop at Spin Ultimate!
In an all-Atlantic Coast final, Davidson Duff and the Richmond Spidermonkeys squared off in a back and forth matchup that will surely go down as one of the early classic games from the Division III College Championships. Richmond fought through Davidson's runs with runs of their own to close out a 15-12 victory.
Richmond senior captain Henry Babcock, who won the inaugural Donovan Award after the game, led his team to the win with six assists, two goals, and three blocks.
But it was no easy win. Davidson started off the game hot, breaking Richmond on the first point. "We made a bad habit of getting broken to start the games all weekend," Richmond coach Matt Graves said. "It was something that motivated and pushed us, though." Davidson's energy was immediately known, as they sported a loud sideline and a very active defense.
After the opening break, Richmond found their footing and picked up three straight points to take a 3-1 lead. Babcock made a big impact in the early run, contributing two assists and a big huck that led to a goal.
The teams traded points before Davidson answered back. Behind standout freshman Andrew Roy, Davidson went on a 4-1 run to retake the lead at 6-5. Roy was the engine that moved the offense, using big huck fakes to open up easy swings and underneath throws. On defense, Roy made sure to pick up the toughest matchups, frequently guarding Babcock. "He wants to draw the other team's hardest matchup. That's what he asks for every time," said Davidson coach Erec Hillis. "He's going to be one of the absolute core members of our program for the duration of his time at Davidson."
The back and forth fight continued as Richmond scored three straight to take an 8-6 halftime lead. By this time, Babcock had picked up five assists, and had transitioned from playing his traditional D-line role to making contributions to both lines. "We crossed Henry over a couple times to O-line just to add a little extra firepower," said Graves. "Just to try to tilt the odds in our favor."
Despite the small runs Richmond put together, they were never quite able to pull away like they had against so many other teams throughout the tournament. "Davidson's a great team, so we were never going to pull ahead and break the game open," said Graves. "We've lost to them twice before. And in those games they were always fighting, just sticking to their system, working hard. And we knew that they would push us."

After trading points out of half, the Davidson defense stepped up their intensity, pressuring every Richmond throw. Tight marks and bidding defenders caused high stall counts and turnovers by the Richmond offense. With a hold and two consecutive breaks, punctuated by a Roy layout D and huck to Henry Siebentritt, Davidson retook the lead at 10-9.
The Richmond offense, trying to regain momentum, worked the disc slowly up the field and punched in a tough, game-tying score after patiently working through the red zone. The Richmond defense responded with energy and effort. Huge bid attempts by freshman Xavier McCormick ignited the D-line. Despite not getting a block in this run, Xavier's energy picked up the rest of the team and helped stifle the Davidson offense. After a Davidson turnover, Babcock scored on an upline throw from Evan Crawford and celebrated with a booming kick spike that brought the Richmond sideline to life. Richmond got another break, to take a 12-10 lead. With soft cap looming, Richmond never looked back.
Richmond held on to close out a 15-12 win to secure the D-III title. Davidson's Chris Johnson and Kaylen Alexis both made major contributions to the game, as Johnson finished with two goals, one of which was a layout that helped spark a run, while Alexis finished with three assists and one block. Sophomore Pat Murray also put up four assists and two blocks.
Throughout the weekend, Richmond proved themselves time and time again. In the semifinal win over Bryant, Richmond showed an ability to play through adversity, as they trailed early, and came back to win, 14-10. "I thought there were like eight teams that could have won this. And just knew that we'd have to come in and play our best," said Graves.
Richmond contributions came from all over the team, as players all around stepped up big for the Spidermonkeys. "Our freshmen [have] been huge all weekend," said Babcock. "They're playing their best ultimate of the season. We've asked a lot of them all season, and they've stepped up to the challenge." Three freshmen suited up for almost every D point.
It was an entertaining and high-level game between two very talented teams. It may have marked a high-water point for Division III.
"I want to eventually look back in history and see, but the Division is just getting better and better each year," said Graves. "Teams aren't going to say, 'Oh this is a D-III team. We can take this easy.'"
Ultiworld Full and Plus subscribers will get access to video footage from the final. Subscribe to Ultiworld today and help us reach our goal in our subscription drive! Your subscriptions directly support our independent journalism and reporting.