One of the biggest rivalries in the sport provides plenty to get excited about in Pool B.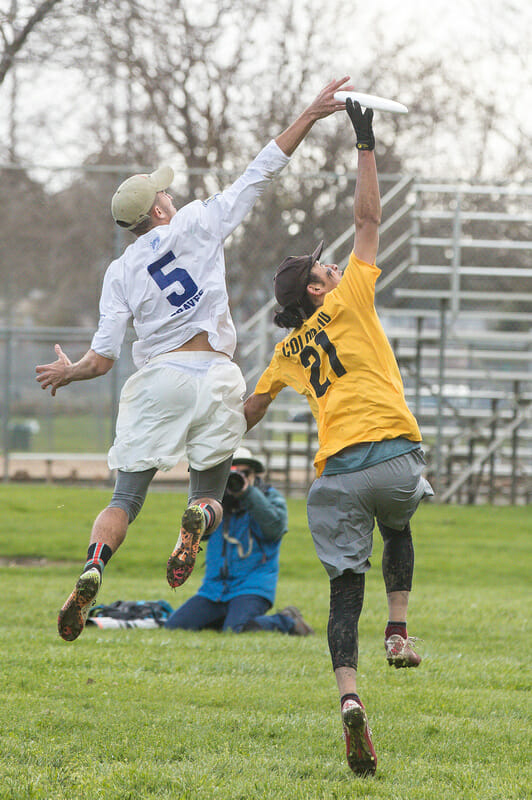 Ultiworld's reporting on the Men's division of the 2017 D-I College Championships is presented by Spin Ultimate; all opinions are those of the author. Please support the brands that make Ultiworld possible and shop at Spin Ultimate!
Pool B may lack the eye-popping aesthetic of the other groupings, but it does have two very good things going for it. First, Pitt and Wilmington are going to play1 and, second, this is the only pool in which all teams attended Nationals the previous year. These combatants can get right down to business at the sound of the Round 1 horn.
As Pitt and Wilmington circle each other like two kids that agreed to fight after school, with a raucous crowd going nuts all around them — making you wonder if it's just the bloodlust of the mob keeping the rivalry alive — don't lose sight of everything else that's going on in Pool B. Connecticut is athletic and probably better than the scarlet letter of "Metro East Qualifier" would suggest. A top heavy Texas A&M team will benefit greatly from the format. Aside from having the college ultimate tweet of the year, Michigan is a high quality team that just goes about its very efficient business and could grind their way into an upset win or two.
The layout of this pool has given each team some sneaky advantages. Hard to think this one will go chalk.
Pittsburgh En Sabah Nur
Seeding: B1, Overall #2
Power Ranking: #2
Overall Record: 32-3
Against the Nationals Field: 13-3
Against the Pool: 1-0 vs. Michigan, 1-0 vs. UNC Wilmington, 2-0 vs Texas A&M
Key Matchup: UNC Wilmington, 10:30 AM Saturday
How many college ultimate fans out there would've had Pittsburgh sitting here as the tournament's No. 2 seed if you polled them in June of 2016?
After a memorable double game point semifinals exit last year at Nationals, Pittsburgh graduated some tremendous talent like Pat Earles, Max Thorne, and Callahan winner Trent Dillon. Yet, here they are again, atop another grouping and looking to for their third national title in program history.
It's been a pretty typical spring for Pitt in terms of regular season success. They won Warm Up and Stanford, lost in the final of Easterns, and picked up only three losses along the way, all to top 10 teams at Nationals — Minnesota, Massachusetts, and Wisconsin.
A major reason for Pitt's sustained success at the top of the college division is a defensive team that returned intact with seven starters ready to go from the 2017 campaign.
"I think what's been really impressive is the players' versatility," assistant coach David Hogan said of the veteran defense. "It's really a lot of people that are intelligent and versatile, and that let's us be more flexible with how we play defense and how we play offense. That's in addition to them just becoming better players, but I think they've all become more well-rounded."
Roles have indeed expanded on the D-line. Sophomore Mike Ing, who covered cutters almost exclusively as a freshman, is now able to comfortably guard the opposition's star handler. Saul Graves and Callahan nominee Carl Morgenstern can defend either position and do whatever is needed to churn out breaks on a turn. Another year of unit cohesion is never a bad thing for a cannon-armed hucker like Sam VanDusen, who gives Pitt the ability to capitalize on turnovers from anywhere on the field in one throw. He has unquestionably been his team's breakout player. Keep an eye on VanDusen this weekend if the conditions are windy — he will be called over to offense to keep opposing defenders leery of the huck.
While the household names that dominated the stats columns in the past may be gone, Pittsburgh's offense is as efficient as ever.
"It's much more egalitarian," Hogan said of his team's offense. "We try to keep it pretty spread around. Not really becoming overly reliant on one or two players. That's not necessarily a reaction to what [personnel] we had last year, it just fits who we are better."
Helping to ease that stylistic transition and distribute the disc is the rock steady handling corps of Jack Slevin, Jonah Wisch, and Thomas Edmonds. Each possesses the skills that make handlers individually elite: resetting, breaking, hucking, etc. This trio has only been together on the field since the fall, making their chemistry all the more impressive. In 2016 Wisch was sidelined with a shoulder injury and Edmonds still an undergraduate at the University of New Hampshire.
The back-to-back championship years of Pitt ultimate are now fading further in the rearview mirror. No player on this team has two medals. With this Nationals field, Pool A is the best possible scenario for Pitt.2 A good showing in this grouping will put them in a great position to add some hardware to the trophy case.
Pitt and Wilmington square off at 10:30 on Saturday morning. These two always play each other tight, like Pittsburgh's 15-13 victory over the Seamen at Easterns. Be ready to refresh Twitter.
Michigan MagnUM
Seeding: B2, Overall #7
Power Ranking: #8
Overall Record: 28-5
Against the Nationals Field: 4-5
Against the Pool: 0-1 vs. Pittsburgh, 0-1 vs. UNC Wilmington, 1-0 vs.  Connecticut
Key Matchup: UNC Wilmington, 2:30 PM Saturday
Michigan MagnUM has put together a strong season. They have just five losses on the season, all to Nationals-qualifying teams. However, like Pool B playmates Pittsburgh and Connecticut, Michigan hasn't seen much competition since the regular season ended.
Michigan has rolled through the Series thusfar — pitching two shutouts at Great Lakes Regionals and posting a whopping +70 point differential on the weekend. It's difficult to gauge improvement and performance in a dominating effort like that, but head coach Tyler Kinley is too experienced to leave a tournament without takeaways.
"We earned every point differential we got. I was very impressed with our team's ability to just pound out every single point," Kinley said. "Winning 15-2 takes work."
The weather at the regional tournament was atrocious and provided another challenge to overcome. To win (and win convincingly), Michigan had to stay checked in and focused all weekend.
In the absence of challenging in-region competition, MagnUM has put in extra work scrimmaging the local Nationals-caliber club team, Michigan's High Five, who Kinley also coaches.
Offensively, Magnum will be anchored by Jake Steslicki and Callahan nominee Noah Backer, who can punish defenses on the break side and in the deep space (even the really deep space), but expect them to rely more on an overall depth of quality players rather than a few guys to get every other throw.
In sports, teams without defensive standouts are sometimes referred to as faceless or nameless armies. That's… not Michigan. Not because their defense is so packed with studs that there are too many guys to name, but because they somehow have three sets of twins on the roster who all play defense. Alex and Michael Roberts. Steve and Chris Jacobson. Bobby and Jake Moyer. That's really, really strange and, in all honesty, probably provides some kind of unfair competitive advantage that twin-less people will just never understand.3
Mathematical outliers aside, Michigan plays a heads-up style defense that will make the other team work for everything.
"We have a plethora of just grinding workhorses," Kinley said. "They're very capable of switching, they're very capable of playing hard man D, and on the turn they have a system, and they run it great."
That crew of grinders includes mainstay Josh Becker and D-line handlers Travis Compo, Joe Krieger, and Nick Gerber, who will be tasked with making the most of break opportunities. If you're a MagnUM fan, you've got to be encouraged about a team that switches well. Good switching means smart defenders can save energy and play more points.
Michigan is the second seed, but they're 1-2 against the rest of the pool, with a 15-8 loss to Wilmington (albeit early) at Queen City Tune Up. Their last round rematch with the Seamen on Saturday could have some major bracket play implications.
UNC Wilmington Seamen
Seeding: B3, Overall #11
Power Ranking: #10
Overall Record: 22-6
Against the Nationals Field: 2-5
Against the Pool: 0-1 vs. Pittsburgh, 1-0 vs. Michigan
Key Matchup: Pittsburgh, 10:30 AM Saturday
You can almost hear the cheer droning from the sidelines now…
"Wiiiiiiiiiiilllllllmmmmmmmiiiiiiiinnnnnnngggggggggtttttttttttooooonnnnnn…"
But to hear that cheer deep into the bracket play in Ohio, UNCW will need to get it together after laying eggs in back-to-back trips to Nationals. In 2015, Wilmington was the tournament's overall No. 4 seed and flamed out in prequarters. Last year they were seeded third and failed to qualify for the bracket.
Now, at No. 11 and in a pool where they fear absolutely no one, UNCW is right where they want to be.
"We're probably one of the smaller schools as far as student population. To go up against big state schools, even when we're the favorite, we try to have the underdog mentality," head coach Brian Casey said. "That's kind of where we've made our mark and thrived from an identity standpoint. I'm happy with our seed."
With that underdog mentality comes another one of Wilmington's hallmarks: a scrappy defense. The Seamen can bring steady pressure in person defense but can run zone looks that junk up the lanes and force teams to throw that extra pass. More throws means more opportunities for defenders like Kevin Mateer to play takeaway.
In an effort to get deeper for the coming turnover, there are seven freshmen on the roster — a concerted contrast from only one rookie in 2016. But this team is still laden with veteran depth like Austin McGrayne, graduate student JD Hastings (who has played on Sunday of Nationals many times before with UNC), and utility man Daniel Mercer.
Wilmington also has an ace in Jack Williams, who may well be the best player in the division. Williams is a terror on both sides and has a legit shot to leave the tournament with Callahan or Player of the Year honors. He's one of those players that would have Madden scores in the upper 90s in all facets of the game — cutting, handling, defending — you name it.
"It would be easier to answer what he can't do," Casey said of his star player. "We ask a lot of him. We put him in a lot of different roles… He's pretty dynamic."
When you have the best player at the tournament, you always have a chance. Look no further than Harvard's run to the National final last year on the back of John Stubbs.
Maybe with a modest three seed in the pool, now that it's on paper, it will be easier for the team to internalize and believe: Wilmington is the underdog again — and that's dangerous for everyone else. If they come out firing on Friday, UNCW will be in a great position to upset the apple cart in Pool B.
Texas A&M Dozen
Seeding: B4, Overall #14
Power Ranking: #17
Overall Record: 23-9
Against the Nationals Field: 3-4
Against the Pool: 0-1 vs. Pittsburgh
Key Matchup: Connecticut, 12:30 PM Saturday
Without a transcendent talent like Dalton Smith, there were some serious doubts that Texas A&M Dozen could make a fourth consecutive trip to Nationals.
@Ulti_world @SinTheFields pic.twitter.com/PlEAqEO49P

— Texas A&M Ultimate (@DozenUltimate) May 7, 2017
But after a dominant win over Texas in the game-to-go at Regionals, Texas A&M is back.
"After tryouts, we had a team meeting and we made goals," captain Carter Hollo said. "Our goal was to make Nationals this year."
A&M is not a particularly deep team when compared to the rest of the field, and Hollo's big frame and big throws make up an important part of a nucleus that will be relied on to do a lot of the heavy lifting. Hollo and handler Connor Ughetta will make the important throws for Dozen's offense, which will be without the strong downfield play of Jamie Wall for the weekend due to a summer work commitment. Wall's absence is a problem A&M will need to solve quickly. Someone will need to step up in a hurry and find those missing goals for the O-line to have success.
On defense, Callahan nominee Zach Marbach can manufacture spectacular blocks seemingly out of nowhere. Being shorthanded on offense puts Dozen in an interesting position. Marbach will undoubtedly see some time on offense, though it will need to be balanced to maximize his effectiveness as a defender.
"We just need our other six guys that are on the field with him to do what we've taught them and hold true and be disciplined," Hollo said of his co-captain. "And let a playmaker like Zach make the plays."
It's all about defensive conversion for A&M. Can they get breaks from the efforts of Marbach and the defense?
This Texas A&M team has defied the odds all season. It was always going to end up in a showdown with Texas at South Central Regionals and they rose to the occasion. Now Nationals is their ultimate reward, and an oasis for their style of play. With only two games a day Dozen should have the legs to play near savage and give every game their best shot.
Connecticut Grind
Seeding: B5, Overall #18
Power Ranking: unranked
Overall Record: 22-12
Against the Nationals Field: 2-8
Against the Pool: 0-1 vs. Michigan
Key Matchup: Michigan, 10:30 AM Saturday
[Insert Metro East joke here]
15 minutes ago https://t.co/c0MDH4cdo6

— UConn Ultimate (@UConnGrind) May 27, 2016
Oh. Thanks.
There were some growing pains, like a 1-8 start to the spring, but Connecticut spent time developing the roster and it's paying off.
"That's what kind of set the tone early in the season — just getting better," coach Bryan Jones said in reflection. "We're just all going to try to get individually better."
Grind's approach and tournament schedule make up the first few chapters of a "How To" book on building a program over the course of one spring.
They took their lumps at Carolina Kickoff. Then they spent the money to fly across the country to play against the nation's best in Stanford where they got a big confidence boosting win over Washington. Jones and team leadership wanted to find a way to get more playing time for the seven rookies they invested in, so they went to College Southerns.
There was a huge win against Colorado at Easterns, and Connecticut put a bow on the season by cruising past everyone in a subpar region to claim the lone bid to Nationals. Though the rest of UConn's "DIY: Nationals Sustainability" manual has yet to be written.
"I look to programs in the past that kind of built out from nothing," said Jones. "We want to be what Pitt was in 2004 and climbing the ladder in that way. Where Pittsburgh was coming in as one of the bottom seeds [at Nationals] and trying to get better."
Sleeping on Connecticut would be a mistake. Many of these guys were on the field last year when they pulled off the upset of the tournament, taking down Wilmington as Grind's John Wodatch went bonkers and turned in a complete game. First Nationals jitters won't be a factor for Grind this time around.
Look out for playmaking deep threats like Mike Rice and Gavin Clemmey. Jake Woodrow-Hansen and Pat Kunkel will start the vertical stack attack.
"This team isn't without expectations," Jones said emphatically. "We're trying to make the bracket. That's been our primary outcome goal."
At the very least, Connecticut should be fun to watch. They're more than just happy to be here.
---
A game which will not be livestreamed by Ultiworld — a decision which should bring the organization and its administrators great shame. ↩

If only by virtue of not being Pool C or D, which look absolutely insane. ↩

Apparently Adam Stautberg is a triplet, but his siblings don't go to Michigan, thank god. ↩