Minnesota's title defense starts against blue blood programs Oregon and Wisconsin.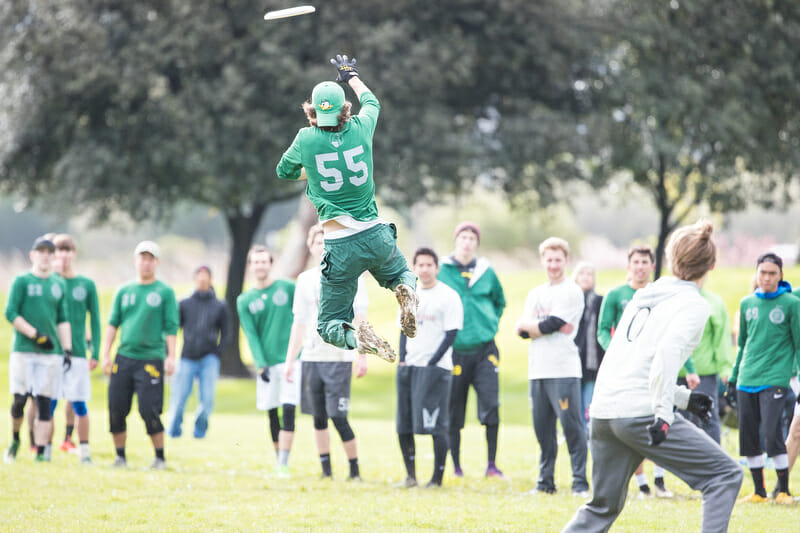 Ultiworld's reporting on the Men's division of the 2017 D-I College Championships is presented by Spin Ultimate; all opinions are those of the author. Please support the brands that make Ultiworld possible and shop at Spin Ultimate!
Pool D has something for everyone, from the nouveau riche defending champions Minnesota, the blue blood legacy programs Oregon and Wisconsin, an always talented but inconsistent Nationals contender in British Columbia, and upstarts getting their first crack at Nationals glory in Virginia Tech.
While these programs took different routes to get here, something that unifies the teams in Pool D is the notion of potential muddled by inconsistency. Each team has shown the makings of greatness over the course of the season, but with some serious question marks remaining on the table. Nationals has a way of resolving questions and when the dust settles on Pool D, we'll see which teams were mere potential and which had the substance to back it up.
Minnesota Grey Duck
Seeding: D1, Overall #4
Power Ranking: #3
Overall Record: 30-4
Against the Nationals Field: 6-4
Against the Pool: 0-0
Key Matchup: Wisconsin, 8:30 AM Saturday
After their dominant offense silenced all opposition at Nationals last season, the 2016 champs have kept their heads down for most of 2017. Electing to not attend the two biggest regular season tournaments, Stanford Invite and Easterns, Grey Duck has stayed somewhat under the radar, popping up at mid-tier affairs such as Centex and Huck Finn. Their title defense began in earnest at Regionals, where they notched a 12-11 win over Carleton to take the North Central title. With their home region in hand already this season, Minnesota Grey Duck sets their sights on bigger game — a repeat performance at College Championships.
If you're looking for a historical comparison that presages a Minnesota championship run this weekend, then Pittsburgh's 2013 title is the blueprint. A roster full of returners grinds though a less than dominant regular season plagued by some injury troubles, but gets healthy and back into top form just in time to sweep through the competition at Nationals. You can go even deeper with it if you really want to start connecting some dots. Ben Jagt acts as a passable stand-in for Tyler Degirolamo, the offensive handler core is maddeningly efficient, and Minnesota is the overall No. 4 seed, just like Pittsburgh in 2013.
The real substance of the comparison though gets to the idea of peaking, of a team rounding into form at the right time. Pittsburgh in 2013 didn't necessarily look like world beaters all season, but they left no doubt after Nationals that they were the undisputed champs. Minnesota has all the pieces to mirror that performance, and their trajectory this season indicates that they are hitting their stride at just the right time.
The process of taking a championship winning team and molding it into something stronger — not just a tribute act to the team that won the year before — can be tricky and leads to some bumps along the way. But by doing enough to earn the top seed in a pool while also fighting though some growing pains, Minnesota put themselves in a good position. They've learned this year how to play without guys like Sam Bumsted for much of the season and now have an entire roster ready to step in and make plays.
Winning a tough North Central region shows that Minnesota is starting to put it all together. If Grey Duck are peaking at the right time, it spells trouble for Pool D and the rest of the field in Cincinnati.
Oregon Ego
Seeding: D2, Overall #5
Power Ranking: #9
Overall Record: 32-6
Against the Nationals Field: 11-5
Against the Pool: 0-1 vs. Wisconsin, 2-0 vs. British Columbia, 3-0 vs. Oregon State
Key Matchup: Wisconsin, 12:30 PM Saturday
The seemingly perennial Northwest champs surrendered the regional crown for the second time in three years, landing them in a tough Pool D that will test the mettle of a team that has shown flashes of brilliance.
The good for Oregon this season: An 11-5 record against other Nationals bound teams, including a thumping 13-7 beat down of Carleton in the quarterfinals at Stanford.
The bad: Close losses to Massachusetts and Cal Poly SLO at Easterns and a head scratching loss to UC Santa Barbara at Prez Day that cost Ego a trip to the bracket entirely at both tournaments.
So what do we make of those two indicators? Who is Oregon? Right now they appear to be a talented team that can hang with anyone in the country, but not one that has been able to string enough strong performances together to make deep runs at many tournaments. In the punishing Nationals format, when one small slip can mean the difference between advancing and ending the season early, that could be a big problem. The story for Oregon in Cincinnati will be whether they can finally find the consistency that has eluded them all year.
The bright side of the consistency problem for Oregon is that they clearly have the ceiling to do some major damage this weekend. While their defense has some question marks, when Ego's offense is clicking, it is one of the most effective units in the country. With Colton Clark able to shift the geometry of the defense with the range of his throws and the ability to throw out three or four players on any point that are all faster than virtually anyone the defense can throw at them, Oregon's offense can make elite ultimate look like a game of catch.
Check out this play from Easterns, when Adam Rees just flat out runs past the deep help poaching in the lane and reels in a bomb from Clark that broke UMass's coverage scheme.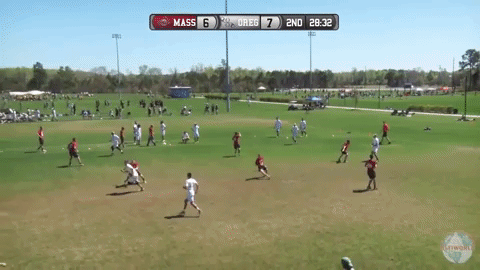 It seems elementary, but to a certain extent, you can beat anyone if you can just do that 15 times a game.
What may determine Oregon's fate in 2017 is the maturity of their young players. After two straight seasons of excellent freshman classes, Ego's stable of young talent is as good as any program in the country. Players like Will Lohre, Xander Cuizon-Tice, Duncan Fitzgerald, Colby Chuck, and Ted Sither all play big roles for Oregon, making their roster more youth-orientated than most of the other top seeded teams at Nationals.
Young stars can often play high variance ultimate, and perhaps that explains some of the highs and lows of Oregon's season. Ego will need these young guns to lock in and play like weathered veterans if they want to end the season on a high note.
Wisconsin Hodags
Seeding: D3, Overall #9
Power Ranking: #4
Overall Record: 27-11
Against the Nationals Field: 7-6
Against the Pool: 1-0 vs. Oregon, 1-0 vs. British Columbia, 1-0 vs. Virginia Tech
Key Matchup: Oregon, 12:30 PM Saturday
For the second straight year, Wisconsin entered North Central Regionals looking like one of the best teams in the country, only to literally get stuck in the mud.
Before Regionals, the Hodags appeared to be ascendant. Iffy results at Florida Warm Up were improved upon with a promising performance at the Stanford Invite, which included a nice 13-9 win over Pool D foe Oregon. Wisconsin really spread their wings and took off at Easterns, scoring upsets over Pittsburgh, UNC Wilmington, and North Carolina before losing a phenomenal back-and-forth semifinal to Massachusetts.
All of this momentum came to a shocking halt at Regionals, as the Hodags had to battle their way through a rain-soaked and muddy backdoor bracket after losing to rival Carleton and shockingly capitulating to Iowa State in pool play. Bad weather has been the Hodags's kryptonite dating back to last season, famously rearing its head in their quarterfinal loss to Pittsburgh at Nationals; this year seems to be no different.
Wisconsin were eventually able to recover this year and earned their bid to Cincinnati by stomping ISU to the tune of a 15-6 final score, but for a team that looked like a real title contender heading into the Series, limping to a third place finished in the region and ending up third in their pool did them no favors.
This drop in form may not have helped Wisconsin's chances, but it does set up a stacked Pool D with three bona fide title contenders all in the same pool. What puts Wisconsin in that category is their defense and the strength of their offensive cutting core.
It's somewhat rote to talk about the person defense of Wisconsin at this point, and the Hodag D-line may not be the same baby blue nightmare it has been in years past, but suffice it to say that big, strong, fast defenders make moving 175 grams of plastic 70 yards pretty difficult.
But the question for Wisconsin was never going to be their defense. After losing the big throws of Craig Cox and the blinding speed of Aaron Speiss, Wisconsin's offense needed to be restructured for 2017. The coaching staff decided to double down on the cutting core, by moving handler Avery Johnson downfield and rolling out a terrifying line of Johnson, Callahan nominee Ross Barker, Nicholas Vogt, and Chris Wilen. In the open field, those four have proven to be all but unstoppable, with Johnson capable of delivering devastating continuation throws out of motion.
The Hodags want to turn games into a track meet, so naturally teams have started throwing a lot of zone looks Wisconsin's way. UMass's big cup zone produced several key breaks against the Hodags in the semifinals at Easterns, so expect Wisconsin's opponents in Pool D to follow suit and force the vulnerable Wisconsin handling core into uncomfortable positions.
Wisconsin are just about as dangerous a three seed as a pool could have, and their games against Oregon and Minnesota should produce bracket-caliber fireworks early in the weekend. Their stumble at Regionals gives the Hodags a tough road, but it provides us with some extremely compelling matchups in Pool D.
British Columbia Thunderbirds
Seeding: D4, Overall #16
Power Ranking: #15
Overall Record: 21-12
Against the Nationals Field: 6-10
Against the Pool: 0-2 vs. Oregon, 0-1 vs. Wisconsin
Key Matchup: Oregon, 8:30 AM Friday
Entering the Northwest Challenge in late March, British Columbia had a mediocre 7-7 record and no notable wins to speak of. That script flipped in a hurry, as they tore through NWC, going 6-0 and knocking off eventual Northwest regional champ Washington in the process. This hot streak carried into the Series and the Thunderbirds finished third at a deep Northwest Regionals, finally making Nationals after losing in games-to-go the past two years.
While just making it to Nationals is an achievement after coming so close the past few seasons, UBC maintains that they are just getting started. "Making Nationals was more of an expectation than a goal this year," said veteran handler Sam Creed. "The goal was always to win Nationals."
This may seem a tad aspirational, particularly considering that UBC is 0-3 on the season against teams in Pool D, with two losses to Oregon and a 10-7 defeat at the hands of Wisconsin. But it is an open year in the men's division, and you can't win the lottery if you don't believe in yourself enough to buy a ticket. So can the Thunderbirds turn some heads and fight their way deep into the bracket? The quality of the teams above them makes for some tough sledding, but they certainly believe in their ability to score some upsets.
That belief isn't entirely misplaced, as there is real talent on the roster. Hugh Knapp has gigantic throws and a speedy core of cutters and deep defenders should be able to keep pace with the athletes on Oregon and Wisconsin. But that talent needs to come together, and outside of their win over Washington at the Northwest Challenge, it's hard to find too many examples of British Colombia getting across the finish line against top opponents. Nationals would be a good time to start.
Virginia Tech Burn
Seeding: D5, Overall #20
Power Ranking: Unranked1
Overall Record: 18-16
Against the Nationals Field: 3-7
Against the Pool: 0-1 vs. Wisconsin
Key Matchup: British Columbia, 8:30 AM Saturday
Usually, the 20th seed at Nationals is a squad from the bowels of the USAU rankings that came out of nowhere to seize a bid to Nationals.
Things are a little different this season, as Connecticut's competence has the Metro East's representative rocketing all the way up to the unprecedented heights of the 18th seed. More importantly though, while Virginia Tech did snag someone else's bid to earn the team's first Nationals appearance, they are not coming out of the woodwork. With three wins over Nationals teams on the season and appearances at the Stanford Invite and Easterns, Burn will be coming to Nationals with experience that belies their seeding.
On the back of a fierce D-Line and the standout play of Rhys Bergeron, Virginia Tech clawed their way back from 10-6 down against North Carolina State at Regionals to scoop up the Atlantic Coast's third bid. Now, there are two ways to look at that result and they will likely inform your feeling on Tech's chances at Nationals.
On the one hand, that kind of tenacity and never-say-die attitude is going to be key for a team that is likely to find itself in some holes this weekend. Having the confidence in a D-line to go out and pile up breaks means that you always believe you're in the game, regardless of what the scoreboard might read. On the other hand, it's troubling that an offense can give up that many breaks and needs the defense to bail it out time and time again. NC State was a good team, but their offense is not in the same league as Oregon or Minnesota, and ripping off a big run against the top teams in this pool may be more than Virginia Tech's defense can manage.
With their wins over Stanford, Auburn, and UConn, Virginia Tech have shown they are overly qualified for the traditional role of the 20th seed at Nationals. But bizarre marks on their record, such as their 0-3 record with a -20 point diff. against 47th ranked William Mary show the high variance in the team's results and the lack of consistency that typifies them and the entire pool.
---
Burn dropped from our final Power Rankings of the regular season. ↩