All four higher seeds won their prequarters by large margins, setting up exciting quarterfinal matches.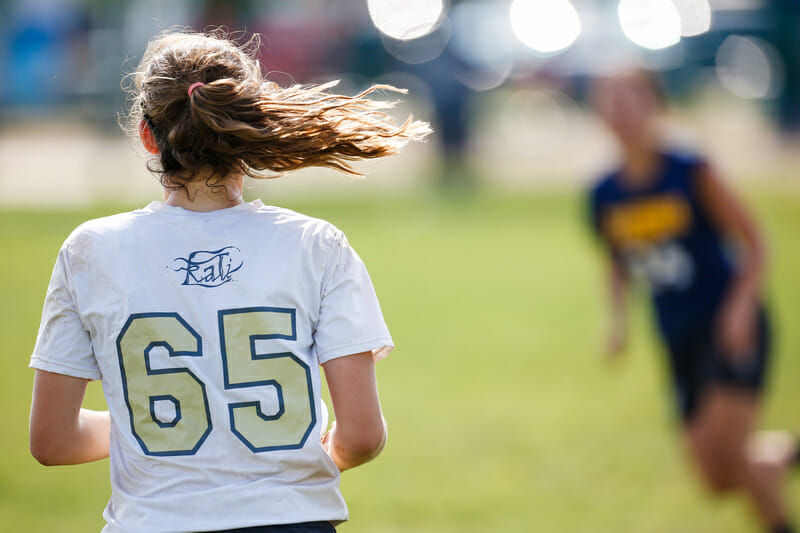 Ultiworld's reporting on the Women's 2017 D-I College Championships is presented by VC Ultimate as part of their season-long support of our women's coverage. All opinions are those of the author. Please support the brands that make Ultiworld possible and shop at VC Ultimate!
The four prequarter matchups in the women's division each had heavy favorites. And those favorites proved their status was legitimate, for the most part cruising to quarterfinals berths.
Texas and Schmaltz Survive Lengthy Battle Against Carleton
Texas and Carleton slogged through a game with a less than aesthetically pleasing pace, and Texas came out on top by a score of 14-10. The two teams combined for 66 total turnovers, and there was an inordinate amount of calls. Even one of the game's observers seemed annoyed with the pace the game was playing out.
In the end, Melee did a better job of fighting through those moments. Said Texas head coach Edith Teng, "We've played Carleton before and so we were anticipating some of the chippiness. I think every time we've played them there's been more calls than normal." She complimented her team's ability to focus internally and prevent the game's potential distractions from affecting their play and morale.
Texas' mental game wasn't the only thing that was stronger than Carleton's. Julia Schmaltz was a weapon for which Carleton simply had no answer. At the 11-7 mark, Schmaltz had scored seven of the team's goals. She did score again from that point, but she wasn't really needed, as both teams coasted through holds to the end. When the game was still in the balance, though, Schmaltz was unstoppable, making numerous highlight reel catches and simply being too much for Carleton to even slow down.
Katie Ciaglo, who's had one of the best individual tournaments of anyone in the field, led the way for Carleton with her goal and five assists. Unfortunately for Carleton, there simply wasn't enough firepower on their roster to survive Texas's assault.
Dartmouth Dominates Michigan
Dartmouth exhibited their dominance from the start against Michigan. After two long holds from both teams, the no. 2 seed went on a run of three breaks to make it 4-1. Michigan then held, and Dartmouth responded with another three break run to take half 8-2. Though Michigan did grab a lone break late, the second half was more of the same – the full force of the Dartmouth attack was simply too much for Michigan to bear.
Jaclyn Verzuh was a juggernaut for Dartmouth. She had six goals, two assists, and two blocks, but her presence and performance felt even larger than her stat line. Piper Curtis also had a monster game, equaling Verzuh's six goals, two assists, and actually recording one more block with three.
Tracey Lo was a bright spot for Michigan, registering four assists to bring her tournament total to 22, good for third in the field to this point.
Virginia Outlasts Notre Dame in Prequarterfinal
Virginia took care of business in their prequarter game despite walking into the game off of a trying and challenging comeback pool play win over Michigan. Coach David Allison knew what game he was stepping into, and he planned accordingly.
He set his team into a defense with handlers sagging into the lanes to prevent deep looks, and they pushed Julia Butterfield under any way they could. As a result, they limited Butterfield's impact for stretches, although she still managed to score four of Notre Dame's goals and throw a pair assists.
Notre Dame threw a zone of their own to push Virginia's handlers to complete a larger volume of throws per point, but their strategy couldn't generate as many turns, especially with Keila Strick, Tess Warner, and Brogan Jones on the field.
Virginia broke twice to take half 8-4, but Notre Dame refused to let the prequarters game – the furthest they've been at Nationals to date – slip out of their hands. They broke in the second half on bookends from Butterfield, and the notorious Womb sideline exploded. But Notre Dame's hucks weren't dialed in during the second half, and Virginia only needed a few break opportunities to build their lead further. They broke twice to close out the game and to advance to a quarterfinal game against British Columbia.
Colorado Presses Early Advantage to Defeat Cal
Colorado brought the same polish they'd had all weekend into their prequarters game against California, and this efficiency and newfound composure would give them the green light to quarters. Kali converted California's drops and overthrows into a quick and tidy 6-2 lead in the first half. Energy is Colorado's currency, and their sidelines grew noisier and noisier as the breaks piled up on their side of the stats sheet.
Every now and then, teams get caught in the vortex of one interminably long point. The point's eventual victor walks away with the momentum and often the win. At 6-2, Colorado and California endured one such point. Possession changed eight times before Colorado's Sarah Ferraro finally shot a long huck to Becky Nevin.
Colorado took half 8-3, and despite tough defense from the California Pie Queens in the second half, their zone couldn't pressure Colorado into enough turns that they could convert. They only had one break late in the game, and their typical feistiness became more turns than goals.
Colorado will advance to face Oregon in the quarterfinals tomorrow morning.