Eight teams in four compelling matchups compete for four semifinals spots and one national championship.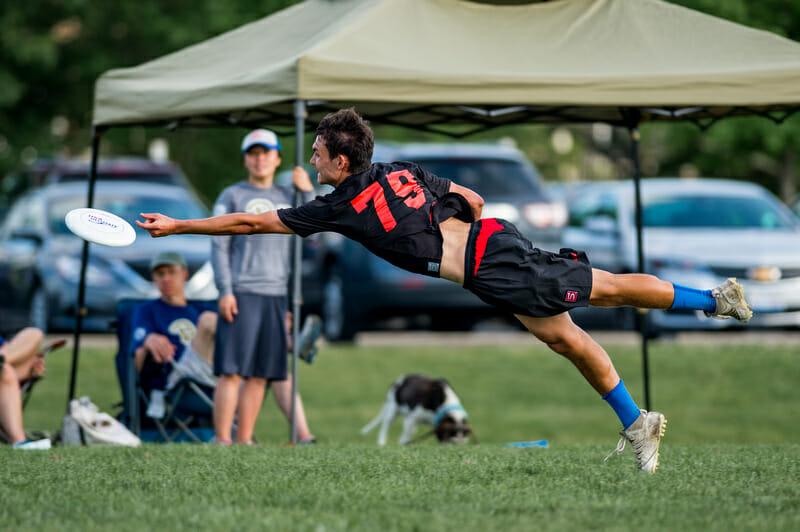 Ultiworld's reporting on the Men's division of the 2017 D-I College Championships is presented by Spin Ultimate; all opinions are those of the author. Please support the brands that make Ultiworld possible and shop at Spin Ultimate!
While a surprising no. 1 and no. 2 seed matchup headlines the schedule, eight teams with title aspirations all are set to take the line from one another. There are many questions about who can stay hot and who can find that elusive peak every team searches for on their way to a National Championship.
North Carolina Darkside vs. Wisconsin Hodags
These two teams met in a quarterfinal already this season, with Wisconsin physically overpowering North Carolina at Easterns en route to a 14-11 victory. They'll meet again Sunday morning with much more on the line.
Few teams are unscathed by this point of Nationals, and how well the teams have preserved their players can make a big difference. Wisconsin managed to keep their starters fairly fresh throughout the grind of Saturday, resting several key players against Oregon in the last round of pool play and dispatching an exhausted Cal Poly SLO with relative ease in prequarters.
The big concern for the Hodags won't be fatigue, but rather the health of star cutter Nicholas Vogt, who went down awkwardly in the first half of Wisconsin's game against Cal Poly. Vogt, Wisconsin's leading goal scorer this weekend, needed assistance to get off the field and did not return to the action. If Vogt can't go against North Carolina it will force Wisconsin's offense to put even more of a burden on their Callahan nominee Ross Barker, or perhaps move Chris Wilen over from their D-Line in an attempt to fill the Vogt-sized hole in the offense.
After getting outgunned at Easterns, North Carolina added a few more arrows to their quiver for Nationals. Offensively, Darkside have returned Walker Matthews to the fold after an injury kept him out for the second half of the regular season. Matthews is a key ligament that connects UNC's deep game and their handler set. On the defensive side, UNC's sophomore defensive handler Elijah Long has recovered from a broken collarbone to add some bite to the D-Line.
Going deep into the bracket at Nationals requires teams to cope with a lot of uncontrollable variables, and injuries are one of them. With UNC returning to health at just the right time and Wisconsin fading a bit down the stretch, we'll see if then Hodag's bench can step up and repeat their team's performance at Easterns, or if the revitalized Darkside will get their revenge.
Massachusetts Zoodisc vs. Pittsburgh En Sabah Nur
The moment we've all been waiting for. UMass and Pitt. One versus two. Squaring off. In the National Cham— wait, the quarterfinals?
Strange matchups like this happen every year at Nationals when the upsets start. In this case, Pittsburgh fell to their old flame Wilmington and lost control of the pool. Now they will add to the mosaic of madness at Nationals 2017 as they take on 4-0 Massachusetts in the round of eight.
"Doesn't this just keep happening? When was the last time the one and the two won their pool?" Pitt head coach David Hogan said after a prequarters win over Auburn. "That's how this tournament is now. There's so much talent top to bottom that upsets are going to happen. [Massachusetts] almost lost to [Washington]. It could've been them instead. I think that's what the new normal is now."
UMass did indeed survive a close contest with the Sundodgers, trailing 8-5 before coming back to win 14-12. And to answer Hogan's question about the top two seeds holding, it's been a while. In 2014 when Colorado (the eventual champion) and Pitt both finished unbeaten in pool play to hold on to their top spots.
The usual suspects like Callahan finalist Ben Sadok and Tanner Johnson will lead the way for Zoodisc's offense – and will be bolstered by Chris Bartoli and Pat Barron, who are having great tournaments so far. This is elimination play, so look for Sadok to cross over early and often.
This should be an interesting matchup for the strengths and weakness of these two teams. Pittsburgh has been creating big pressure on handlers all weekend but UMass' offense is diverse and comfortable in horizontal and vertical stacks. Massachusetts still uses their familiar 1/3/3 zone, and we've saw Pitt's offense falter in the face of some Michigan zone looks.
We'll see how the matchups play out soon enough. Until then, here's a rough stat for Pitt: their 15-8 loss to Massachusetts in the finals of Easterns this year was the program's biggest loss in at least four years.
It may be a little off script (and two rounds early) but the real crime would've been if it didn't happen at all. This is sure to be a good one.
UNC Wilmington Seamen vs. Washington Sundodgers
The Washington Sundodgers, fresh off of a prequarters victory over Oregon, will meet the UNC WIlmington Seamen in the quarterfinals. Wilmington, the 11th overall seed, was an upset pool winner, notching wins over the no. 1 and no. 7 seeds, Pittsburgh and Michigan respectively, to get their bye into quarters.
Washington's offense has been riding high since their first game against UMass. The talent and chemistry of the O-line, many of whom started playing with each other in high school, has been on full display this weekend. Further, the depth of throwing talent on the line makes it hard for opponents to force Washington into a weak spot. Every player on the line has legitimate breakmark throws, and the cutting depth is solid; you have to honestly win 1-7 to stop them, provided they don't devolve into poor decision making (which they have for the most part avoided).
However, Wilmington is a team that can play takeaway defense. They're athletic, they're scrappy, and they play with a chip on their shoulder. That depth of defense may be how they attempt to handle UW's Khalif El-Salaam, who has been absolutely on fire this weekend1. Perhaps rotating fresh athletic legs will be enough to limit the Washington playmaker. Wilmington also historically has a tricky junk look or two that they could throw at the Sundodgers.
When UNCW is on offense, expect it to be primarily the Jack WIlliams and JD Hastings show. The two are experienced, agile, and skilled and can possess the disc endlessly. They can (and will) bounce the disc for days until a good shot opens up downfield. Often that shot goes to Austin McGrayne or Matt Ellis, both strong cutters. Ellis in particular went off against Pitt, hucking off unders to give the offense a dynamic edge. UW has used a zone look to change up their D with reasonable success this week, but don't expect that to faze UNCW; Hasting and Williams would gladly take the opportunity to walk it up the field patiently.
The poise of UW against the emotional and scrappy UNCW should make for a compelling matchup; at the very least expect some sparks to fly when either El-Salaam or Williams gets the feeling their season– and college career– may be in danger of ending.
Minnesota Grey Duck vs. Carleton CUT
After contrasting journeys through Nationals, Carleton and Minnesota will meet for the third time this year in a rehash of the North Central Regional final. Minnesota has been dominant all week on their way to winning pool D. Another familiar foe, Wisconsin, challenged them Saturday morning but consistency late in the game kept things comfortable for Grey Duck.
Part of their consistency has been their speed. Every player on the offense is threatening because of their ability to cut late in the game like they've just had an off round. There's not one or two people to shut down for Grey Duck, there's seven at a time.
Carleton hasn't been so consistent. Their first game against Auburn was littered with turns, as was their high profile matchup with UNC. Saturday was a different story however, with three resounding victories that utilized clean offense and explosive athleticism.
Beyond the top stars, two freshmen have made a substantial mark on CUT thus far. Stan Birdsong and Joe White don't look like freshmen. Their poise with the disc makes them leaders for both offense and defense, respectively. But with every passing win the lights get brighter and brighter, with yet another challenge coming against the reigning champion Minnesota.
"The matchups and the strategies are well-known to both of us," Carleton Coach Phil Bowen said Saturday night. "It just comes down to execution."
This game is littered with compelling individual matchups. With Ben Jagt playing D-line for Minnesota, the likely assignment for him is 6'5'' Henry Fisher. Michigan had no answer for Fisher's unique combination of height and agility, but there's no one better to limit him than Jagt.
Grey Duck will likely throw different defences at Carleton, which has had varying effects thus far. Carleton has the capability to possess the disc for dozens of throws, but occasional low percentage hammers or blades are cause for alarm. Thus far, there's been a finite amount of patience for the Carleton offense. Zone defense can test, and eventually exploit, that limitation.
Sol Yanuck has played mostly D-line for Carleton so far, with dynamic pulls and offensive capability making him a unique asset. The natural matchup for Yanuk is Wyatt Meckler, but Grey Duck's fluidity on offense means he could be in any position at any time.
The challenge for Carleton will be getting the Grey Duck offense to feel uncomfortable. Since starting the tournament, they've shown poise in every possible offensive system. But it's only been weeks since Carleton managed to win the regional title. CUT may have the number of the reigning champion, making it to the perfect opportunity for the team to springboard further into the bracket on a string of improved play.
---
he leads the tournament with goals at 20 and is third in assists with 17 ↩