Two titans, Verzuh and Schmaltz, enter the ring today. Whomever wins will lead her team to their first ever National Championship.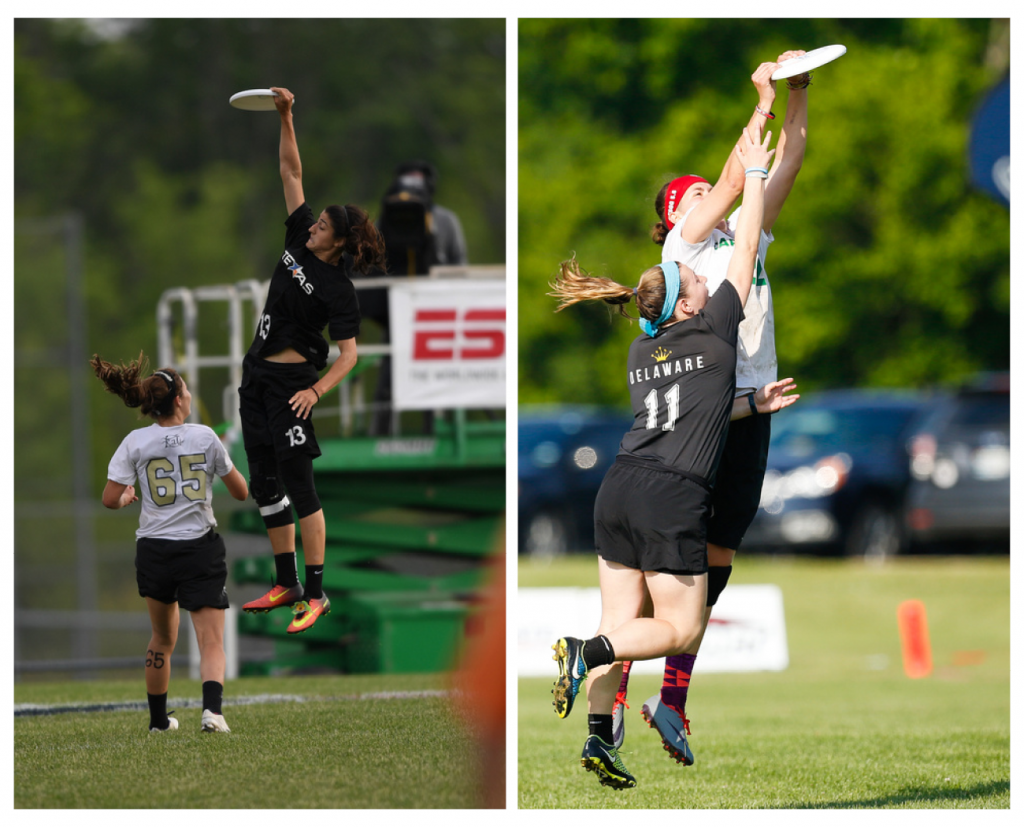 Ultiworld's reporting on the Women's 2017 D-I College Championships is presented by VC Ultimate as part of their season-long support of our women's coverage. All opinions are those of the author. Please support the brands that make Ultiworld possible and shop at VC Ultimate!
On the surface, a championship matchup between Dartmouth Princess Layout and Texas Melee, the no. 2 and no. 4 seed at the D-I College Championships, respectively, is a fairly predictable outcome for the events of Nationals. However, the path they have traveled to arrive as this point is not one many who have selected if pressed for picks prior to the tournament. It hasn't been easy, but they've earned their shot. One of these teams will win the first national championship in their program's respective history.
Dartmouth is the favorite to emerge with a title. Princess Layout has lost only four games this season, with three of them coming from Northwest Challenge where they rested all their starters. In their six victories at Nationals, they've given up an average of less than six goals per game to their opponents. They walloped the no. 1 overall seed, Stanford, in the quarterfinals. Dartmouth's performance thus far, has been – nearly – total scoreboard dominance.
That nearly? A shocking 15-10 loss to Oregon in pool play that kicked them into the prequarter round and put them on a quarters collision course with Stanford.
While the scores have been lopsided, Dartmouth has been far from flawless. Oregon both exposed some flaws and caught Princess Layout far away from their best. Oregon's zone revealed the weakness in Dartmouth's midfield, which stagnates while they wait for Angela Zhu or Julianna Werffeli to make magic happen. But Dartmouth still manages to earn large margins of victory over elite competition, often without playing to their full potential. That could inspire hope for Texas fans, knowing that Dartmouth's pockmarks are visible. Or it could inspire fear that even their middling performances are enough to hammer the division's best teams.
Texas Melee only has five losses this season, including three in tournament finals. But they'll only be thinking about one of those losses ahead of the final today: their loss to Dartmouth during the Stanford Invite final. They lost 11-13 in a muddy, closely contested fight. Dartmouth built a lead out of a couple of breaks – through the heroics of their Big Three – and it was enough to take the game. Texas went into that final off of another battle against UBC, and their fatigue showed.
They'll have fresh legs today, and they're ready to run.
Like Dartmouth, Texas runs their offense through the same starting seven for every point. These top seven played over 70 minutes in the semifinal. The rest of their roster played fewer than 15 minutes. Texas keeps Shiru Liu, Dre Esparza, and Laura Gerencser in the backfield on O- and D-line points, while they pair three fast, enduring cutters with Schmaltz downfield.
Texas set zone on Colorado in the semifinal, but their comfort zone is person defense. They'll likely try to challenge Dartmouth's best players directly instead of playing containment. They've got strong handler defenders, and Marissa Land, Gabriella Cuina, and Sydney Overman can shut down Dartmouth's non-Verzuh, non-Caitlyn Lee cutters. And unlike nearly every team in the division, Texas has an answer for Jaclyn Verzuh: Julia Schmaltz.
Schmaltz and Verzuh went toe-to-toe in the Stanford Invite final, and the Seattle youth star got the best of Schmaltz. After the game, Schmaltz had said the matchup was just fuel to the fire, and today she'll have another chance to try to burn brighter than Verzuh.
"I'm excited to match back up [with Verzuh]," said Schmaltz after their semifinal win. "We played a good game [at Stanford,] but I didn't have very much left in the tank. And I'm sure she didn't either. She played a ton as well. But I think I have more. I'm excited to match up tomorrow."
All eyes will be on this duo as they battle to own the airspace over the endzones today. If Schmaltz can take away even 30% of Verzuh's game, Texas could earn their first national title.
This will be the first national final game for both Dartmouth Princess Layout and Texas Melee. Dartmouth's highest placement before this year was quarterfinals last year, and Texas reached the semifinals in 2005. This final guarantees highlight reel plays and moment of glory from both teams as they play their final two halves of ultimate. Because no matter what, a lot of women will be playing to make programmatic history today.