How CUT recovered from a disappointing Friday to walk away victorious on Monday at the College Championships.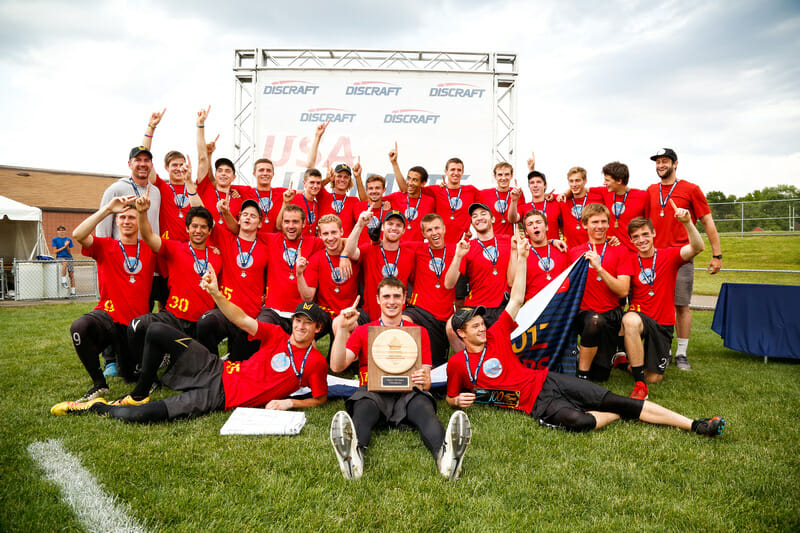 Ultiworld's reporting on the Men's division of the 2017 D-I College Championships is presented by Spin Ultimate; all opinions are those of the author. Please support the brands that make Ultiworld possible and shop at Spin Ultimate!
The idea that teams will try to "build" over the course of a season is a traditional, if not rote, concept. No one's mind will be blown over the notion that just maybe an elite team might be prioritizing depth over results at an early season tournament in order to reap dividends at the end of the year. For teams that prioritize performance at Nationals over everything else, it would be foolish not to approach the season this way.
But building over the course of a single tournament, particularly at Nationals itself, is a slightly different story.
Many years at Nationals, it becomes pretty clear from point one of game one on day one who the team of the tournament is going to be. When a team comes fully loaded and ready to play after gestating for a month since we last saw them at Regionals, you can tell right away. Certain teams seem to have whatever you want to define as that intangible "it" that champions possess.
A straw poll from the end of the first day of Nationals this year would probably have given you Minnesota or maybe Pittsburgh as the team that met that criteria. But when the dust cleared, Carleton CUT were the last team standing and smiling, with winners' medals around their necks and a National championship in tow.
After Friday's play, that we would be left with this image of a victorious Carleton was surprising for a couple reasons. One, because Minnesota and Pittsburgh had looked REALLY GOOD. And two, because Carleton did not. Actually, to be completely accurate, Carleton didn't just not look good, they were downright bad. And they thought so too.
After barely edging out Auburn, CUT got exposed (exposed!) in the Friday afternoon showcase game against North Carolina. Darkside ran all over Carleton, dropping CUT to the canvas with an uncontested 15-10 round that wasn't even that close.
"After the game, we noticed that there were some hanging heads," said Carleton coach Phil Bowen. "We came in with high expectations and I wouldn't be surprised if the result — and not just the result, but the way we played against UNC — was like 'oh, I guess we're not actually that good, that championship-winning team.' We had to turn that around."
It is interesting how we designate someone as "a championship-winning team." It is tautological to say that "the team that wins is the team that wins," but it is meaningful to remember that all you have to do to be "a championship-winning team" is win the championship. There isn't some other intangible blessing or label that designates who championship teams are and who aren't. The ability to go out and win games is the only thing that creates that designation, and after taking their lumps against North Carolina, Carleton set out on Saturday to do just that.
After a confidence-building decimation of bottom-seeded Oregon State, Carleton eliminated Colorado in a game that secured the second seed in Pool B and, importantly, saw them avoid Pittsburgh in prequarters. These wins gave CUT a nice boost heading into bracket play, and helped to turn their tournament — and the fate of their season — around.
"Obviously when you're playing well you have more confidence, it's going to build. You can't manufacture all that energy from nothing. It was a good schedule for us to build throughout the tournament. We really made the focus about us. Playing with energy," said Bowen looking back on the weekend, before noting that Carleton needed to remind themselves that they were good before they could play like it out on the field.
With the momentum of two wins on the bounce, CUT cruised through their prequarters matchup against Michigan, a team that had beaten them just a few months earlier at Easterns.
The mini-winning streak had the team feeling better about their chances and had distinguished them from the also-rans. But the biggest test of that belief awaited them in the quarterfinals, against defending national champions and North Central rivals Minnesota. Grey Duck were red-hot coming into the quarterfinals, after stomping out Pool D in impressive fashion. With Minnesota well rested after a bye to quarters, almost no one would have predicted a Carleton victory. But CUT's eventual triumph proved the doubters wrong.
Beating Minnesota was the real turning point moment for Carleton, when their burgeoning self-belief was truly uncovered. Grey Duck had looked untouchable up until that game and, with an 8-5 lead at half over CUT, the defending champions looked like they were on their way to advancing and moving one step closer to retaining their title. But a second half comeback put Carleton into the semifinals for the first time since 2013, with the momentum and confidence to go even further.
"We realized in that game that we needed to win the energy battle, individually," said Carleton junior Eric Taylor. "We scored a couple breaks in a row and we were ecstatic and screaming. That helped us rise, and once we realized that we just, 'had that,' it made playing everything easier."
Carleton launched themselves back into the game with a swaggering attitude in the second half, fearlessly taking on Minnesota players that had somewhat cowed them earlier and just purely winning their matchups.
The game was capped in an emblematic moment, when CUT's big man Henry Fisher roofed Minnesota's 1st Team All-Everything big Ben Jagt. Fisher going one-on-one with the most dangerous deep in the country and emerging victorious put Carleton over the top in their quarterfinal and showed that this obviously talented team was ready to blow the ceiling off of their potential.
Carleton were confident going into their semifinal with UMass and it showed, not in bombastic plays that flitted with flying too close to the sun, but in a steely control that the team had failed to show earlier in the season and earlier in the weekend. For the best ultimate teams, the final level of confidence is manifested in a belief that points and games can be won by grinding, not with crazy throws.
Throwing a stall two hammer into traffic because you want a point to be over isn't confidence; it is false bravado. Carleton learned the difference on their way to a title, and after demonstrating troubling impatience in the opening rounds of the tournament, by the time they got to the semifinal, CUT were locked in and ready to grind. Long offensive points against the UMass zone and fundamentally sound defense that dared Massachusetts's explosive offense to look for an easy way out slowly but surely paid off.
Carleton still took some big swings that were both successful (see Sol Yanuck's devastating 45-yard upwind hammer-blade that cut open the UMass zone at stall eight) and unsuccessful (cringe in horror at Joe White's moment of madness in throwing a jump ball backhand huck on double game point). But the game ended in a microcosm of Carleton's larger approach, as repeated foul calls forced them to score three times on the final point to put the game away. Each time, CUT put the rock in with sound fundamental play, a dump-swing to beat a handler cover switch or a textbook upline clear to set up a strike cut. They weren't pressing or trying to prove anything, they were just playing winning ultimate.
After the game, Massachusetts coach Russell Wallack noted his surprised at how disciplined Carleton had been after what they had seen from CUT earlier in the weekend and in the regular season. The reality was that the Carleton team that took the field against Zoodisc in the semifinal was simply a different entity that what it had been before.
By the time Carleton got to the final, they had proven to themselves that they were a "championship-winning team." They proved it to the rest of us with a complete performance against an injury-hampered UNC Wilmington team that had thrown their fastball the night before in a wild semifinal.
Getting balanced contributions up and down their roster, CUT's metamorphosis over the course of four days was striking. The talent had clearly always been there for Carleton, but it all came together at exactly the right time once the team embraced the self-belief that they had the power to control their fate.
"It was all a reaction to Friday and getting smoked by UNC," said Bowen during the celebrations on the field after the trophy presentations. "We refocused and it was about playing with energy, playing with love for each other, playing selflessly to make each other better. That's when we have fun, and when we have fun, the results follow."
So yes, Wilmington were certainly hindered by their injuries, and maybe the result could have been different if Jack Williams was at his fittest. But no matter who was lining up against them in that championship game, Carleton proved to themselves that they were ready to play and ready to win. And that, above everything else, is why they are champions.