Standout individual performances from the spring season.
Ultiworld's 2017 Men's College Awards are presented by Spin Ultimate and the National Ultimate Training Camp. All opinions are those of the authors. Thanks for supporting the brands that make Ultiworld possible!
Ultiworld is pleased to announced our fourth annual College Awards. The criteria for each award can be found here — we consider both regular season and postseason performance in our selection of awards. Though the input of Ultiworld reporters is weighed heavily, final decisions for awards are made by the editors.
To see the Player of the Year Award, go here.
Offensive Player Of The Year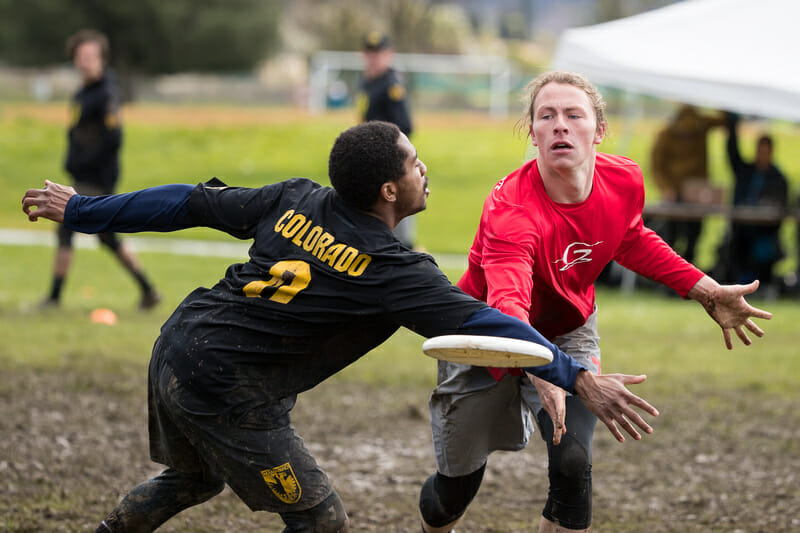 Parker Bray (Georgia)
For the second straight year, the ultimate world missed out on seeing Parker Bray perform at College Nationals,1 a tragedy for all those who enjoy virtuoso throwing dissecting the nation's best defenses. But despite his absence from the Big Show, one cannot deny the revelation that was his regular season performance — one that frequently delivered displays like this:
https://www.youtube.com/watch?v=QJpRbP2M_Jk
Bray went downright Russell Westbrook for a short-rostered Georgia all season, virtually going every-other on every possession of every game. That's not an exaggeration — Bray literally played 136 of 137 points at Southeast Regionals (six games, none of which ended on cap), which was in line with his season-long trend.
Being on the field for that many points is one thing, commanding the field on all of them is quite another, but that is exactly what the Jojah senior did. Against the best teams in the country, he would regularly throw or catch 5+ goals per half. Before the first major of the year, Stanford Invite, the book was already out on Georgia: to stop them, you have to stop Bray. But even when teams knew what was coming, game planning to guard him with their best defender, Bray couldn't be contained. Against zone, against man, even against a box-and-one from Carleton, he kept on delivering.
As a handler, Bray's field vision and overflowing arsenal of creative throws allowed him to consistently throw receivers open. And even when forced out of the backfield, he was a threat to sky for a deep ball, flashing the dominant cutter skills of his underclassmen days. No place on the field was safe when Parker Bray had the disc in his hands this year and that sustained excellence coupled with his incredibly usage made him the biggest offensive threat in the division for 2017.
Runners-up: Elliott Chartock (Stanford), Alex Olson (Carleton)
Defensive Player Of The Year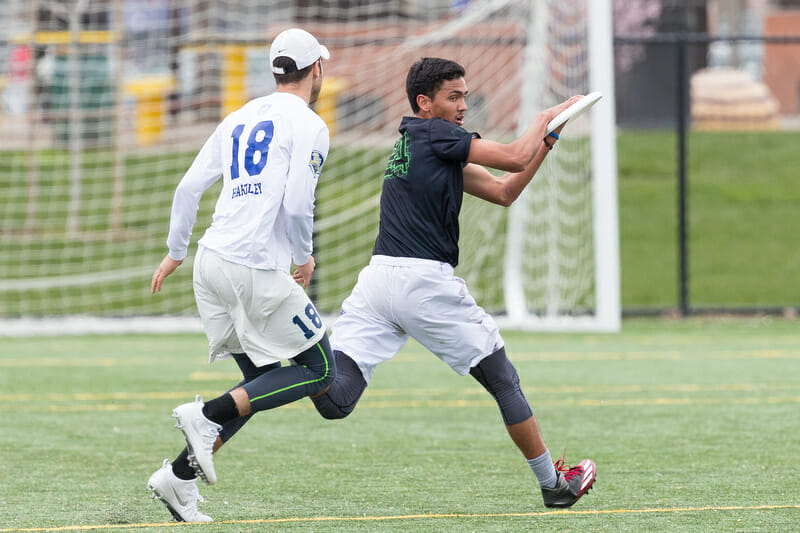 Cameron Wariner (Cal Poly SLO)
On a team known for its athletic, high-flying defense, nobody flew higher or dunked on people quite like Cameron Wariner. The man they call Wheaties was simply a nightmare for his opponents, willing his team to breaks one layout block at a time (and, to his credit, crushing teams on the turn both with his hucks and by beating his man deep). Reference:
If one had to choose a college player to clone seven times to create a D-line, Cameron Wariner is Jango Fett. He's a top shelf defender for any position on the field, primarily as function of his incredible athleticism. Downfield, Wheaties is the rare player who is both fast enough to layout block your best under cutter and has the ups to sky a premier deep threat. But, the place where he shines the brightest is when guarding handlers. Wariner plays handler defense a little different from the textbook approach, but can do so because of his exceptional agility and knack for body positioning. He's frequently able to position himself such that he can read the thrower without losing track of his man, as well as dictate his mark's cut. He's able to play physically imposing defense without overstepping. And even if his man does get the disc, Wheaties' mark is excellent. He tallied a handful of point blocks on the year, including this one:
https://www.youtube.com/watch?v=gKrO8awRCDQ
Wariner flat out produced on defense, leaving his mark on every game he played. His production came against the best teams in the country, never waning from Stanford Invite, through Easterns, and finally Nationals (where he logged eight blocks). It came in clutch moments, when the team needed to make a comeback. And, it came from a player who consistently exhibited great spirit, even in the face of fierce competition. Wheaties is the full package on defense and after this season, the whole country knows it.
Runners-up: Mike Ing (Pittsburgh), Nick Ladas (Wisconsin)
Breakout Player Of The Year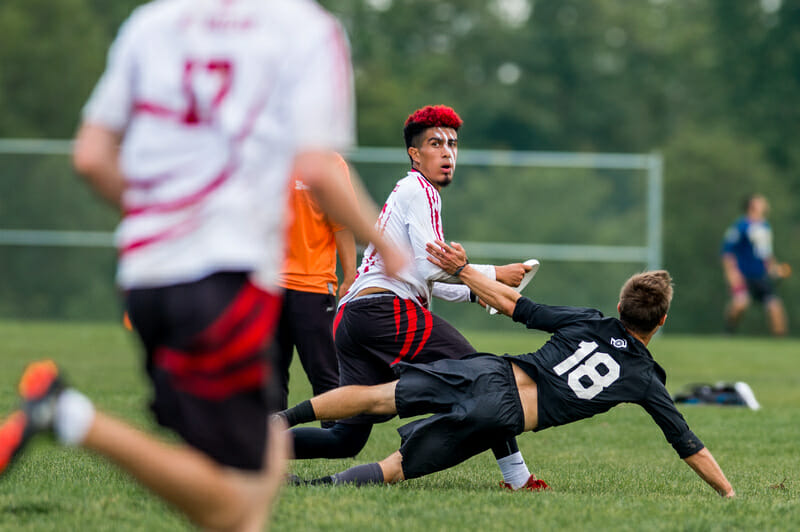 Gabe Hernandez (Stanford)
You have to give it up for a player who, barely three seasons ago, had never played ultimate and needed more than a season to figure out his flick. Stanford Bloodthirsty's scary athletic defender and rising backfield star Gabe Hernandez is Ultiworld's 2017 Men's Breakout Player of the Year.
You know, the guy in the bucket hat making this catch:2
https://gfycat.com/ViciousSpeedyHyracotherium
Though he's been a big defensive presence on his team since joining just three seasons ago, Hernandez leveled up his offensive effort this season. Alongside his signature layout blocks and fiery passion, he added throws like this:
https://gfycat.com/HardBlushingKudu
That was good enough to make him a crucial part of the trifecta that powered Stanford's attack this season: Elliott Chartock, chief downfield target Nolan Walsh, and Hernandez. When the team needed big plays, he was primed to make them as a handler, handler cover, downfield defender, or offensive cutter. While his top teammates had clear roles, Hernandez was the superglue for Stanford in 2017.
What sealed the deal on this award? Throughout Stanford's run at College Championships, Hernandez took the other team's ace — Sadok, El-Salaam, Pettyjohn, and Spicer to name a few — and was effective. He got blocks, he took much-needed shots, and kept his team in games.
Hernandez has at least another year left at Stanford — look for him to continue to rise next season. He's already getting offseason practice with Austin Doublewide and the Dallas Roughnecks.
Runners-up: Eric Taylor (Carleton), Marc Rovner (North Carolina)
Rookie Of The Year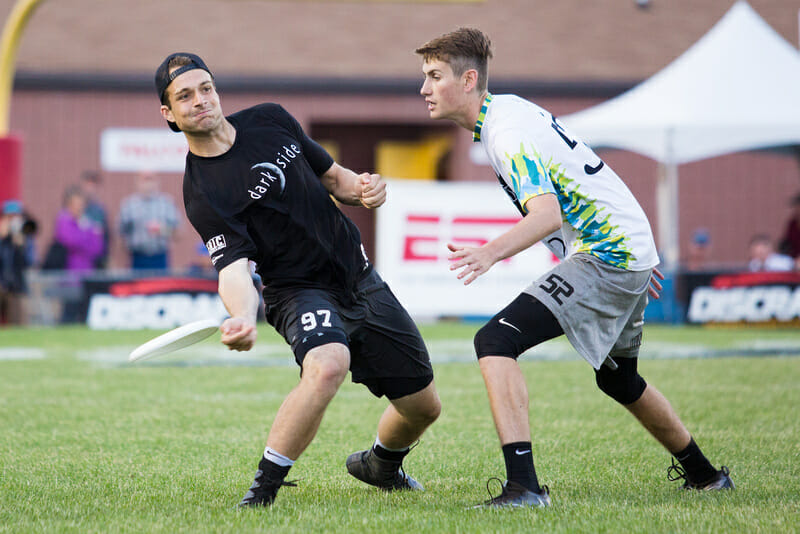 Kai Marcus (North Carolina)
I first saw Kai Marcus play in person this college season at Centex. Who was this #97 patrolling on defense and then leading the break after turnovers? Chatting with some UNC parents, I asked them who it was and if he was a transfer or graduate student. "That's Kai Marcus," they said. "He's a freshman." My jaw hit the floor.
Like Tannor Johnson a year ago, Marcus is a card-carrying member of the new generation of college rookies that come into an already elite program and do more than just contribute: they take over.
A product of Seattle, Marcus quickly won a starting spot in the Darkside D-line rotation and was perhaps the line's best two-way player behind Elijah Long. He brought a physical defensive presence rare for a freshman as well as a well-developed offensive skill set, showing comfort with big hucks, tricky break throws, and a field generalship that usually takes years to develop.
He finished at Nationals with 10 assists (tied for the most from a rookie with Carleton standouts Dillon Lanier and Joe White) and six goals. Late in the semifinal against UNC Wilmington, UNC brought Marcus over to the offensive line after the team was bleeding breaks and needed a hold to stay alive. Totally unaffected by the pressure of the moment, he threw a high release flick assist to send it to double game point.
He was right back out there on UNC's final point of the season.
Runners up: Matt Ellis (UNC Wilmington), Dillon Lanier (Carleton)
Coach Of The Year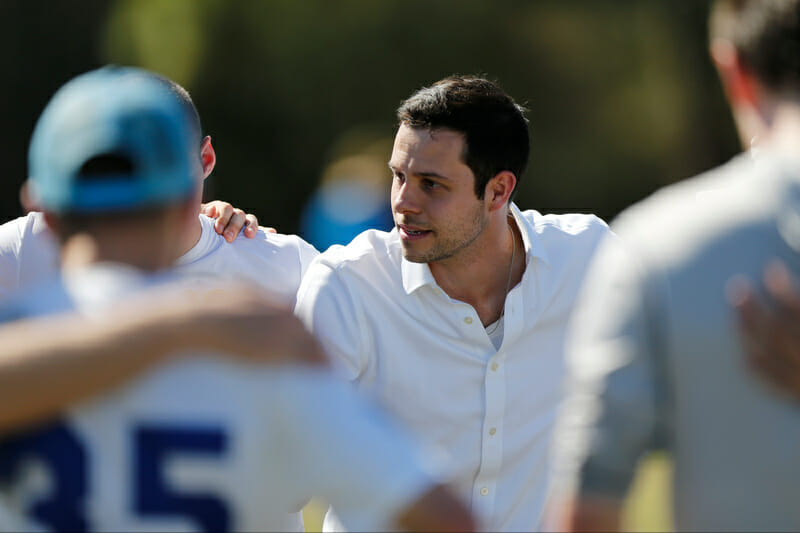 Nick Kaczmarek (Pittsburgh)
In almost every sport, there is that coach that could win Coach of the Year every season and it wouldn't really be wrong to give it to them. Gregg Popovich. Bill Belichick. Geno Auriemma. In ultimate, it's Nick Kaczmarek.
Pittsburgh's long-time coach wins his first official Ultiworld Coach of the Year award after a season in which the Pitt roster lost one of the largest collections of talent in the division. With 2016 Callahan winner Trent Dillon and a cohort of other star players departing this year, expectations were muted for Pitt and they came into the season ranked #14. "Major questions arise about Pitt's ability to remain in the elite tier…2017 could be a bumpy year for 'The Program.'"
Kaczmarek must have laughed at that. Pittsburgh destroyed any idea that they might not be one of the best teams in the country — again — by winning the Stanford Invite and entering Nationals with the #2 overall seed. For the ninth straight year, they reached the quarterfinals. And Kaczmarek's leadership was what brought them there.
He led the team to embrace a 'no stars' mentality, and they got contributions from up and down their roster, even in their narrow quarterfinals loss to Massachusetts. While UMass shortened their rotation considerably, Pitt got two breaks from their second D-line to close the gap in the first half.
He is so beloved by his players that they write articles about him and many Pitt players have told me he is the best coach they've ever played for, without question. In 2017, he silenced anyone who thought that Pitt might take a step back after losing almost their entire core. Not on his watch.
Runners up: Alex Wells (Washington), Tiina Booth & Russell Wallack (Massachusetts)
---
Last year because of a torn ACL, this year because of an upset by Auburn in the final of a 1-bid region. ↩

Video provided by Jesus Avila. Check out his YouTube channel. ↩