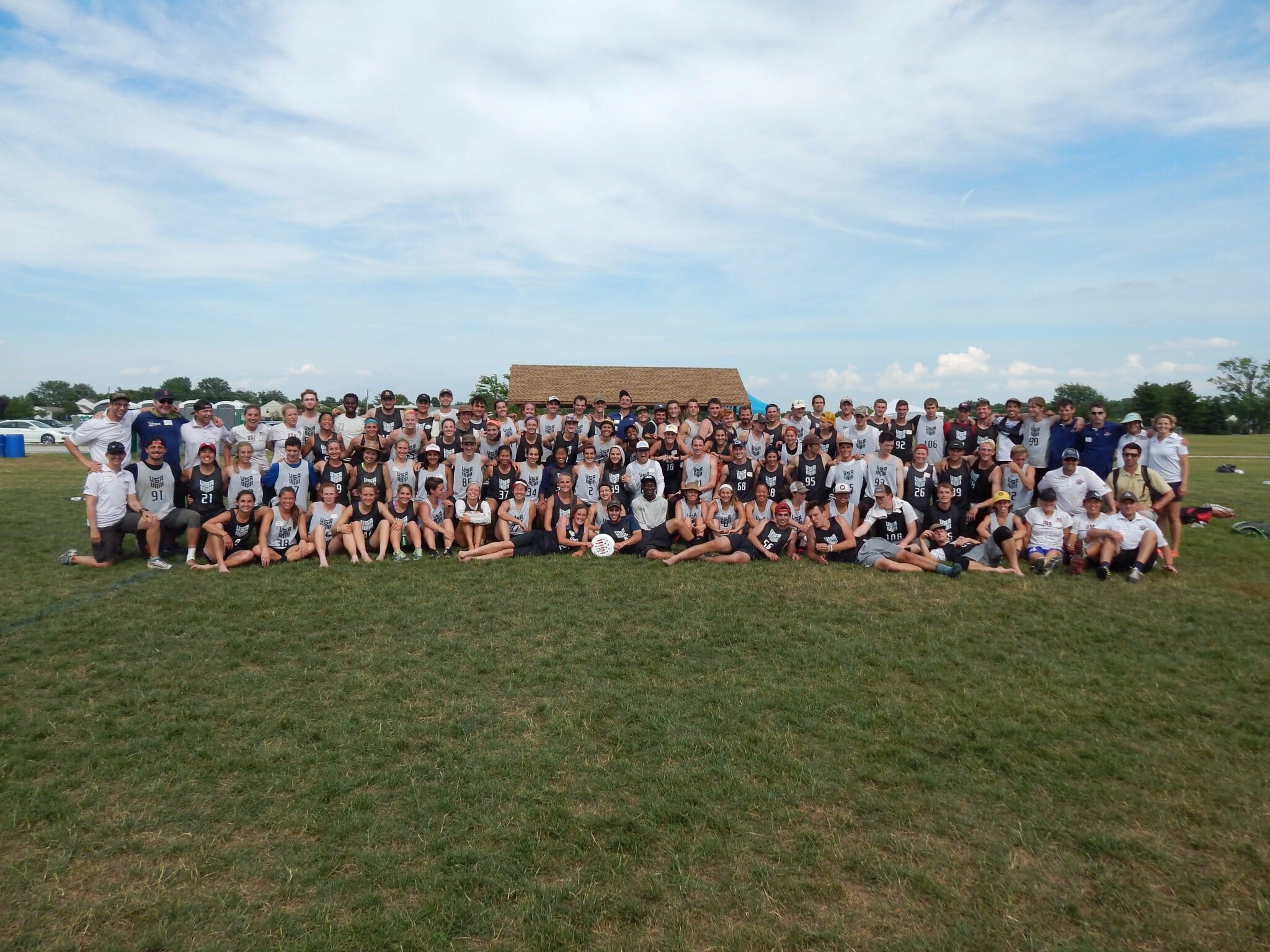 This article was written by Penn State coach Jacob Smith and Case Western coach Joe Marmerstein.
COLUMBUS — Sunday morning's atmosphere was very different than the cheery start to Saturday. Overcast skies, strong winds, and a nasty predicted forecast had everyone locked in from the get-go. There was no chit chat or fooling around; the players were all business. With radar showing thunderstorm warnings all day, both players and coaches were nervous that their time together would be cut short. As a result, all the divisions jumped straight into 7v7 scrimmages following their respective warm ups.
Though the weather would eventually hold out, storms never left the field of play. The level of intensity and focus skyrocketed within the first hour of rotation, with more pressure filled scenarios and bids than all of Saturday combined. It was safe to say that the players were leaving it all on the field.
Here's a look at the tryouts in each of the Divisions.
Men's
Out of the gate, both group's offenses were crisp with player chemistry finally coalescing amongst the tryouts. Group one showcased fantastic disc movement in the backfield with Codi Wood (Penn State), Jonah Wisch (Pittsburgh), Matt Gouchoe-Hanas (North Carolina), and Walker Matthews (North Carolina) preferring patient lateral movement and spacing in contrast to Saturday's huck fest. Their opposing team, however, thrived off big plays. Sam VanDusen (Pittsburgh) led the charge with creative breaks to space and a pair of absolute missile hucks upwind. Jake Fella (Purdue) continued to put on a show with back-to-back layout blocks and Parker Bray (Georgia) came down with three floating hucks on the day, none of which were originally intended for him.
The men's coaching staff also took a 10 minute break with both groups for opportunities to showcase pulling ability. Head coach Bob Krier asked for three things: hang-time, distance, and landing inbounds. That final cateegory proved more difficult for the field than anticipated. Top pullers included Jesse Bolton (Carleton College), VanDusen, Wood, and Matthews.
The day ended in dramatic fashion with the entire men's tryout group meeting for their first time on the weekend. With only an hour remaining, this was do or die. Now, instead of two or three subs per team, the sidelines were lined with noisy and active teammates. In the opening points, I counted four bids and two blocks; the defensive pressure was palpable.
When asked why they decided to wait till the end of Sunday for everyone to play on the same field, assistant coach Joe Durst said, "We don't want to see anyone fresh. These players are all talented, but semifinals and finals are played at the end of long weekends. We want the players who are going to separate themselves while the rest of the field is tired." To his credit, the final points of the day were telling as to who was content taking a backseat versus those who wanted the disc in their hands.
The most memorable moment in the final scrimmage came with Tannor Johnson (Massachusetts) hitting former UMass teammate Connor Kline on an IO backhand huck to space down the middle of the field. Kline showed serious wheels closing in on the deep shot to secure the goal.
Mixed
For the second day in a row, the mixed field was nothing short of a blast to watch. What was noticeably different, however, was the chemistry between genders. Assistant coach Jake Henderson wasn't shy to admit the same. "It's often difficult at these tryouts for players to get accustomed with the other gender," he said. "The majority come from their own respective club divisions and need time to adapt…switching from 4v4 to 7v7 really helped with that."
Despite having no drills to warm up their throws and get used to the wind, players were still able to move the disc effectively both downwind and upwind, relying mostly on short throws and strike cuts. JD Hastings (UNC-Wilmington) continued to be a dominant force in the handler set, consistently hitting tough breaks upwind to keep the offense moving. Similarly, Carolyn Normile (Pittsburgh) built on her strong performance from Saturday, getting open effectively on resets and easily hitting continuation breaks and hucks.
Although both teams struggled a bit to hit on their deep shots, the high number of sideline subs and ample rest time meant that these games were the most intense of the day. Several players had opportunities to show off some athleticism; Thomas Edmonds (Pittsburgh) got a huge layout poach block, but some contact and a spirited discussion led to an uncontested foul call. Shayna Brock (Central Florida) showed off incredible speed, earning two run-through blocks on a single point and chasing down a few hucks that looked to be to be too far. Michael Dillard (Tufts) also stood out with his speed and his willingness to layout on defense, putting tough pressure on handlers and cutters alike. Hannah Henkin (Michigan) was also throwing her body around, just barely missing on some crazy layout attempts that had jaws dropping.
The second group had a slightly different play style; with their throws already warmed up (coming from the single-gender fields), we saw a lot more deep shots go up in both directions, with varying success. Daniel Moder (Dartmouth) impressed with several upwind hucks that sat perfectly for both male and female receivers. Several times, players showed the importance of hustle, following floaty hucks and cleaning up the trash for goals. Twice, Ben Sadok (Massachusetts) found an upwind huck intended for a teammate bounce straight into his hands – which was followed by some good-natured "He's the D-1 player of the year!" heckles. With the playing style of this group, it seemed players had fewer chances to make flashy plays on unders, but that didn't stop Anna Thompson (Pennsylvania), who punctuated one of the last points of the scrimmage with a monster layout, coming from a few steps behind an in-cut to knock the disc away.
At the end of it all, many players commented on how enjoyable the mixed tryout was for their experience at the tryout. Thanks to players like Tim Schoch (Carleton College), Amel Awadelkarim (Penn State), and Mac Hecht (Brown), there was never a dull moment on the center fields.
Women's
With a hot, sunny Saturday in the books, the second day of east coast tryouts saw a group of women anxious to prove themselves on the field. At the start of the day, the coaching staff talked to each player individually, giving them feedback from Saturday and letting them know the things they did well and the things they needed to improve upon. For the entirety of the tryouts, tight, person D was a focus, and we saw no zones or junks being played at all – just good, old-fashioned, win-your-matchup ultimate.
When asked about the lack of zones and junks, women's head coach Alex Snyder described the philosophy: "As a team, moving forward, one of our biggest guiding principles is going to be our person-to-person defense and being able to win our matchups regardless of what team we're playing. We wanted to set that foundation and that expectation for quality, pressure defense from the get-go." As expected, these talented athletes brought that pressure and did not disappoint.
Once again, the women split into two groups, one playing mixed and the other playing women's. After a downwind huck drill to start off the morning, the women's group split into two teams and scrimmaged. Despite a stiff wind, both squads saw a lot of success working upwind, using a horizontal stack to attack deep with well-shaped space passes. University of Pittsburgh's Linda Morse showed herself a capable cutter, getting separation both under and deep, helping her team score upwind. Dani Runzo (Case Western) continued her Saturday playmaking, using quick throws to keep the defense on their heels, and coming up with a big layout on a downwind huck (though she would conserve her greatness by turning the very next throw). As the scrimmage progressed, tired legs (due in part to the relatively small number of subs in the single-gender scrimmages) started to show, and execution errors, made worse by the wind, started to pile up. As the first game came to an end, the ladies brought it in for a huddle and a cheer before swapping over to play mixed.
The second group of women looked much more deliberate with their movements. Handlers Tracey Lo (Michigan) and Katie Ciaglo (Carleton College) showed their throwing prowess, hitting difficult break throws and hucks despite the gusts. Sophia Hulbert (Columbia) came up with one of the best plays of the day, making an instinctual layout catch on a tipped huck to score upwind.
After a break for lunch, the groups split up once again. After some chalk talk with head coach Alex Snyder, the women did some focused reps on their end-zone set, running two 5v5 end zones to work on their motion. Finally, the day ended with the both groups of women coming together for an all-ladies scrimmage.
With plenty of subs and the end of the tryout looming, it was the last chance for players to stand out. Several rose to the occasion: Sophie Knowles (Case Western) came up with a huge layout block on an under cut, one of the few of the day. Jin-Mi Matsunaga (Vanderbilt) also stepped up with some aggressive cutting and impressive layout grabs to close out the tryout.
While the days were long and physically demanding, the several players commented that the coaches did a great job of managing rest time to allow the athletes to compete at their best. In last scrimmage of the day, each player knew they would likely only see the field two or three more times and left it all out there to make one final impression on the coaching staff.
Wrap-Up
As is always the case, the talent at these tryouts is unbelievable. I'm sure the coaches could construct gold-medal winning teams from this weekend alone, and there is still another tryout in Denver next weekend! Players felt the competitiveness as well, commenting that few people stood out as being clearly in or out – certainly there are some tough decisions ahead.
Women's coach Alex Snyder acknowledged the difficulty of the tryout process: "It's a challenge, for sure. A lot of it is about us trying to get a good sense of what it is we're looking for and then seeing how players fit into those roles."
While being selected to coach one of these squads is a huge honor, I don't envy her job — or that of any of the coaches — at this point of the process.