A huge upset to kick off the World Games.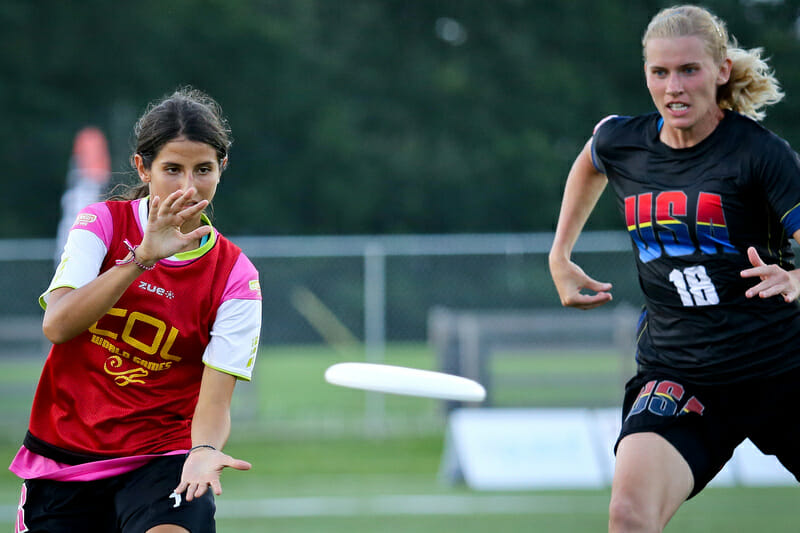 WROCLAW — Proving that their win at TEP was no fluke, #5 Colombia shocked #1 USA 13-12 on double game point in the first match of the World Games for each of the teams.
USA brought high intensity defense from the start, with Dylan Freechild nearly able to catch the pull. Colombia battled through some tough, overly physical defense (particularly from Chris Kocher, who was guilty of using his hands while guarding the reset), but Colombia hung tough through the intensity, swinging and punishing any USA poach attempt. A Kocher handblock was called back for a foul before Colombia worked the disc in.
On the next point, USA turned it over deep, with Nick Stuart dropping a high disc and then misreading a deep throw at the other end, but his bid was sufficient to put off the Colombian receiver. Jimmy Mickle found Grant Lindsley deep for the easy catch.
Colombia calmed down on the next point and easily scored, 2-1. Then a turfed throw on the USA goal line led to a break and 3-1 lead for Colombia.
A bricked pull and side stack look from USA didn't work against the poaching schemes of Colombia: a layout block on a Beau Kittredge throw set up a Colombia timeout. USA looked nervous on defense, with the Colombian cutters open by yards and downfield defenders overcommitting on break side movement, leading to some huge separation. By contrast, USA's next O point was cagier, with Colombia playing the better defense, culminating with an Anna Nazarov deep shot to a double-covered Mickle. An outrageous catch by Valeria Cardenas kept the disc alive for Colombia on offense, then Alexander Ford fired deep to Santiago Montaño for the 5-1 lead.
At was clear already that Colombia's fundamentals were superb; they were catching and pivoting well, made space for themselves, and looked comfortable going 1-on-1 in small spaces.
USA looked shocked, but in truth they just needed to knuckle down and work hard. Some poach blocks had started to creep into USA's mind and they slowed down a lot, eventually holding to 5-2.
Colombia flashed more "take two deep steps then turn under" cutting, which got them to half field before an overthrow deep. USA nearly turned on a floaty pass, then Stubbs miscommunicated with Stuart on a deep shot. Colombia marched downfield until they dropped a no-spin dump on the goal line. Stuart reeled in a high hammer over the deep poach, eventually scoring on a throw from Stubbs a few passes later.
It was now crunch time for the Colombia offense, so an out of bounds USA pull was not ideal. Most of the cutting was coming through their women, who were dominating their matchups, while most of the handler movement was centered on the men.
Freechild peeled a long way off his man to get a high stall poach block, but Kocher threw straight into a poach. Colombia burned their second timeout of the half. Colombia, working almost entirely through their women, showed a lot of patience under pressure to hold for the 6-3 lead. (Generally Colombia swings the disc well but is quite reliant upon winning the open side race, so a shift to a mark that stops the around might prove beneficial in a future matchup.)
A phenomenal pull from Colombia set up an easy clap catch Callahan for half, 7-3. 
Colombia pulled in the same direction to start the second half, switching expertly to contain USA. An ill-advised deep shot from Stuart left Mickle unable to simultaneously box out the lanky Elisabeth Mosquera and catch the disc, with Esteban Ceballos getting the high block. Colombia walked the disc all the way downfield for yet another break, as Mosquera got open by five yards on the open side to make it 8-3.
USA came down in side stack, with their women consistently beating the Colombians in isolation. The point was capped off with a Freechild spike where he fell over — much to the amusement of the watching Canadians.
In contrast to Colombia, the USA switching and poaching left big holes for the Colombians to exploit. They did so effortlessly to hold and make it 9-4. Montaño was absolutely killing the USA with his dynamic movement, and Ceballos consistently found the gaps in the poaching.
USA got stuck again on offense, struggling as Colombia poached off Kittredge on the sideline. When the disc swung to Freechild, he didn't hesitate, shooting a deep outside-in huck to Lindsley for 9-5.
A clumsy drop from Andres Ramirez gave the USA a chance to narrow the lead to three, which they did as Stubbs hit Mickle in the upwind endzone for the break.
When Ivan Alba slipped on the turf, USA got another chance. Sarah "Surge" Griffith made a tough layout catch going away to bring it within two. Now it was Colombia's turn to get nervous: their energy was clearly down and they appeared not quite sure what was going wrong. Cue a ridiculously good pull that hung for a good 10 seconds and was caught in the back of the endzone. A throw close to the sideline was caught out of bounds, but USA couldn't move the disc and called a timeout on stall six.
Things didn't get much better once the disc checked back in, with Colombia superbly containing the handler movement before a sniff at a block caused both Mickle & his marker to lay out. Mickle made the great play and attacked the break side, where USA careened ahead to bring the score back within one, 9-8. Nerves were definitely taking effect as Colombia threw deep to no one. Griffith hit Kittredge with a beautiful high release IO to level the game at nine.
That score punctuated a 6-0 run for USA. The pressure grew with another good pull, but as Mickle poached onto a wide open Mosquera, Colombia snuck an IO to the poached player and USA never caught up. Colombia got the badly needed hold, then USA absorbed the pressure and found the gaps to get to 10-10.
USA then got their first chance to take a lead. Colombia threw to a cutter as he changed direction, giving Lindsley an easy block. As Mickle threw a floater into the wind that Lindsley misread, it looked like Colombia would be back on offense, but a foul call sent the disc back to Mickle, who threw another hanging disc that was blocked by Alexander Ford after Valeria Cardenas jumped too early.
You could cut the tension with a knife. 
USA recycled the disc well, scoring upwind on the break side to take their first lead of the game, 11-10. Colombia was definitely looking tired, but, to be fair, they also slipped numerous times on a turf field that doesn't look like it will last three days.
A dangerous bid from Stuart (who arguably didn't see Kocher and Manuela Cardenas in front of him) led to another long discussion which resulted in the disc going to Kocher's man, Julio Duque. The Colombian women didn't seem to be given enough space to work with, and a hanging disc was blocked by Freechild, but Ford was in the right place to get it back.
As Colombia swung the disc against the poaches, Freechild managed to get a no-look handblock, then busted deep for Kocher, calling the timeout on the downwind endzone with the opportunity to take a 12-10 lead and seemingly put the game away. Somehow, as the stall rose, Stuart snuck free, found the far corner of the endzone, yelled "DYLAN!" repeatedly, and was rewarded with the goal. 12-10, game to 13.
Another high, hanging pull couldn't slow Colombia this time, as they advanced down the open side, swung to the break side, hit the poach, then launched a hanging disc that was expertly snagged for the hold.
Still, it was USA on offense, looking to hold for the win. Then, Stubbs inexplicably dropped a simple swing on the USA goal line; Colombia quickly punished the error to take the game to 12-12 and double game point.
A huge layout block from a sprinting Mauricio Martinez right on the goal line again a jogging Stubbs was called a strip and uncontested. But then M. Cardenas came up with a monstrous layout block on a Mickle high stall throw into the endzone. Colombia immediately attacked on a fast break and, in the blink of an eye, scored the winning goal.
USA took far too long to get up to speed and definitely looked nervous on offense, but all credit should be given to Colombia for taking advantage of mistakes in the first half and building a lead.
You can watch the majority of the second half on this Facebook video.