Legitimacy for ultimate goes well beyond games on ESPN.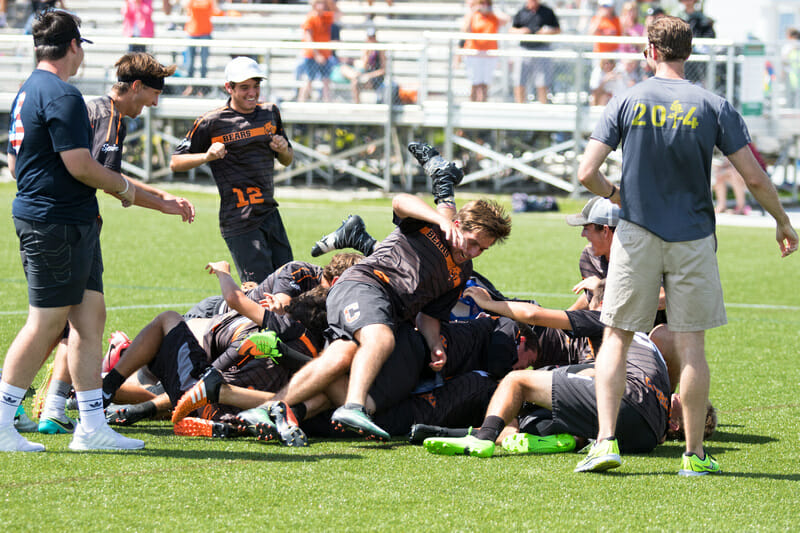 This is the first piece in a series of articles about the Youth Division leading up to the Youth Club Championships this weekend. The series is presented by Spin Ultimate, the official merchandiser at YCC.
By car, Baton Rouge, Louisiana, is seven hours from Atlanta, GA, and six and a half hours from Austin, TX. Both are separated by sprawling drives unencumbered with turns or scenery. Yet the chasm that spans the access to high-level ultimate for a high schooler in Austin or Atlanta and one in Baton Rouge dwarfs the physical distance between them.
I pick Austin and Atlanta because they're the next closest thing to the Louisiana capital. I know that there are cities that make the youth scenes in those two places look like they are in their infancies.
However, the team that caught the final goal at the first High School National Invite didn't come from Seattle, Boston, Minneapolis, Austin, or Atlanta. It was a team that hailed from Baton Rouge: Catholic High School. The last time any team from Baton Rouge was relevant in the national ultimate scene was when LSU's Brian Harriford won the Callahan Award in 1998.
LSU remains a regional collegiate competitor but hasn't been to Nationals in nearly 20 years. In the last five years, there have been four different club teams that have tried to assume the mantle of the "serious" club team in Baton Rouge. Since I moved here in 2009, summer league has consisted of as few as six teams; very rarely do teams have more than 10 or 12 players show up.
So how do you build a nationally relevant high school program in the midst of all of that? I'm going to try to answer that question.
First, I want to add a few caveats though. I, as the CHS head coach from 2011-2016 and then the assistant coach this year, by no means did it from the ground up. The year before I arrived at Catholic, the team traveled to Corvallis, Oregon, and finished 3rd at HS Westerns (one of two USA Ultimate-organized regional championships at the time). In my first senior class, the class of 2012, was a player who would win gold with Team USA at WJUC 2012. CHS has had an ultimate team of some sort since the mid-2000s. At my job interview for a position in the English department, the principal asked me, "What do you think you can contribute to our ultimate team?"
So, if you're trying to start a team from scratch at your school, this may not be your best how-to guide. However, I've learned some things over the last six years that helped build this team into what it is today. Hopefully you find them compelling and helpful in your own efforts to build a program.
Convince The Parents
The most important thing for any youth organizer to understand is this: if you don't have the support of the parents, you don't have anything. You can train the best ultimate team in the world but when it comes time to buy flights to Chicago, there is one group of people who are signing checks. Without buy in from parents/guardians, your youth program will fall.
When I started at Catholic, there were often no more than two or three parents at any given ultimate event. If we were playing in Baton Rouge, we might gain more of a crowd but I doubt we ever had more than a quarter of the players' parents at any event.
My first goal was to have a relationship of some kind with the parents of every player on the team. This meant knowing first names and which parent belonged with which kid. I arranged parent meetings early in the year to make my vision for the team clear and gave out set dates for early competitions. At fall tournaments, I would spend huge chunks of the day walking the sidelines and talking to parents about their sons, the sport, and anything else that came to mind.
By my second year, we had full sidelines. By my third year, I was able to form parent committees to handle travel arrangements (distance from youth tournaments made anything but travel by charter bus unfeasible), tournament food, hotel bookings, and service opportunities. At the HSNI at the end of this school year, three quarters of the players' parents made the trip to Rockford and the ones that did not show up had legitimate excuses (one player's parents stayed in Baton Rouge to watch their older son play in the first round of the NCAA College World Series for LSU).
This parental support meant that when things needed to get done, they got done. Most of our fundraising for this year was done through an impromptu crawfish boil. Parents made most of the arrangements to get the crawfish (at reduced prices), boil the crawfish, and advertise the event. It meant that, for most of my coaching career, I was able to focus on coaching without worrying about the logistics of how we would get someplace or where we were staying. It meant that when I said players needed to be at school at 6:00 a.m. for track workouts, they showed up.
If you're trying to run a youth ultimate program without parent buy-in, you're missing out on an enormous chunk of your potential success.
Work With The School
My secondary goal was to get buy in from my high school.
I mentioned that I was asked about my contributions to the program in my interview, but I wanted to move from interested in the potential of the program to excited about the program's additions to the school.
For me, since I taught at Catholic High, this was an easier step than if I had been an off-campus coach. Regardless of whether you teach at a school or not, it's important that you understand that there are numerous people that make the school tick that may not be your traditional figureheads.
Of course it's important that your Principal and Athletic Director have support and respect for the job that you do. But it can be equally, if not more important, that the administrative assistants in the front office and the Activities Director (at CHS, the head of clubs and extracurriculars) feel the same way.
For four years, the administrative assistants in the front office at Catholic collected permission slips and dues money for the team. This may seem like a small task, but any one collection of dues could total more than $5,000. Do you want to collect that money at the practice field? Do you want to transport permission slips from practice, to your house, and back to school?
Maybe you're more organized than me, but, for me, the fewer steps between where permission slips/money/important forms were turned in to me and where I needed to turn them in the better. Mrs. Hodges didn't need to collect those forms for me, but we had an established relationship by the time I asked and it made my life so much easier.
Remember, ultimate is off the beaten path. You have to be twice as good as some established clubs and activities to get half the respect. That's not anyone's fault — that just comes with the territory. So, never miss a deadline. Turn in club forms early. Make every meeting. Check every box. Never need to be asked to do something twice. Within a few years, the school will start to realize, from the principal on down, that when the ultimate team does something, it does it right.
This serves you well when you start asking to miss class to travel to tournaments, when you ask for exceptions to established fundraising rules, when you need practice space, and when you eventually do make a mistake and need some grace.
The more your school is bought into you, the less you have to worry about convincing and tight-rope walking and the more you can worry about getting better at the sport.
Make It A "Real" Sport
Let's face it. To most of the country, ultimate doesn't qualify as a "real" sport. This is another uphill battle for you to climb. You have to make the game real for — in this order — yourself, your players, your parents, and your school.
I'll admit there were times when I questioned whether or not I was dedicating too much time to something that didn't have the respect of my peers, friends, family, and employer that I wanted it to. That's not to say it didn't have any respect, but it didn't feel like anyone outside of the team felt the way about CHS Ultimate that I did.
That's because they didn't, and they shouldn't have either. You and your team should feel uniquely committed to your goals in a way that no one else should understand. Be comfortable finding intrinsic value in pouring yourself into young people and you will find that ultimate becomes a "real" sport to you.
We talked about parent buy-in, but players have to buy in even before your parents because, let's face it, no players means no parents. One of the biggest things I changed when I took over at Catholic was practice attendance. If we were going to be a real sport, then people were going to show up to practice, no matter what.
Policies like that and other team commitment policies meant that we lost players, but it also meant the ones left were committed. It hurt us at times. In 2015, we finished third at Southerns, losing to Paideia 13-8 in semifinals. Over the course of that season, we had two players quit the team because they felt they were talented enough that they need not be held to the same attendance standards as everyone else. They were two of our top seven players. I told them to meet the requirements or quit the team. I have little doubt that, had they played in that semifinal, there could have been a different outcome. However, the precedent was established so that, in 2017, players knew that requirements were, in fact, required.
Making the sport real to parents means giving them the tools to follow along. Talk to them about team strategies and techniques. Explain what their player is good at and what to watch for. IN a similar manner to getting school buy-in, be a professional. Don't show up to coach barefoot. Don't show up in a costume. Don't let them be surprised by team events. Communicate early and often. OVERCOMMUNICATE.
From the end of the 2015-2016 school year to the HSNI this year, any parent whose son played on our varsity team received over 100 different e-mail threads from me, many of which contained multiple e-mails. That's an e-mail thread nearly every four days. Some were simple reminders; some were long and complex. All of them implicitly said, 'I care about this. I care about your son. This is a real sport.'
Finally, you must convince your school that they are dealing with a real sport. In my first and second year, I observed multiple football and basketball practices. I had sit down meetings with other coaches to talk about practice planning and season-long strategy ideas. I kept our administration up to date with how the team was doing and often contextualized for them what our results meant. For my first five years, the team had required track/throwing workouts before school all year round. Players had to be at the track at 6:00 a.m. as a part of being on the team. It's a fact that, to this day, Catholic's Athletic Director marvels at and uses to motivate other teams to take care of their physical preparedness.
Finally, after those five years, I was able to work my way (and the team's way) into the rotation of coaches at CHS' summer strength and conditioning program. After seeing the team's and my dedication and because he's someone who loves to see athletes succeed, Catholic's strength and conditioning coach, Deuce Harrison, volunteered to write a year long program and coach the team through lifting all year long. At the end of the season, there is no doubt in my mind that this was the biggest physical contributor to our success. It's not likely that it's support you'll earn in your first or second year as a program, but if you lay the foundation early and often, you may find that the school reciprocates.
Be OK With Losing Today
A constant battle between my captains and me over the last six years has been my insistence on building depth. Before this season, Catholic would play completely open lines, no matter the game or situation, until the final tournament of the year. My insistence has always been that we want to shoot higher than a mid-season tournament title.
It's tough to convince competitive young players of this fact. Many players and coaches get obsessed with winning the game that is right in front of them and forget about — and I know that I risk losing you with this one — the process. In a place like Baton Rouge, it takes years to develop a winning program.
This year's seniors were getting big game minutes when they were sophomores. Sure, I could have kept them on the sidelines and we could have won a game or two more in 2015. Maybe we could have even won a tournament or two. But would we be where we were this season if I had?
It's hard to say for sure, but I'm doubtful. I know how much went into this season and every single ounce helped.
So don't lose sight of your goals. Losing a game doesn't mean anything that you don't want it to mean, especially in the middle of the season. As long as you know what you're building towards and you play your best ultimate when you want to do so, then your season is a success.
Make Sacrifices
Finally, you have to be willing to make sacrifices…huge sacrifices. It's wild to me to think that since 2011 nothing has consumed more of my extracurricular time than coaching Catholic High School's ultimate team.
I could have been standing in a wedding the weekend of the HSNI. My wife has been a mother for three Mother's Days. For all three, I was coaching several states away. I have skipped family ski trips, friends' birthdays, countless hours of sleep, and my own (most likely mediocre) club career to throw myself at this program full bore.
Can you be a decent coach without giving up all that? Probably. Can your program reach its potential? I'm doubtful.
My sacrificing for the team reached its culmination this year when gave the head coaching reins to Thomas Echols and stepped back into an auxiliary role because I realized, now as a father of two, that I wasn't willing to make the sacrifices that could help the team reach its potential. That meant that someone else got the Gatorade bath that I always dreamed of but it also meant that I had given everything that I could up for the program: my whole self and eventually my control.
But a sacrifice is defined as an act of giving up something valued for the sake of something else regarded as more important or worthy. I may have given a lot up over the years, but what I received in return is something that I cannot even put into words but is much more worthy. It looked a lot like the tears in the eyes of 15-18 year olds who finally realized their dreams.
You need a lot of other things to go right for you for it to all work out, especially if you live in an ultimate desert. Mostly those other things revolve around people so it's tough to give you advice like, "Find a Thomas Echols," or a Tim Labauve, or a Gary Vicknair, or a Tom Eldringhoff, or a Deuce Harrison, or a JP Kelly or…I could go on.
***
I hope this gives you some direction or some help. To this day, my three proudest accomplishments are becoming a husband, becoming a father, and becoming a coach. It's hard to imagine those three will ever change, so I hope you find some of the same gratification in the process that I have.