We get you ready for Sunday.
Ultiworld's reporting on the Women's division of the 2017 Elite-Select Challenge is presented by VC Ultimate as part of their year-long support of our women's coverage. All opinions are those of the authors. Please support the brands that make Ultiworld possible and shop at VC Ultimate!
After four rounds of pool play and prequarters to close out the day, the quarterfinals are set at the Elite-Select Challenge. Here's a look at the championship bracket: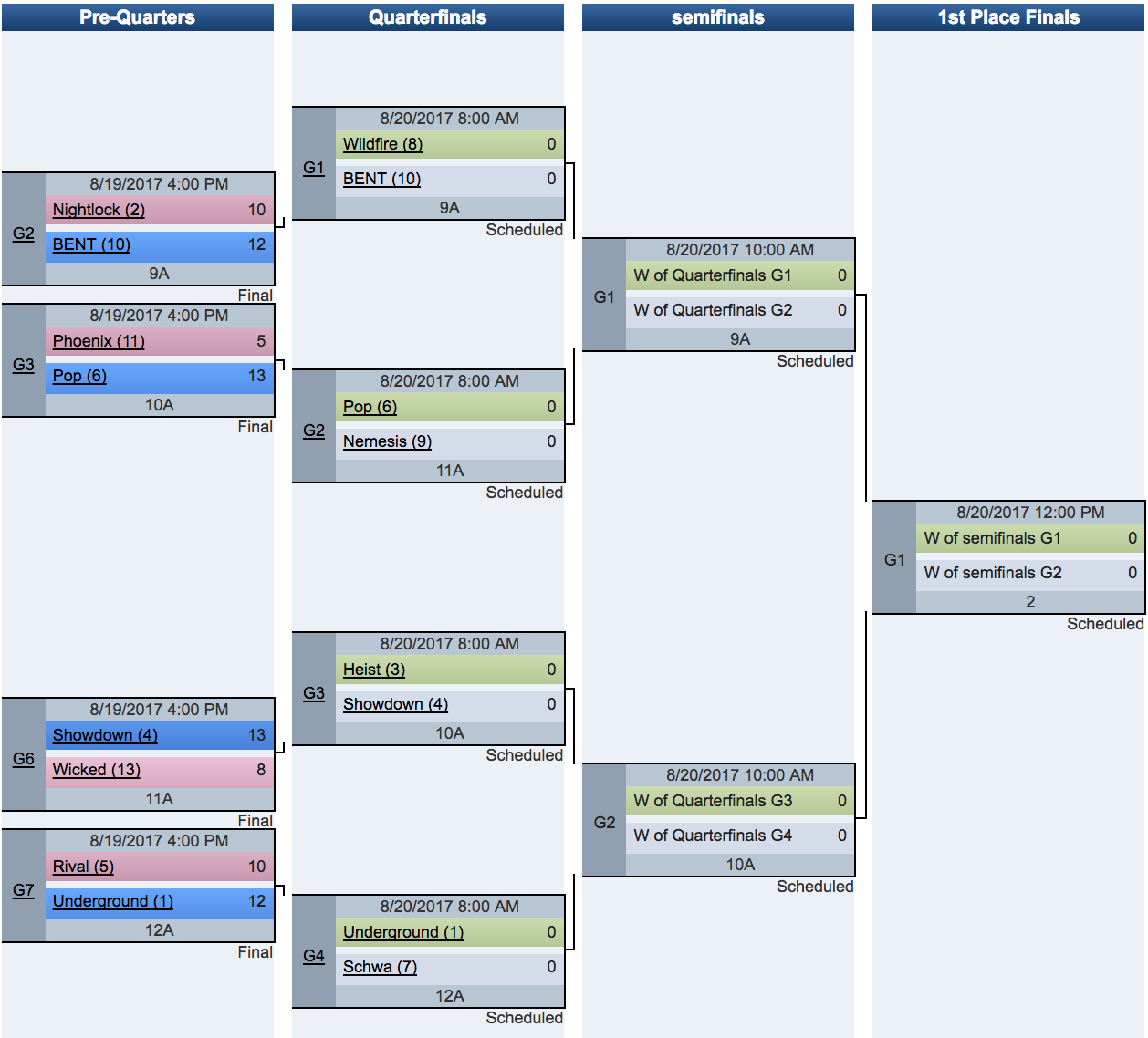 Here are some quick hits about the action on Saturday:
Upset city! There were surprises around the field complex every single round, as only a single pool went to seed and many games came down to the wire. Nemesis took down both Showdown and Rival to finish 3-0. Wildfire ground out an epic 12-10 win over #1 seed Underground in the last round of pool play, and Schwa topped Nightlock 13-11.
Bent came close to a big upset over Heist in pool play but will certainly come away happy after beating Nightlock 12-10 in prequarters. It's easily their best win of the season.
Pop had a good day, going 2-1 in pool play and blowing past Phoenix 13-5 in prequarters. They nearly beat Heist to win the pool but came up short on double game point.
A very disappointing day for Rival, especially coming off of their win at the Select Flight Invite. They dropped pool play games to Nemesis and Showdown and then came up short against Underground (12-10) in prequarters.
Thanks to today's upsets and perhaps just the makeup of this tournament, tomorrow's quarterfinal matches feel very balanced. There are no slam dunk favorites. That should make the 8 AM games a whole lot of fun.