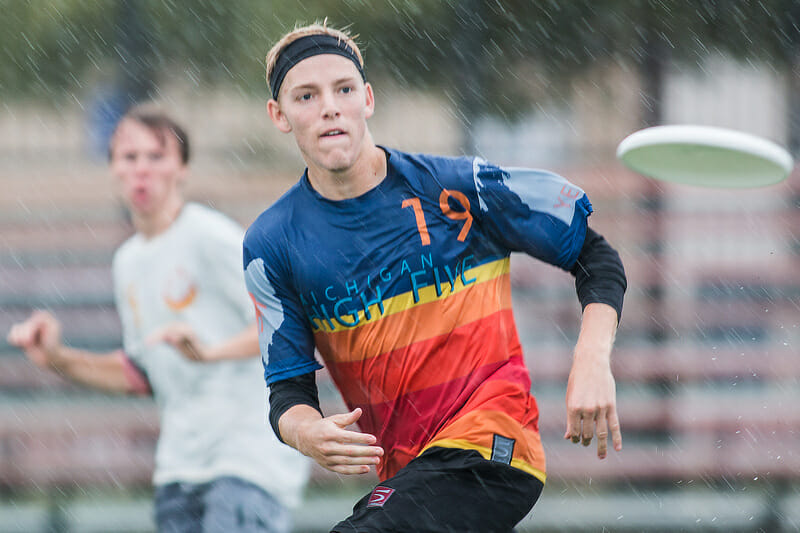 Ultiworld's reporting on the Men's Division of the 2017 Elite-Select Challenge is presented by Universe Point cleats. All opinions are those of the authors. Please support the brands that make Ultiworld possible and shop at Universe Point!
APPLETON, Wisc. — With some proven top 10 teams, some battling for bids, and some relative unknowns taking the field this weekend at the Elite-Select Challenge, there was plenty of intrigue at the penultimate stop on the Triple Crown Tour. Here's a look at the top teams and stories.
High Five Continues To Make The Case For Being A Semis Contender
The Michigan-Ohio combo team High Five went undefeated at the Elite-Select Challenge and they didn't budge an inch in the Power Rankings. That's what happens when you're the #1 seed and you simply take care of business.
Despite some moments of inconsistency on offense, High Five kept the pressure on throughout the second half of games and came away with a 6-0 record, including a resounding 13-8 win over Dig in the final.
"It definitely feels important," said High Five captain Mike Dagher-Margosian. "We came in as the one seed. We came wanting to win every game that we played, not so much concerned about bid allocation and all that but just showing…this is our last regular season tournament. We wanted to show that we can play as the number one seed."
This weekend continued High Five's streak of losing only to top five ranked teams. At the US Open, they fell to Sockeye, Revolver, and Ring of Fire (twice, each game by just one point). At Pro-Elite, they lost to Johnny Bravo and Truck Stop.
Their performance thus far this season cements them as a team that should not be satisfied with anything below a quarterfinal finish at Nationals. Now the question becomes: can they crack through to semis?
Baby steps. Last year, they went 0-3 in pool play and whiffed on even making prequarters. There have clearly been some mindset issues that have plagued the team at Nationals in past seasons.
Dagher-Margosian thinks they're starting to round the corner. "We just had this alpha mentality: there's a bone out on the field, both teams want it, and we're going to go take it," he said, adding, "We had a big leap in trusting all of our teammates."
There's good reason for that. The team is as deep as it's ever been, with star power in players like Johnny Bansfield and offensive juggernaut Paul Arters alongside rock solid contributors like Jordan Rhyne, James Highsmith, and the young Joe White, who is heading into his sophomore year at Carleton.
White deserves a special nod: his defense was singled out by player-coach Tyler Kinley as perhaps the most impactful on the team so far this year. He already got some buzz this season for skying Jimmy Mickle; there's a lot more to come from the budding star.
High Five is still figuring out how best to take care of the disc, especially on the defensive line. If they can harness all the talent come October, they will be a mighty dangerous pool two seed.
Dig Lays Any Questions About Their Talent To Rest
It was easy to look at Dig's early season result — a one point win over a depleted Ironside in the final of Boston Invite, a warmup tournament — and be skeptical. The team caught lightning in the game-to-go at Regionals last year, sure, but were they really going to be highly competitive this season? They built their depth during the offseason but lost their singularly most dominant player in Jeff Babbitt, around who they had built their entire offense.
Let any doubt about their bona fides fade away. After a sluggish start against Chain Lightning, they rallied back, won the game, and wrecked every team in their path until falling to High Five in the final. They move to #8 in the Power Rankings, marking the first time in a decade that a single city has hosted two clear-cut top ten teams in the Men's Division (Ironside is #7).
"We didn't have any expectations coming in," said captain Ben Sadok. "We knew we were the two seed. We knew we had beaten Ironside — that's why we were there."
They were assessing themselves as much as we were assessing them. Obviously, they showed that they deserved their seed.
And that's with something of a patchwork offensive line. The team was without some key players this weekend, including Spencer Diamond, Rusty Ingold-Smith, and Misha Sidorsky. But thanks to the backfield wizardry from Sadok, resets were available and the offense was flowing.
One standout O-line cutter: Rocco Linehan, a rising junior at the University of New Hampshire. He was an impactful mid, chewing up yardage as well as any player at the tournament. "Surrounding himself with other O-line cutters, he can really thrive," said Sadok. "Now he's been playing another year of college; he's beginning to become more confident and more powerful and aggressive."
Linehan is an archetypal player on the team: young, skilled, and largely unknown on the club circuit. The average age of the team is 23.4 years old; a good number of starters are still in college. But don't be fooled: they have the talent to be a legitimate threat at Nationals, just as they were last season when they nearly upset Sockeye in prequarters.
Rising UMass senior Chris Bartoli got numerous unbelievable layout blocks for the D-line, and Dig's offensive efficiency after the turn was among the best at the tournament. Their two distinct D-lines ran different offenses and looked dynamic, up until the final against High Five.
In that game, High Five's straight up matchup pressure (as opposed to the junk defenses they had seen much of the weekend) made life difficult for cutters and handlers alike. Resets were not as available and turnovers mounted. Dig had some chances in the first half to get breaks that they didn't convert, and despite getting the game's first break, they trailed at halftime and fell apart in the second half.
"Some things go differently — we're easily in that game," said Sadok.
With reinforcements arriving in time for the New York Invite next week, Dig might just be in the top tier at the tournament.
Sub Zero Continues To Sharpen
Considering some of Minneapolis Sub Zero's personnel losses this offseason, not many picked them to be the clear frontrunner in the North Central region. After this weekend, it's clear that they're not just the favorite in the NC, they're a damn good team, period.
Sub went 5-1 at Elite-Select, falling to High Five on double game point in the semifinals. That was High Five's closest game, and it was a much better performance than in Sub's 15-11 loss to Michigan at the US Open.
"We're bringing the defensive energy," said captain Ben Feldman.
Ryan Osgar continues to play great ultimate, and Wyatt Mekler, who is eligible to play a fifth year for the University of Minnesota this coming college season, has really come into his own as an offensive playmaker.
The return of Eric Johnson has also been a welcome sight for the less-experienced roster. "His experience is invaluable," said Feldman.
Josh Klane, typically the team's center O-line handler, did not play this weekend as he recovers from knee surgery. Considering that the North Central is locked in to just one bid, don't expect him back for the Pro Championships over Labor Day weekend, either.
Sub will get one last crack at the country's best teams at that tournament; we'll see if they can play closer than they did at the US Open to start their season.
Quick Hits
Baltimore Medicine Men followed up a nice showing at the Select Flight Invite with a great one in Appleton. They knocked off Doublewide in quarters after beating PoNY in a huge comeback during pool play. The team just looks much more disciplined than they have in years past. Will they be able to play their way into a bid at NY Invite?
New York PoNY came into the season with a ton of buzz but hasn't really delivered on their promise. They lost to Med Men and Sub Zero in pool play and then Dig in quarters. They did end the weekend on a high note with wins over Doublewide and Guerrilla to take fifth. The team isn't worried: they're still figuring out their roles. "Every year, there's teams that can't put it together in the regular season," said captain Markian 'Muk' Kuzmowycz. "And I don't really think it's that bad. If anyone wants to talk about us, if anyone wants to count us out, that's fine. We've never been in a heralded position anyway."
A great Saturday turned into a nightmare Sunday for Austin Doublewide. They stomped in pool play and got the bye to quarters, where they lost in a sluggish performance against Med Men. "We gotta start the entire game," said head coach Jose Cespedes. "We've got to play at the high level that we did in the second half — it's got to start from the very beginning."
It was another disastrous weekend for Madison Club, who went 0-3 in pool play, losing to High Five, Machine, and Inception. They're now 4-8 on the season. The talent on the team really doesn't seem to line up with how they're playing. Perhaps a bit of looking ahead to the AUDL Championship Weekend?
High Five's Mike Dagher-Margosian got a boisterous rendition of Happy Birthday from his teammates…as he does at every team function. High-quality trolling during the post-game interview.