Great questions this week!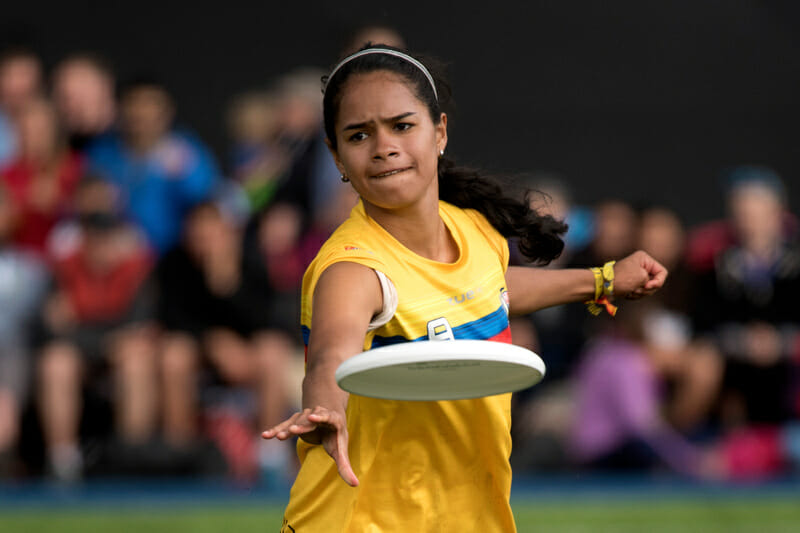 The Mailbag is going to be heating up in the next few weeks as we get ready for Club Nationals! Thanks to everyone for sending in questions via Twitter this week. I have a bunch of stuff I'll get to next week. Please, though, send me more questions!
ASK ME QUESTIONS/SEND ME COMMENTS: Email ([email protected]) or Twitter.
Q: What odds are you giving that we're going from a Boston Nationals sweep to a Seattle one?
– Nick R. on Twitter
A: For those that don't know, I was dealing 10-1 odds on a sweep of Nationals by Boston teams last season. While those are far from fair odds, I'm glad I didn't offer better than that because I got scorched after Brute Squad, Ironside, and Slow White delivered the sweep.
With Seattle teams looking ostensibly like favorites or at least strong title contenders in every Division (Riot is ranked #1; Mixtape #1, BFG #4; Sockeye #3 but with a strong win over Revolver), there has definitely been some buzz about a Seattle sweep. The going rate is 20-1.
I think that's a pretty fair price, though I don't know that I personally will be taking any action on it. I'm skeptical of a Seattle sweep, much more so than Boston last year, but without any other action to balance the risk, taking 20-1 bets is too much for me after getting thrashed by Boston fans last year.
Here's the problem for Seattle: there are just too many teams in the mix this year. Last year, it was plainly obvious that Riot and Brute Squad were the best two teams. It was plainly obvious that Revolver and Ironside were the best two teams. Slow White was a strong favorite in Mixed.
This year? Things feel a lot more up in the air. Molly Brown is a threat. Ring of Fire is a threat, plus the Men's Division has generally been super wacky this season. No matter how good they've been this season, I do not trust Mixtape at Nationals; I just don't. BFG is going to get scouted and will probably lose in quarters.
Could all the breaks go Seattle's way? Sure, they could. There is certainly enough talent on each of the teams to come away with the sweep. But my gut says otherwise.
Q: What will be the impact of Manuela Cardenas joining Molly Brown? And Mark Lloyd joining Johnny Bravo?
– Everyone
A: What a start to the postseason! I wish that we had this insane deadline moves every year in ultimate. I was thinking in the car yesterday about how great it would be if trades and drafts were a part of ultimate (whether in the AUDL, Club, wherever).
So let's dig into this huge roster additions. We'll start with Manuela Cardenas, the 18-year old phenom from Medellín, Colombia, who lit Molly Brown up so much in the US Open final (3G, 1A, 3D) that they recruited her for the postseason.
While those are some gaudy numbers from the final, it's worth noting that she has not traditionally filled up the offensive stat sheet. That assist from the final was the only recorded one of the tournament for her, and she had seven goals — not bad, but below a number of other players on the team.
What she is going to give you is electric defense and athleticism, along with an uncanny ability to create blocks in situations you thought impossible. She won the award for Block of the Year in our 2016 bracket (featuring both men and women) and this play from the US Open final was superb:
She can also launch herself into full extension layouts from a near standstill to jump passing lanes.
There's no doubt that her skillset will be an asset for Molly Brown. She can plug in to the D-line, take the other team's #1 downfield option, and make plays. She's got great speed and can certainly be a dangerous cutter after the turn (as we saw in the US Open final).
How much of a difference can Cardenas make? I'm more worried about Molly Brown's offense than their defense. They have some huge weapons, to be sure, but they rely a lot on a few players, particularly Claire Chastain (who's been incredible this season), Liza Minor, and Lisa Pitcaithley. A lack of depth has doomed them at past Nationals. They'll get to the semis and then not be able to keep up with wave after wave of Brute Squad defenders.
My guess is Cardenas will definitely be an impact player, but I'm not convinced she can completely change the trajectory of their Nationals outcome. I doubt she gets a ton of run on the O-line, given their limited time to work her into their systems (she won't practice with the team until October). If you give up a string of breaks to a Brute or a Riot, it's hard to see even Cardenas coming up with enough blocks to pull them out of a hole.
***
What about Mark Lloyd's impact on Johnny Bravo? He has risen back to the elite ranks of Men's players after looking like a top five player in the world in 2014, but then missing an entire year with an ACL injury before playing at a much reduced level in 2016. He was great at the World Games, though, and was a vital part of the Toronto Rush's postseason run to a one-point loss in the AUDL final.
Lloyd is extremely versatile. He is an above average one-on-one defender with the ability to stop another team's big. He is extremely savvy with his poaching and has great field awareness, as he showcased during the AUDL Championship Weekend:
He's also a huge offensive weapon with a full throwing skillset, including extremely powerful hucks (this play from the World Games is memorable more for the catch but MY GOD THE THROW). He's not as light on his feet as he used to be but he still has "escapability" and can get free for goals.
So where does he plug in for Bravo? One of Denver's biggest problems is that they are just not deep enough: they rely a lot on Jimmy Mickle, Nick Lance, and Ben Lohre to do the heavy lifting. Lloyd offers another option to take some pressure off those guys. Again, given the limited time to integrate, I'd imagine we'll see more Lloyd on defense, where he slotted in really nicely for the Rush after not playing a lot of games for them during the AUDL season.
But, given his versatility, it would not be shocking to see him play both ways. He can help Mickle a lot in the backfield or go downfield and sky people a la GOAT 2014.
But the problem for Bravo is that Lloyd probably isn't enough to close the gap. Bravo has twice lost by six to Revolver and lost by five to Sockeye. No player is going to swing a matchup that match (well maybe Kurt Gibson).
Verdict: Manuela Cardenas is guaranteed upgrade on defense. You know what you're getting. Mark Lloyd is more uncertain: perhaps higher upside due to his ability to play anywhere on any line but going to a team that needs a lot of help.
All I know for sure is that I can't wait to watch these teams play in Sarasota.
(PS: How is Denver pulling all these free agents this year? Something in the thin, mountain air getting to people's heads? I'm not going any further down this path.)
Q: What's up with Florida United's inflated ratings? It doesn't seem fair to teams that have played real tournaments.
– Keven M.
A: For the uninitiated: Florida United earned a strength bid for the Southeast region to Nationals despite playing at no nationally competitive tournaments and barely making the cutoff for sufficient rankable games. They won all their games during the regular season. Their best win is 13-11 over Chain Lightning. It's not exactly an inspiring resume.
But what are you going to do? They crushed a solid Freaks team twice and do in fact look like a team that will at least be competitive at Nationals, should they make it. Last year, they earned a bid in a more traditional way.
Every year, we talk about possible changes to the USA Ultimate algorithm and ranking system. Here's an idea: require teams to play a minimum number of games against out-of-region teams in order to be able to earn a bid from Regionals to Nationals. Florida played just one (Kentucky Flying Circus).
This has almost no effect on the bid landscape, besides blocking teams from playing only at local events where teams have an incentive to let the best team crush everyone to maximize the chances at a bid. Almost every team capable of earning a bid to Nationals already plays (mostly!) out-of-region teams.
I'm not saying that what Florida United did was wrong in any sense. They wanted to prioritize the AUDL season and didn't want to spend the money to play out of region tournaments. That's their prerogative. But it does seem a bit unfair to teams that prove themselves against tough competition outside of their region to watch a team whose resume is extremely thin earn a bid.
Q: This has been the best club regular seasons in a long time, but it still feels like there's not a lot of reason to care about wins and losses for the majority of top teams. They know they can win at Regionals regardless of whether or not they get a bid. What do you think could help make the club season more meaningful?
– Kat S.
A: Time for a more radical idea. Here's my thought: make it so that teams that win selected Triple Crown Tour events (i.e. US Open, Pro Championships, Pro-Elite Challenge) automatically qualify for Nationals.
Let that sink in. It's crazy. It has huge flaws. How do you deal with Regionals?
But it's also crazy exciting. Teams would travel stronger and play harder. Early season tournaments wouldn't just be warmups. There would be huge buildups in the bracket and great drama.
Would teams go for this? Probably not. If you qualified by winning a tournament, it wouldn't really be possible for those teams to play at Regionals because of the skewed incentives. That would mean qualified teams wouldn't play between Labor Day and Nationals. Doubt they'd want that, even with the security of knowing that they would get a free pass to the Big Show. You'd also have to work out how bids would be allocated (do you remove a bid for the team that won? What about one-bid regions; do they get a bonus bid?).
While this idea is probably a non-starter, I would love to brainstorm more ways to add actual reasons to win during the regular season. Best comment on this topic gets a gold star.
Q: Did you notice that during the US Open the AUDL dropped a highlight reel in the middle of the live broadcast game and then during AUDL Championship weekend USAU decided to offload a bunch of new US Open clips? I kind of viewed it as somewhat petty one-upmanship. Wondering if you think this is just silly back and forth trying to show off, or is it just smart marketing to promote material during any sort of high level ultimate event?
– Shaun L.
A: Shaun's right, the #PettyWarz are alive and well between USAU and AUDL. There seems to be a lot less outright hostility these days (especially compared to a couple years ago), but little social media silliness like this keeps everyone on their toes.
I think this definitely is smart marketing. If a lot of people are tuned into the Internet for ultimate stuff, that's a great time to promote your social media accounts and your brand. But it's also petty as hell, which is great; we need more of that.