Notes on Clapham, the best of the rest, and the unusual format.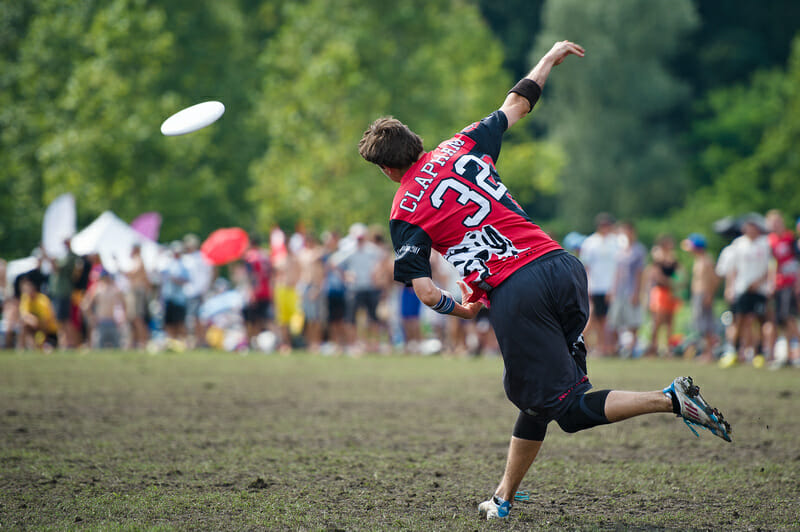 Ultiworld's reporting on the European Ultimate Club Finals is presented by Universe Point cleats. All opinions are those of the authors. Please support the brands that make Ultiworld possible and shop at Universe Point!
The European Championships Finals (EUCF) is the culmination of the club season in Europe and it starts tomorrow in Caorle, Italy. The Men's Division is always the biggest division at the EUCF with 24 teams from across the continent. Here is what to look for this weekend.
Can Anyone Dethrone Clapham?
Let's face it, the Men's Division is and has been London Clapham's division for a long time now. They have won the past five EUCF titles: Flying Angels Bern was the last of their competitors to take the crown in 2011 (Clapham lost to FAB in the final).  The boys from London will be in full force this weekend and look for the familiar faces of Justin Foord, Tom Abrams, Ollie Gordon, and captain Ashley Yeo to lead the charge and make key plays. But to be quite honest, the key weapon Clapham has over just about every team at the EUCF is depth. All the way down their 26 man roster is a high level of talent.
Clapham has looked vulnerable this year, though, and is coming off of a less than spectacular US Open. In the Windmill final, they lost the first half to Basel's Freespeed 8-6 but managed to pull off their second half magic to still take a commanding win by the end of the game. That's always the issue with Clapham: their depth allows them to compete at a very high level throughout an entire game. Their best competition hangs with them for the first half with tight lines playing their top talent, but that never seems to work in the second half.
The EUCF is still Clapham's to lose until proven otherwise.
The Battle For Second
Any of the teams mentioned here have the capability to give Clapham a game and maybe steal a win, but realistically it is still a battle for second place. The second place tier has traditionally included Tchac, CUSB La Fotta, Bad Skid, and Flying Angels Bern.
France's top guys from Pornichet, Tchac, look as good as ever this year. A large contingent of them competed as the French National Men's team at the World Championships of Beach Ultimate in Royan earlier this year and shocked the world with their third place finish, beating the Philippines and silver medalists Great Britain along the way. Though this team has lost a bit of top end skill to the AUDL with Stève Bonneau and Quentin Bonnaud moving their talents to Montreal, make no mistake: this team is full of talent.
Their offense runs through the 3 B's — Ronan Bichon, Mathieu Bosser and Eric Becker. Bichon typically handles with Bosser taking the initiating cutter position. Becker can play well as both a receiver and a thrower, so look out for this trio in Caorle. Add in the European Male Youth Player of the Year, Quentin Roger, and Brussels import Merlin Wollast on defense and this team is scary good. They are athletic, fierce, and hungry. They won the EUCR-South by defeating their Italian rivals, CUSB La Fotta, on double game point.
Speaking of CUSB La Fotta, this is another team in the mix for the next tier down. The boys from Bologna are bolstered with the addition of French legend Nasser M'bae Vogel and Austrian all star Woflgang Mitterer. These two stars will add to an already powerful group of players including Luca Tognetti, Bruno Mine, and captains Giovanni Santucci and Massimo Vaglivello. Their roster currently does not include D-line leader Andrea Maestroianni, which could hurt, but this team is stacked with talent. They played Seattle Sockeye, one of the top teams in the world, to within three (15-12) at the US Open, which may have been the most impressive European result at the tournament (even though Clapham notched one win over Philadelphia Patrol).
They are athletic beasts and come from Bologna, which may be one of the best cities for ultimate in all of Europe. Bologna sent three separate men's teams to the EUCR-South; La Fotta is the best of the bunch. La Fotta won Tom's Tourney and only fell to Tchac by one point in the EUCR-South final. Look out for aggressive athleticism and fantastic around break throws to be the key factors for success for La Fotta. If they can keep their itchy trigger fingers a bit at bay, then they are surely in the mix this year.
It is tough to say what we can expect from Bad Skid. Germany's top elite team has kept itself out of the spotlight this year, skipping both Tom's and Windmill. Perhaps players are taking a bit of a year off as many had spent a tremendous amount of energy on the national team campaign last year at WUGC. This team is also missing quite a few of their classic big names. Notably, Christophe Köble and Nicolas Müller will not be suiting up with Bad Skid in Italy. Look out for their stars Holger Beuttenmüller, Marco Müller, and Marvin Waldvogel to take an the lead on this team. Holger's brothers Samuel and Michael may also need to step up into larger roles with the absence of a few key players on the team.
There are actually quite a few young names on this team that have moved on to the squad this year but that hasn't stopped them from winning German Nationals in a commanding fashion as well as going undefeated in the EUCR-Central. These guys were not able to medal at last year's EUCF, losing to Tchac in the bronze medal match, so look for them to be extra hungry on the hunt to bring home some hardware.
This leaves the top two Swiss teams in FAB and Freespeed. FAB has not seen the same level of success as earlier this decade when they took home gold in 2011. They are the current Swiss champions but were only able to get 4th at the EUCR-South after losing to Tchac and Crazy Dogs. They are still a fairly old team relying on big plays from their over-35 contingent of Jan Tenger, Dominik Odermatt, and Thomas Baeriswyl. 40 year old Lorenz Stauffer is always a wild card for FAB. He was once considered one of the top handlers in Europe and still has some of the best throws this side of the Atlantic. However, he didn't suit up at EUCR-South, and it is always questionable if he will decide to put on his cleats or not. He is rostered, though, and may decide to jump in during bracket play.
Freespeed also only managed to get 5th place at EUCR-South. However, this was largely due to unluckily drawing Tchac in quarterfinals after Tchac was upset in pool play by the Crazy Dogs. Freespeed still was able to bring the eventual EUCR-South champions to double game point. One big question for Freespeed will be injuries in their cutting personnel. Their big Belgian, Pieterjan de Meulenare, was injured in the first half of the quarterfinal matchup against Tchac and Robin Bruderlin has been out with a knee injury since Windmill back in June. Sources say that both players will likely play at EUCF but it is unclear how much Bruderlin will be able to contribute. Either way, look for huge hammers from Luca Miglioretto and good contributions from Nicolas Busch and Tobias van Baarsen. Freespeed looked great at Windmill and may have another gear when it comes to EUCF.
The Best Of The Rest
There are a few more teams that are worth keeping your eye on this weekend. First of all, the new Swiss kings Crazy Dogs were able to get 3rd place at EUCR-South, beating Tchac and FAB along the way. Their only loss on the weekend was to La Fotta. Chevron Action Flash from Manchester also looks strong this year and may find themselves deeper in the bracket than they've managed in the last couple years. FWD>> from Vienna also look to be stronger than in prior years after picking up a lot of the male talent from Wunderteam, the elite mixed team that took 5th at EUCF last year. Otso from Finland and RealFive from Russia took the top two spots from the EUCR-North but it would be surprising to see them move past quarterfinals. The same can be said for the Irish PELT and Girls Stay Home from Wroclaw, Poland.
The Format
The last big story to watch is the wonky format at the EUCF this year. The tournament starts with six pools of four. The top two from each pool advance to a round of 16 and are joined by the four best 3rd place teams, as determined first by wins in the pool and then by seeding. This format will no doubt leave the two other 3rd place teams extremely frustrated that they have to miss a shot at the bracket. Games for that 2 vs 3 spot in pool play will be of utmost importance if teams want to guarantee themselves a chance to advance in the tournament.