A look at the teams that could win a title.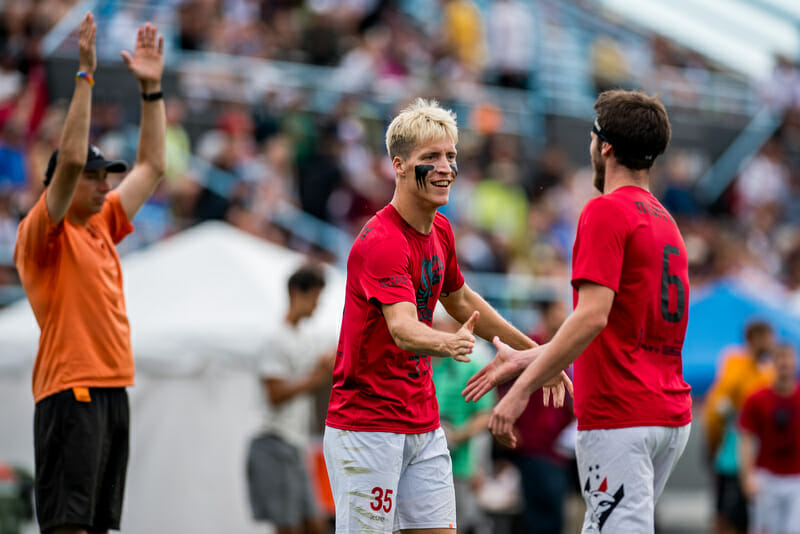 Ultiworld's coverage of the 2017 Club Championships is presented by Spin Ultimate; all opinions are those of the authors. Please support the brands that make Ultiworld possible and shop at Spin Ultimate!
This offseason, the rich got richer (again) in Men's club ultimate. The country's top teams all added significant personnel to their already stacked rosters. But given the wild west that was the 2017 regular season, perhaps there could be a surprise in store.
We made the case for why each contender will win the 2017 Club Championships — and under what circumstances they will come up short.
San Francisco Revolver
Why they will: Uhhhh…duh.
Do I really need to go into this? Revolver has top to bottom the most talented roster in the country. While they've shown some inconsistency this year, they nevertheless remain the favorite for the title. Ashlin Joye, Joel Schlachet, and Grant Lindsley marshall the offense while the deepest defensive line in the country suffocates opposing teams with smart, intense pressure. Anything other than a title will be a disappointment for the Bay Area boys.
Why they won't: Their offense
That previously alluded-to inconsistency could rear its ugly head at an inopportune time. Watching Revolver's Southwest Regional finals game against Condors, it was clear that their offense is still trying to find its rhythm. Granted, goalscoring phenom Joel Schlachet wasn't playing, but there were simply too many turnovers for a team with title aspirations. The defense won't be an issue: it's Revolver's offense that will decide whether or not they claim their fifth National Championship.
Seattle Sockeye
Why they will: Because they can beat Revolver.
We saw it twice at the US Open: Sockeye's defense threw varied looks and frustrated Revolver's offense into mistakes, and the team's playmakers made plays. When Sockeye's momentum starts to snowball, there are few (if any) teams that can hang with them. Look to the US Open final v. Revolver: a 9-9 game quickly became a 15-10 beatdown after Sockeye's defense got hot. That said, a potential Sockeye championship begins and ends with Dylan Freechild. A POTY frontrunner, Freechild was a whirling dervish at the US Open, playing most defensive points, crossing over to offense when needed, and providing a nigh-unguardable threat on both lines. Lead by his fiery play, Sockeye could become an unstoppable force at Nationals.
Why they won't: Momentum
But momentum is a double-edged sword, especially when it's so dependent on one player. If Freechild isn't his best self, if he isn't the galvanizing luminary he's been all season, Sockeye could struggle. They also turned in a baffling loss to Chicago Machine at the Pro Championships, as their offense was unable to break through Machine's relatively basic zone. They face that same Machine squad in pool play: we'll quickly see if that lackluster performance was just a blip on the radar, or if Machine simply has Sockeye's number.
Raleigh Ring Of Fire 
Why they will: Incredible athletes and Lord Nethercutt.
Ring of Fire is, traditionally, a physically dominant, hard-nosed defensive team that can out-grind most opponents. 2017 has been no different, but when you add in one of the premier throwers in the game in Jon Nethercutt (fresh off winning the AUDL MVP), you have a team that, when it's clicking, can beat anyone. While they're certainly capable of playing small ball, this is a squad that loves to huck. Expect Nethercutt to look for Goose Helton, Jack Williams, and Henry Fisher early and often in the deep space. On the other side, Ring is going to play physical North Carolina defense (of course). Their legion of big defenders aren't going to get out-hustled by anyone: Revolver included. If their athletes are making plays, Ring is more than capable of putting together strings of breaks against elite teams- Revolver included.
Why they won't1: Live by the long ball, die by the long ball.
If the hucks aren't there, either because of bad throwers (doubtful) or strong winds (probable), Ring could struggle. While they certainly have talented throwers, Ring doesn't have the multitude of extremely well-rounded players that both Revolver and Sockeye possess. And if Ring is forced to go small, they're losing their single biggest advantage over the two top seeds.
Boston Ironside
Why they will: Kurt Gibson.
All the man does is win championships. If you think he's gonna just roll over and let some other team win his title, you've got another thing coming. Of course, there's a lot of talent behind him. Peter Prial has returned without losing a step and Josh Markette continues to strengthen the theory that there's a painting in an attic somewhere that's aging instead of him. But in the end, it's Kurt. Kurt brought the title to Boston last year, and it's through him they'll do it again.
Why they won't: Because this isn't the same team as last year.
While Kurt is back, much of Ironside's veteran talent is not. No Jeff Graham, Russell Wallack, Jared Inselmann, Alex Kapinos, Rusty Ingold-Smith, Mark Vandenberg… the list goes on. All were important parts of their National Title run. Ironside's huge crop of rookies have been fine — Mac Hecht, in particular, has fit in perfectly on offense — but they can't replace the years of elite level experience that departed. The depth isn't what it was, and Ironside may have to run a tighter rotation than they'd like in tight games.
Denver Johnny Bravo
Why they will: Mark Lloyd.
We know what to expect from Bravo: they have one of if not the best player in the game in Jimmy Mickle, 2016's Player of the Year. They have a crop of incredibly skilled and creative throwers on offense in Nick Lance, Ben Lohre, and Owen Westbrook. And they have plenty of athletes on defense. But, as we've seen every year since 2014, this roster just doesn't seem to be enough to bring the title back to Denver. They needed a little something else: an X-factor, if you will. Enter Mark Lloyd, formerly of Toronto GOAT. Two years ago, Lloyd was one of the five best men's players in the world, an amalgamation of dominant downfield threat, gorgeous throws, and elite game IQ. While a lot has happened in the two years since, Lloyd looked fantastic at Worlds playing for Team Canada and for the Toronto Rush during the AUDL postseason. If Bravo gets a performance from Lloyd that's even close to his 2015 self, a finals appearance isn't out of the question.
Why they won't: Mark Lloyd.
On the flip side, if they don't get a great performance from Lloyd, this is essentially the same team as the past couple of years. Talented and athletic but flawed. We've seen it at every major tournament this regular season: a beatdown at the hands of Sockeye at PEX, a no-show at the US Open semis against Revolver, and a lackluster loss to Machine in the semis of the Pro Championships. Consistency has been an issue, to say the least. If Mark Lloyd can't rustle some jimmies and spark a run, semis is as far as Bravo goes.
Chicago Machine
Why they will: No one expects them to win.
Let's be honest: Machine doesn't have the same athleticism, pedigree, or depth as Revolver, Sockeye, or Ring. In a vacuum, the odds aren't in Machine's favor. Yet, oddly enough, Machine has beaten three of the top five teams this season, behind a smart defense and a surprise POTY candidate in Pawal Janas. Revolver, Sockeye, and Johnny Bravo fell into the classic trap of playing the way Machine wanted them to: into the jaws of a deceptively simple zone. Machine seems to play their best in big games, something they used to full effect all the way to the Pro Championship final. Combine that with the fact that they seem to be peaking at the right time (a Pro Championship finals appearance followed by a dominant showing over High Five at Great Lakes Regionals), and you have an team that very few opponents will want a piece of.
Why they won't: If they showed their hand too early.
Machine's zone worked to great effect at Pro Champs, causing headaches for many of the top teams. But wouldn't it have made more sense for Machine to wait to use their trump card? Those top teams now have video footage of Machine's zone, one they will certainly have game planned for by this Thursday. Perhaps Machine will have another wrinkle to add, a variation to throw. But there's no chance that teams as disciplined and talented as Revolver or Sockeye are going to underestimate them again. Machine's pool play rematch with Sockeye will be telling as to what kind of weekend they're going to have.
---
If a bunch of their players get held up at the Chicago airport, it could be a problem. ↩