Lots of uncertainty after Revolver in Pool A.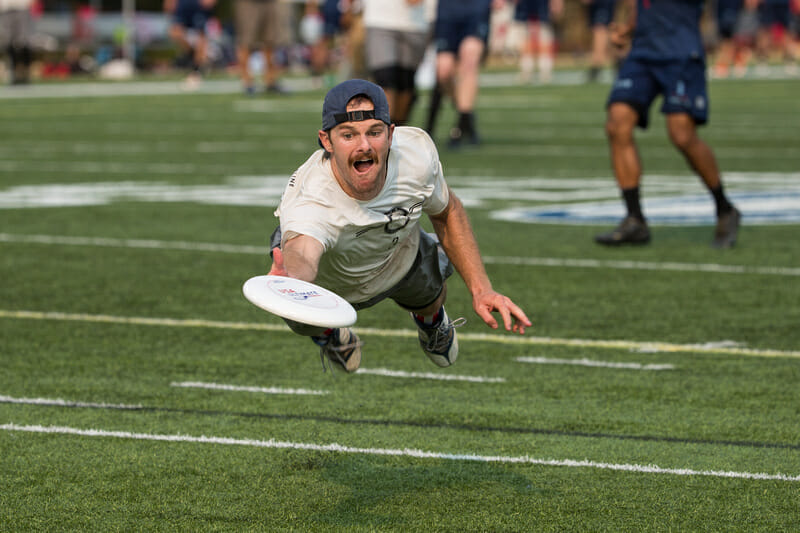 Ultiworld's coverage of the 2017 Club Championships is presented by Spin Ultimate; all opinions are those of the authors. Please support the brands that make Ultiworld possible and shop at Spin Ultimate!
Pool A, by the nature of the format, is often pure chalk at the top: don't expect this year to be any different. Revolver certainly knows how to take care of business as the top seed, and High Five doesn't strike much fear of an upset. There may be some drama toward the bottom, though, as only the top three teams move on the bracket, and Pool A features the #12 and #13 overall seeds. High Five will try to parlay their best regular season yet into a fitting postseason, while Doublewide and Sub Zero will try to find their proverbial "extra gear" as they reach the culmination of their seasons.
San Francisco Revolver [Pool #1, Overall #1]
It's show time for San Francisco Revolver. Arguably the most talented team in the history of club ultimate will take the field in Sarasota, in pursuit of the program's fifth title in eight years1. As much as we, the media and public, tended toward crowning them as soon as their roster was released, it will be up to Revolver and coach Mike Payne to deliver on their staggering potential.
Their bar was set nearly impossibly high going into the season, and their journey hasn't always been smooth. Despite finishing at #1 in the USAU rankings (21-3) and winning the Pro Championship, Revolver showed more than mere mortality this season; their offense was sloppy and their defense occasionally lacked fire, traits which led directly to their three losses2 and kept a handful of other contests closer than they should have been.
One could write an article about their offense's developmental journey but suffice it to say that their early season saw them struggle with decision making and spacing while the latter half of the year exposed a weakness against navigating poachier sets. However, despite their hiccups, Revolver is generally trending in the right direction on the offensive side. On defense, their strength continues to be their depth. SF boasts an ridiculous two-deep of athletic defenders who are equally powerful on the turn3.
They enter the tournament as the favorite, and it would be shocking to see them take a loss in pool play. You know the last team to beat Revolver in pool play at nationals? Death or Glory. In 2006. Their first year as a team. SF is literally undefeated in the last 10 years in pool play4. It's safe to say they're good here.
So what's it going to take for a team to take down the frontrunners? The answer is surprisingly simple. There are two possible routes: first, my positive prognosis for their offense could be completely off and they could shoot themselves in the foot against a junk look or by carelessly turning over their hucks.
The more interesting potential path revolves around exploiting their defensive philosophy. In their loss to Machine in pool play at Pro Flight (and even in their win against them in the final), Machine's offensive approach was pretty straightforward: they would live and die by the huck. Revolver's counter of choice for a team of that persuasion is to switch their defense to force middle. The logic is that in FM, a huck must travel further and wider, which lets Revolver use their speed to close the ground and contest the shot. Fundamentally, however, FM is still a forcing-out defense. They're still giving the other team a form of the throw they want. Sometimes (often) it still works out; the hucks get a little worse and Revolver gets blocks. Sometimes, though, a team or a player is on fire deep5. In those cases, FM is a little stickier of a situation. But Revolver can be a bit stubborn when it comes to changing their defensive tack; they are an athletic team and seem committed to winning by underscoring that athletic advantage. They are reticent to alter the strategy in response to a hot hand. I am by no means saying that that will happen; my money is on Revolver to win this tournament. But I could definitely see a team like Ring of Fire airing it out and shocking them with the upset.
Revolver has kept it interesting for us heading into The Show. They have always been a team that prioritizes the big picture and saves their best for last, and Sarasota will show us once and for all how high they can rise.
Likely Ceiling: National Champions
Likely Floor: Out in Semis
Michigan High Five [Pool #2, Overall #8]
High Five's first trip to Sarasota will mark their program's third Nationals appearance, having qualified every year since 2015. The Ohio-Michigan combination squad has never advanced past the pre-quarter round at the Club Championships but will look to improve upon that history to cap off a quietly strong season. Despite taking a loss to Machine in the Great Lakes regional final, High Five enters Nationals slotted at #8 in the USAU Rankings.
While they haven't accumulated a great deal of buzz, High Five owns wins over all the other two-seeds this season, notching a 13-10 victory over Johnny Bravo at Pro-Elite Challenge, a nice 15-13 result over Ironside at the U.S. Open, and a better-in-retrospect 13-8 win over Machine at the Elite-Select Challenge. They are no team to sleep on. That said, odds are quite long that they steal a win over Revolver, and they might have their hands full with a wildcard three-seed in Doublewide.
Offensively, High Five will lean on the throwing talents of Jordan Rhyne and Paul Arters to open up the field. Their primary look is a side stack (pretty standard) but their point of emphasis seems to be setting up quick breakside flow, as opposed to a more isolation-based system. They often use a flat inside break to set up an around-break continuation pass (ideally an around huck). They're good at it, but they're also a little one dimensional; they do not hit a great deal of static open side unders (most of those passes come out of handler swing continuations) nor do they have a particularly strong open side deep game.
While Arters and Rhyne often spark the movement by breaking the mark, the downfield cutting core is capable. The big names are Mitch Cihon (NexGen) and Mike Ogren (U24 in both 2013 and 2015), but they also get solid cutting work from Sam Greenwood (U24 2015), Alex Kapiamba, and David Bentrovato.
On the defensive side, the names to know are Johnny Bansfield and Phil Cherosky. Both are comfortable picking up the disc on a turn and initiating the offense, and Bansfield is more than willing to bomb his flick on a fast break. Bansfield also plays a unique role in their defensive set; he operates with a great deal of freedom, often poaching off his mark into the open side lane. Outside of that bit of improvisation, however, their defense appears pretty bland. They don't have a clear athletic advantage to lean on, nor a particularly effective junk set so they can struggle to manufacture turnovers.
It would be remiss to cover High Five without touching on their budding star Joe White, a rising sophomore at Carleton, who burst onto the national scene with a brilliant 2017 College Championships performance. He hasn't stopped since, parlaying that success into appearances on both offense and defense for High Five as well as a spot on the U24 team. He's a playmaker, and could end up being the athletic spark that High Five needs to break through to the quarterfinals.
High Five is a solid team, but it's unclear if they can hit the "Nationals gear" that many other top teams do come season's end. It's unlikely they go 0-fer and miss the bracket, but they lack the elite quality to take down a top-4 seed in a quarterfinal match6.
Likely Ceiling: Quarters
Likely Floor: Pre-Quarters
Austin Doublewide [Pool #3, Overall #12]
It's tough to know what to make of Austin Doublewide. This year's iteration is a fusion of the traditional Doublewide squad– a quarterfinalist last year– with Houston HIP, a team that made Nationals and performed respectably (though they were eliminated on Day 1) and two of the best players from Prairie Fire, Abe Coffin and Jay Froude. That concentration of talent really makes you think they'd be more of a story, but they've been under the radar for most of the season (and they've managed to avoid being filmed).
So what we're left with is evaluating Doublewide on paper– and on paper they seem like an upset lurking in wait. There are a lot of familiar faces from the AUDL-semifinalist Dallas Roughnecks squad (with the obvious exceptions of Jimmy Mickle, Dylan Freechild, and Kurt Gibson) to go along with a handful of bonafide club stars.
Perhaps it just feels like they've underperformed because of the lack of drama in their regular season. Their regular season was fine. They were never in real bid danger. They beat almost all the teams the were supposed to beat (though they took puzzling losses to Medicine Men and PoNY) and were beaten handily by Revolver, Ironside, and Bravo. Still, I think there's a side of Doublewide that they haven't shown yet. Historically, they have always been a program that rises to the occasion of Nationals. Developmentally, they might also be a little bit behind most teams because of their practice style– because of the geographic separation of their roster they hold a "training camp" every few weeks instead of regular practices–and because they need to integrate so many new faces.
At the end of the day, Austin feels like a team that could score an upset or two if they get hot. They have a lot of raw talent and athleticism and if they air it out and start coming down with some shots, they could be dangerous. It's a longgg shot, but they're the kind of team I can see beating Revolver, even if the approach they take might not be sustainable.
Likely Ceiling: Quarters
Likely Floor: Done on Day 1
Minneapolis Sub Zero [Pool #4, Overall #13]
Rounding out the pool is Sub Zero, a team of Minnesota men led by the coach of their college rival in Phil Bowen (coach of Carleton CUT). Sub nearly missed The Show altogether, clawing back from a 14-11 deficit to defeat Madison Club 15-14 to take the North Central's lone bid to Sarasota. While Minneapolis certainly possesses the quality to compete at Nationals, they have the look and feel of a good-but-not-great team. They have a paltry two wins over the rest of the nationals field–12-9 over PoNY and 15-12 over Ring–but the Ring victory was against an shorthanded squad7.
Sub has some elite talent to be sure. Ryan Osgar is a nice fulcrum downfield, churning out yards under to set up incisive continuations hucks; Josh Klane is one of the best throwers in the game; and Jason Tschida is a difficult handler to contain. They also sport a pair of all-around stars in Eric Johnson and Wyatt Mekler. Sub's weakness is the talent drop off in the 5-7 guys on the line, particularly downfield. Osgar and Greg Cousins can hold their own against the division's top defenders but neither can consistently assert their will against a true defensive ace, and the back end of the O-line struggles to get open against the their corresponding marks. The result is a great deal of pressure on the handlers to constantly reset the disc, and the temptation of impatience and a speculative shot. The reverse situation is also true, as Sub struggles to generate 1-7 pressure on the defensive side.
Sub isn't an easy out by any means, but they're not a team that can muscle a game away from a higher seed. If the other team is careless, Minneapolis has the quality to punish them for it but don't expect them to take a game away from any team in this pool. If Sub Zero is going to get out of Pool A, it will be on strength of their methodical approach and technical execution.
Likely Ceiling: Pre-Quarters
Likely Floor: Done on Day 1
---